Trip down memory lane for 1985 champion Royals
Saberhagen, White, Biancalana see similarities to this year's squad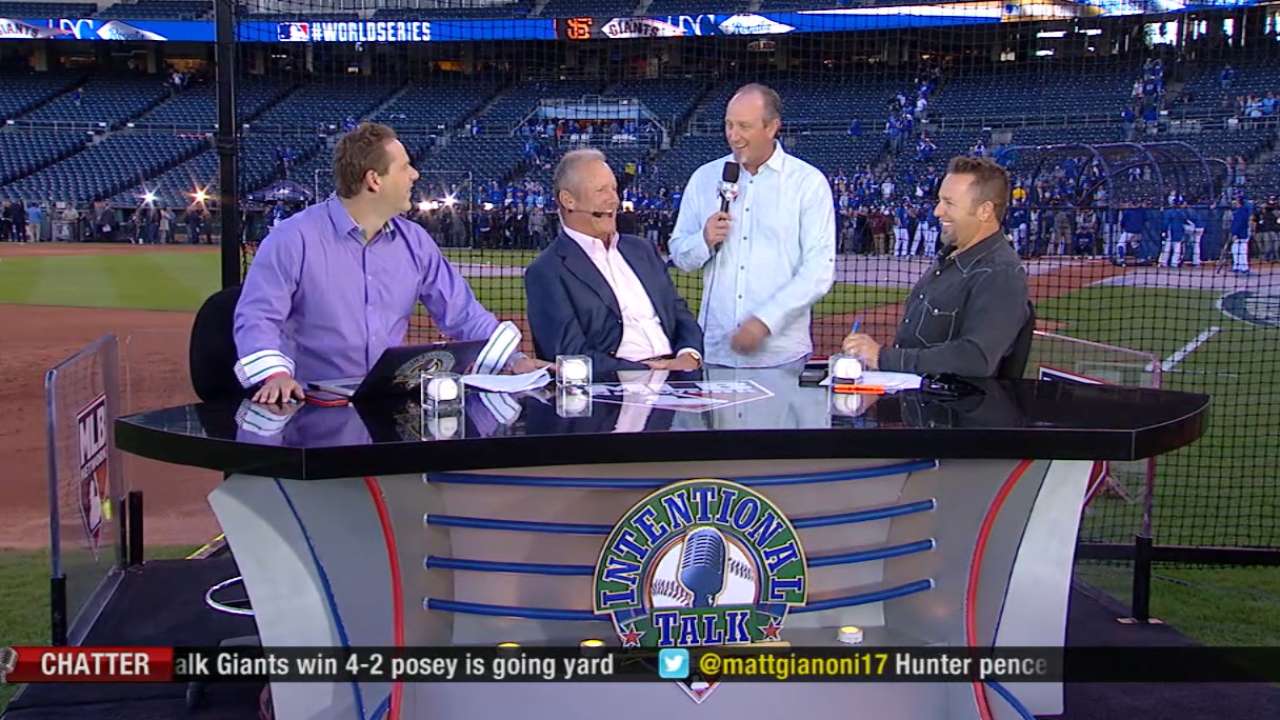 KANSAS CITY -- There's nothing like a first World Series appearance in 29 years to bring players from the championship team of 1985 back to Kauffman Stadium.
Fittingly, Bret Saberhagen, who pitched the Game 7 shutout to finish off St. Louis in 1985, was scheduled to throw out the first pitch on Wednesday night. He was at Tuesday night's 10-0 blowout victory over the Giants, which brought back memories of his 11-0 win in the '85 finale.
Like Yordano Ventura, Saberhagen had an early lead, 5-0, after the third inning and 11-0 after the fifth. Ventura got seven runs of support in the second inning.
"It made it very nice for Ventura to get all those runs early and enable him to relax," Saberhagen said. "It's definitely a bonus when you get a lot of runs and get 'em early."
Saberhagen, who sat with 1985 teammate Mark Gubicza at Game 6, sees a mirror image in some aspects of the two clubs.
"I think the biggest similarity is that they play as a team like we did in '85," Saberhagen said. "They're very united, they don't care who gets the winning hit, who gets the win in the game. All they care about is winning the ballgame, and we were kind of the same way.
"The other similarity is in the middle of the season, they were behind by a bunch of games. And in '85, we were behind by a bunch of games in July and we came back and bridged the gap and ended up going to the postseason. And every postseason we were in, against the Blue Jays and Cardinals, we were underdogs, and these guys have been underdogs in just about each series as well. It's something that suits them very well."
Frank White, the 1985 second baseman, took time out from campaigning for the Jackson County Legislature to attend Tuesday night's game. He was immediately taken by the similarity with the Saberhagen game.
"It was an explosion early, wasn't it?" White said, laughing. "It was just one of those games when we scored two early on Darryl Motley's home run. Then we just had that big inning."
White was amused by Eric Hosmer's one-bounce blooper that sailed into left field for a double.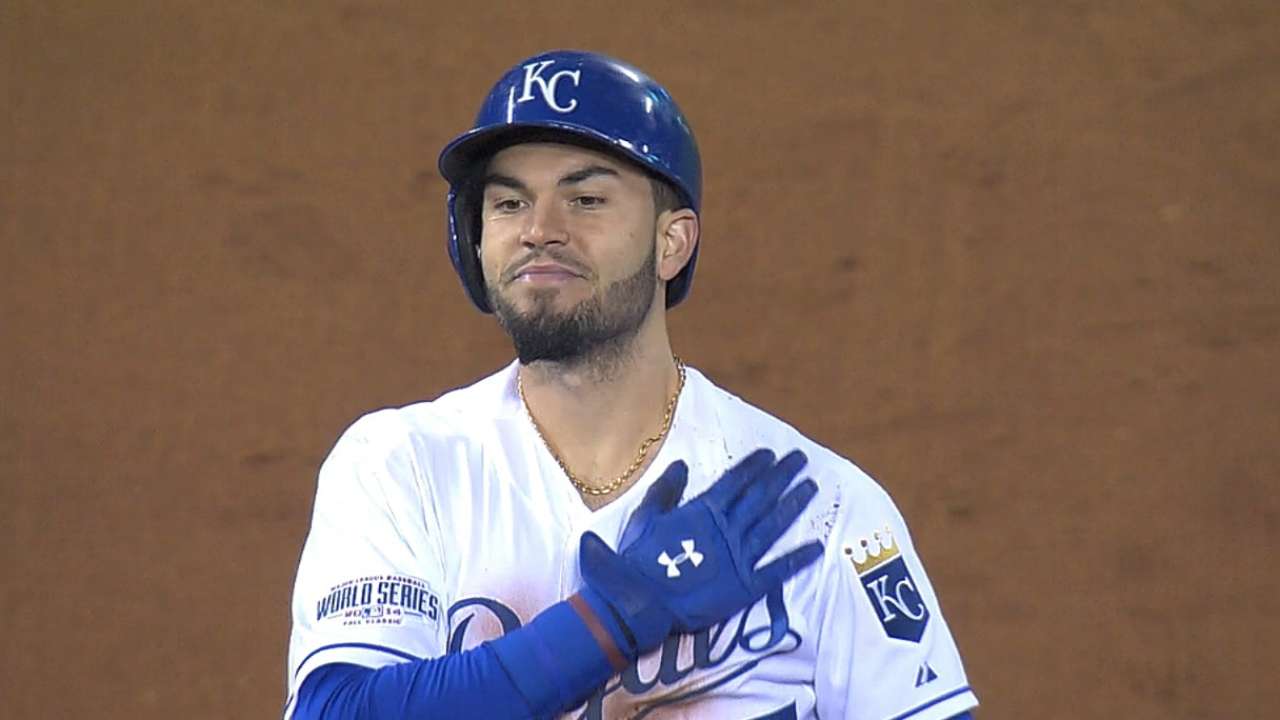 "I don't know if the ball hit a ping-pong table or what, but it bounced all the way to the outfield from home plate. So they were getting runs in all kinds of ways. It was a very similar game. One more run and they'd have been right on it," White said, referring to the 10-0 and 11-0 scores.
White liked much of what he saw this year from manager Ned Yost's club, notably defense and pitching.
"The defense went through a little bit of a down spiral right at the end of September and then it picked up again," White said. "And Lorenzo Cain's game came out of almost nowhere -- suddenly he got faster and his bat started coming around, and [Nori] Aoki started hitting well and they moved [Alcides] Escobar to No. 1, so every move that Ned made in September with this lineup really worked. Then he was able to line his pitching out where all the starters had to do was go six, and he had those guys in the back well-rested and strong."
Buddy Biancalana, the 1985 shortstop who eight years ago co-founded PMPM Sports-Zone Training, stopped by Kauffman Stadium for Tuesday night's Game 6.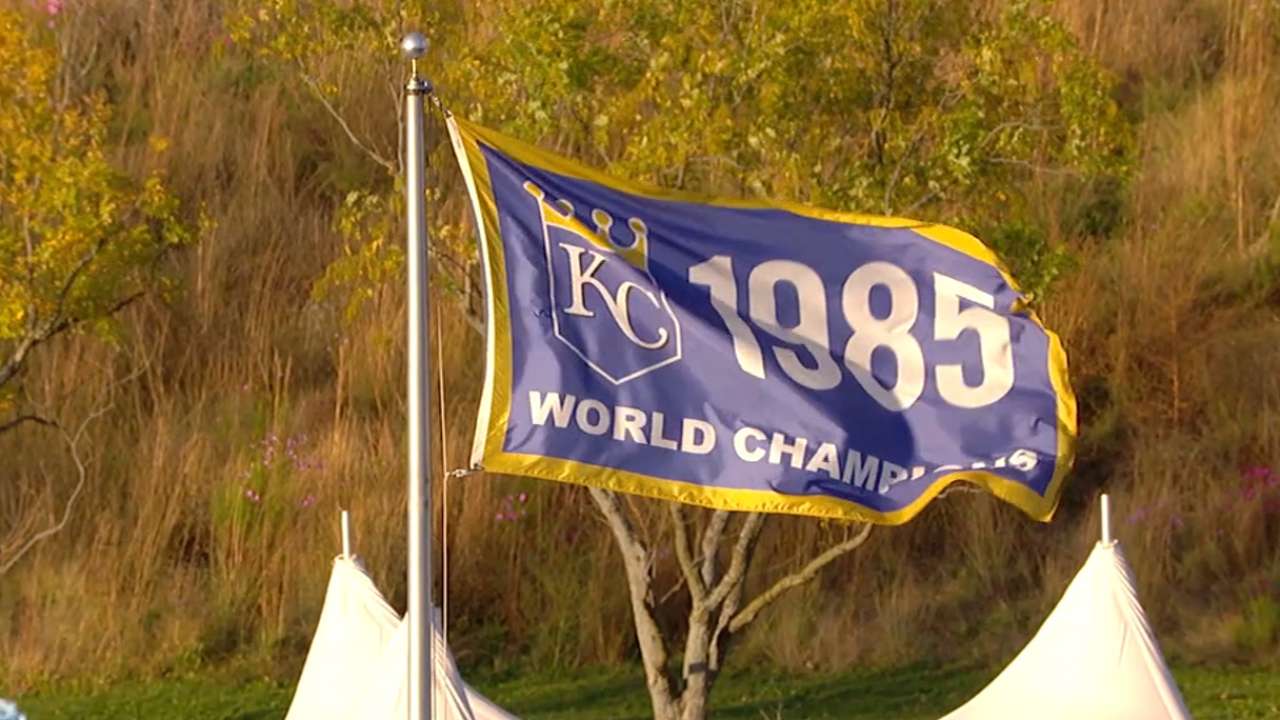 "From a performance standpoint, there are some similarities. Defensively, they're a very good club, as were we. I think our starting pitching was a little better. I think their bullpen is probably stronger, although [Dan Quisenberry] was outstanding for us," Biancalana said. "From an offensive standpoint, they're pretty balanced. They don't have a real star like we had in George [Brett] or a real power hitter like [Steve Balboni] was, but they put the ball in play and they utilize their speed pretty well."
Biancalana became a celebrated guest on the "Late Night with David Letterman" show in 1985, but not even the recent Royals fame has gotten him invited back for an encore.
"That was a fun time, that was a good time for me," Biancalana said with a chuckle.
John Wathan, now with the Royals in player development, was a catcher in his last year as a player in 1985.
"It wasn't our best team by far, during all the years we were in the postseason, but it was meant to be, I think," Wathan said. "We had a special team that really pulled for each other. We went out a lot together, kind of like this team, too. These guys are really close, and I think that's a big part of it. People say that chemistry isn't important on a ballclub, but I don't believe it. I think it's extremely important. You've seen teams win that didn't have chemistry, because talent outweighed the chemistry. But if you have some flaws, there's nothing like team chemistry to help you get over some humps and some bad spells like we had this year."
Like 1985, the 2014 team has reached prominence unexpectedly.
"This is a very surprising year," White said, "but at the same time, one of the most exciting years for the Royals and for baseball in general."
Dick Kaegel is a reporter for MLB.com. This story was not subject to the approval of Major League Baseball or its clubs.