Royals fight tooth and nail, fall just short in Game 7
Gordon stranded at third, dashing KC's dream of halting title drought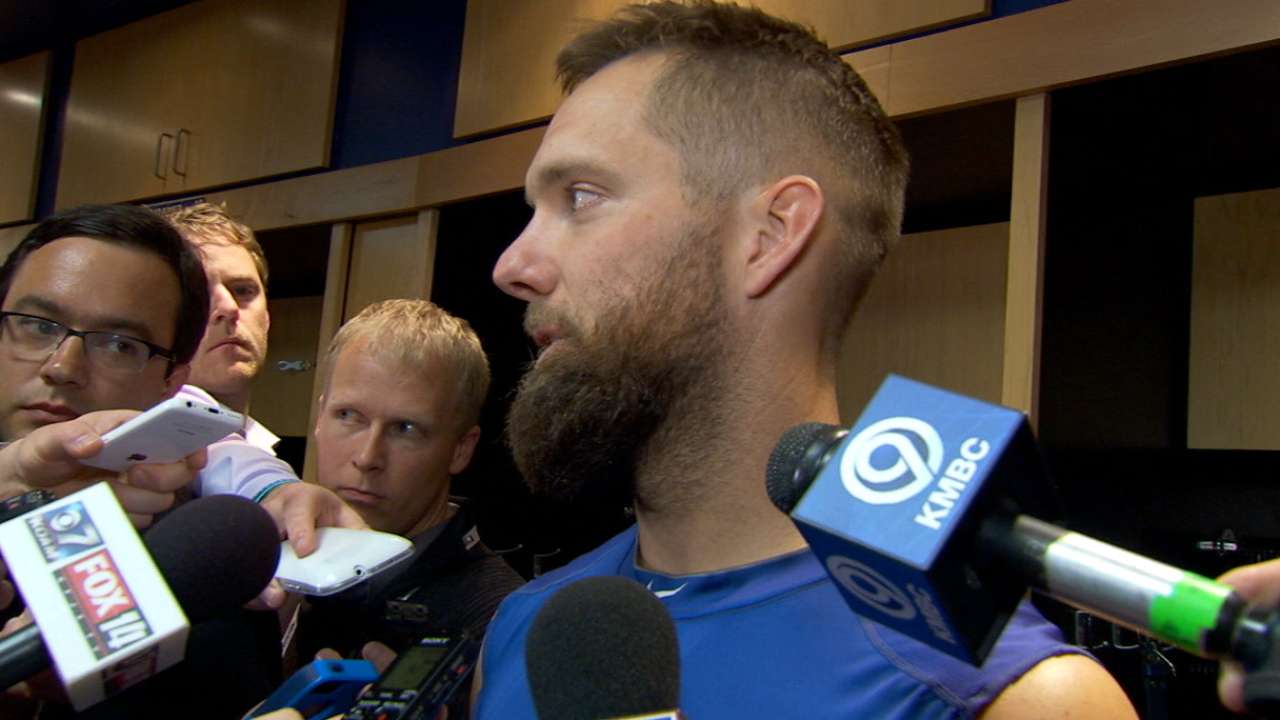 KANSAS CITY -- They amazed, energized and captivated a community hungry for postseason baseball after 29 years in the wilderness and, although they couldn't capture the final prize, the Kansas City Royals made it a battle right to end, joining the 1946 Red Sox as the only teams to lose a Game 7 with the tying run just 90 feet from home plate. They yielded the World Series championship to the San Francisco Giants, 3-2, on Wednesday night as a hopeful crowd of 40,535 rocked Kauffman Stadium.
Giants left-hander Madison Bumgarner, who shut out the Royals on Sunday, came back on just two days' rest in the fifth inning and pitched five more scoreless innings in Game 7. He gave up a single, then retired the next 14 batters he faced.
But with two outs in the ninth, Alex Gordon's hit to left-center was missed by center fielder Gregor Blanco and the error put Gordon at third base. Bumgarner, though, got Salvador Perez to foul out and end the game.
"It hurts -- as magical as our run has been -- to end up losing the ballgame by 90 feet," Royals manager Ned Yost said. "But the hard part is you work all year to climb to the top of the mountain and then, boom, you fall back and you got to start right at the bottom again next year."
Even so, the Royals' dash all the way to the World Series was largely unanticipated and it took Kansas City and the surrounding area by storm.
"We fought right to the last out, which is only fitting for the way our club has been all season long," said pitcher and team leader James Shields. "The fans were amazing, the city's been amazing through this whole run and we wish we could've finished it for them."
HOW THE ROYALS FELL SHORT
Michael Morse's RBI single off Kelvin Herrera in the Giants' fourth inning snapped a 2-2 tie and provided the winning run, charged to Royals starter Jeremy Guthrie.
Then, in the fifth inning, Bumgarner took over and he dominated the Royals. Omar Infante greeted him with a single and, after that, Bumgarner retired the next 14 batters until Gordon's hit and the error that put him at third base with two outs. That brought up Perez, who popped up to end the game.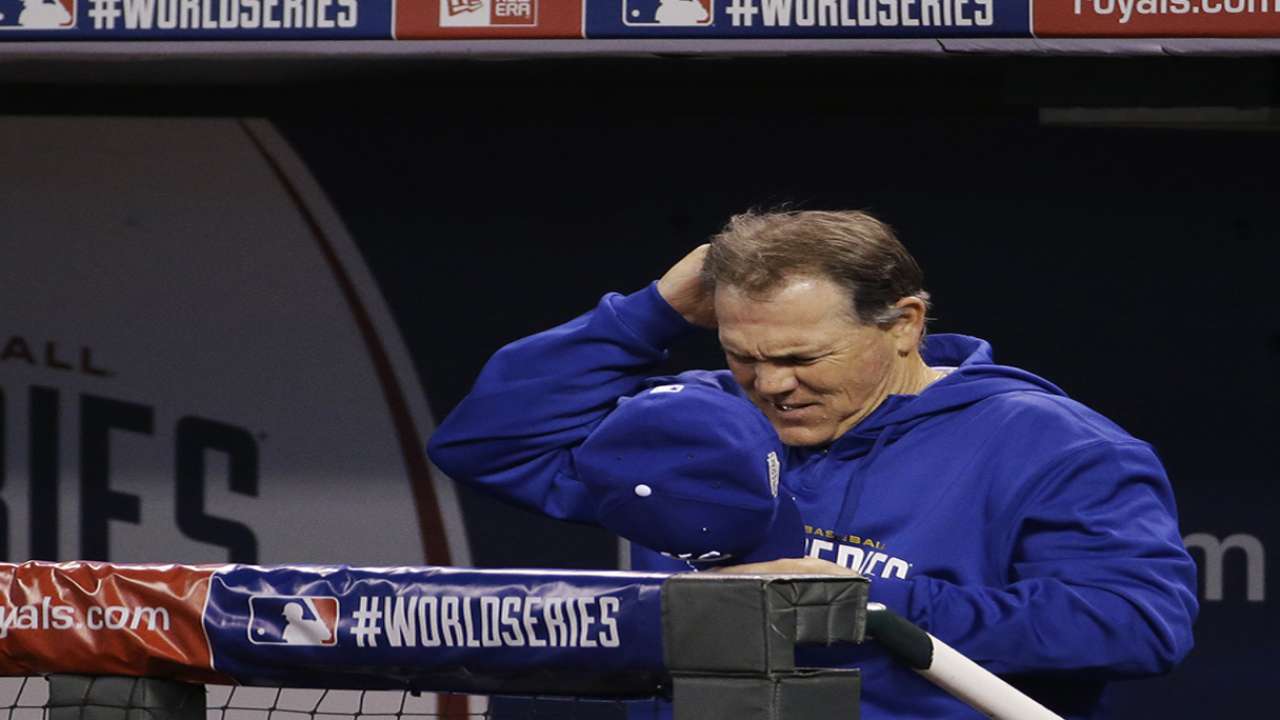 "I knew Perez was going to want to do something big," Bumgarner said. "I had a really good chance, too. We tried to use that aggressiveness and throw our pitches up in the zone. It's a little bit higher than high, I guess, and fortunately I was able to get some past him."
Perez missed two fastballs, fouled one off and then fouled out to third baseman Pablo Sandoval on a 2-2 pitch, setting off the Giants' celebration.
Bumgarner got a save, not a victory, but clearly he was the difference.
"He carried those guys over there," said the Royals' Eric Hosmer. "The way he came back on short rest and came in and battled for his team. ... He's a tough guy to crack."
THE MOMENTS THAT MATTERED
A 'good hold' on Gordon: The Royals' last gasp came after Bumgarner got two outs in the ninth. Gordon's liner got through Blanco and rolled toward the wall. There, left fielder Juan Perez bobbled the ball.
"I was just trying to make something happen and when it got past him, I had a smile on my face as I was running the bases, hopefully thinking of scoring," Gordon said. "But they got to it quickly enough and I don't have [Jarrod] Dyson's speed, so I couldn't make it all the way to home."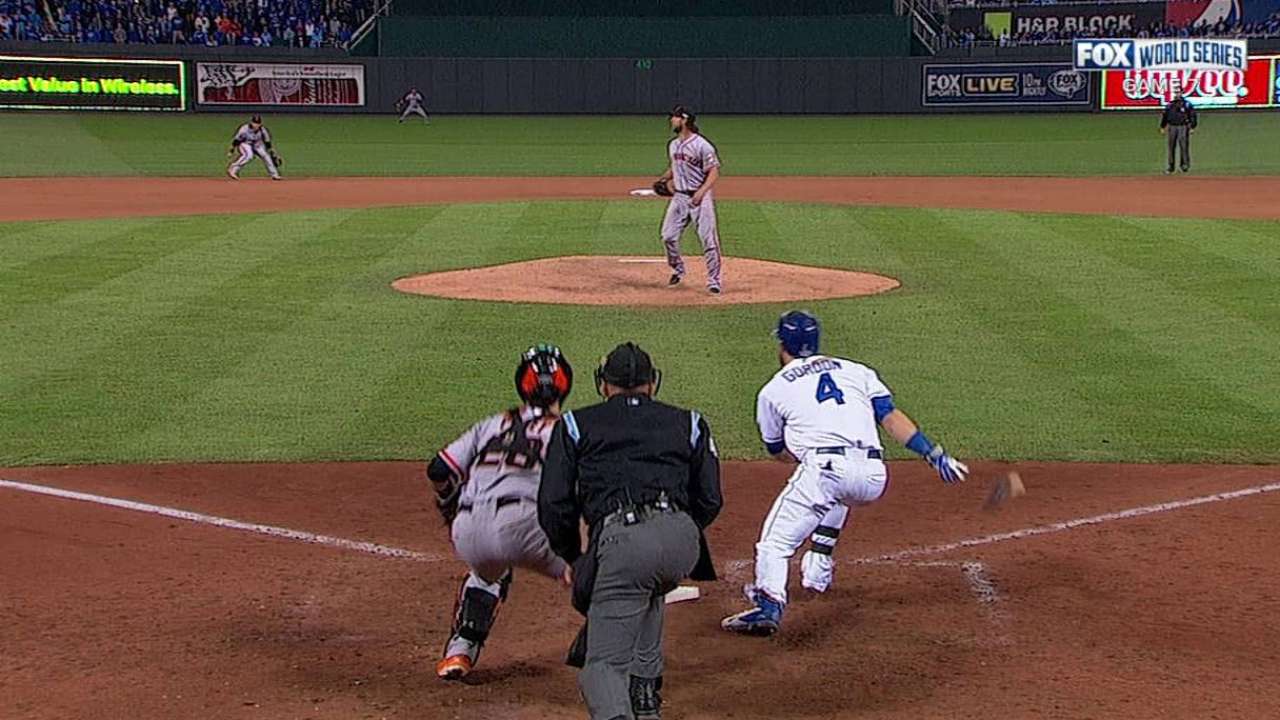 Third-base coach Mike Jirschele held up the stop sign.
"I almost fell rounding second base and I was just waiting for Jirsch to give a signal and it was a good hold," Gordon said. "[Shortstop Brandon Crawford] had the ball in plenty of time. So it was close but it came up a little short."
Jirschele felt that Gordon would have been out easily at the plate.
"If he's going to be out by a mile, I'm not going to give them that last out. We've still got a chance. If Salvy gets a base hit there, we tie the game," Jirschele said. "Once they got that ball to Crawford, I saw we had no shot."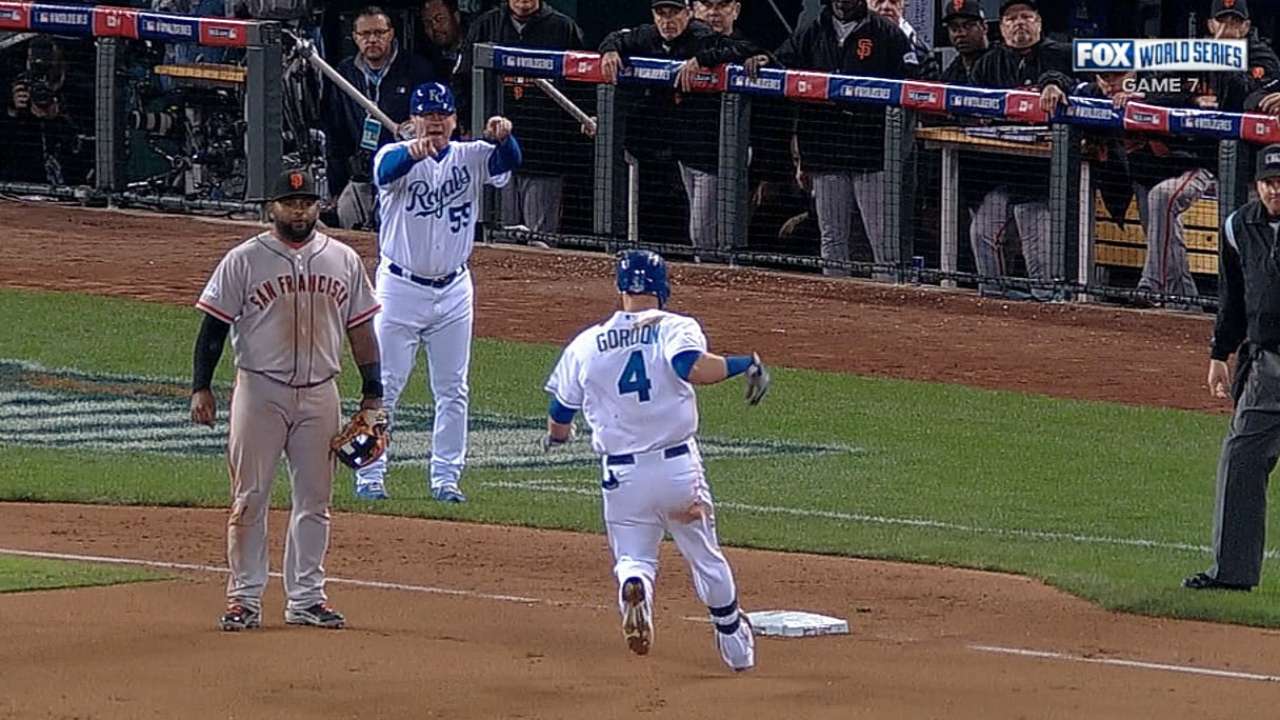 Giants strike first: In the postseason, the Royals were 7-0 when scoring first and the Giants were 8-1. This time it was the Giants' turn with two runs in the second inning off Guthrie. They loaded the bases with no outs on a hit batter and singles by Hunter Pence and Brandon Belt. The runs scored on sacrifice flies by Morse and Crawford.
Hudson's outing short: Giants starter Tim Hudson was out of the game after the Royals notched a 2-2 tie in the second. Billy Butler led off with a single and scored from first on Gordon's double to right-center.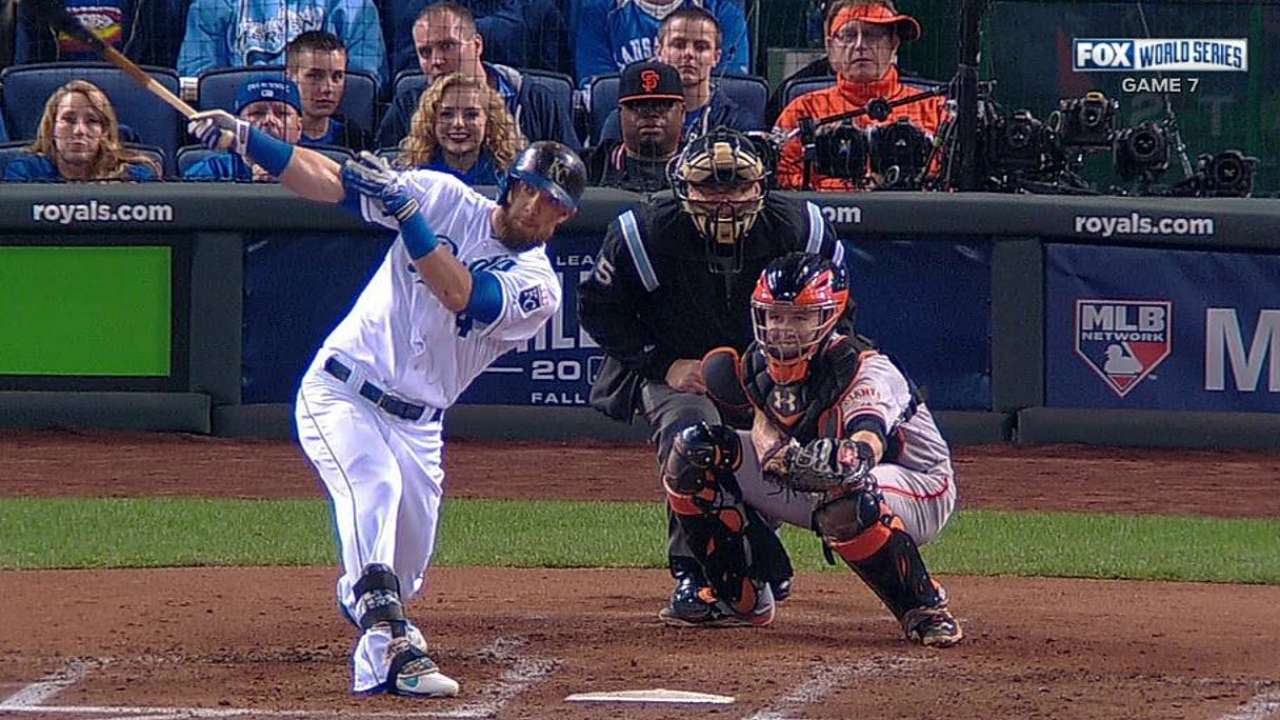 There was considerable concern when Perez was drilled by a pitch in his left knee, the same one that required surgery and cost him about half the 2012 season. After a lengthy delay, Perez stayed in the game.
"Man, he's tough as nails," Yost said. "I wasn't sure he was going to make it. But he got through it."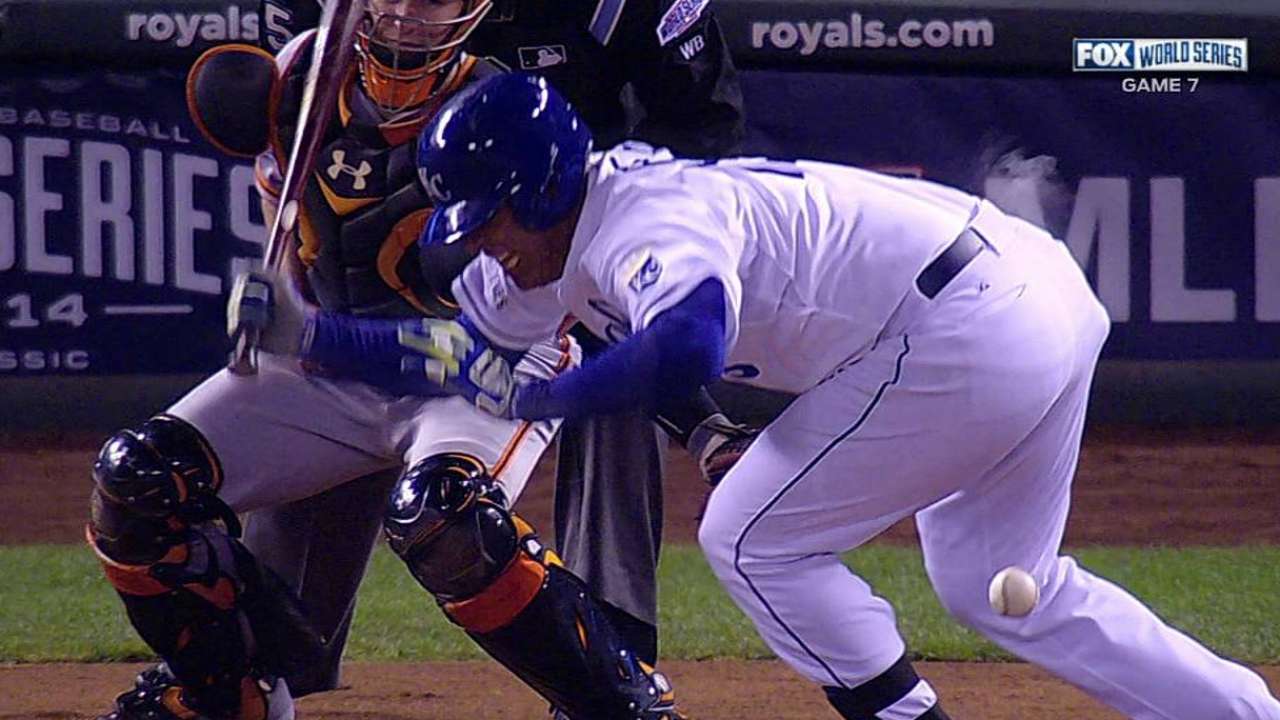 Gordon daringly took third as Mike Moustakas flied out to left and that paid off as he scored on Infante's sacrifice fly. After Alcides Escobar's single, Hudson was pulled in favor of ex-Royals left-hander Jeremy Affeldt, who retired Nori Aoki. Affeldt went 2 1/3 innings and got the win.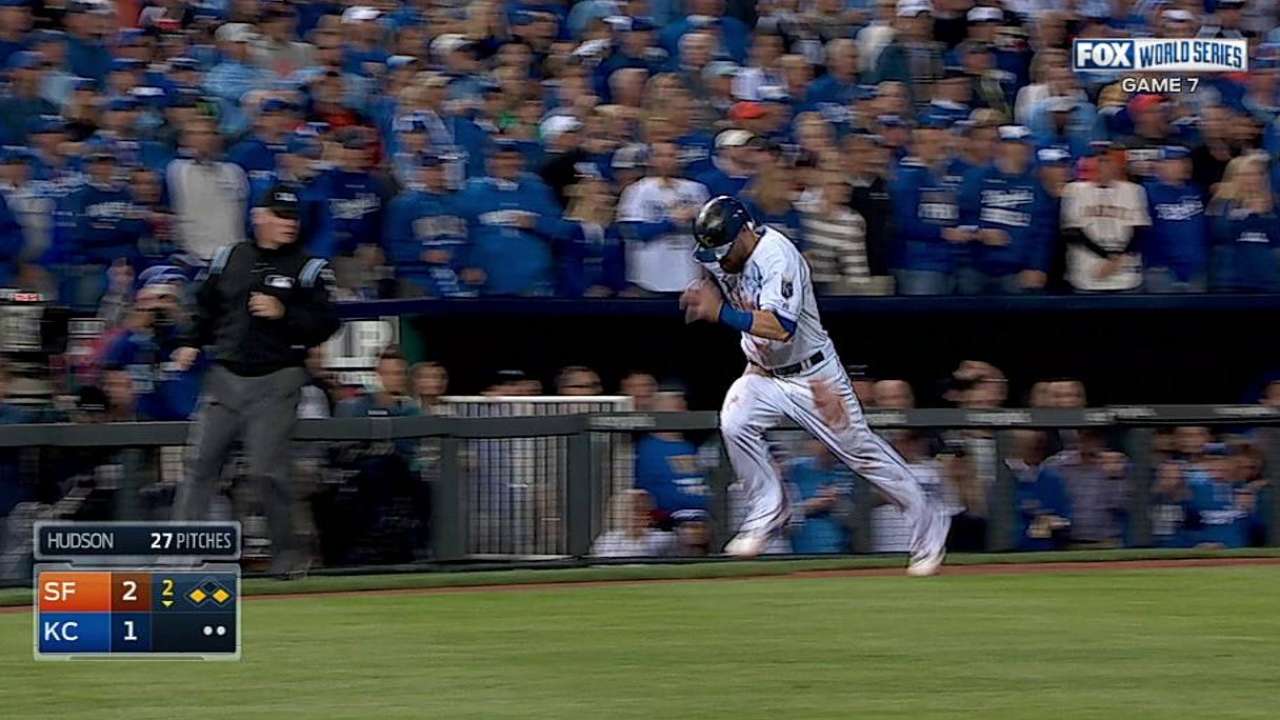 Panik's big play: After Lorenzo Cain led off the Royals' third with a single, Hosmer bid for a hit up the middle but second baseman Joe Panik dove for a stop and flipped the ball from his glove to shortstop Crawford, starting a double play.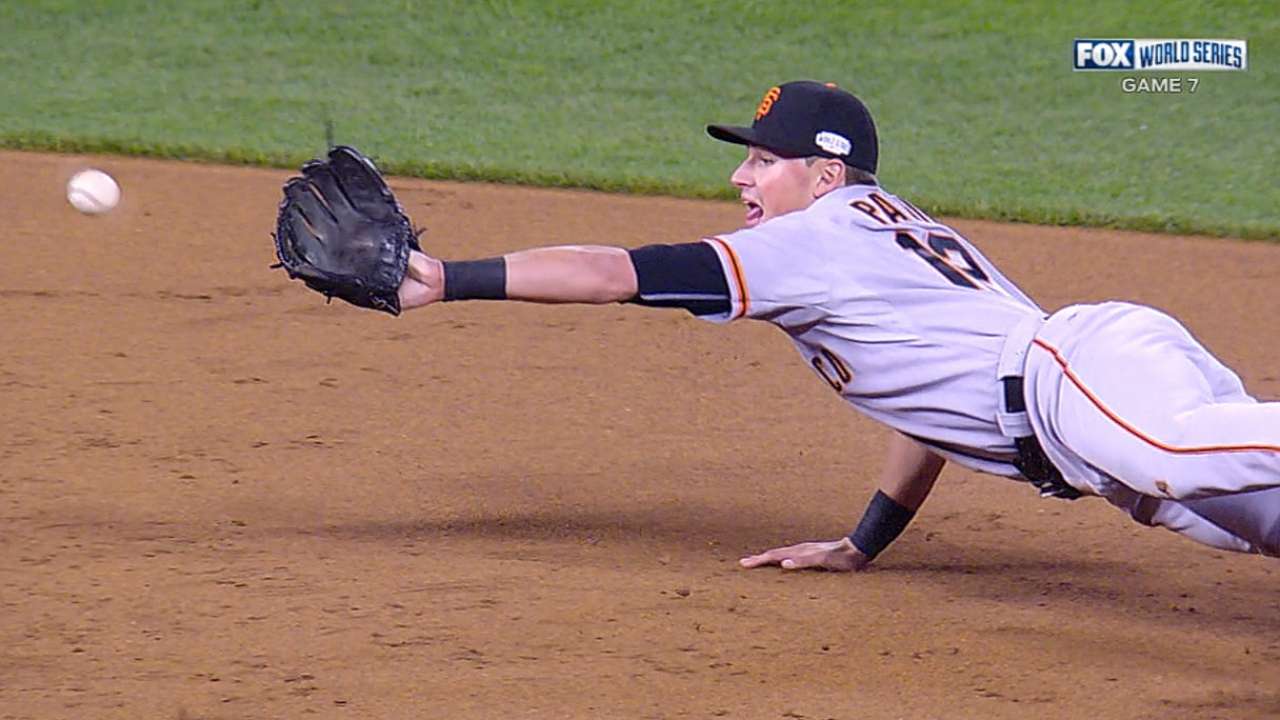 "That was the key to the game," Affeldt said. "It kept them from rallying for another inning. So I think being able to shut it down real quick allowed me to go out for another inning. That was a big deal. For me, that was the biggest play of the night."
UNSUNG HEROES: BACKEND OF BULLPEN
The there's-no-tomorrow mentality on pitching was adopted by the Royals, too. With Sandoval and Pence at the corners with one out in the fourth, Kelvin Herrera (normally the seventh-inning reliever) was summoned to replace Guthrie.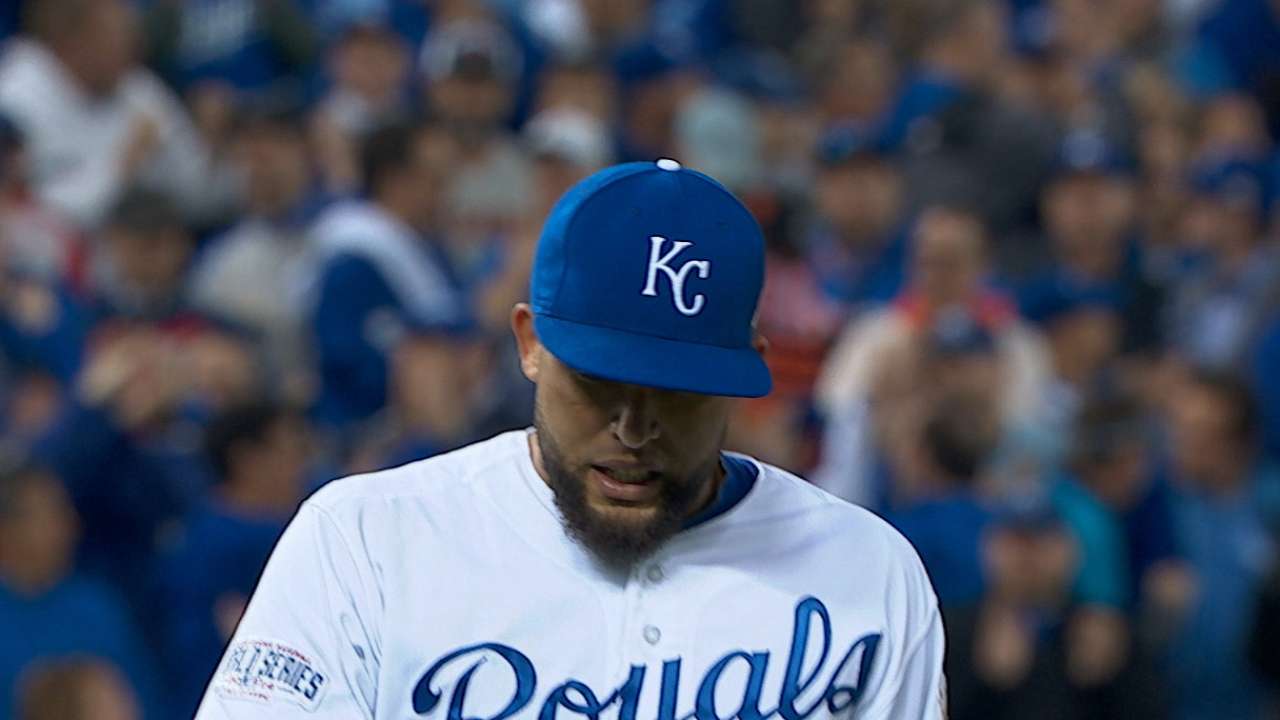 Herrera gave up a tiebreaking single to Morse before retiring the side. But then he pitched a scoreless fifth and sixth. The 2 2/3 innings was the second-longest stint of his career.

Wade Davis (normally the eighth-inning guy) took over in the seventh and worked two scoreless innings. Greg Holland pitched his normal ninth inning perfectly.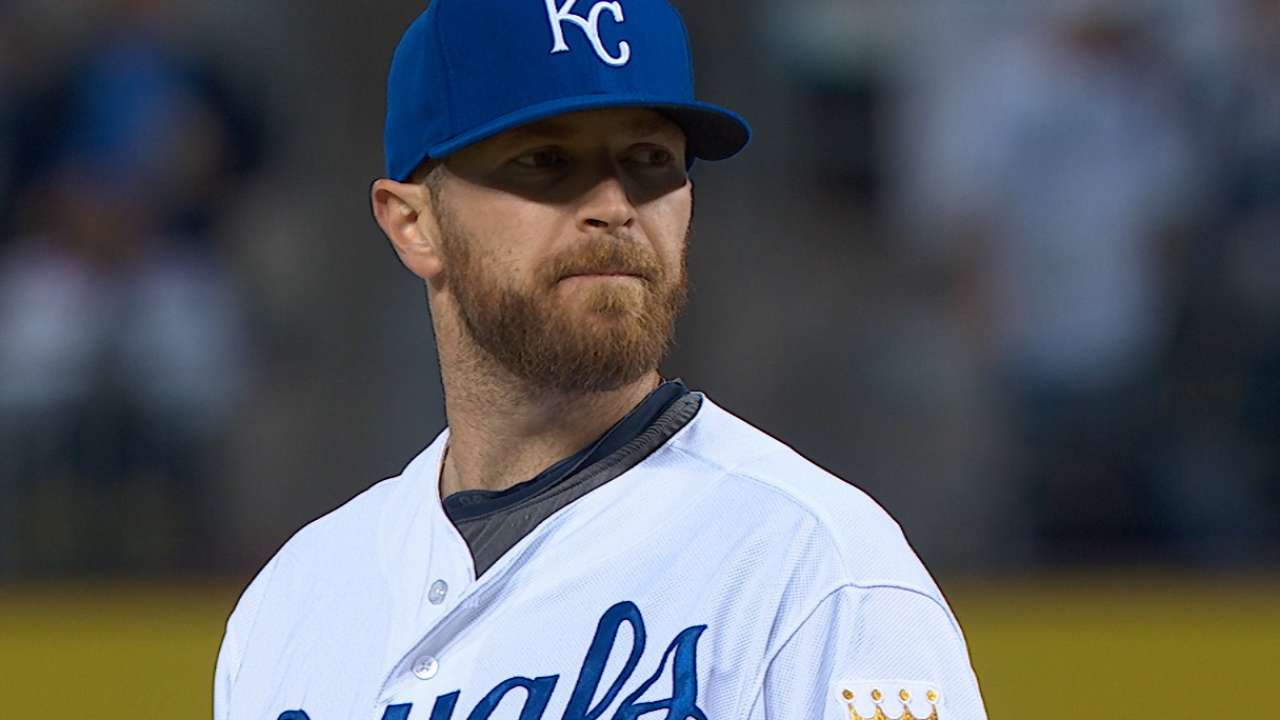 "The guys in the bullpen stretched out their limits tonight," Hosmer said, "and just gave us everything they had."
ONE FOR THE HISTORY BOOKS
Bumgarner pitched 52 2/3 innings in the postseason for a record, eclipsing Curt Schilling's 48 1/3 for Arizona in 2001.
The Royals' 11-4 (.733) postseason record is the best winning percentage by a World Series runner-up. They had a better postseason winning percentage than did the Giants (.706).
The Giants are just the second National League team to win three World Series titles in five seasons, 2010, '12 and '14. The Cardinals gave St. Louis titles in 1942, '44 and '46.
Bruce Bochy is the second manager in Giants franchise history to win three World Series. The other was Hall of Famer John McGraw in their New York days, 1905, '21 and '22.
Dick Kaegel is a reporter for MLB.com. This story was not subject to the approval of Major League Baseball or its clubs.