MLB.com Columnist
Tracy Ringolsby
Starters providing relief in Game 7 not uncommon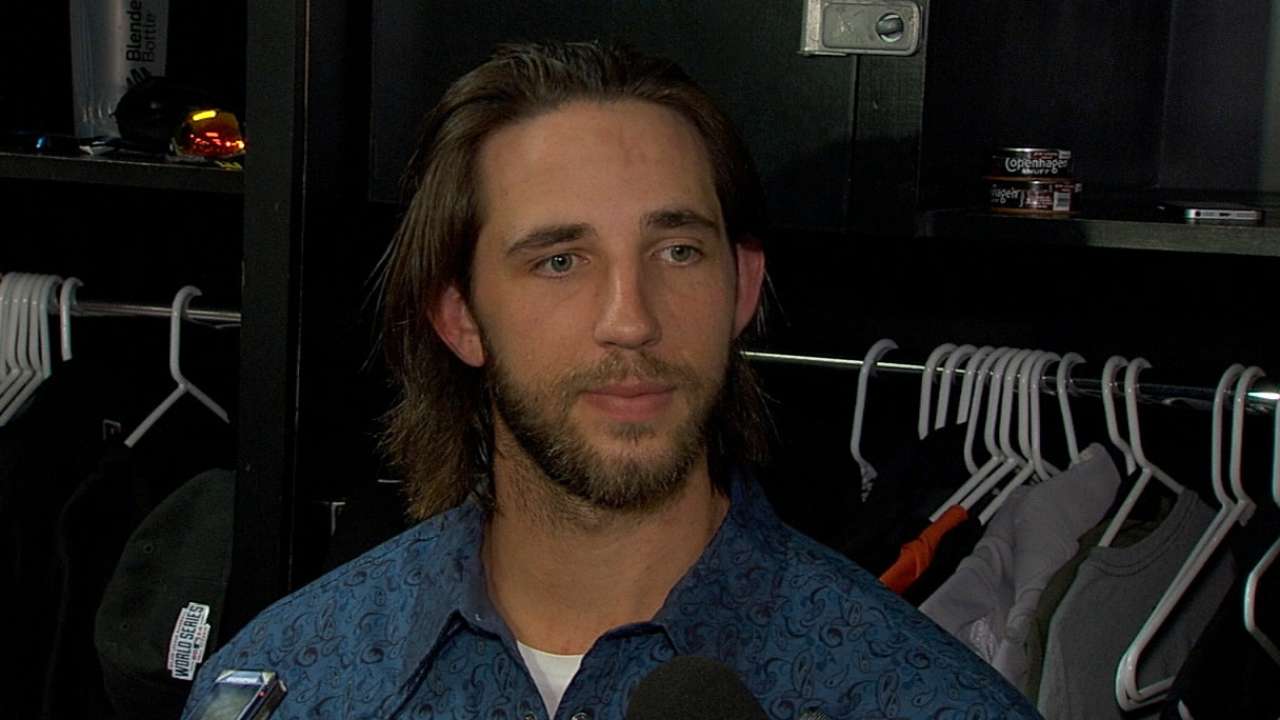 The possibility of Giants ace Madison Bumgarner getting a call from the bullpen in Game 7 of the World Series against the Royals on Wednesday night has been discussed so much it would be more of a surprise if he doesn't pitch than if he does.
If he does, it wouldn't be unprecedented.
There have been 35 deciding Game 7's in World Series history, and 55 pitchers who started earlier in those 35 Series have also pitched in Game 7 of the same series. At least one starter has been used in relief in 29 of the 35 winner-take-all Game 7's, including eight times when both the winning and losing team called on a starter.
Bumgarner could add to the list, and he also could add some records to his postseason collection. He already has pitched 47 2/3 innings this postseason, the second-highest total in history, two outs behind record holder Curt Schilling from 2001 with the D-backs.
Bumgarner is also 4-1 this postseason, one win shy of the record shared by Randy Johnson (5-1 in 2001 with the D-backs) and Francisco Rodriguez (5-1 in a relief role with the Angels in '02).
Johnson earned that fifth win in one of the most memorable relief appearances by a starter in a Game 7.
Here are seven starters who impacted a World Series with a Game 7 relief appearance:
1. Johnson, D-backs, 2001: After giving up a go-ahead home run to open the eighth inning and then a one-out single, Schilling told manager Bob Brenly he was done. Miguel Bautista came in to get a fielder's choice, and then Johnson, who had pitched seven innings for the victory in Game 6 the night before, got the call.
Johnson got the final out in the eighth and pitched a 1-2-3 ninth. That set the stage for Tony Womack's game-tying RBI double and Luis Gonzalez's walk-off single off all-time saves leader Mariano Rivera, who was attempting to earn a two-inning save.
2. Harvey Haddix, Pirates, 1960: Bill Mazeroski gets the attention for hitting the only Game 7 walk-off home run in World Series history, but Haddix played a role in the Pirates' 10-9 victory against the Yankees. Best known for losing a perfect game in the 13th inning against Milwaukee in 1959, Haddix went 6 1/3 innings in a 5-2 victory in Game 5 at Yankee Stadium, and then wound up earning the win in relief in Game 7.
After Hal Smith, the uncle of Giants third-base coach Tim Flannery, hit a three-run home run in the bottom of the eighth for a 9-7 Bucs lead, Bob Friend, who had started Games 2 and 6, got the call from the bullpen. Two batters and two hits later, Haddix was brought in. With one out, he gave up an RBI single to Mickey Mantle, scoring Bobby Richardson and moving Dale Long to third.
When Yogi Berra grounded to first, Rocky Nelson stepped on the bag, but Mantle, caught between first and second, was able to avoid a tag and race back to first, allowing pinch-runner Gil McDougald to score the tying run. That set the stage for the Mazeroski home run that gave the Pirates a World Series championship and Haddix the Game 7 victory.
3. Walter Johnson, Senators, 1924: In the last game of the last championship won by a team in the nation's capital, both the Senators and Giants used three relievers, and each of the six pitchers had started earlier in the Series, including Washington's Firpo Marberry, who blew the save in the sixth inning. The Senators, however, rallied to pull out a 4-3, 12-inning victory thanks to four shutout innings of relief by Johnson. Johnson had started and lost complete-game efforts in Games 1 (4-3 in 12 innings) and 5 (6-2).
4. Bob Turley, Yankees, 1958: Turley was knocked out in the midst of a seven-run first inning of a Game 2 start, charged with four runs while retiring one batter. However, he returned in Game 5 to pitch a shutout and earned a save by getting the final out in Game 6. Turley then got the call to relieve starter Don Larsen with one out in the third inning of Game 7 and worked the final 6 2/3 frames to earn the victory.
5. Allie Reynolds, Yankees, 1952: Reynolds started and lost Game 1 of the World Series, 4-2, and came back with a four-hit shutout in Game 4. After a day off, he earned the save with a 1 1/3-inning effort in Game 6, and then Reynolds took over for starter Eddie Lopat in Game 7, pitching three innings for the victory.
6. Danny Cox, Cardinals, 1987: It was the first World Series in which the home team won every game. Unfortunately for Cox, the Twins had the home-field advantage. The Twins knocked out Cox in the midst of a six-run fourth inning in Game 2. Cox rebounded by allowing two runs in 7 1/3 innings in a Game 5 win at Busch Stadium. Cox got the call again early in Game 7, replacing Joe Magrane with a 2-1 lead, one out and one on in the bottom of the fifth. Kirby Puckett greeted Cox with a game-tying double. After finishing the inning, Cox walked the first two batters of the sixth before being replaced, and one of those runners scored to put the Twins ahead for good, handing Cox the loss.
7. Catfish Hunter, A's, 1972: Hunter worked 8 2/3 innings for a 2-1 victory in Game 2 and wound up with a no-decision in a 4 2/3-inning effort in Game 5. He turned over a 4-3 lead to Rollie Fingers, who couldn't hold it in what was the last weekday afternoon World Series game played. It had been a scheduled night game, but a rainout of Game 3 forced the middle three games to be pushed back a day, and Game 5 was rescheduled as a day game to give the teams a break traveling back to Cincinnati for the remainder of the Series.
Hunter, with a save from Fingers, came through in Game 7, working 2 2/3 in the 3-2 victory that gave the A's their first World Series championship since 1930, starting a three-year run of World Series titles.
Tracy Ringolsby is a columnist for MLB.com. Read his blog, Write 'em Cowboy. This story was not subject to the approval of Major League Baseball or its clubs.