Lineup breakdown: Giants vs. Royals, Game 7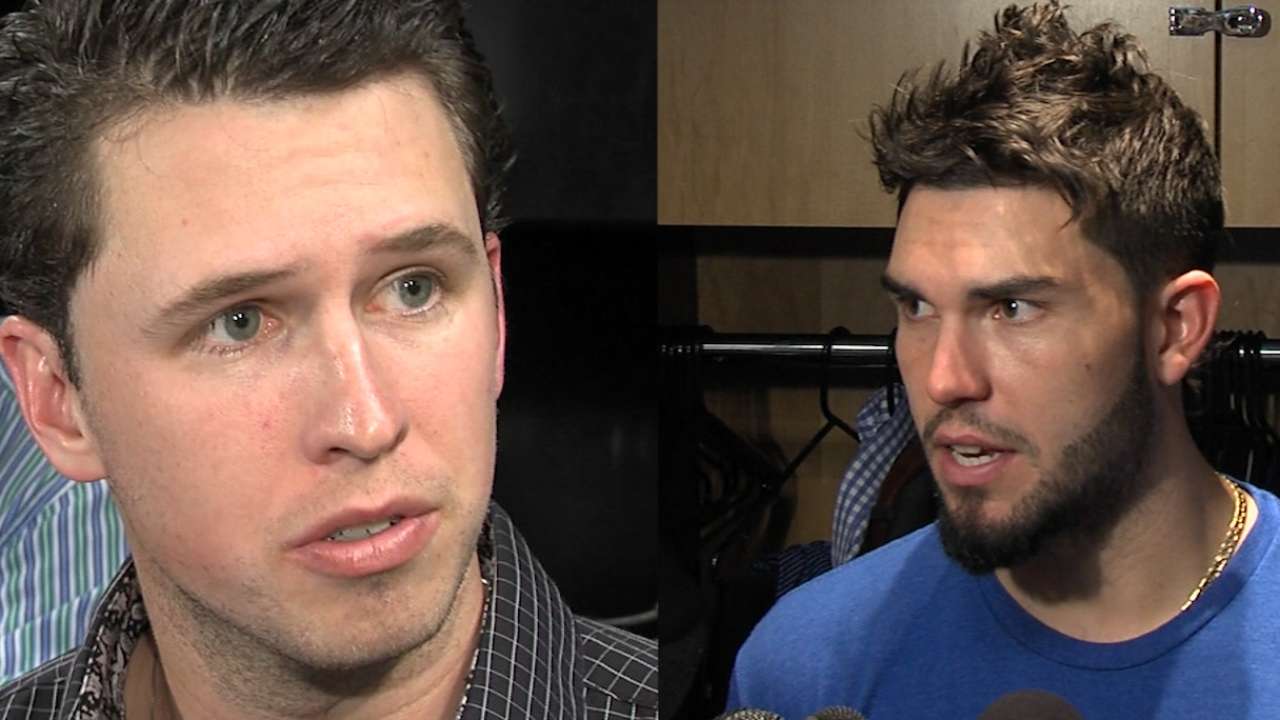 This is it. Game 7. Winner takes all. The Kansas City Royals and the San Francisco Giants have been on opposite ends of the playoff spectrum in recent history -- the Giants are searching for their third World Series title in five seasons, while the Royals are back in the playoffs for the first time in 29 years -- but they both made it this far all the way from the Wild Card Games.
Now there's one more road to cross, today (7 p.m. ET air time on FOX, 8:07 p.m. first pitch) at Kauffman Stadium. Here's a breakdown of the starting lineups:
ROYALS
How much weight does momentum carry? That's what Kansas City manager Ned Yost and the Royals are about to find out, after a 10-0 drubbing of the Giants in Game 6 to force this winner-takes-all scenario. Yost is trotting out the same lineup as he did Tuesday night, with hopes of a similar result against San Francisco and Tim Hudson.
Hudson pitched fine in Game 3 (which Kansas City ultimately won, 3-2) -- three runs on four hits in 5 2/3 innings while striking out two and walking one -- but the Royals can expect to see plenty of the Giants' exceptional bullpen, and perhaps an additional wild card thrown in.
After he dominated in Game 5, it wasn't ruled out for San Francisco ace Madison Bumgarner to make an appearance in Game 6. That wasn't necessary, but it may mean that Kansas City will see him tonight.
The Royals had six players record at least two hits in Game 6: Alcides Escobar, Lorenzo Cain, Eric Hosmer, Salvador Perez, Mike Moustakas and Omar Infante.
Hudson is 1-4 with a 3.53 ERA in 13 career postseason appearances, including 0-1 with a 3.72 ERA this year. He's made 11 career regular-season starts against Kansas City -- going 3-4 with a 4.12 ERA.
1. Alcides Escobar, SS
2. Nori Aoki, RF
3. Lorenzo Cain, CF
4. Eric Hosmer, 1B
5. Billy Butler, DH
6. Alex Gordon, LF
7. Salvador Perez, C
8. Mike Moustakas, 3B
9. Omar Infante, 2B
GIANTS
A night after his team couldn't bolster much offense, Giants manager Bruce Bochy decided to change the bottom of his lineup for Game 7. Bochy will start Juan Perez in left field instead of Travis Ishikawa, penciling him into the nine-hole. Brandon Crawford moves into the eight-spot.
The Giants will face seasoned veteran Jeremy Guthrie, who found plenty of success in Game 3. In San Francisco, he tossed five innings, allowing two runs on four hits for the win. The right-hander has given up three runs on seven hits in 10 innings of his two postseason starts.
While Guthrie's been a solid postseason performer, the Giants can expect all hands to be on deck in this winner-take-all contest, including the Royals' bullpen trio of Kelvin Herrera, Wade Davis and Greg Holland.
In Game 3, Hunter Pence, Brandon Belt, Crawford and Michael Morse all had hits off of Guthrie, with Morse's pinch-hit double the only extra-base hit that San Francisco would get that night.
1. Gregor Blanco, CF
2. Joe Panik, 2B
3. Buster Posey, C
4. Pablo Sandoval, 3B
5. Hunter Pence, RF
6. Brandon Belt, 1B
7. Michael Morse, DH
8. Brandon Crawford, SS
9. Juan Perez, LF
Joey Nowak is a reporter for MLB.com. Follow him on Twitter at @joeynowak. Quinn Roberts is a reporter for MLB.com. This story was not subject to the approval of Major League Baseball or its clubs.