Guillen, White Sox look back on '05 championship
Chicago celebrated nine-year anniversary of title on Oct. 26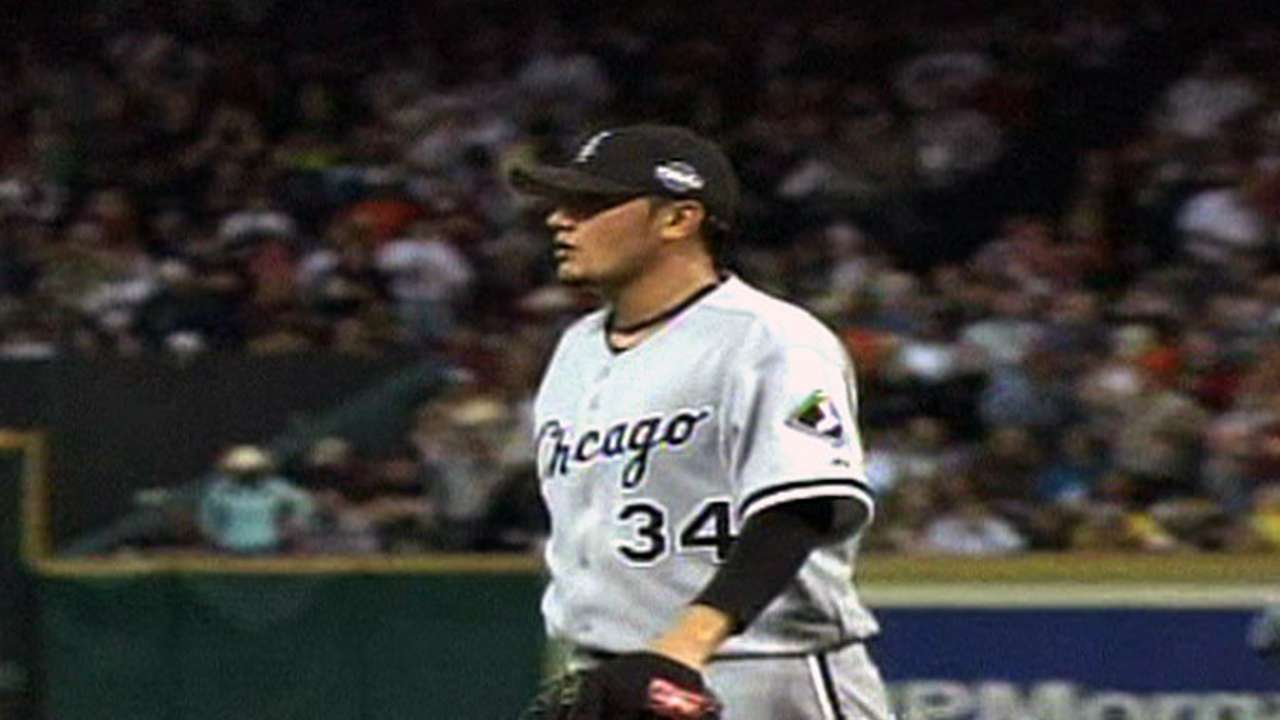 CHICAGO -- Nine years and three days ago, the 2005 White Sox forever changed the Chicago baseball landscape.
Ozzie Guillen's crew didn't need a Game 7 to claim the franchise's first World Series title in almost nine decades, an exciting winner-take-all contest that will be played out Wednesday night between the Royals and Giants in Kansas City. No, they swept the Astros in four tightly played contests, completing an 11-1 roll through the postseason.
That title drive still resonates with the fans as if it took place yesterday. Numerous supporters took to Twitter on Oct. 26 to recount their respective location when Orlando Palmeiro grounded out to shortstop Juan Uribe to set the party in motion.
Even Guillen posted pictures on his Twitter feed to commemorate the day. One picture featured him talking to Oprah Winfrey when the team visited her show after the World Series victory. One showed him holding the trophy, and there was one of him with the 2005 coaching staff and the message, "Thanks for the hard work."
And during a recent interview with MLB.com, Guillen emphasized that hard work component above all in completing a championship.
"A lot of people say when you win, it's fun. No, winning is hard. A lot of people misunderstand," Guillen said. "Yes, it's fun, but when you win, and get closer and closer to the World Series, it's getting harder and harder.
"It depends how you control it. How you go about it. How you take care of that situation. I think those guys, they did it with heart."
Players from the 2005 team to this day talk about a special feeling permeating throughout as far back as the start of Spring Training. The White Sox beat the Indians, 1-0, on Opening Day behind Mark Buehrle. They beat the Indians again, 1-0, behind Jose Contreras to start the season's second half and eventually moved as high as 35 games over .500 on Aug. 10. They claimed a 1-0 victory over the Astros behind Freddy Garcia to finish off a World Series sweep.
The White Sox held the American League Central lead from Day 1 and won 110 games between the regular season and postseason. It was a true team that worked together, not relying on a superstar or two to carry it through.
"We don't have superstars. But I don't see any team get along so good and care about winning more than them," Guillen said. "A bunch of crazy, great teammates. That's the only thing I can say about that team, and not because we win the World Series. Even if we don't make the playoffs, this bunch of kids they play together from the first day. They love each other when they have the uniform on. They respect each other."
"Just being able to go 11-1 in the playoffs and put together a great team over the course of the whole season, it's something I'll never forget," said right fielder Jermaine Dye. "Guys joined together and worked hard, and just the attitude that we brought to the ballpark every day. We didn't let all the distractions come in our clubhouse, and I think that was a special team that year."
SoxFest 2015 features the first of many honors for the 10-year championship anniversary. The White Sox announced Wednesday third baseman Joe Crede, Contreras, pitcher Orlando "El Duque" Hernandez, closer Bobby Jenks, left fielder Scott Podsednik and center fielder Aaron Rowand as the first wave of '05 team members who will be in attendance at the Hilton Chicago from Jan. 23-25.
These individuals most certainly will be asked for their favorite moment of that treasured season. It's not an easy question to answer, almost like asking a parent to pick his or her favorite child.
Dye was asked specifically about the postseason, and he quickly rattled off the A.J. Pierzynski incident with the ball in the dirt on his AL Championship Series Game 2 ninth-inning strikeout that wasn't, the Podsednik walk-off homer in Game 2 of the World Series and El Duque's remarkable relief work to pitch out of a bases-loaded, nobody-out sixth-inning situation at Fenway Park in Game 3 of the AL Division Series. There also was the Paul Konerko go-ahead grand slam off of Chad Qualls in Game 2 of the World Series, and the four straight complete games hurled by Buehrle, Jon Garland, Garcia and Contreras to earn the AL crown.
With all of these memories rushing through his mind, Dye forgot his game-winning single scoring Willie Harris in the eighth inning of Game 4 of the World Series to help cement his Most Valuable Player status. Guillen managed to pick only one, selecting the Geoff Blum go-ahead homer in the 14th inning of Game 3 of the World Series.
Blum was acquired from the Padres for Minor Leaguer Ryan Meaux at the non-waiver Trade Deadline that season as another small, but crucial part of this amazing group.
"[Then-White Sox general manager] Kenny [Williams] asked me about what we need. Kenny, he was awesome about that: 'What do you guys need? I think we can do this or do that,'" said Guillen, focusing on the Blum deal. "It was hard for me to say what we need when we are in first place.
"I needed somebody to play the infield and can help Uribe and Crede. We don't have any names. We had this guy available, Blum. I said, 'That's the guy.' I coached him with the Montreal Expos. And look at how big he come up in the World Series."
Scott Merkin is a reporter for MLB.com. Read his blog, Merk's Works, and follow him on Twitter @scottmerkin. This story was not subject to the approval of Major League Baseball or its clubs.