Donaldson represents A's in GIBBY nominations
Third baseman cited for his defensive work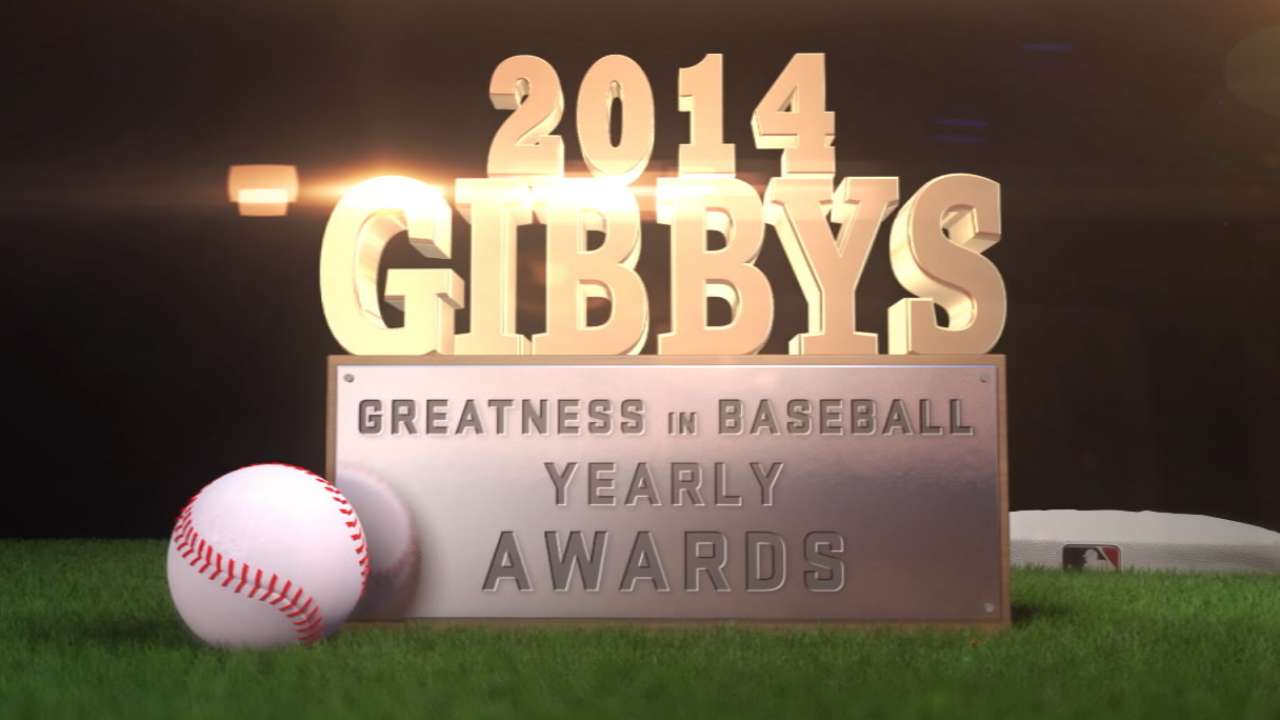 The A's have racked up nine nominations for this year's MLB.com Greatness in Baseball Yearly (GIBBY) Awards, including rented ace Jon Lester for Starting Pitcher of the Year and All-Star third baseman Josh Donaldson for Defensive Player of the Year.
And for a third year in a row, Bob Melvin is among the nominees for Manager of the Year.
Major League Baseball's A-listers will take home 2014 GIBBY trophies -- the ultimate honors of the industry's awards season -- based on votes by media, front-office personnel, MLB alumni, fans at MLB.com and the Society for American Baseball Research.
This year's GIBBY Awards feature nominees in 25 categories. Individual honors will go to the MLB MVP, in addition to the year's best starting pitcher, hitter, closer, setup man, rookie, breakout hitter, breakout pitcher, bounceback player, defensive player, manager, executive and postseason performer.
GIBBY trophies also will be awarded for the year's top regular-season play, outfield throw, storyline, hitting performance, pitching performance, oddity, walk-off, Cut4 topic, regular-season moment, postseason storyline, postseason walk-off and postseason play. Fans can watch these and more by accessing MLB.com's Must C highlight reels.
In the past several seasons, fans have cast millions of votes across the GIBBY categories, none of which was restricted to individual League affiliation. That's how you know the GIBBYs consider the best of the best.
All 30 clubs are represented among the award candidates. In fact, every team will have multiple nominees to begin voting -- a testament to the parity of talent around the game.
Donaldson leads the A's with three nominations. Along with Defensive Player of the Year, he's up for Play of the Year, for his throw from the seat of his pants to start a double play, and Walk-Off of the Year, for his two-run homer in the 10th inning of a Sept. 21 matchup at home against the Phillies.
Yoenis Cespedes' unbelievable throw to nab Howie Kendrick at the plate at Angel Stadium, when he was still wearing an A's uniform, is nominated for Outfield Throw of the Year. Oakland's Josh Reddick is also in this category, for a fantastic throw from right field to third base to get George Springer out.
Reddick also highlighted one of this year's Best Cut 4 Topic nominees. The outfielder was seen stroking Stephen Vogt and Eric Sogard's beards for good luck with the bases loaded in the 10th inning of an August contest against the Rays.
Finally, in another strange scene, the A's are represented in the Oddity of the Year category, thanks to their rally possum that brought them a handful of wins in August.
Fans can vote as many times as they want through Nov. 21 at 8:59 p.m. PT by visiting mlb.com/gibbys, and winners will be announced live on the MLB Network and MLB.com on Dec. 6.
Several categories -- Play, Oddity, Walk-Off and Cut4 Topic -- opened balloting with at least one nominee per club. After a week of voting, the four lists were trimmed to 10 finalists per group by a panel.
Jane Lee is a reporter for MLB.com. This story was not subject to the approval of Major League Baseball or its clubs.