Hinch watches AFL action, meets with prospects
New Astros skipper making rounds as he begins to focus on 2015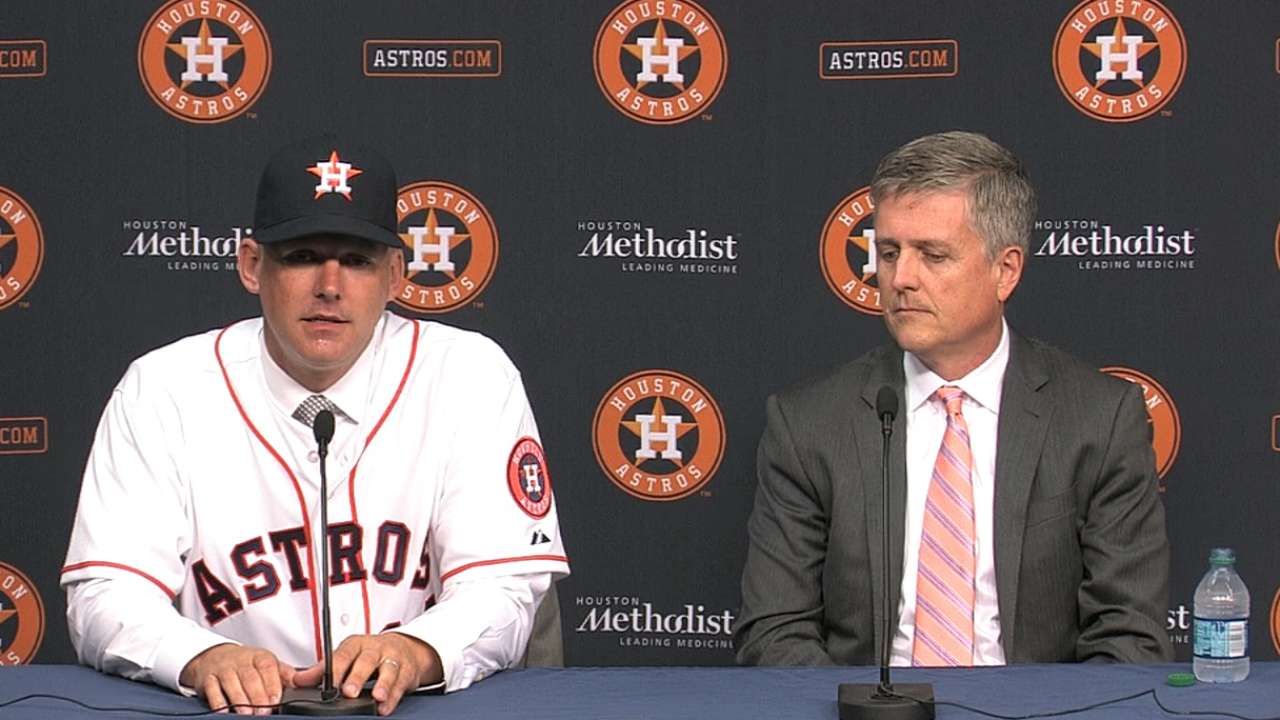 HOUSTON -- A.J. Hinch's crash course on learning the Astros inside and out this week has taken him to the Arizona Fall League, where some of the club's top prospects are competing. That list includes pitchers Mark Appel, Vincent Velasquez and Tyson Perez and third baseman Rio Ruiz.
Hinch, who lived for years in the Phoenix area while he was working for the D-backs, arrived in the desert on Monday morning just in time to watch Appel throw a bullpen session and see Velasquez throw five innings, allowing two runs and one hit to earn the win for the Salt River Rafters.
Hinch then took all the Astros prospects out to dinner to get to know them better. While in Arizona for four days, he plans to see other members of the organization who are in the area, including Triple-A manager Tony DeFrancesco, pitching coach Brent Strom, bullpen coach Craig Bjornson and Josh Miller, the pitching coach at Class A Greeneville who's serving the same role for Salt River.
"I got spoiled in living here for all those years, and in the Fall League, you could go to a game every day," Hinch said. "It's one of my favorite times of the year in Phoenix. The Fall League, playoffs baseball is winding down at the big league level and offseason planning. It's familiar territory."
Appel, who like Hinch is a graduate of Stanford, is scheduled to pitch again Friday with the new manager watching. He's made four starts in Arizona and is 1-0 with a 1.59 ERA in 17 innings, allowing nine hits, four walks and striking out 17 batters.
"He's progressed fine," Hinch said. "You can see some of the things he's working on. Things have been clicking a little bit. The word here in the Fall League is he's really thrown well, and that's good to hear."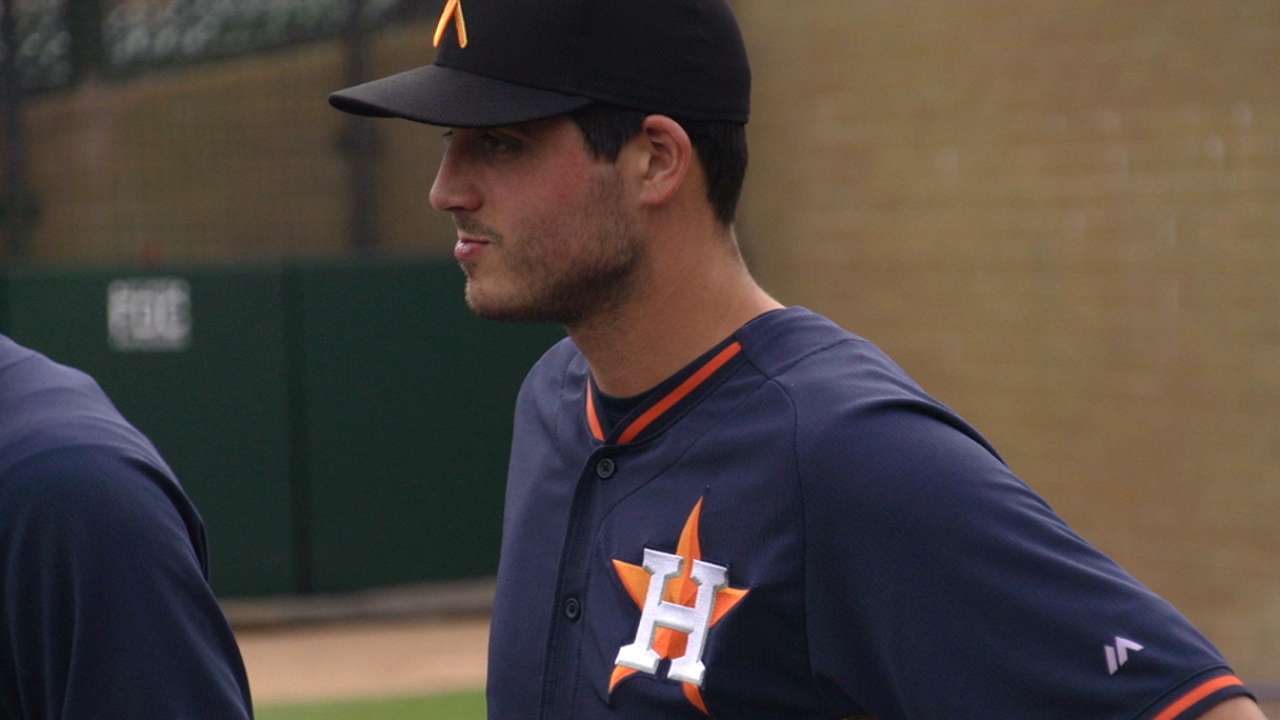 Hinch has been on the job for a month, but he admits he spent much of September doing his homework on the Astros. Since taking over the job, though, he's reached out to almost all of the players on the 40-man roster and met with a few face to face.
"It's really just trying to get to know an organization and let them get to know you," he said. "Obviously, it's been a whirlwind month, but the foundation is there to build on when it comes to getting up to speed with the personnel and the staff."
At the same time, Hinch has been trying to assemble a coaching staff. The Astros have one opening remaining on their staff for the assistant hitting coach that was held by Ralph Dickenson last season. Dickenson is a candidate to return, but Hinch has interviewed some external candidates as well. A decision is expected next week.
"At some point this offseason, we're going to get the coaching staff together and meet and sort of develop our own chemistry because there's going to be a lot of new faces here, but that will probably happen at some point in Houston in the next couple of months," he said. "I'm going to continue to peck away at meeting in person with a few players and some of the Minor League people and things like that. I'm taking a deep dive into an entire organization. That's what I'm looking forward to this winter."
Hinch plans to view as many Astros games from last year as possible, but he admits he's more focused on looking ahead as he prepares for 2015.
"I've gotten a lot of information from the players, hearing their take on the season and things they're working on and things they feel like they did well," he said. "You sort of piece it together and you want to focus on things that guys did well, you want to keep doing well and in areas you want to improve you emphasize as you get closer to Spring Training. For the most part, it's certainly a lot of researching and getting feedback from people."
Brian McTaggart is a reporter for MLB.com and writes an MLBlog, Tag's Lines. Follow @brianmctaggart on Twitter. This story was not subject to the approval of Major League Baseball or its clubs.