MLB.com Columnist
Jonathan Mayo
Pirates Arizona Fall League overview
Right-hander Glasnow headlines Pittsburgh's prospects playing for Scottsdale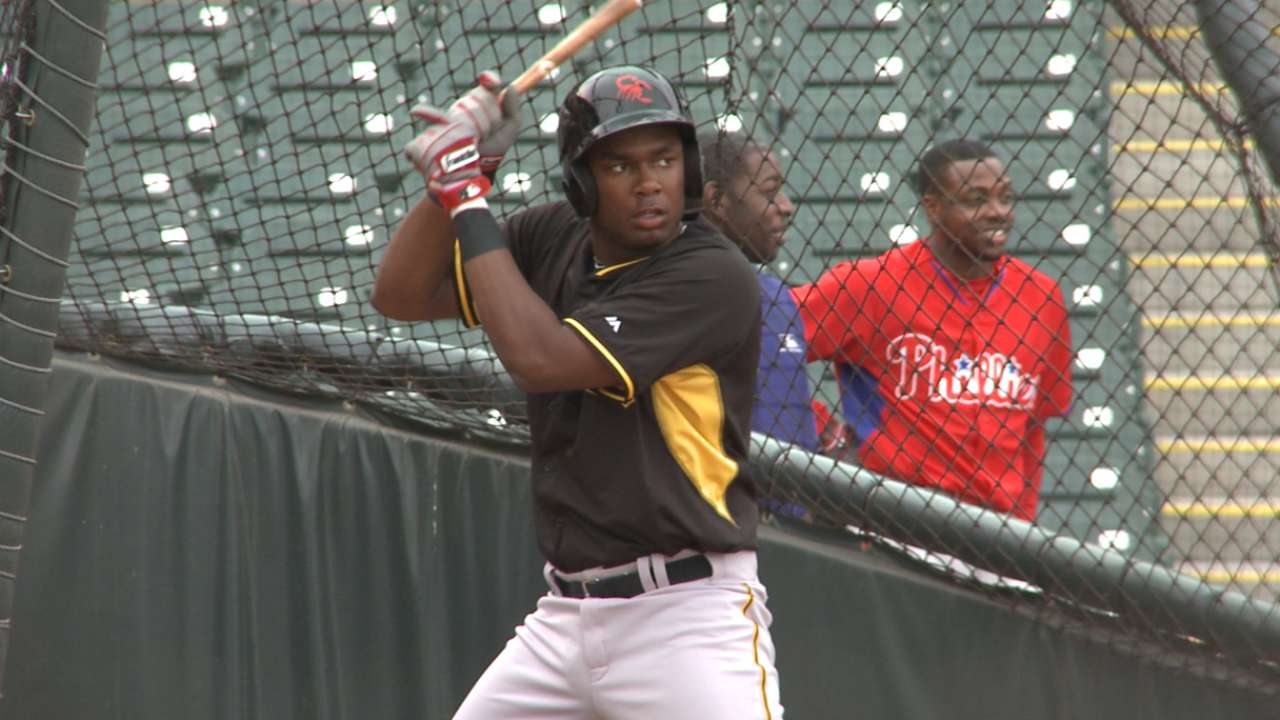 There is no doubt Tyler Glasnow has enough fastball to pitch in the big leagues. But the Pirates' top prospect wants to prove he is much more than that big right arm.
The No. 16 overall prospect on MLB.com's Top 100 list, Glasnow can touch the upper-90s with his fastball and has struck out 12 batters per nine innings so far in his pro career. Having pitched in the Florida State League at age 20, Glasnow is well aware he needs to become a more complete pitcher in order to continue dominating as he has, particularly over the past two seasons. That work began during the regular season and continues with his first true post-Class A ball challenge: The Arizona Fall League.
"Throwing my curveball early, throwing it for strikes in general," Glasnow said about his focus with the Scottsdale Scorpions this fall. "My biggest fear was trying to go 0-1. It gets tedious if you go fastball every time -- they'll ambush it. If I can throw [other] pitches for strikes, it feels like a whole different ballgame."
In his most recent Fall League outing, Glasnow tossed three scoreless innings, striking out six. He threw his breaking ball much more frequently, especially to start hitters off. Glasnow threw a first-pitch strike to 11 of the 15 batters he faced, an important improvement for a starter who has walked 4.4 per nine in his career so far.
Glasnow, MLBPipeline.com's Pitching Prospect of the Year, is also making up for some lost innings. He didn't make his 2014 debut until the end of May because of a back issue. While Glasnow said he's learned a lot about competing well without feeling like he has his "A" game, physically he feels at the top of his game now.
"Honestly, I feel great," said Glasnow, who threw 124 1/3 innings this year, up a touch from his 111 1/3 total in 2013. "You hear the August stories, and I felt it a little bit last year. This year, in my last four starts, that was the hardest I threw in my entire life. There was not any fatigue. The stuff I do between each starts is really big. I feel like I can throw a lot more innings."
That's music to the Pirates' ears. They were understandably cautious with Glasnow in 2014, allowing him to finish the season with Bradenton in the FSL playoffs rather than promote him to Double-A. The gloves could come off more in 2015, and the 6-foot-7 right-hander appears ready for the task, starting with the increased workload that comes with ascension to the highest level.
"I feel 200 innings is a pretty achievable number, especially how I feel now," Glasnow said. "Coming into pro ball, I thought 200? Now, getting into that routine, it does wonders. It gives me confidence for the future."
And it gives Glasnow confidence facing better hitters than he's ever seen consistently. In his most recent start, he struck out top prospects Jesse Winker and D.J. Peterson to help escape a threat.
"I knew the hitters would be better," Glasnow said. "You want to prove you're better than the guy you're facing. I like it more. It feels more challenging. I've definitely faced good hitting, but it's a different mentality. It's that extra excitement factor. I like it a lot."
Pirates hitters in the AFL
• Few, if any, question whether Josh Bell will hit at the highest level. The switch-hitter, ranked No. 3 among Bucs prospects, hit a combined .325/.375/.459 while reaching Double-A before he turned 22. The one question was where he would play, given the logjam of outfield talent at the big league level. So Bell is giving first base a try in the AFL.
• It took a while for Elias Diaz to figure things out, but he followed up a solid 2013 with a breakout this year in Double-A, where he hit .328 and earned a promotion to Triple-A late in the season. He makes a lot of contact, albeit without much power. His real power is in his arm -- a cannon that can shut down the opposition's running game. If the bat continues to come, Diaz could use the AFL as a springboard to a full-time catching job in the big leagues.
• Left-handed-hitting infielder Dan Gamache missed nearly all of the first half of the 2014 season due to a broken foot, so he's making up for some lost at-bats in the AFL. Gamache can play second and third and is eligible for the Rule 5 Draft for the first time this year, so Arizona is an audition of sorts for the Auburn product.
Pirates pitchers in the AFL
• Lefty Tom Harlan has spent most of his career as a reliever since being taken in the 12th round of the 2012 First-Year Player Draft out of Fresno State. But when the Pirates moved him to Double-A in early July for a spot start, Harlan fared well and stuck in the rotation for the rest of the season. The 6-foot-6 lefty was tough against left-handed hitters out of the pen this year, but the Pirates may take a longer look at him as a starter.
• A southpaw who relies on keeping the ball down and commanding his pitches, Joely Rodriguez struggled a bit in his first year of Double-A in 2014. He still got a ton of groundball outs, but he was more hittable than he was in a breakout '13 season. He has a good three-pitch mix that, when he commands it, could allow him to be a back-end starter. Rodriguez threw well over his first four AFL outings.
• Right-hander Adrian Sampson bounced back from a subpar 2013 season to pitch very well in Double-A this year, even earning a late promotion to Triple-A at the end of the season. Sampson is pitching out of the bullpen for Scottsdale, but his three-pitch mix and improved command point to his potential as a future Major League starter.
• Picked up off of waivers from the White Sox in July, Angel Sanchez pitched in four organizations in 2014. After making six appearances (five starts) for Double-A Altoona, the Pirates sent him to the AFL to replace Nick Kingham, who had initially been listed on the Scottsdale roster. Sanchez has pitched well in a relief role in Arizona, striking out the side in his first outing.
Jonathan Mayo is a reporter for MLBPipeline.com and writes a blog, B3. Follow @JonathanMayoB3 on Twitter. This story was not subject to the approval of Major League Baseball or its clubs.