In Game 7, starting pitchers can offer relief
Giants' Bumgarner could be the latest out of 'pen in winner-take-all tilt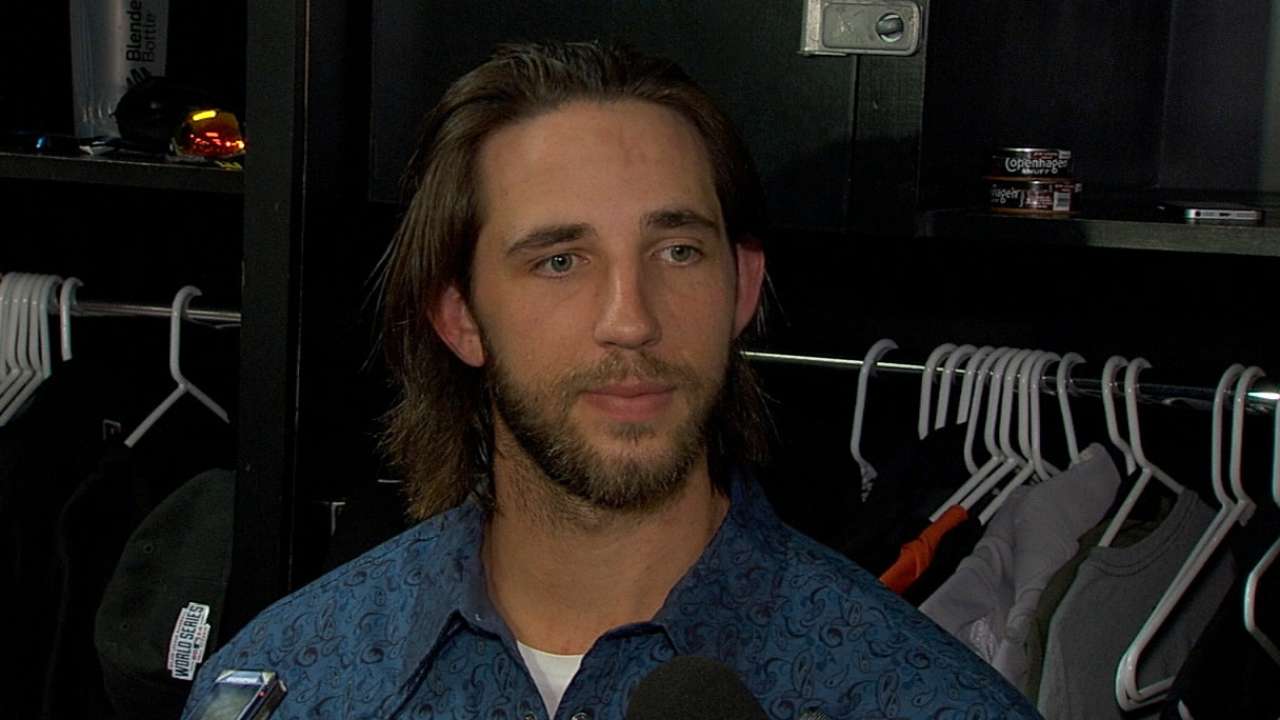 Although he tossed a 117-pitch shutout just two days ago, Madison Bumgarner could return to the mound, this time in relief, in Game 7 of the World Series on Wednesday night (7 p.m. ET air time, 8:07 p.m. first pitch on FOX).
Bumgarner is 4-1 with a 1.13 ERA and a pair of shutouts through six starts this postseason. And with a championship on the line, Giants manager Bruce Bochy said his ace will be available out of the bullpen if needed.
Bumgarner wouldn't be the first pitcher to make a relief appearance in a World Series sudden-death game after starting earlier in the series. In fact, 55 others have done it before him, though just four have come in the last 25 years.
The last occurrence was in 2011 when the Rangers' C.J. Wilson started Game 1 and Game 5 of the World Series, as Bumgarner has this year, then pitched 1 1/3 innings of relief in a Game 7 loss to the Cardinals.
Kirk Reuter was the last to do it for the Giants. In 2002, he started Game 4 and tossed three scoreless frames of relief in Game 7, which San Francisco lost to the Angels.
You have to go back to 2001 and Randy Johnson for the most recent success story. In that World Series, Johnson tossed a shutout against the Yankees in Game 2 and earned the win over seven innings in Game 6. The very next day, he tossed 1 1/3 perfect innings and was once again the winning pitcher as the D-backs clinched the title.
Though Bumgarner is available, Bochy dismissed the notion of starting him in Game 7. The Giants will instead start Tim Hudson on Wednesday.
"You know, this guy is human. I mean, you can't push him that much," Bochy said after Tuesday night's loss. "He'll be available if we need him, but to start him, I think that's asking a lot. I have a good pitcher going tomorrow who has done a great job for us."
The only time Bumgarner has pitched on two days' rest in the Majors was as a rookie in September 2009 -- he allowed two hits and struck out three of the seven batters he faced -- but it was as a reliever. As for the extent of his availability Wednesday, Bochy did not specify a number of innings or a pitch count.
"We'll see where he's at and how he's doing out there," Bochy said. "I can't tell you exactly how far he could go or how many pitches he could go. I think you read him and see how he's doing out there."
Chad Thornburg is a reporter for MLB.com. This story was not subject to the approval of Major League Baseball or its clubs.