Mourners pay final respects to Taveras at funeral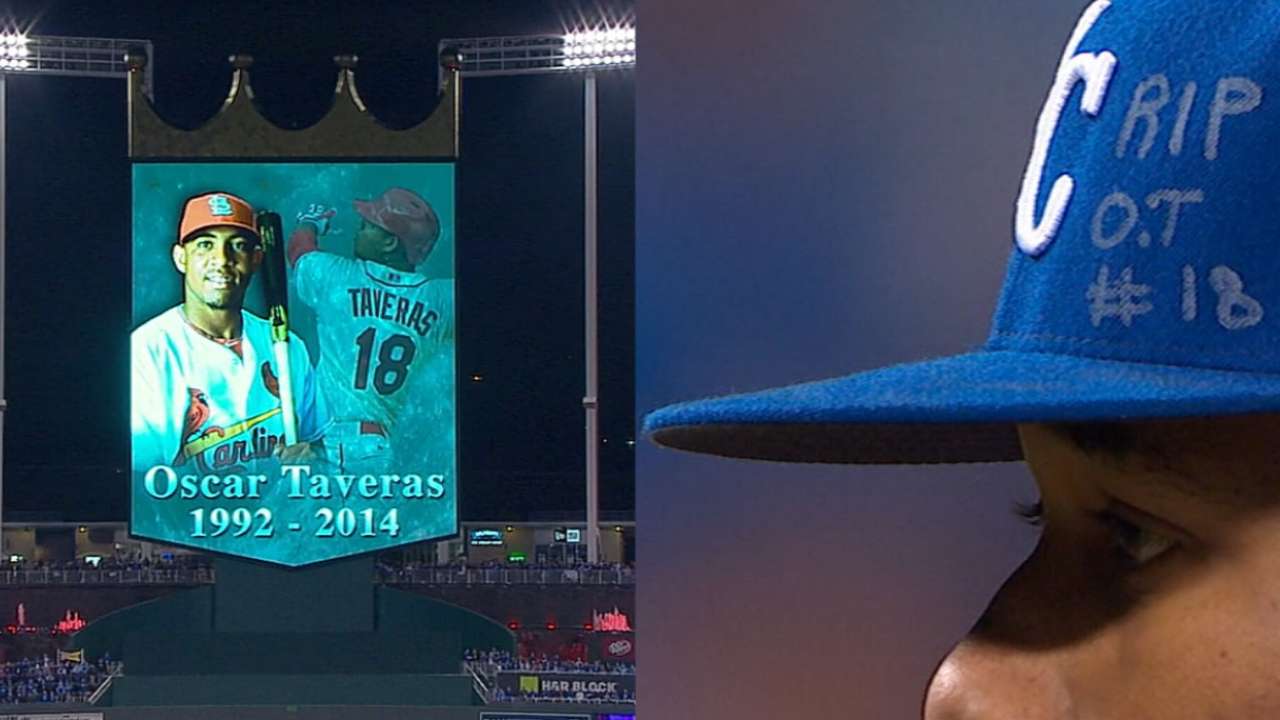 SOSUA, Dominican Republic -- Grief wore a diamond-stud earring, a fitted gray shirt with a black collar, two metal bracelets and one thick yellow rubber band that read "VIP: Lifestyles Resort."
It was 2:36 p.m. on Tuesday at Bailey's Bar and Restaurant, about 90 minutes from the start of Oscar Taveras' funeral procession, and Cardinals pitcher Carlos Martinez was pondering the life and the unexpected death of his best friend and former teammate.
Tears rolled down Martinez's cheeks.
Two blocks away at Funeraria Blas Blass, Taveras' body was lifted into a white hearse for one final lap through the nearby Los Castillo neighborhood, where the promising young outfielder had grown up. The last of the white bouquets was loaded onto the flat-bed of a dark Daihatsu truck as hundreds looked on.
"We talked liked brothers and shared ideas like brothers. He never said, 'No,' to me, but he did once," Martinez said in Spanish. "On Saturday, I called him and told him to come stay with me at the hotel. He didn't want to. I begged him. 'Come stay. I'll get you one of these VIP bracelets for free and you will have a good time with us. You won't have to pay for a thing.' I had a premonition that something was going to happen to Oscar, something was going to happen."
On Sunday afternoon, Taveras, 22, the Cardinals' top prospect, and his girlfriend, Edilia Arvelo, 18, were killed in a car accident when his car slammed into a tree on the Sosua-Cabarete freeway, not far from the player's home.
"He was like Superman here," Martinez said as he looked down at his VIP bracelet. "He was here to uplift kids and put the town on the map. He was the hope."
Taveras nicknamed himself "El Fenomeno," Spanish for The Phenomenon, when he was just 5 years old.
"I'm going to make you the happiest dad in the world," Taveras would tell his father, Francisco. "I want to be a star. I want to be a Major Leaguer. I´m 'The Phenomenon.' I'm the best."
A lone light in right paying tribute to Oscar. #RIPOscarTaveras pic.twitter.com/jVMSqgvwah

- St. Louis Cardinals (@Cardinals) October 28, 2014
It was Francisco Taveras who first introduced Oscar to baseball and set him on track to become the first and the only player from Sosua to make it to the Major Leagues. The elder Taveras moved to Montreal when Oscar was 1 year old. Over the past two decades, he has worked off and on as a coach in Canada.
"He wanted to play baseball with everybody," Francisco said. "If he saw somebody in the street, he wanted to play. He wanted to be with everybody all the time. If there was a party, he wanted to be there.
"He was never a bad guy. To everybody he said, 'Yes, yes, yes. We're going to do it.'"
The Cardinals liked Taveras' eagerness and signed him as an amateur free agent on Nov. 15, 2008, when he was 16. By 2011, Taveras solidified his reputation as a special talent: He hit .386 with a .444 on-base percentage and a .584 slugging percentage at low Class A Quad Cities in the Midwest League.
He moved up to Double-A Springfield in the Texas League and was the Texas League Player of the Year in 2012. He was selected to play in the All-Star Futures Game in both 2012 and 2013. A high ankle sprain limited his time at Triple-A Memphis in 2013, but he still entered the 2014 season as MLB.com's No. 2 prospect.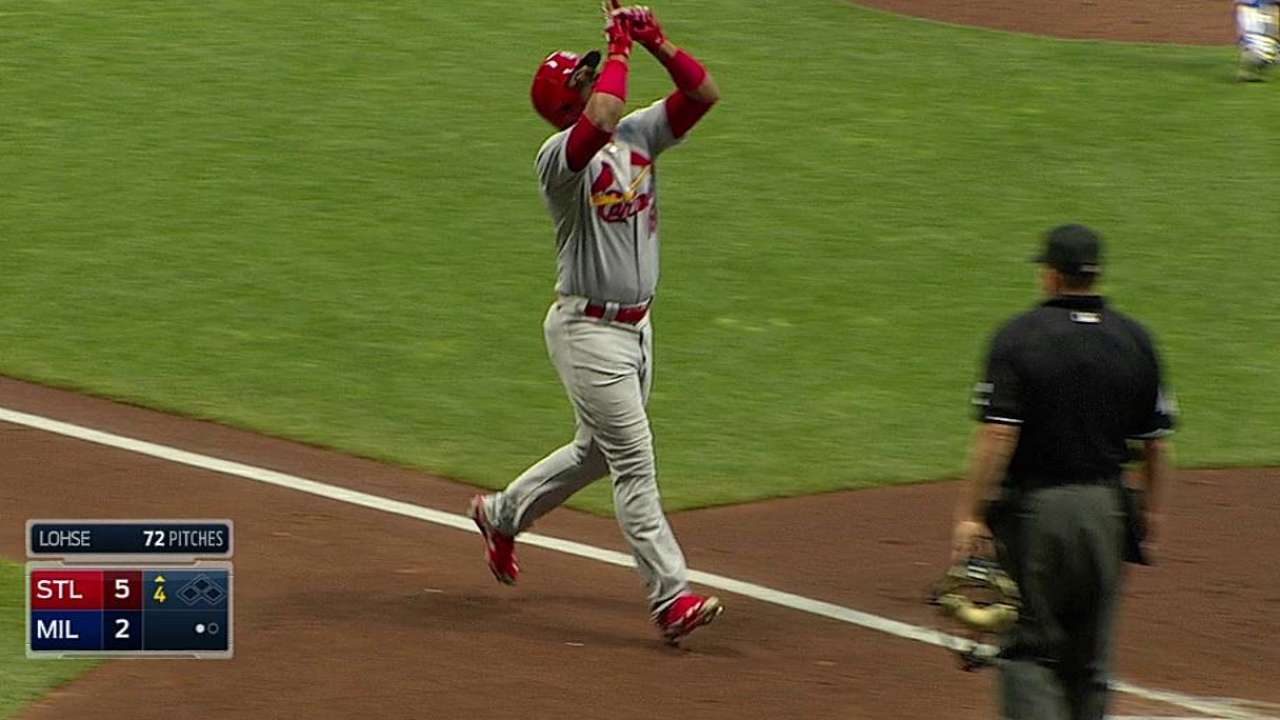 The outfielder made his Major League debut on May 31 and hit his first home run in his second at-bat off of Giants pitcher Yusmeiro Petit in the Cardinals' 2-0 victory. He hit a dramatic pinch-hit home run in Game 2 of the NLCS against the Giants, his final game at Busch Stadium.
The curtain calls that followed are the lasting images of the young slugger for many Cardinals fans.
"He enjoyed those big situations and he succeeded in them," said Cardinals manager Mike Matheny, who joined general manager John Mozeliak at Taveras' memorial. "It was something that showed that unbelievable talent, but also the heart and the confidence of a young player who was just getting going.
"I think what we're feeling more than anything is the reality, and I think we're asking ourselves a lot of tough questions."
Brewers outfielder Carlos Gomez, along with former Major Leaguers Moises Alou and Stanley Javier also visited the funeral home Tuesday. Boston slugger David Ortiz, who lost his mother in a car accident in 2002, spoke to the family for 15 minutes by phone.
Thousands attended a viewing of Taveras on Monday. The large crowd surprised no one.
"[Oscar] was a man of the people," Francisco said. "Yes, he was a man of the people."
Sundays are special days in the Dominican Republic, so special the country practically shuts down, save for the convenience stores. It's a day for family get-togethers and long days on the beach.
On Sunday morning, Oscar Taveras drove to Rio Jamao, the nearby river, with his friends for an afternoon of fun. He spent the day roasting a pig and enjoying life with some buddies.
The drive home on the Sosua-Cabarete freeway was met with torrential rain, forcing some in Taveras' caravan to pull over. Taveras, who was driving a 2014 Chevrolet Camaro, did not stop. He accelerated on a straightaway.
His car slammed into a tree at 7:40 p.m. ET, according to the report issued by Brigade General Francisco Romero Lopez of the Northern Regional National Police. Taveras and Arvelo died from their injuries at the Cabarete Medical Center.
"Sunday night, I was in the hotel with my family, trying to call him. We couldn't reach him," Martinez said. "Then somebody called me to tell me that he was in a car accident but he was unconscious, he wasn't dead. And then a reporter told me and sent me the photo of him after the accident, he was dead. I started to cry."
Francisco Taveras learned of his son's death on social media.
"I didn't believe it," Francisco said. "I called my brother. I called my sister. My brother did not answer the phone. Ten minutes later, my brother called me and told me."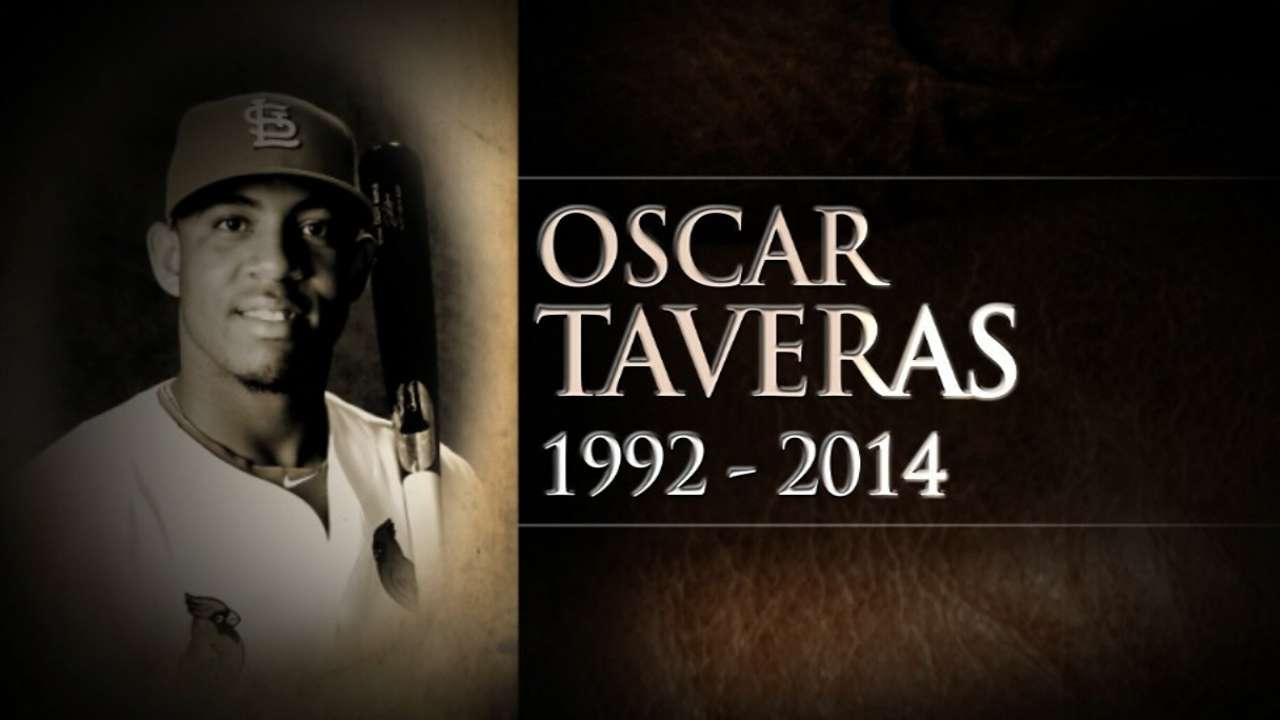 Photos of Taveras' wrecked sports car showed up online and the news quickly spread around the world. The Cardinals and Major League Baseball both issued statements. A report of the outfielder's death was broadcast during Game 5 of the World Series between the Royals and Giants in San Francisco.
There was a moment of silence before the start of Game 6 in Kansas City on Tuesday. Royals starting pitcher Yordano Ventura dedicated his start Taveras, bringing a Dominican flag to the press conference after pitching seven shutout innings in his team's 10-0 victory to send World Series to a seventh game.
"From the minute that I found out about Oscar, I said this game was going to be dedicated to him," Ventura said after the game. "I prepared myself mentally and physically for this game and I'm very proud to be a Dominican, and that's why I brought the flag.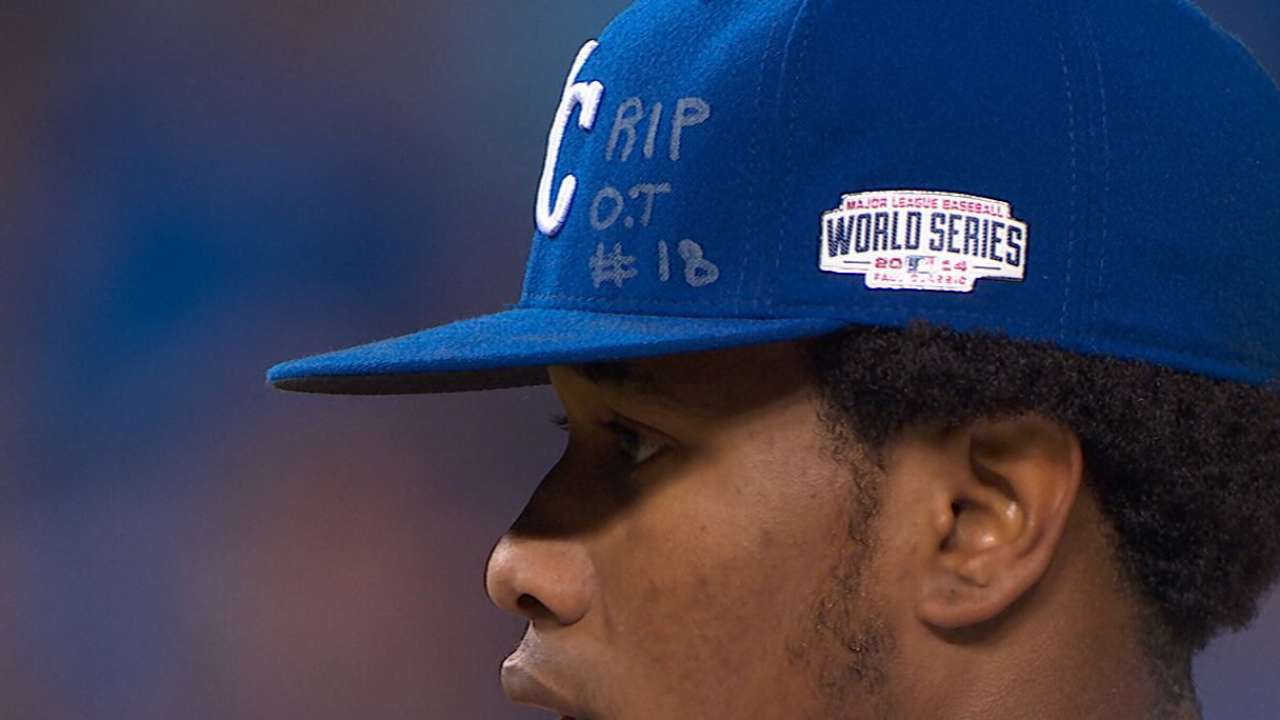 "Oscar was a very humble guy and very likeable, and I'm going to miss him a lot. I'm grieving, and I want to send my best thoughts to his family. I know that I'm going to miss him a lot, and this is hard for me."
It is difficult -- and concerning -- for Mozeliak, whose organization developed and cared for Taveras and does so for many other Dominican players, too.
"You see how the traffic patterns are, you see all the scooters, you see how people drive," Mozeliak said. "It is something of a concern, with the cars that these players are bringing over to the Dominican Republic. We do see this as an opportunity to educate our players. It is a tragedy. It is something that other young players will learn from. And in terms of what we can do, education is the only thing that we have."
It was Martinez who tried to convince Taveras to join him at the Lifestyles Resort on Saturday night. He also tried to talk Taveras into staying in St. Louis for a few days at the end of the season instead of rushing back home to be with his friends in the Dominican.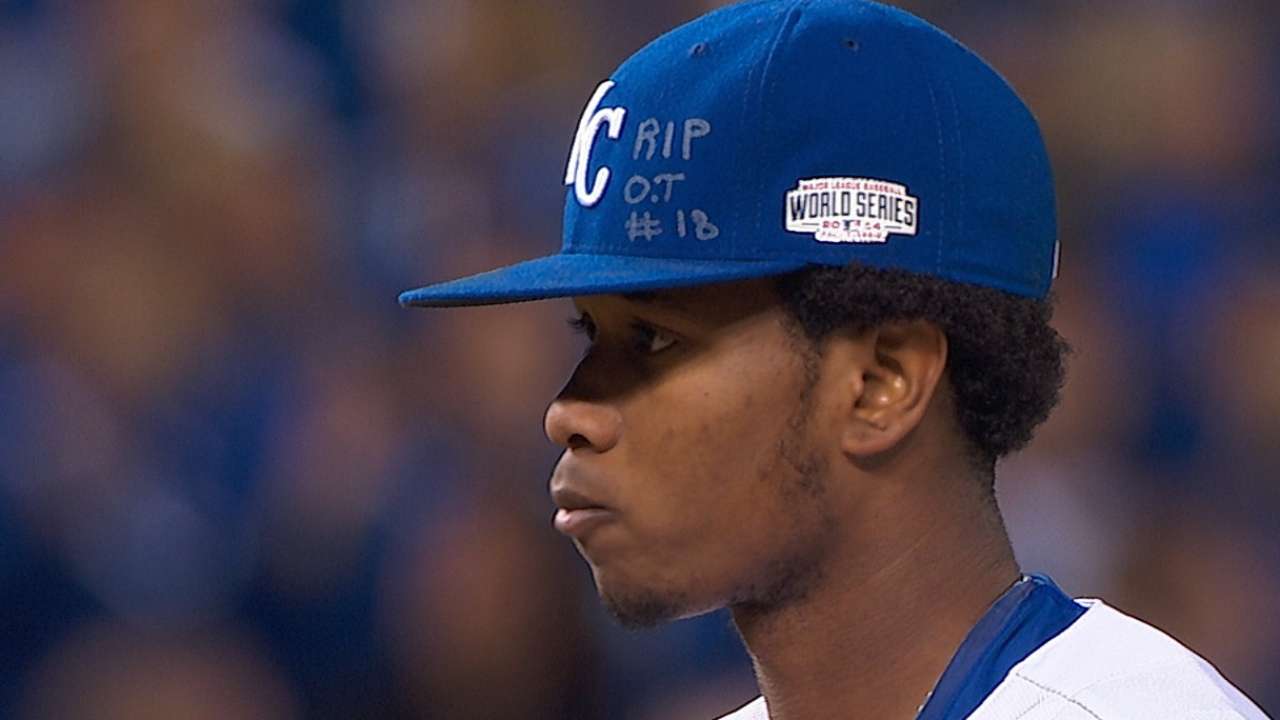 "He would say, 'Yeah, yeah, I'll be there,'" Martinez said. "He just never came. I'd tell him about being in the big leagues and acting like a professional all of the time, but it didn't stick. He would listen to the advice, but he just wouldn't put it into practice."
The first stop in Taveras' funeral procession was at the small lime green and white Catholic church built of cinder blocks just down the street from his childhood home in Los Castillo.
More than 2,000 people lined up in the street in the blistering sun to listen to the priest's voice bellow from the large speakers. The lucky ones sat in white plastic chairs under a large canopy. Others watched from balconies of a nearby apartment building. Little boys came dressed in their Little League uniforms.
"Juventud es un valor," the priest said in Spanish.
"Youth is a value," he said. "Youth is to be cherished by parents, country and the church. Young people, you need to take care of yourself. Parents take care of your youth, the youth of God and the youth of our town. Youth like Oscar Taveras."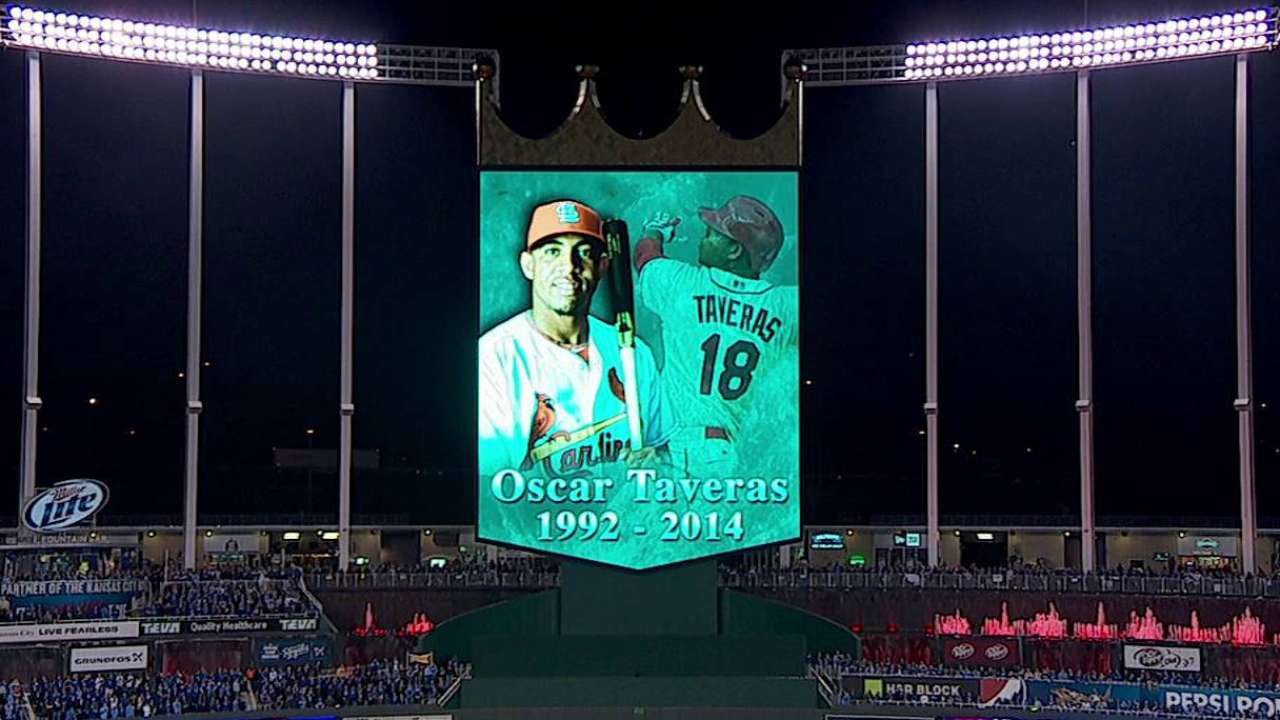 At least 5,000 people, walked the half-mile down a narrow dirt road to Tavares' final resting place at municipal cemetery. Many stood on top of mausoleums to get one last look at the young man's casket.
Back in St. Louis, a memorial for Taveras grew at the foot of the Stan Musial statue outside of Busch Stadium.
"It's a reminder for me, an example that I have to keep doing the right thing," Martinez said. "Maybe God is giving me a sign and reminding me to stay on my path in baseball. It's lesson for all of us."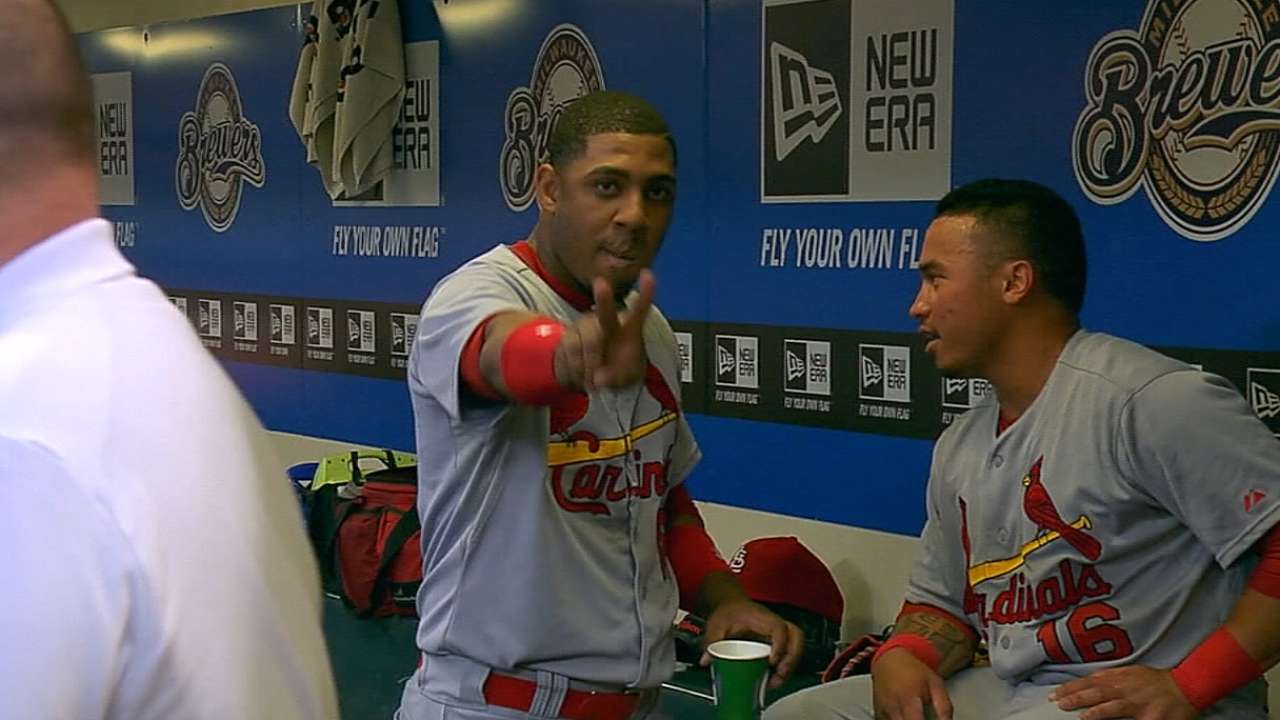 Jesse Sanchez is a national reporter for MLB.com. Follow him on Twitter @JesseSanchezMLB. This story was not subject to the approval of Major League Baseball or its clubs.