Belt's misplay aids Royals' big second inning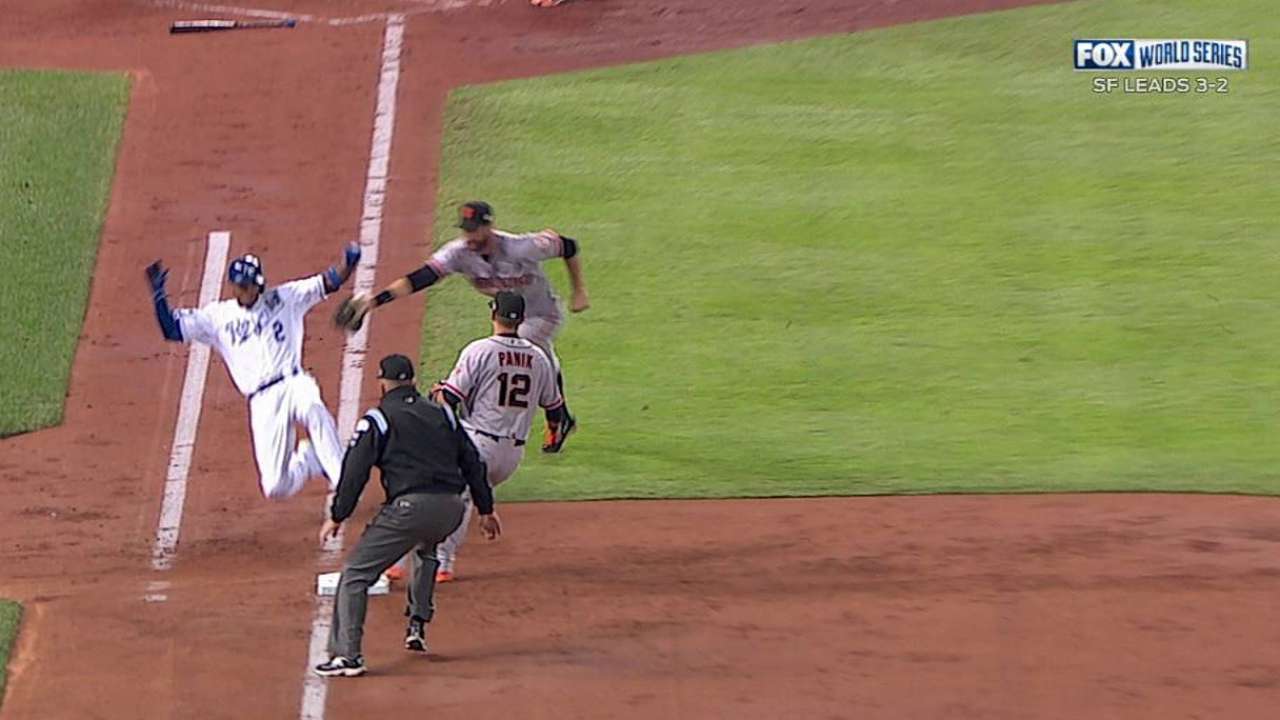 KANSAS CITY -- Giants first baseman Brandon Belt shook his head and said he'd never seen a play like that before. "Unfortunately, it happened in the World Series," he ruefully added.
Specifically, it happened in the bottom of the second of what turned out to be a 10-0 Royals win in Game 6 of the World Series at Kauffman Stadium on Tuesday night. But at the time, Kansas City had scored just once with one out, Mike Moustakas on second and Salvador Perez on third.
Royals shortstop Alcides Escobar hit a ground ball to Belt, whose first instinct was to come home to cut off the run, and pitcher Jake Peavy was pointing at the runner. But Perez didn't go. Peavy wasn't covering first. Second baseman Joe Panik was, but he was behind Belt. So the first baseman tried to make the play himself, but Escobar slid under the tag.
Instead of two outs with two on, the Royals had the bases load with just one away. Before the inning ended, they'd scored seven times on the way to evening the best-of-seven Series at three games apiece with Game 7 set for Wednesday night.
"Out of the corner of my eye, I saw [Perez] start to break toward home," Belt said. "So that's where my first move was. But he didn't go. If the pitcher can't get to the bag, at that point, it's my job to try to get the runner out myself.
"It's one of those things where I might could have dove for him and got him. But then you risk the runner being able to go home from third right there. So I did what I could to get over there."
Panik was yelling at Belt, but the first baseman couldn't hear him. And Peavy had to hold back.
"I wanted him to check that runner," Peavy said. "The ball was behind me and I couldn't see that runner. I couldn't cross in front of [Belt] right there if he had to go to home plate. That led me to not being able to cover the base. Obviously, it was a tough play. It was a perfectly hit ball. It couldn't have gotten out there much better."
"That play has actually never happened like that before," Belt said. "The way the play usually comes up it's me and the pitcher right there. Joe doesn't usually play in unless there's a lefty on the mound. That's not usually how the play ends up. I wish I would have looked back. But, like I said, we've practiced that play so many times and Joe's usually not there."
Said Royals manager Ned Yost: "[Escobar] had the presence of mind there not to veer out of the base line and to realize that Belt thought we might be coming on contact. [Belt] just took that second look to see if we were coming on contact and Esky was flying down that line. He's a real instinctual player. Those are plays you really can't think about."
Giants manager Bruce Bochy said that play could have been a turning point.
"No question," he said. "Belt was checking the runner on third, but there wasn't a lot of speed there. He just waited a hair too long. You've got a pretty fast runner going down the line. I thought that changed that inning. If [Peavy] gets an out there, he's got a better chance of getting out of it."
Instead, Nori Aoki followed with a single and Bochy brought Yusmeiro Petit in to relieve Peavy and the game unraveled from there with an assist from an unusual play that occurred at a most inopportune time for the Giants.
Paul Hagen is a reporter for MLB.com. This story was not subject to the approval of Major League Baseball or its clubs.