Posey not laying down after missed chance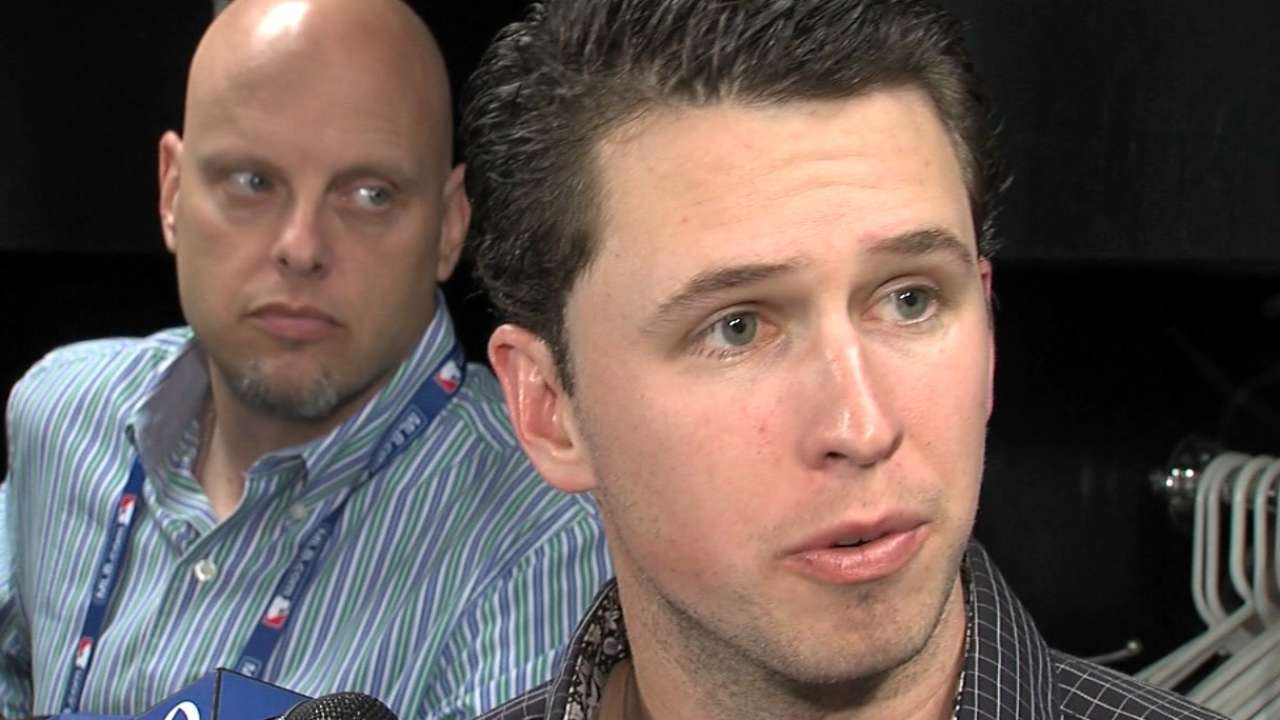 KANSAS CITY -- The Royals had just delivered a gut punch, scoring seven times in the second inning. It was enough to knock the wind out of the Giants, but San Francisco came right back with some jabs of its own at Kauffman Stadium.
With one out in the third on Tuesday night, Kansas City starter Yordano Ventura walked shortstop Brandon Crawford. Then he walked center fielder Gregor Blanco. Then he walked second baseman Joe Panik to load the bases, and Giants No. 3 hitter Buster Posey stepped to the plate.
An uneasy silence fell over the sellout crowd at Kauffman Stadium for Game 6 of the World Series.
There are two schools of thought on what a hitter should do in that situation. One is to take until the pitcher proves he can throw strikes. The other is that the pitcher is probably going to start with a get-me-over fastball and the hitter should be ready to ambush it.
Ventura threw a 97-mph fastball. Posey swung ... and grounded into a 6-4-3 double play to end the inning and, as it turned out, the last real chance the Giants had to chip away at the deficit and get back into the game. The final score was 10-0, evening the best-of-seven Series at three games apiece, setting up the climactic Game 7 on Wednesday night.
"You've got to weigh your options there," Posey said. "And I felt like, from the previous at-bats I've had against him, he was filling up the strike zone pretty good. So I thought I'd take a shot at it. He throws 100 at will and can sink it at 96. He's got electric stuff."
Added Giants manager Bruce Bochy: "He hit the ground ball, but, I mean, you're not going to give your best hitter the take [sign] there. If he gets a pitch he can handle, gets you back in the game, gets a big hit. But, again, you're facing a guy with great stuff. You have your work cut out for you going against him. He just happened to hit a ground ball."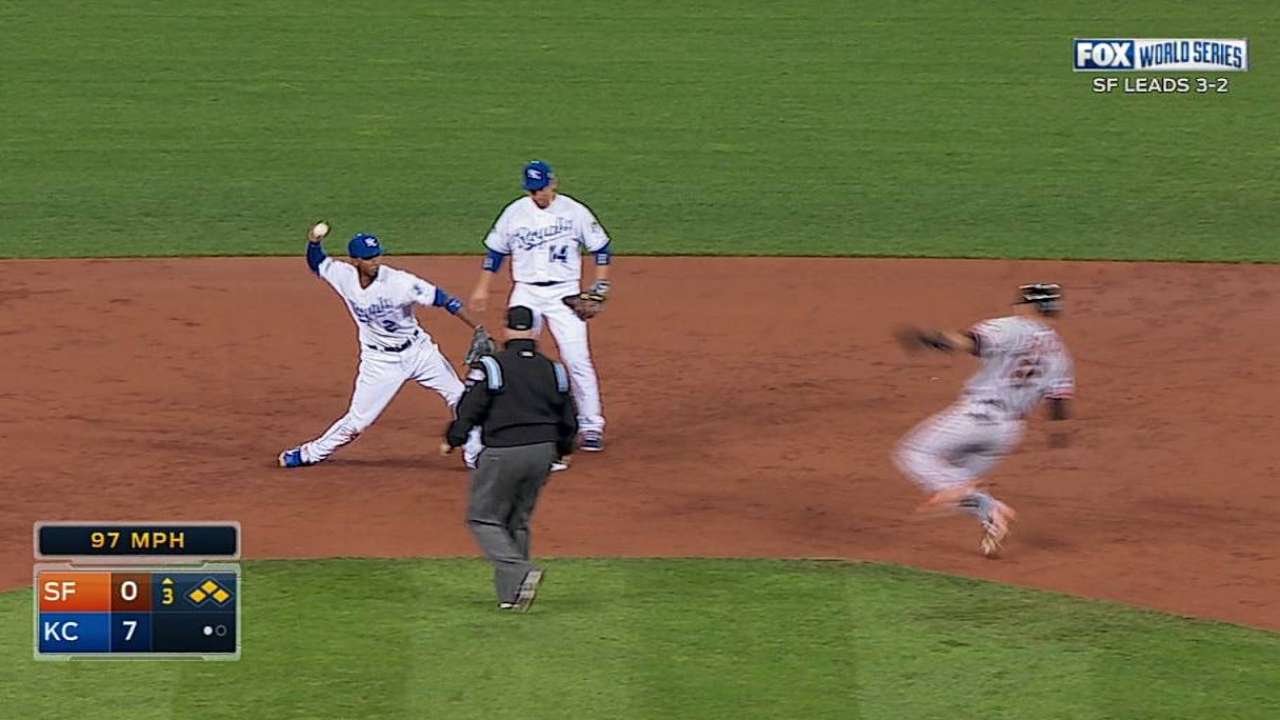 The Giants still faced a steep climb going into the third inning, but Posey said he and his teammates still thought they had a shot.
"You knew it was going to be tough, but at the same time, we were able to load the bases. If we had gotten a bases-clearing double or something there, you're kind of back in it," he said. "So I think, mentally, at that point, we kind of felt we could still get back into it."
Panik agreed.
"A lot of things could have happened. You just don't know," Panik said. "Ventura made a good pitch. We had the guy up who we wanted. But you can't tell what would have happened."
Posey has had a tough World Series, batting just .182 with four singles in 22 at-bats. He conceded that he's a little beaten down with one game to go at the end of a long season, but the catcher was replaced by Andrew Susac with the Giants down 10 in the seventh inning and he expressed hope that getting the last couple of innings off would be helpful.
"Yeah, it will help. I think everybody feels it this time of year. It's almost Halloween, so, yeah," he said with a smile. "This was just a baseball game. We've been through baseball games like this during the regular season. Tomorrow is a fresh start.
"We're lucky. It's a unique opportunity. Not a lot of people get to play in Game 7 of the World Series. So we'll be ready and excited for it."
Paul Hagen is a reporter for MLB.com. This story was not subject to the approval of Major League Baseball or its clubs.