Peavy bemoans 'lost opportunity'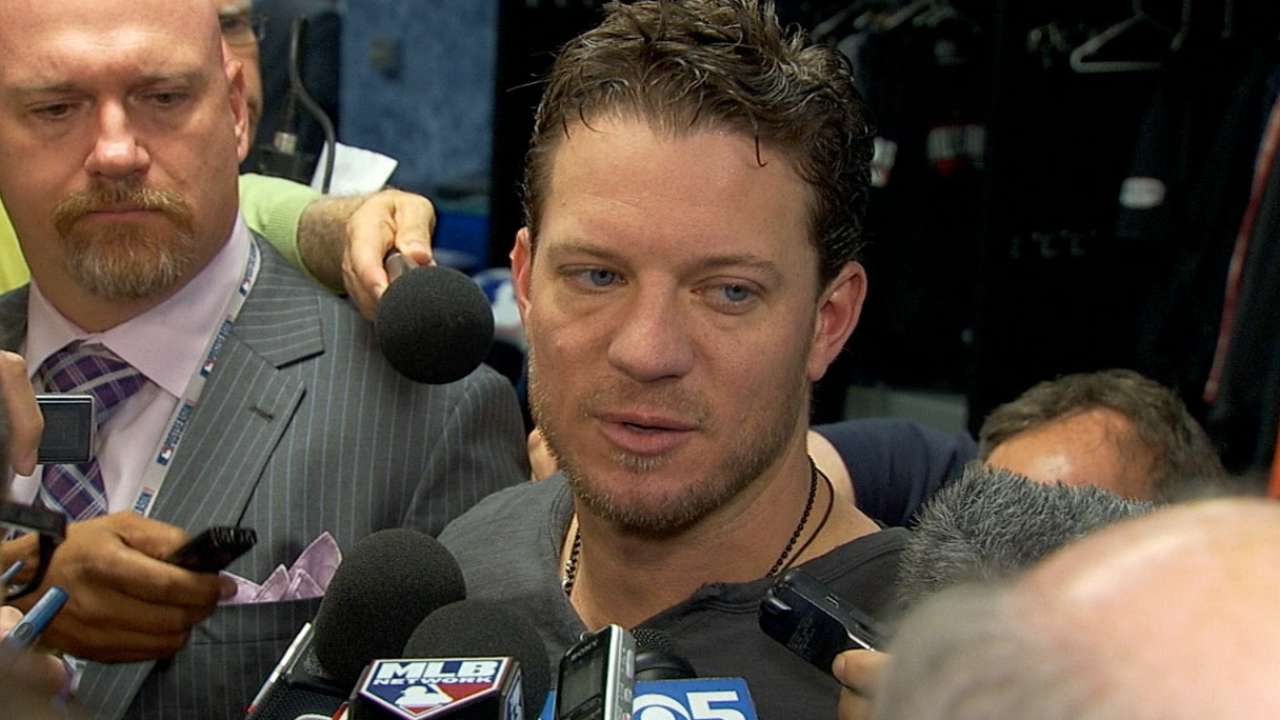 KANSAS CITY -- In the biggest game of his career on Tuesday night against the Royals -- Game 6 of the World Series at Kauffman Stadium -- Giants right-hander Jake Peavy didn't make it out of the second inning.
Peavy had a chance to help the Giants clinch their third World Series title in five years. Instead, Peavy was rocked for five runs on six hits as the Royals won, 10-0, to tie the best-of-seven Series at three games apiece. Peavy faced 11 batters and had thrown 42 pitches when he left after 1 1/3 innings.
The World Series will be decided in Game 7 on Wednesday night, with
Tim Hudson
on the mound for the Giants against
Jeremy Guthrie
in a rematch of Friday night's Game 3 starters. The Royals won that one, 3-2, at AT&T Park and neither pitcher was involved in the decision. Peavy had a chance to lock up a World Series title for the first time in his 13-year career, but it wasn't to be.
"It's hugely disappointing. It's as disappointing as you can get," Peavy said. "It's almost easier when you make pitches you don't want and you get beat around. But I'm not sure how much more I could have done. I don't know what else to tell you. We got the ball hit the way we wanted to have the ball hit, but you have to have it hit at people. Not taking anything away from [the Royals], when you put the ball in play good things can happen. It's frustrating because you don't know what you'd go back and do a whole lot differently."
Peavy, who pitched for the Red Sox in the 2013 World Series, lost for the second time in this Series and had his shortest outing in any of his three Fall Classic starts over the past two postseasons. In his 337 regular-season starts, Peavy has lasted fewer than two innings just twice.
For his postseason career, Peavy's now 1-5 with a 7.98 ERA -- 52 hits and 34 earned runs -- in nine starts dating back to 2005-06 when he and Giants manager Bruce Bochy were together with the Padres. Eight of those starts were on the road. He has a 9.58 ERA in the World Series, 11 earned runs and 17 hits. His Game 1 victory in this year's National League Division Series against the Nationals in Washington is the only postseason win of his career.
Peavy lost Game 2 here to the Royals, 7-2, and he was removed two batters into the sixth inning, allowing four runs on six hits.
Last year, pitching for the Red Sox against the Cardinals in Game 3 at Busch Stadium, Peavy left after four innings, allowing two runs on six hits. The Red Sox lost that game but won the Series in six. Peavy was the projected starter for Game 7 at Fenway Park had the Series advanced that far.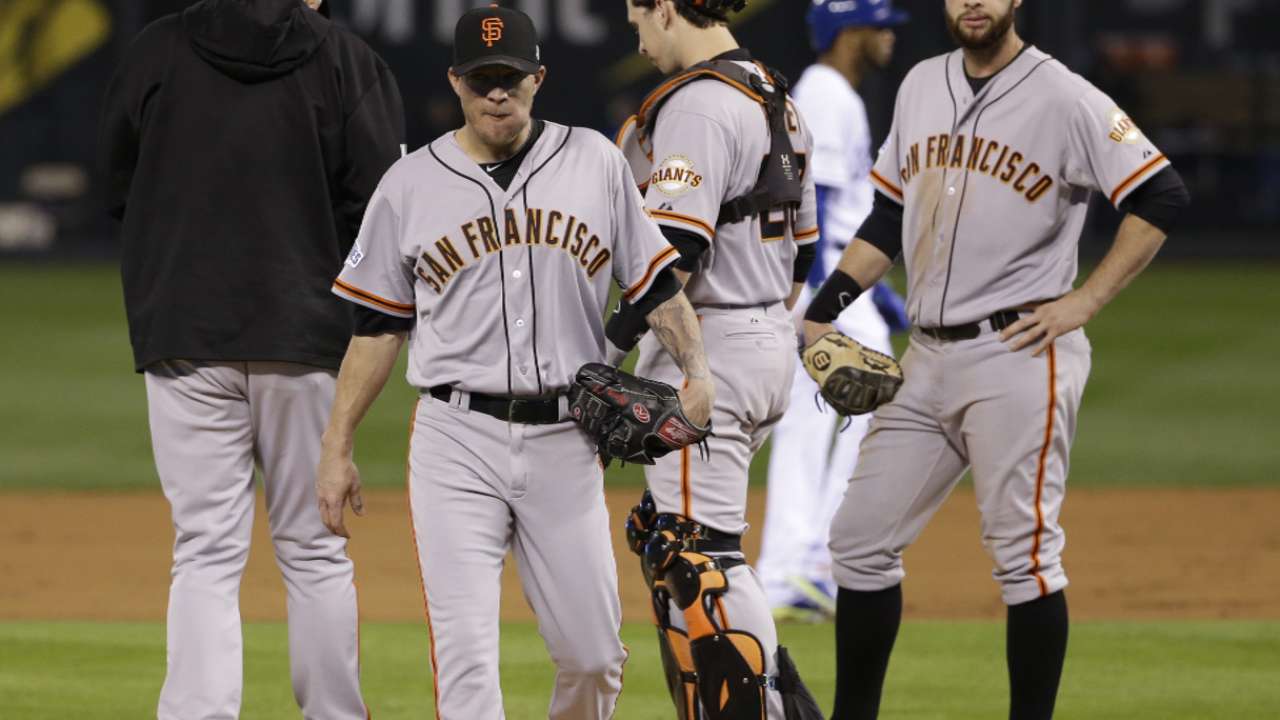 On Tuesday night, Bochy didn't have much of a decision to make.
"I thought he had pretty good stuff tonight, I did," Bochy said. "I know the numbers don't indicate that. If he had a little luck, he probably gets out of that [second] inning. They just hit the ball where we couldn't get to it. But I thought his stuff was crisper, his velocity. They just made contact. And he's had a tough time against this club. But I thought when he started the game I could see a difference in his stuff."
Peavy said he went into the clubhouse and watched the video of the fateful second inning with some teammates and still was dumbfounded about what transpired.
"I don't know at any point in time if I had broken three bats and never recorded an out," Peavy said. "No question, it was a lost opportunity. I wish it could have played out much better. Sometimes it's just not your day."
Peavy thought he had good stuff in the first inning when he pitched his way out of a two-out, first and third situation. Billy Butler grounded into a forceout at second.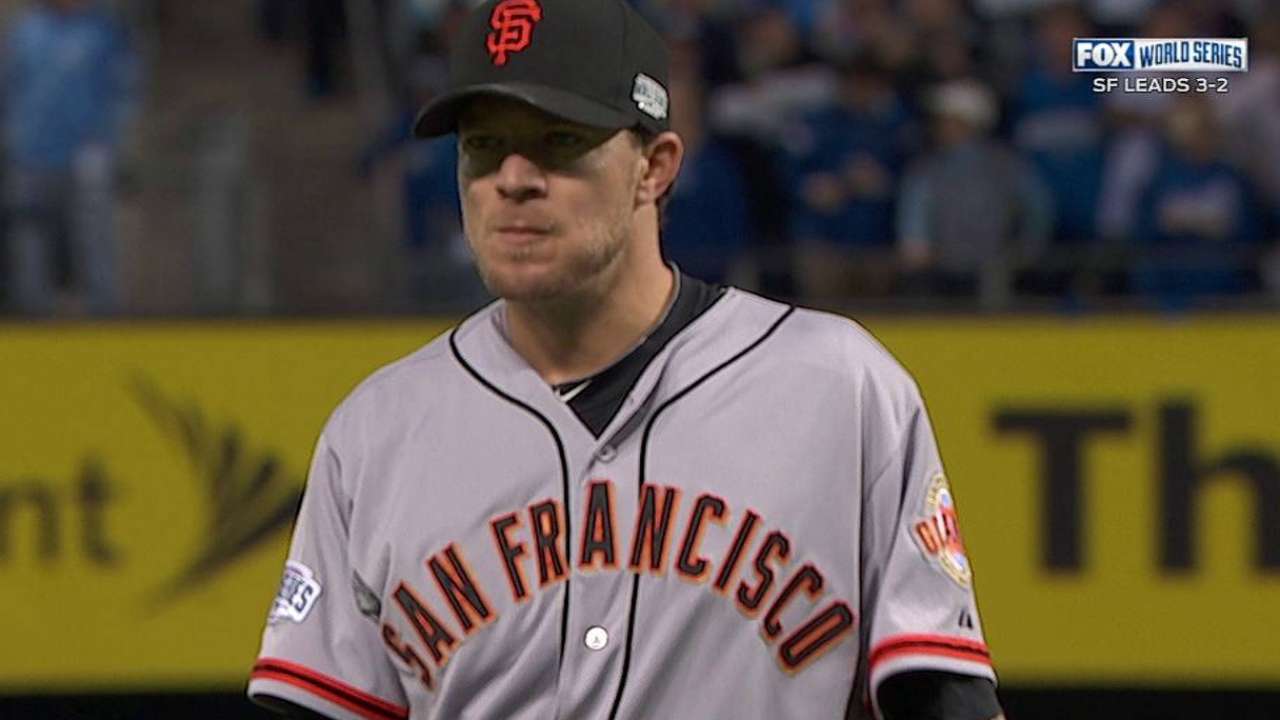 But he wasn't so fortunate in the second inning.
Alex Gordon and Salvador Perez singled and Mike Moustakas doubled home Gordon for the first run, leaving runners on second and third. Omar Infante struck out swinging for the first out. The ensuing play was the nexus of the inning.
Alcides Escobar bounced a chopper to the right side of the infield that was fielded cleanly by first baseman Brandon Belt very wide of the bag. Peavy pointed adamantly toward the plate and Belt checked Perez back to third. By the time Belt did that, Escobar sped down the line, beating Belt back to the base.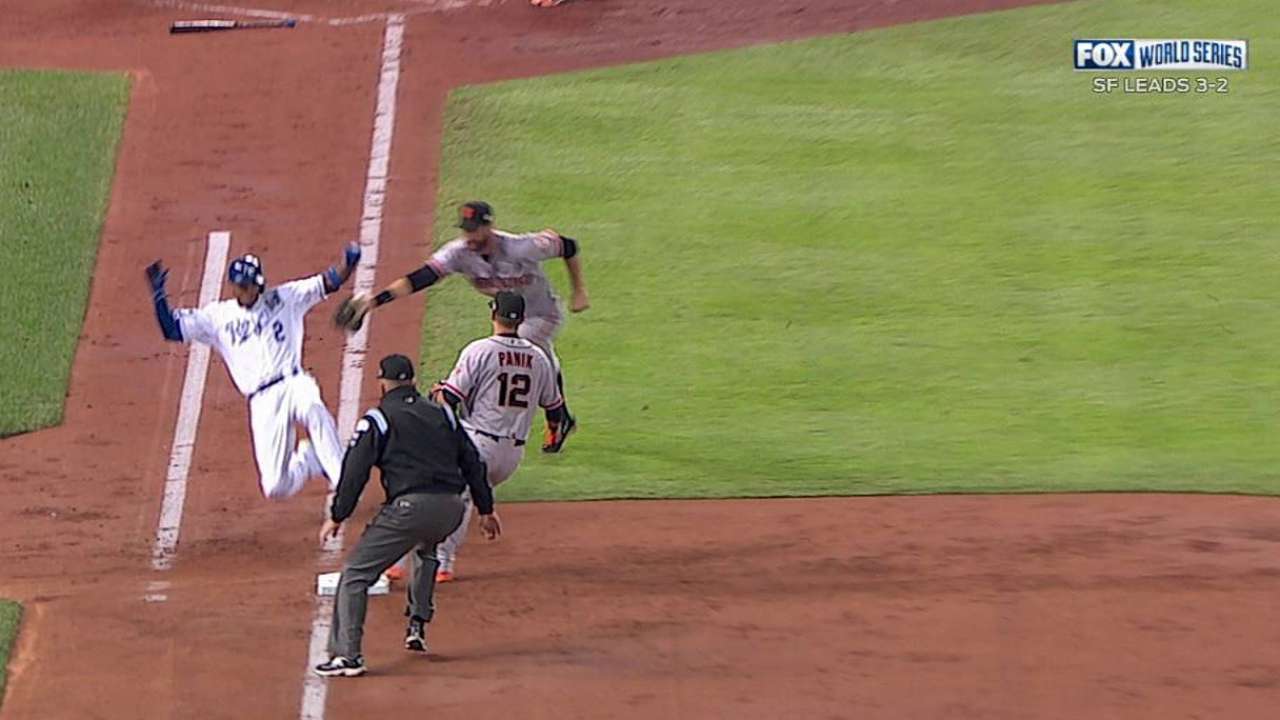 "Obviously, it was a tough play," Peavy said. "It was a perfectly hit ball. It couldn't have gotten out there any much better. I wanted [Belt] to check that runner. The ball was behind me and I couldn't see that runner. I couldn't cross in front of [Belt] right there if he had to go to home plate. That led to me not being able to cover the base. Joe Panik got there. Once again, it was just [lousy] luck."
After that, it was the deluge. Peavy had a one-strike count on Nori Aoki, who refused to give ground, fouling off four of the next five pitches. On the seventh pitch of the at bat, Aoki grounded a single to left, knocking in Perez. Bochy came out with the quick hook and the Royals went on to score seven runs on eight hits in the inning. As the hits kept coming, Peavy left the dugout and headed up to the clubhouse, visually shaken.
"I think I was trying to mix it up at that point," he said. "Obviously, me being there wasn't doing anybody any good."
Now, it's on to Game 7 and Peavy will be replaying that video in his mind for the rest of his life. No one is harder on himself than Peavy.
"If it was regular season game, maybe Bochy would have left me in there. I still think I had plenty left," Peavy said. "I felt really good. That being said, the ball just wasn't bouncing my way."
Barry M. Bloom is a national reporter for MLB.com and writes an MLBlog, Boomskie on Baseball. This story was not subject to the approval of Major League Baseball or its clubs.