Oldest to start a Game 7, Hudson feeling good
Veteran 'very calm' heading into decisive World Series game against Royals
KANSAS CITY -- For the better part of two decades, Tim Hudson waited for his chance to pitch in the World Series, biding his time, wondering -- increasingly often, in recent years -- if he would ever make it. Hudson did last week, of course, losing Game 3 in San Francisco.
Now, he is about to dive headlong into the type of pressure-packed situation that relatively few pitchers have ever seen. Game 7, World Series (4 p.m. PT air time/5:07 p.m. first pitch on FOX). Hudson on the mound for the Giants, Jeremy Guthrie for the Royals. Winner take all.
At 39 years, 107 days, Hudson will be the oldest Game 7 starter ever. Roger Clemens was 39 years, 92 days old when he started Game 7 for the Yankees against Arizona in 2001.
"When you're a little kid in the backyard, you always think of World Series games and hitting home runs to win a Game 7 of the World Series or pitching in a big game, a Game 7 of the World Series," Hudson said. "I'm no different than anybody else. It's something that as a kid growing up you think about it, as a big league player you think about it, and you often wonder if you're ever going to have the opportunity to do it.
"Sixteen years in the big leagues, I finally have that chance."
Though Hudson hoped the Giants would never face this situation after taking a 3-2 Series lead over the weekend, he has been preparing all week for a start that is suddenly imminent. Even before the Giants lost Game 6, Hudson huddled with fellow starter Jake Peavy, trying to understand how best to attack the Royals.
Yet for Hudson, one of the foremost sinkerball practitioners of this generation, Game 7 will be more about pitching to his own strengths than the Royals' weaknesses.
"I feel pretty good about what I'm going to be doing and my game plan that I'm going to be taking into the game tomorrow," Hudson said after Tuesday's 10-0 loss in Game 6. "It's just going out there and executing my game, my pitches and doing what I always do."
"I think tomorrow's a completely different game," Royals designated hitter Billy Butler said late Tuesday night. "Obviously the offense has got a lot of confidence going into tomorrow. I don't expect it to have any outcome for tomorrow, what happened tonight. I think it will be a completely clean slate."
This may be by far the biggest game of Hudson's career, but it is no swan song for a pitcher who signed a two-year deal with the Giants last winter because they fit both his key criteria: Hudson wanted to pitch for a National League team, and he wanted to pitch for a club with realistic World Series aspirations. Barring something unexpected, he will be back in San Francisco next season at age 40, albeit with a different cast of characters around him.
But given the cloudy nature of all things unseen, it's reasonable to think this is the closest Hudson will ever get to winning a ring. Finishing the job would transform him from one of the better pitchers of his generation (and one of the best sinkerballers ever) to a World Series champion -- a biographical fact that no one could strip from him.
"This is why you play the game," Hudson said. "This is why you compete. This is why you work so hard throughout your career, to get to hopefully have this opportunity. I'm going to have some fun. I've waited a long time for this. I feel very calm about the task at hand but I know it's going to be challenging. There is no question about it. They have a really good ballclub over there and I'm looking forward to it."
Though Hudson will start Game 7, he almost certainly will not finish it. In losing a 10-0 blowout in Game 6, the Giants managed to rest top relievers Jeremy Affeldt, Javier Lopez, Sergio Romo and Santiago Casilla. Those four, in addition to Games 1 and 5 starter Madison Bumgarner, can handle the majority of a nine-inning game if necessary.
Hudson's goal is to ensure that crew is not needed until late. His Game 3 loss included some strong patches, including a run of 12 straight outs from the second through the sixth innings. But after Hudson allowed the first two men in the sixth to reach base, manager Bruce Bochy turned to his bullpen, which allowed an inherited run to score. Hudson personally allowed just four hits and two runs while on the mound.
Fans' ensuing calls for Bumgarner to pitch Game 7 on two days' rest may have come more out of respect for Bumgarner than disrespect for Hudson. In any case, they are irrelevant. As Bochy put it after Game 6, "Our confidence is in Huddy."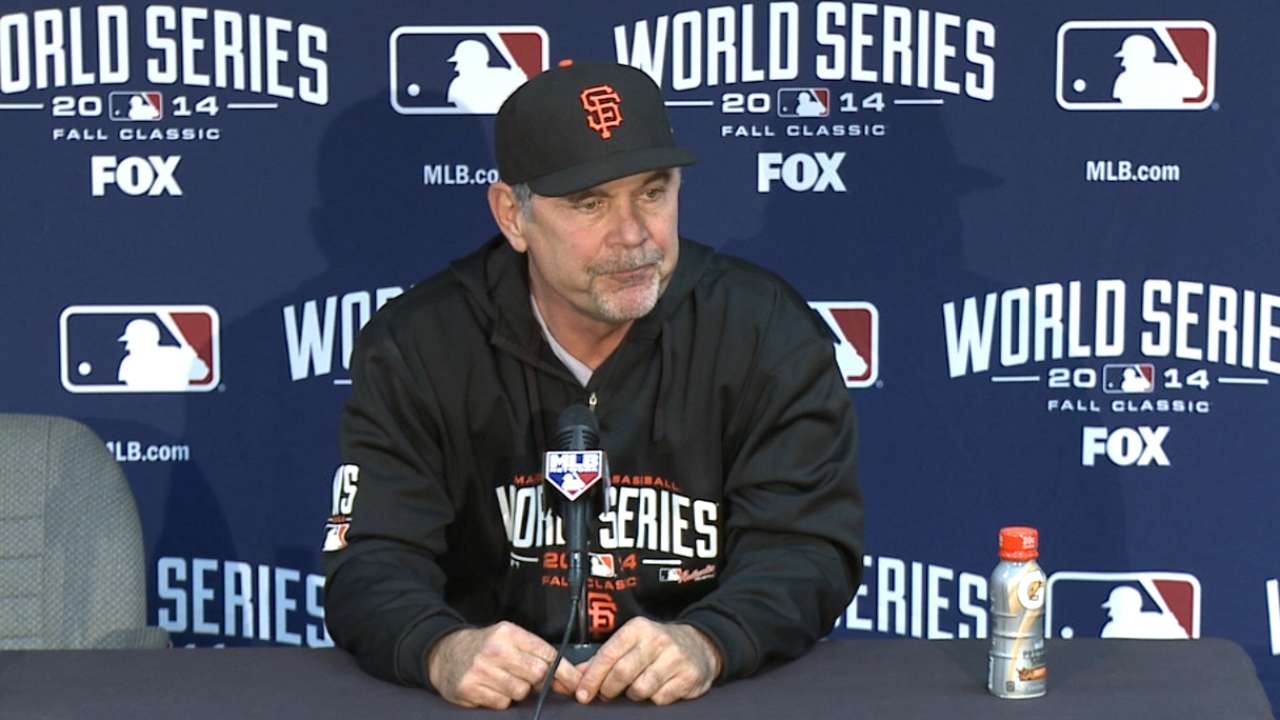 Hudson's confidence, 16 years in the making, is simply in himself.
"I'm excited about it," Hudson said. "I'm excited about the opportunity to get out there and hopefully win this World Series for our club."
Anthony DiComo is a reporter for MLB.com. Follow him on Twitter @AnthonyDicomo. This story was not subject to the approval of Major League Baseball or its clubs.