Cain raises game to put Royals on the cusp of crown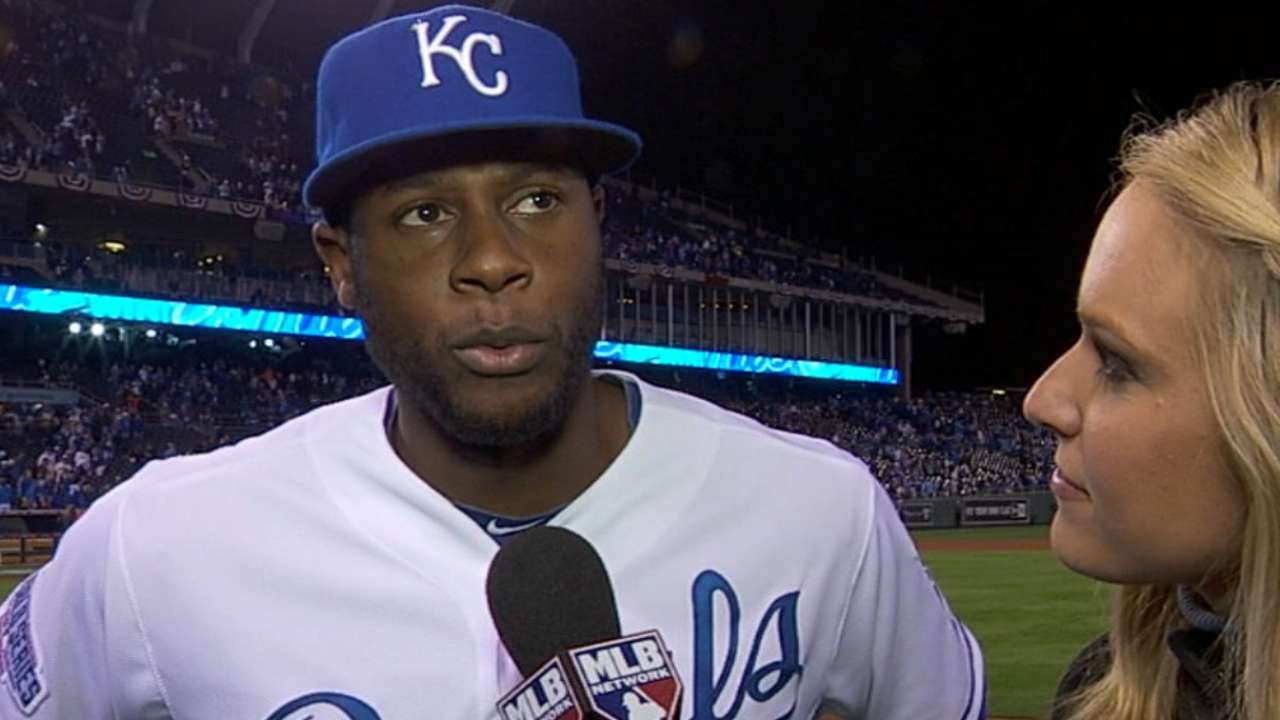 KANSAS CITY -- The question is posed about his health, and suddenly Lorenzo Cain gets uncomfortable. He presses his lips together, avoids eye contact, runs his right hand down to his chin and answers crisply.
"I'm ready to go," Cain said after the Royals' 10-0 rout of the Giants in Game 6 of the World Series at Kauffman Stadium on Tuesday night. "I'm fine."
Cain isn't fine, of course. It's been noticeable for most of this World Series, evident almost every time he lunges at first base for another hit or races into the gap to track down another fly ball. His legs hurt; they've been hurting for a couple of weeks now. But the Royals are in the final stage, primed to play Game 7 tonight (6 p.m. CT air time on FOX, first pitch at 7:07 p.m.), thanks in large part to Cain's continued excellence, and so his answers remain terse.
"That's what makes it so good,"
Jarrod Dyson
said of Cain. "He's putting it all on the line and isn't even 100 percent. That guy's in the training room every day getting his work done. That's what's keeping him on the field."
And Cain's production has the Royals on the brink of a championship.
The 28-year-old center fielder reached base four times and drove in three of the Royals' 10 runs on Tuesday, a continuation of his steady production over the better part of the last three weeks.
He battled from a 1-2 count to drop a blooper into shallow center field in the bottom of the second, plating two of the seven runs that scored in the highest-scoring World Series inning since 2010. He battled from another 1-2 count in the third to lace a ground-rule double to deep center, giving the Royals a commanding eight-run lead. And he raced into the gap to catch two line drives over the course of the night -- one as a center fielder and one as a right fielder, naturally.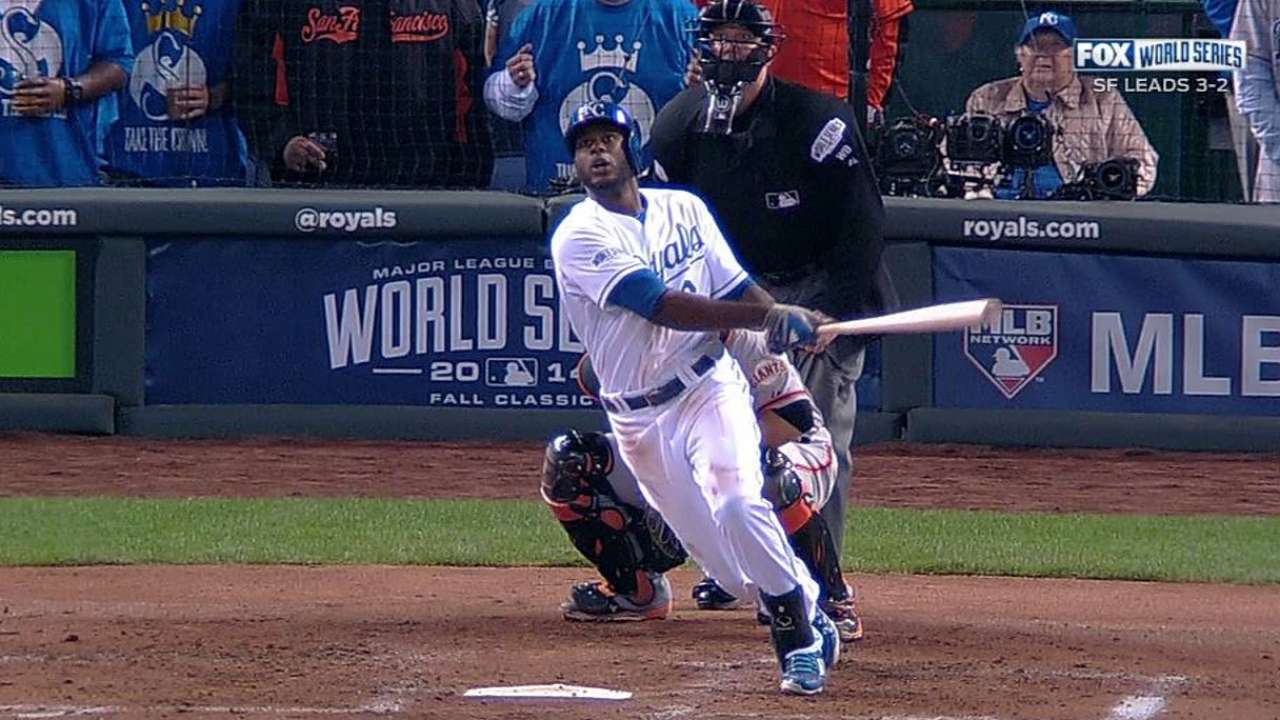 "It's weird with Cain," first baseman Eric Hosmer said, "because he's a little bit older than some of the young guys here, but his baseball years are still behind because he didn't start until his sophomore year of high school. That's one big thing. Everybody realizes how athletic he is and what his tools are. And with the more repetitions he's getting, especially at this level, the sky is the limit for him -- not only offensively, but defensively. Everybody's starting to see the type of player he is."
Ailments in his groin, hamstring and oblique forced Cain to miss roughly half of the Royals' games from 2012 to 2013. This year he stayed healthy and finally put it all together, recording a .301/.339/.412 slash line, notching 28 steals and posting a 17.6 Ultimate Zone Rating in the outfield during the regular season.
Problem is, few outside the small market of Kansas City even noticed.
They see what Cain has done since the start of the American League Championship Series -- .405 batting average, .477 on-base percentage, nine runs scored and an assortment of highlight-reel catches -- and marvel.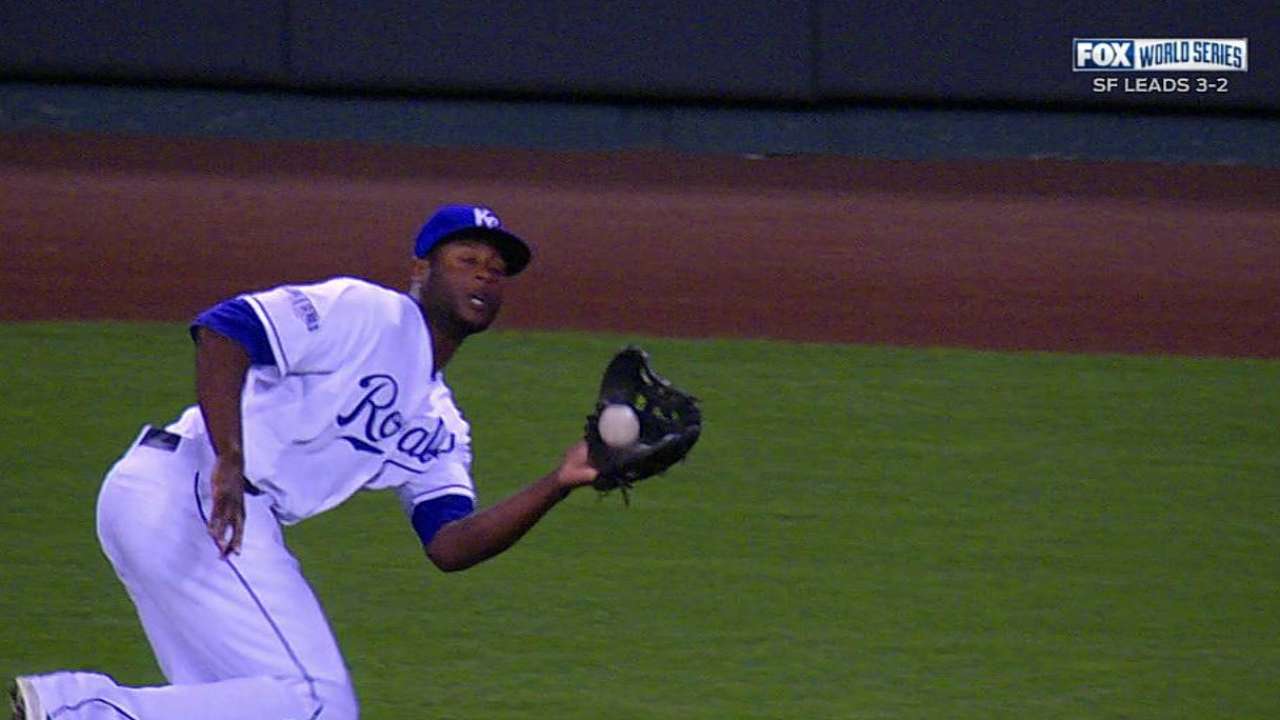 Dyson shakes his head.
"This might be shocking to y'all," Dyson said, "but it's not shocking to us. We've been seeing this performance the entire season. Lorenzo Cain is still on track. He's still hot. I mean, he's been swinging a good bat since the beginning of the year, you might as well say, and been playing solid defense all year. I just need somebody to vote him a Gold Glove. That's all he's missing. He already got the MVP."
The MVP came in the AL Championship Series, a four-game sweep of the Orioles that saw Cain reach base 10 times in 18 plate appearances. In the World Series, Cain has batted .318 with a .423 on-base percentage, putting himself squarely in the conversation for another MVP trophy if the Royals finish it off on Wednesday night.
Imagine if he were 100 percent healthy.
"Oh, I don't think Cain is ever 100 percent healthy," third baseman Mike Moustakas said, laughing. "The way he goes about his business, the way he keeps battling, the way he keeps grinding things out, it's awesome to watch."
Alden Gonzalez is a reporter for MLB.com. Read his blog, Gonzo and "The Show", and follow him on Twitter @Alden_Gonzalez. This story was not subject to the approval of Major League Baseball or its clubs.