Bochy primed to put up best bullpen in Game 7
In winner-take-all contest, Giants have ace Bumgarner up their sleeve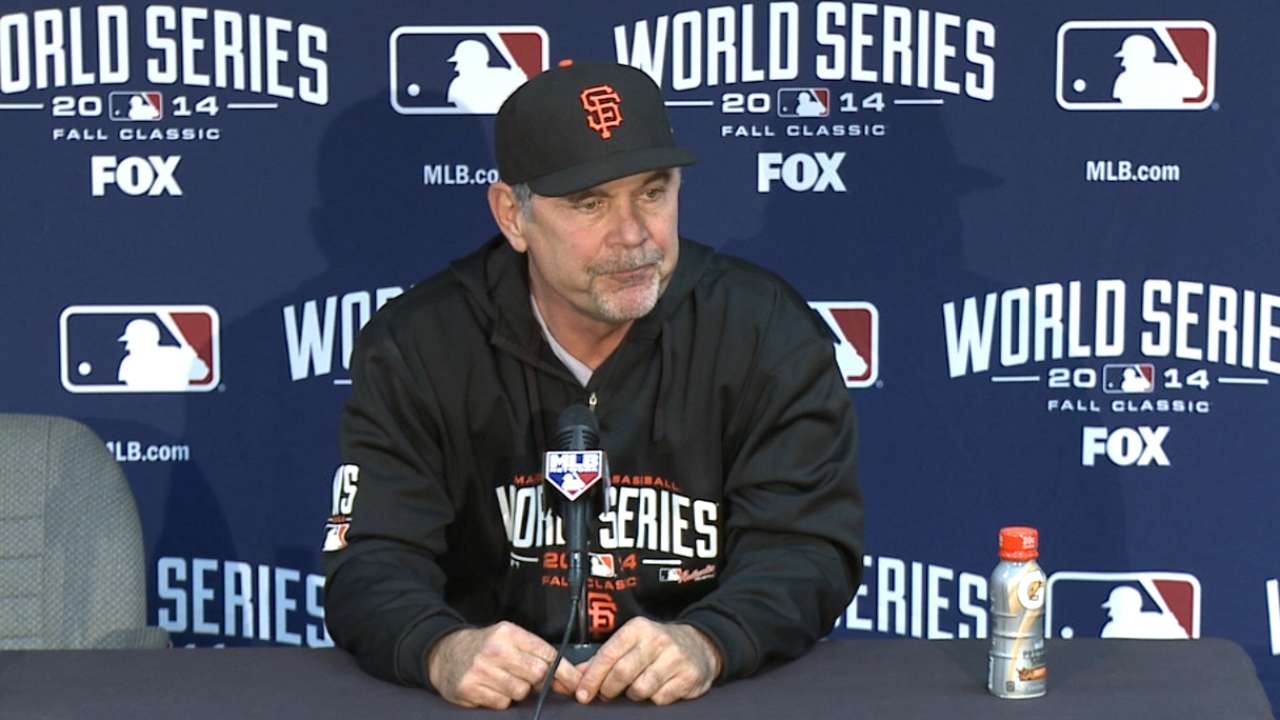 KANSAS CITY -- Madison Bumgarner never made it to the visitors' bullpen during Tuesday's 10-0 World Series Game 6 loss to the Royals at Kauffman Stadium. But even if he felt strong enough to pitch, it became clear early that the Giants were better off saving their resources for a winner-take-all Game 7.
It's not as though manager Bruce Bochy tried to lose Game 6. He didn't. But after his team had fallen behind by seven runs in the second inning, he removed long man Yusmeiro Petit -- one of his best pitchers in any context this October -- from the game. Then he avoided using Santiago Casilla, Sergio Romo, Jeremy Affeldt and Javier Lopez altogether, to mention nothing of Bumgarner. It was a small advantage that Bochy could take from the loss, and it could pay significant dividends on Wednesday (4 p.m. PT air time on FOX, 5:07 p.m. first pitch).
"You hate to have a game go like this, but no question it does allow you to do some things you probably normally wouldn't," said Bochy, who leaned on Jean Machi, Hunter Strickland and Game 4 starter Ryan Vogelsong for 20 outs. "It's not that you ever say 'uncle,' but at the same time, we're loaded tomorrow."
Because Bochy managed most of Game 6 with Game 7 in mind, the Giants will conceivably have Casilla, Romo and Affeldt for two or more innings apiece. And because Petit came out after less than an inning, he should be available for however many the Giants might need.
Bumgarner joked that he personally might throw "200 pitches," though in reality, facing a few batters seems reasonable. So even if starter Tim Hudson falters, or even if the two teams extend the season into extra innings, the Giants should have little trouble finding the matchups they want.
"It's all weapons go," Affeldt said.
The primary issue for Bochy is that the Royals are in the same position. In taking such a large lead early in Game 6, manager Ned Yost was able to rest Brandon Finnegan, Kelvin Herrera, Wade Davis and Greg Holland, his go-to pitchers for the sixth, seventh, eighth and ninth innings, respectively. The Royals also boast one of the game's best bullpens, leaning on theirs perhaps even more so than the Giants. And they are "all weapons go" as well after avoiding their top pitchers in Game 6; Holland felt so strong that he even threw a quick bullpen session as Tuesday's ninth inning unfolded.
"That keeps all of our big guns fresh and ready to go tomorrow," Yost said. "That was the intent once we scored the seven runs -- to try to get through that game without using Finnegan, without using Herrera, without using Holland and Wade Davis."
If there is an "X" factor, it is Bumgarner. The Royals may be able to call on their ace, James Shields, in relief, but Shields is not performing even close to the absurdly high level of Bumgarner. No one is.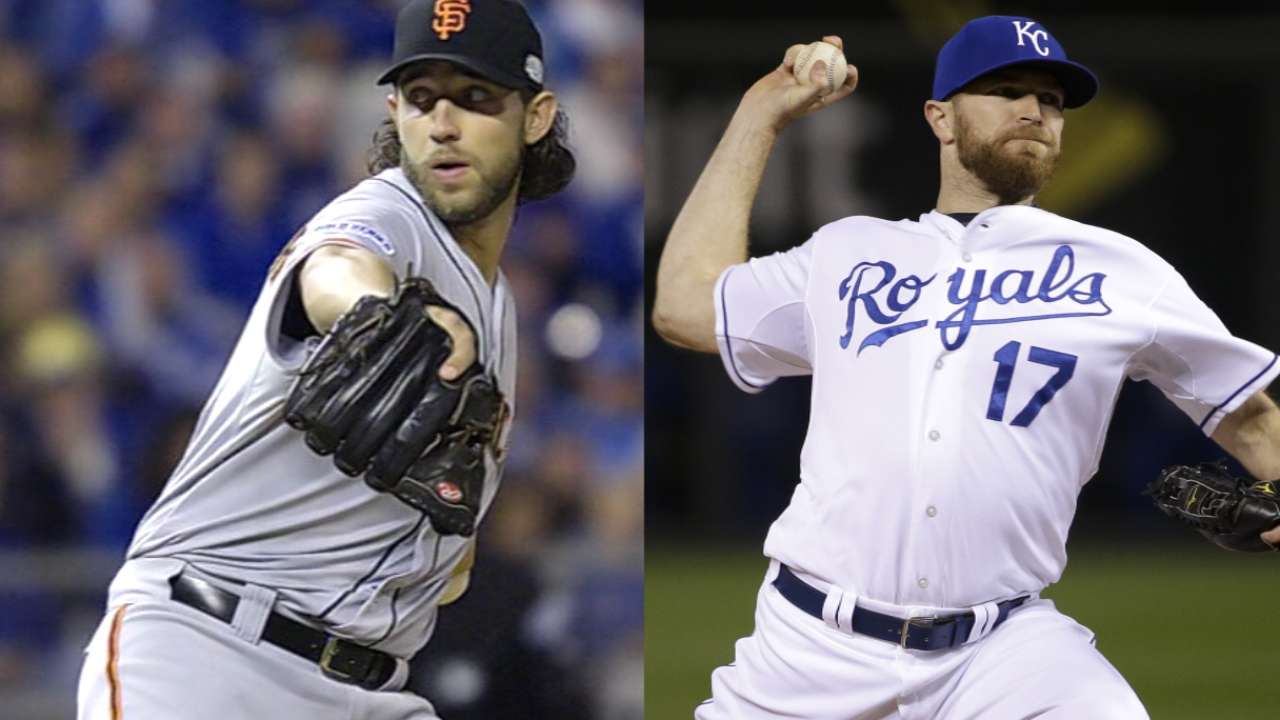 How the Giants wind up deploying their finest arm -- he of the 0.29 career World Series ERA -- remains to be seen. It could be a single left-handed batter in a tough spot. It could be an inning. It could be more. But his availability in any form gives the Giants an edge that the Royals don't have.
"It will be good," Affeldt said. "Bum's given them a hard time. He's going to definitely be down there out the gate."
Other than Machi, Strickland and Vogelsong, who finished Game 6, everyone is ready to go, though Bochy may ask his relievers to pitch in roles somewhat unfamiliar to them given the nature of a winner-take-all Game 7.
None of them is sweating it. As Bumgarner put it: "Something tells me it won't take too long to get loose in Game 7 of the World Series."
Anthony DiComo is a reporter for MLB.com. Follow him on Twitter @AnthonyDicomo. This story was not subject to the approval of Major League Baseball or its clubs.