MLB.com Columnist
Phil Rogers
Rested 'pen tops 10 reasons Royals will win Game 7
Herrera, Davis, Holland will be fresh after Ventura's gem; history, geography favors KC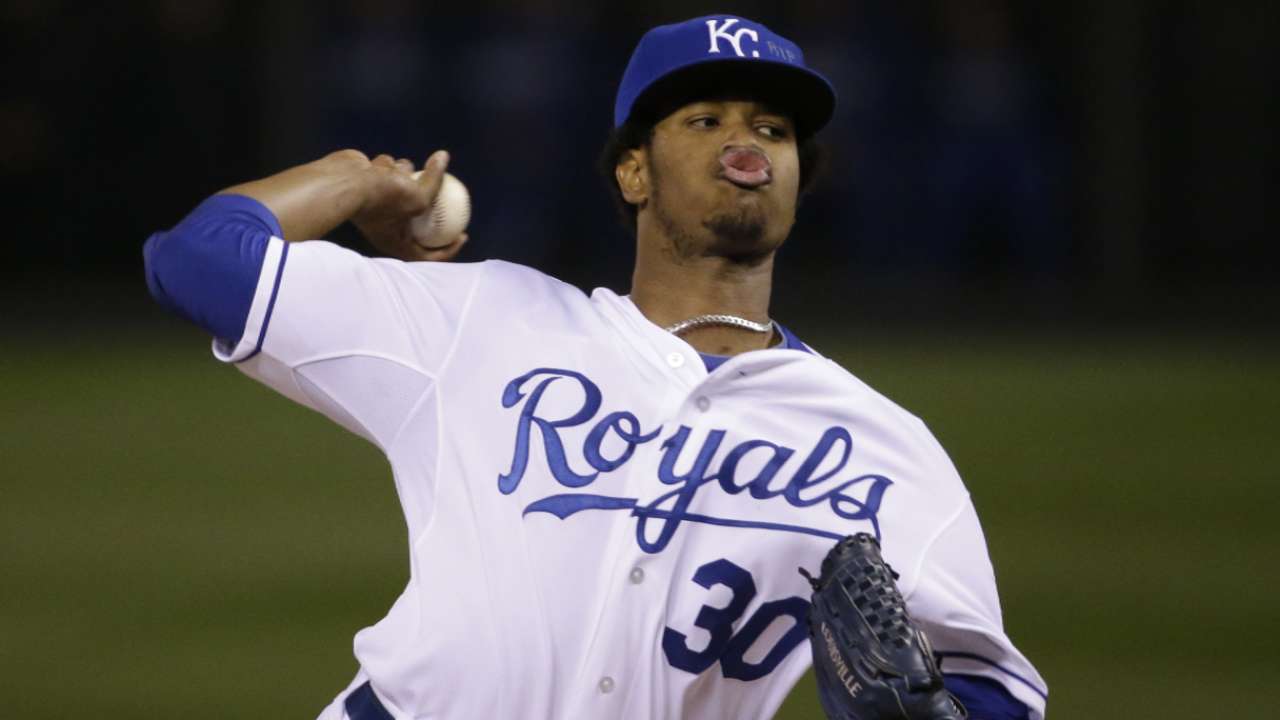 KANSAS CITY -- Yordano Ventura, the kid that the Royals signed for $28,000 when he weighed less than most of the players in the Little League World Series, won Game 6 on Tuesday night.
And as a bonus, maybe Game 7, too.
After his teammates pounded Giants starter Jake Peavy and reliever Yusmeiro Petit in the second inning, to the joy of the delirious fans at Kauffman Stadium, Ventura gave Ned Yost a brief scare. He walked the bases loaded with one out in the top of the third. But Buster Posey hit into an inning-ending double play, and then Ventura kicked it into high gear.
He faced four hitters and threw 12 pitches in the fourth inning, then only nine pitches in a 1-2-3 fifth inning. The sixth took him 14 pitches, the seventh 15.
With every out Ventura nailed down, and every run that the Royals added on during the 10-0 victory, the need to pitch Kelvin Herrera, Wade Davis and Greg Holland lessened. And because they weren't needed, Herrera and Davis will go into Game 7 with two days' rest. Holland will have three.
That means that the three shutdown relievers -- all of whom have better stuff than most closers -- could work four innings tonight, maybe even more. That's a huge edge for the Royals, even if the Giants do use Madison Bumgarner out of their bullpen, but hardly the only one. Here are nine more:
2. Geography rules
Because the American League won the All-Star Game, Kansas City fans can spend today either fighting to get tickets for Game 7 or fending off lucrative offers for the ones they have. Either way, if they know history at all, they'll be prepared to party when the night is over, because the home team is 9-0 in the seventh game of the World Series since 1979, when the Pirates won in Baltimore. The home team is 23-3 in the sixth and seventh games beginning in 1982, with a run differential of 155-45.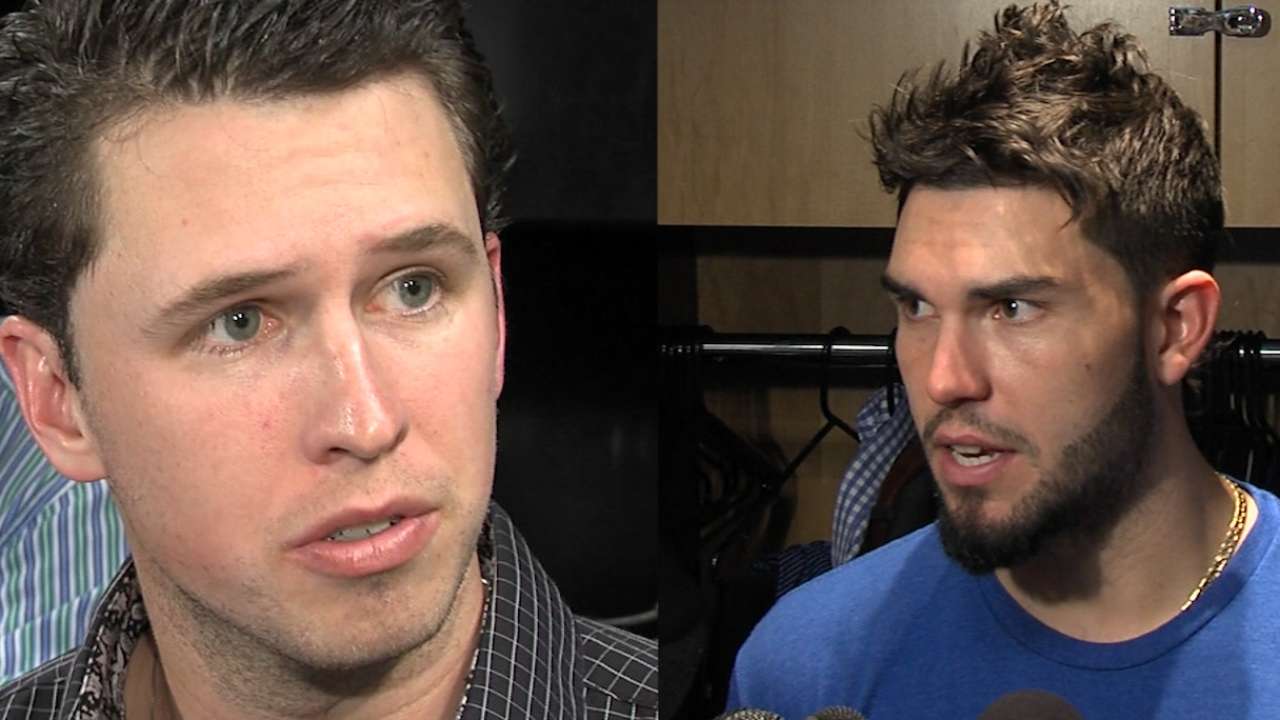 3. Kauffman Stadium rocks
Because the Royals hadn't been in the postseason since 1985, fans have hung on every pitch in every game. They've been even more intense in the games that eliminated the A's, Angels and Orioles. "Did you see our crowd?" Yost asked after Game 6. "Our crowd today was absolutely electric. It's been like that for us. Our guys have really felt the energy coming from the stands, and it just gives you a boost, you know?"
4. It's a favorable pitching matchup
Jeremy Guthrie was better than Tim Hudson in winning Game 3, and he has been ultra-solid the last six weeks. Guthrie worked seven shutout innings at U.S. Cellular Field on Sept. 26 in the win that clinched a playoff spot, and he is 4-0 with a 1.19 ERA in his last five starts. No, he's not a thrill-ride guy (no strikeouts, no walks in Game 3), but he's a guy who earns the trust of his manager and his teammates. That is huge in such a high-stakes game.
5. Nori Aoki, as a young Pete Rose, minus the buzz cut and a little speed
The right fielder, a three-time batting champ in Japan, typifies how strong the Royals are in situational hitting and manufacturing runs. His opposite-field single lined through the left side of the infield on the seventh pitch of his at-bat was critical to the seven-run second inning.
6. When the Giants are hitting, the Royals have players capable of making game-saving plays all over the field
Alex Gordon, Salvador Perez and Eric Hosmer won AL Gold Glove Awards in 2013, and shortstop Alcides Escobar joined them as a finalist this year. Center fielder Lorenzo Cain has made more plays than any of them in the postseason.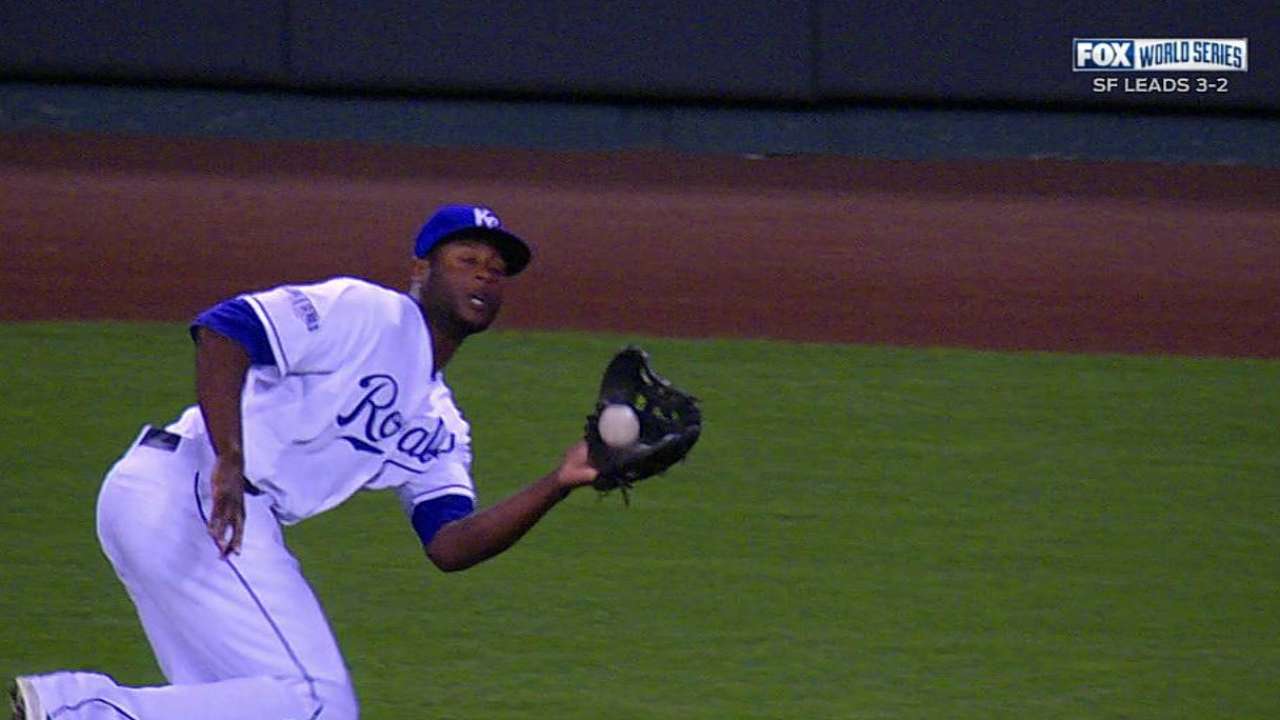 7. No dramatic dingers needed
The Royals did not need any heroics from Hosmer or Mike Moustakas (although Moose did blast a home run in the seventh inning) for their mandatory win in Game 6. They have shown themselves very capable of dramatics, both in these playoffs and during their Minor League careers.
Have you heard about the Northwest Arkansas Naturals winning a Texas League series against the Springfield Cardinals? Hosmer hit five homers in five games, including one when the Naturals were five outs away from elimination.
8. The Royals know they can pull rabbits out of a hat
Nothing Hosmer, Moustakas and their teammates have ever done was more dramatic than coming back from a 7-3 deficit to Jon Lester and the A's in the AL Wild Card Game. They scored three runs in the eighth, one in the ninth and two to win it in the 12th after Oakland had taken another lead. From the eighth inning on, Hosmer and Moustakas were a combined 3-for-3 with five productive plate appearances (including a walk and a sacrifice), and they scored three runs.
9. Terrance Gore has never gotten a Major League hit, but as a pinch-runner he could make history
Ditto Jarrod Dyson. They are both capable of stealing third base almost as easily as second, and they are both forced errors waiting to happen. These are guys you want on your side in the tight spots.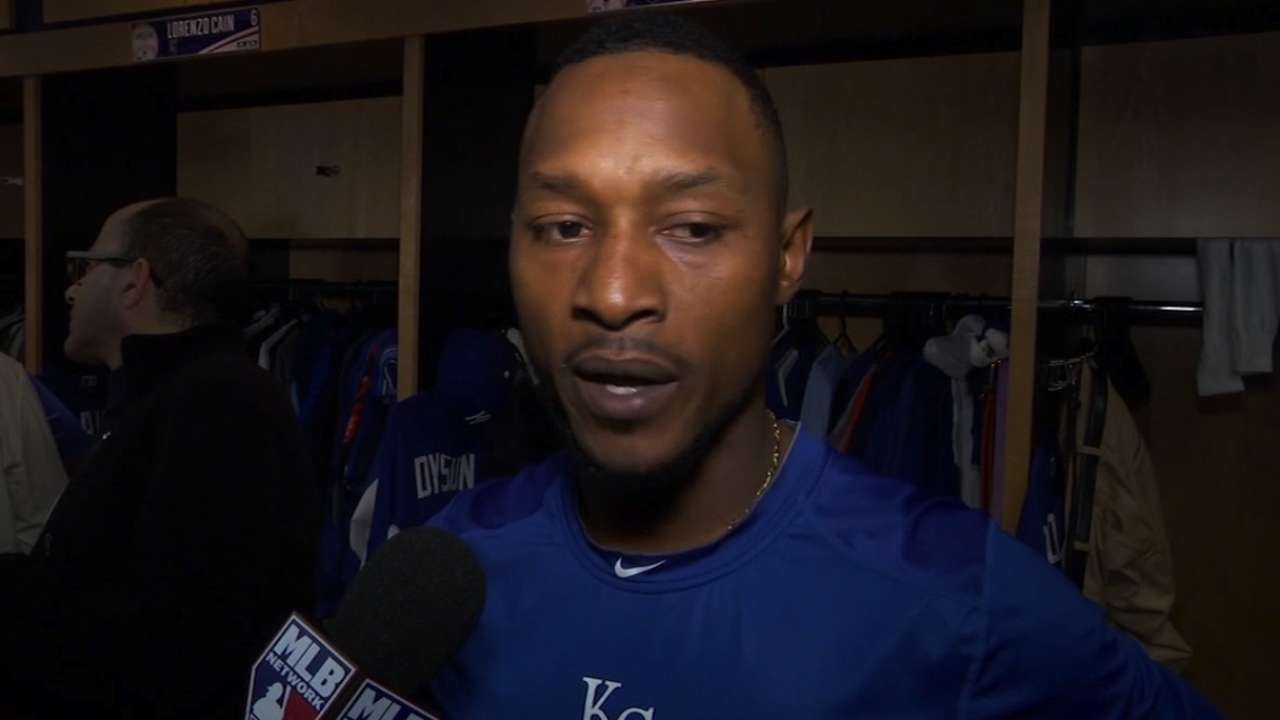 10. But it's not just the tight spots when the Royals come through
They've been the best team in the Majors since July 22, going 52-26. That's a .667 winning percentage, which gets you 108 wins over a 162-game season. Cuddly underdogs? No, I don't think so.
This is a very, very good baseball team. There will be two of those on the field in Game 7, but unless Bumgarner morphs into Mickey Lolich, the Giants are going to have a very hard time winning.
Lolich started the seventh game on two days' rest for the 1968 Tigers. He was the only chance they had against Bob Gibson, and he somehow he delivered a complete-game victory at Busch Stadium.
So, yes, it can be done. If Bruce Bochy is willing to ride Bumgarner hard if (when?) starter Tim Hudson falters, Bumgarner could give the Giants some hope. But it's hard to imagine a team with this many ways to beat you getting caught short, especially when it's playing at home in Game 7 of the World Series.
Phil Rogers is a columnist for MLB.com. This story was not subject to the approval of Major League Baseball or its clubs.