MLB.com Columnist
Mike Bauman
Playoff pedigree among 10 reasons Giants will win Game 7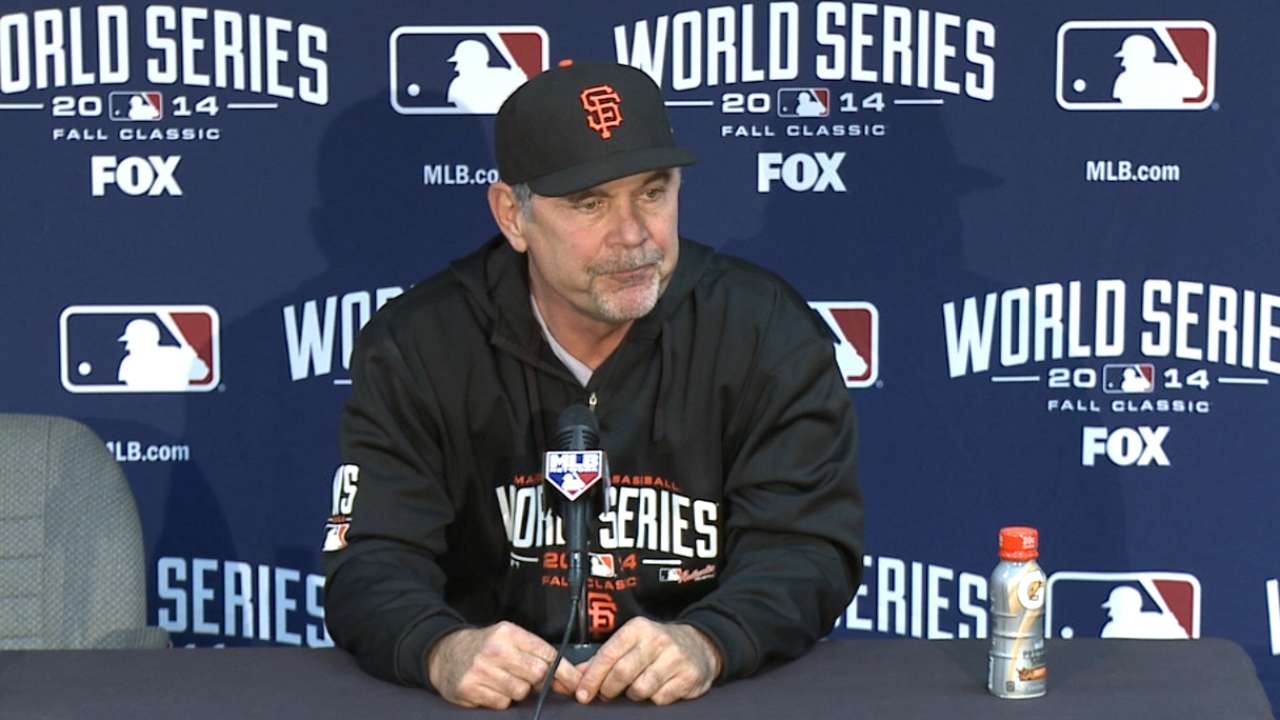 KANSAS CITY -- Here are 10 reasons why the San Francisco Giants will win Game 7 and the 2014 World Series tonight.
(The reasons are not listed in the order of importance. That's because all of the reasons are very important. It could very easily be a 10-way tie for most important reason.)
1. These Giants are really good at this
They have won their last eight consecutive postseason series, and their last nine postseason rounds if you count the National League Wild Card Game this October. This is the longest streak in NL postseason history.
2. Their manager is supremely suited for October
Managing in the white-hot spotlight of postseason baseball, Bruce Bochy remains cool and calm in the most difficult of circumstances. He is 33-14 with the Giants in the postseason and has never lost a postseason series managing the San Francisco club. Among all managers, only one had a longer postseason series streak than his nine; Joe Torre of the Yankees won 11 straight series from 1998-2001.
3. Posey is due
Isn't it time for Buster Posey to get an extra-base hit, or three, in this postseason?
4. San Francisco 'pen pretty good too
The Kansas City bullpen has received more media hype than its Giants counterpart, but that figures with the high velocities and steamroller stuff of the Royals' relievers. But the Giants' bullpen has been an integral part of this club's success.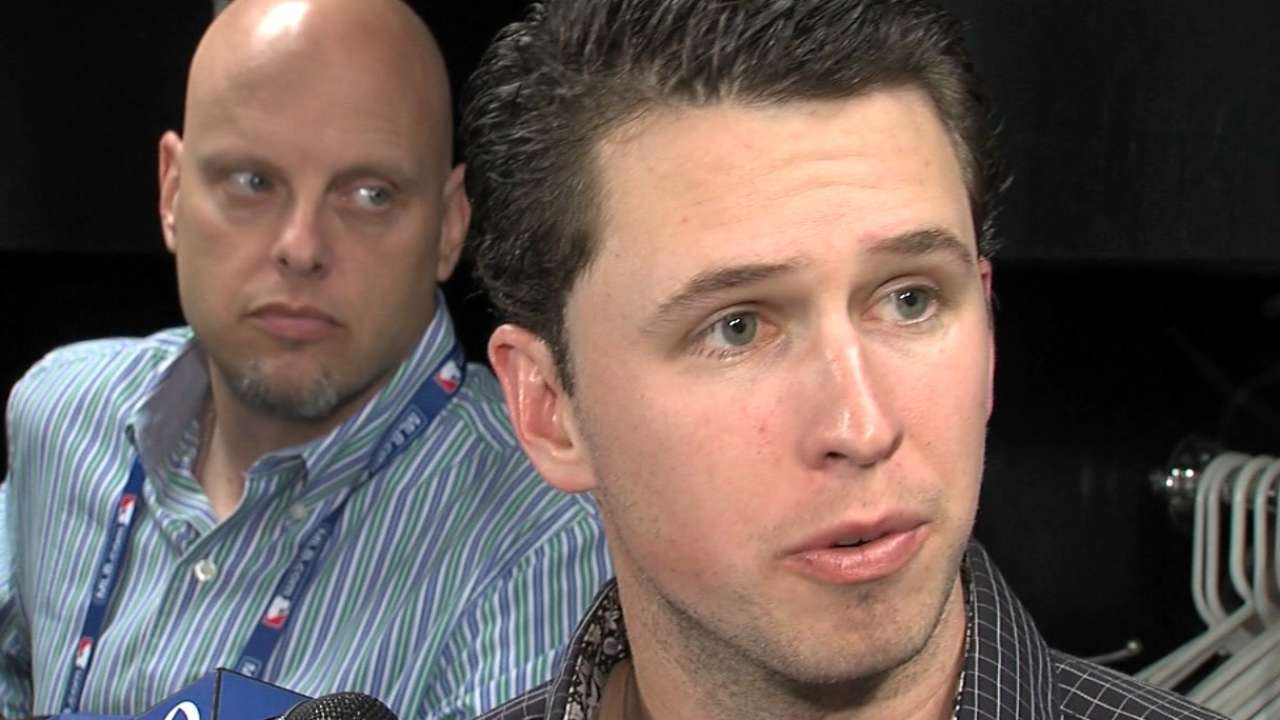 You want individual success, as well as contributions to team success? Lefty Jeremy Affeldt has pitched a scoreless outing in 21 straight postseason appearances. The only man with a longer streak is Mariano Rivera, who has 23 straight. Closer Santiago Casilla has 19 straight, and lefty Javier Lopez has 18. These are performances of historical quality.
5. Win one for Huddy
Tim Hudson, the Giants' Game 7 starter, leads all active pitchers in victories with 214, but he had never made a World Series start until this October. He didn't win in Game 3, but he pitched capably. He is a focal point on this team. His teammates have made a large deal of getting Hudson to his first World Series. Now they'll make getting Hudson his first World Series victory a mission. He'll be more than ready.
"This is why you work so hard your whole career, is to get this sort of opportunity," Hudson said.
6. This team has character
OK, Game 6 on Tuesday night was not precisely what the Giants were searching for in terms of performance or result. But they won't be demoralized, depressed or diminished by the 10-0 loss. They had uncharacteristic shortcomings in this game, defensively and on the mound. Their record says that bouncing back from adverse circumstances is a way of life with them. They won't be down in the depths for Game 7.
"You go back to '12 and look at this postseason," Bochy said after Game 6. "I think a lot of people had us getting beat in the first and second round.
"This club's so resilient. They're so tough. They'll put this behind them. It's nice to know that you've done it. You've come back against the odds and you can do it again."
7. Home field not that much of an advantage?
Those things you've been hearing about the World Series home team winning all the time in Game 7? That's not precisely the case. It is true that the home team has won the last nine World Series Game 7s, dating back to 1982. But overall in World Series history, the home team's edge in Game 7s is 18-17.
That doesn't seem like a statistically significant outcome, does it? And there is one thing you know for sure about all those previous Game 7s: The 2014 Kansas City Royals weren't playing in them, and neither were the 2014 San Francisco Giants.
8. Undervalued, but they win anyway
This is a classic time for that dynamic to remain in place. People are going to write them off after the Game 6 loss, but they'll still be the Giants and they'll still be capable of winning everything. They feed off his sort of thing. It is their meat and potatoes, their bread and butter, or their shrimp Dijonnaise with mixed vegetables.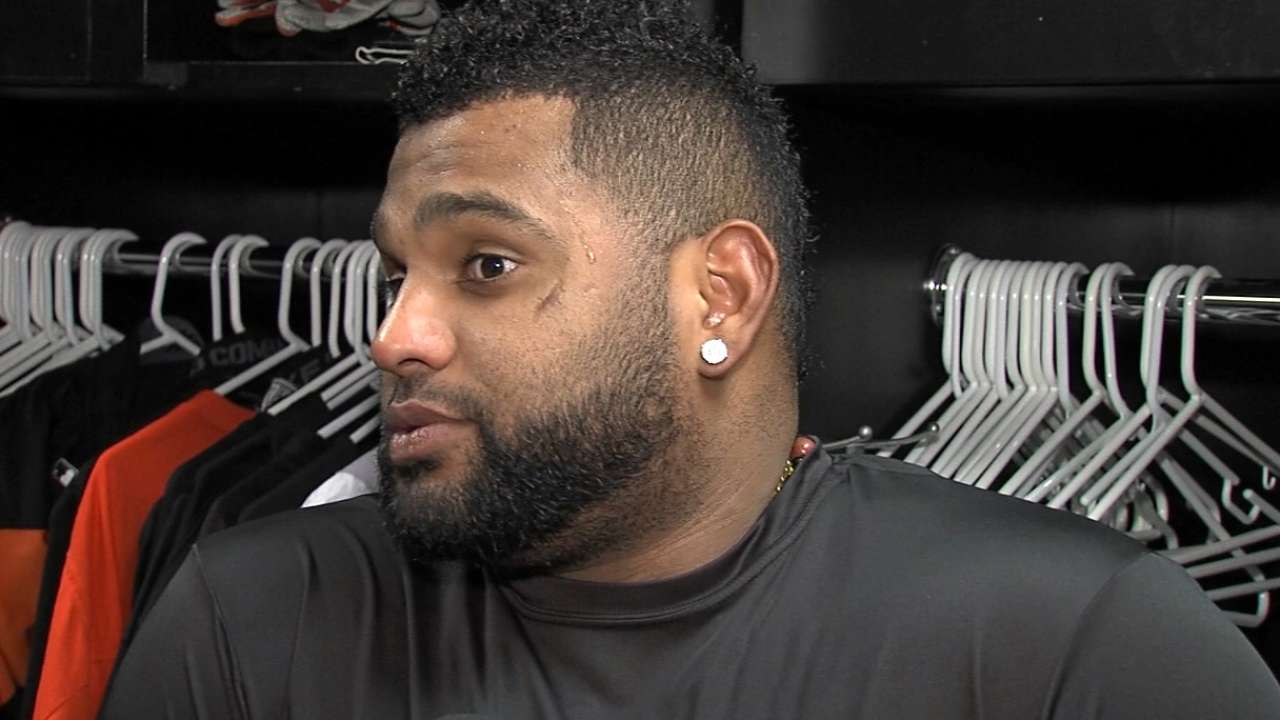 9. They know how to win
This team won World Series in 2010 and '12. There is a shared understanding of what it takes to win at this level, knowledge that cannot be duplicated, bought or borrowed.
"We're just going to go out there and give it our best shot and believe we can win the game," Affeldt said. "We had a tough loss, but we're going to Game 7. ... We're going to be pumped up and ready to go [in Game 7]. In this kind of situation, there's nowhere else to go. You've got to go out there and try to win the game. There is no tomorrow. That's the feel we're going to be playing with. I'm sure that's the feel they're going to playing with. I'm sure it's going to be a fun game."
10. Look out for MadBum
Madison Bumgarner has made himself available for Game 7. He's the best pitcher in this postseason. By ERA, he's the best pitcher ever with more than 25 World Series innings. No, he's not starting on two days' rest, but he could be used. The Royals haven't been able to hit him, and whatever he can provide will be helpful, could be essential and might make the difference.
Mike Bauman is a national columnist for MLB.com. This story was not subject to the approval of Major League Baseball or its clubs.