Tale of the tape: Giants-Royals, Game 7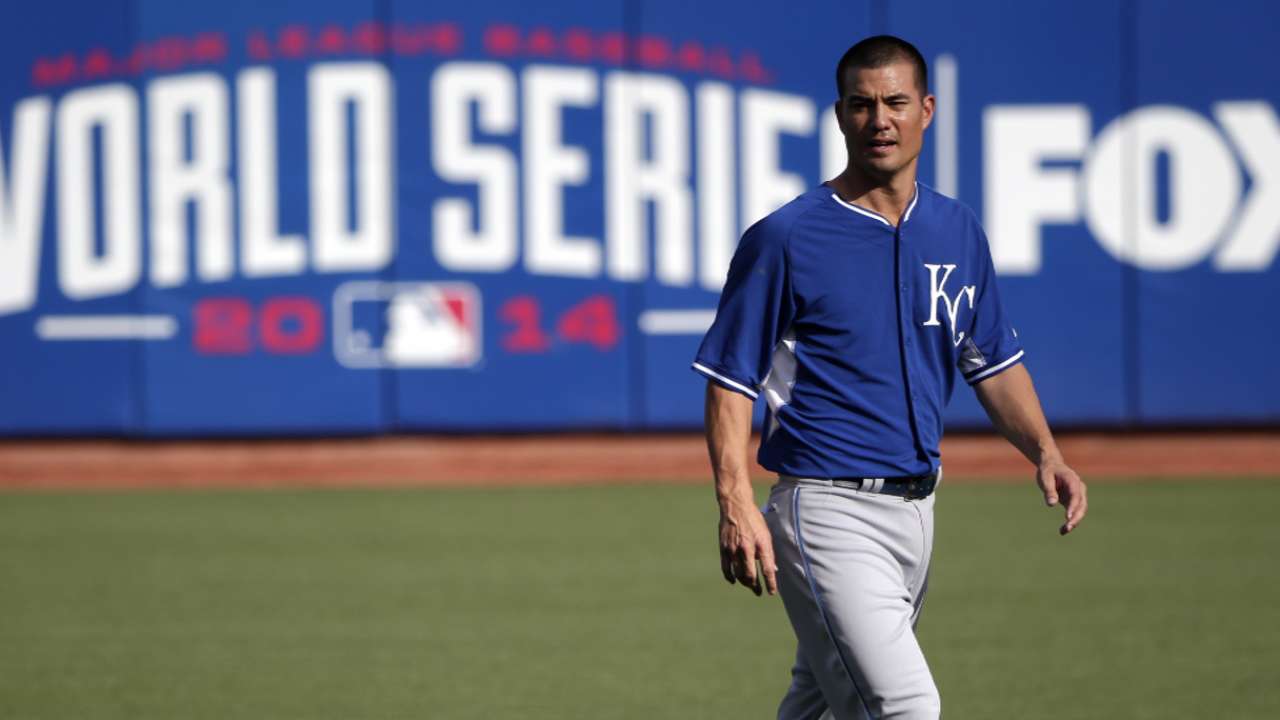 Tim Hudson, Giants
Against the Royals
2014: 2 GS, 0-2, 4.63 ERA
Career: 12 GS, 3-5, 4.17 ERA
Loves to face: Omar Infante, 6-for-27, 2 RBIs, 4 K
Hates to face: Alcides Escobar, 5-for-11, 2 2B, RBI
Game breakdown
Why he'll win: Because he's feeling fresh after two straight starts on nine days' rest, and he's lasted at least 5 2/3 innings in each of his previous six postseason starts. The 16-year veteran won't be fazed by the pressure of Game 7.
Pitcher beware: The Royals didn't run on Hudson in Game 3, but the right-hander is not especially quick to the plate. Over the last two seasons, he's allowed 22 stolen bases in 26 attempts, and in a do-or-die game, Kansas City could push the envelope.
Bottom line: Hudson and his sinker should keep the Royals in check, something Jake Peavy was unable to do in Game 6. After a rocky end to the regular season, Hudson has looked more comfortable throughout October.
Jeremy Guthrie, Royals
Against the Giants
2014: GS, 1-0, 3.60 ERA
Career: 4 GS, 1-1, 5.49 ERA
Loves to face: Hunter Pence, 2-for-9, 3 K
Hates to face: Brandon Crawford, 5-for-6, HR, RBI
Game breakdown
Why he'll win: Because he's pitching as well right now, as he has all season. Including his last three regular-season starts, Guthrie has allowed two runs or fewer in five straight outings. In Game 3 of the World Series, he pounded the strike zone and held the Giants to two runs in five frames.
Pitcher beware: Guthrie didn't miss many bats in his Game 3 victory. He did not record a strikeout, and only seven of his 50 strikes came via the swing-and-miss. If San Francisco starts squaring him up, it could spell trouble.
Bottom line: Guthrie may not have the pedigree of Hudson, but his 11 years in the big leagues, plus his recent success, should give him confidence in the biggest game of his life. Having the home crowd behind him shouldn't hurt, either.
Aaron Leibowitz is an associate reporter for MLB.com. This story was not subject to the approval of Major League Baseball or its clubs.