No shortage of confidence in KC clubhouse
Despite lack of October experience, rollicking Royals 'fired up' for Game 7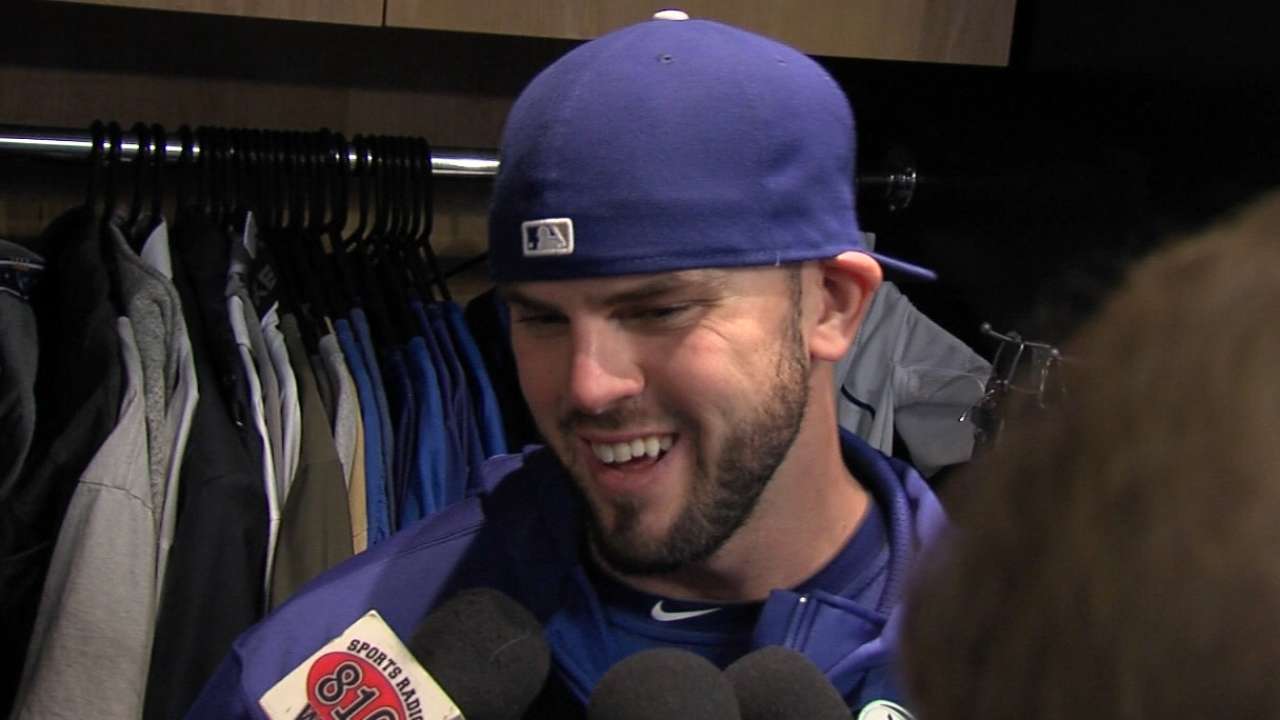 KANSAS CITY -- This time of year, experience is a main topic of conversation. Many outside observers -- meaning, everyone who is not a resident of a Major League clubhouse -- believe the best teams are the ones that have been through this before or, at the very least, have logged enough Major League innings to be able to handle the pressures that come along with postseason baseball.
The Royals have spent most of the month proving this theory to be hogwash. They have never done this before, at least not on this level, and perhaps that's working for them. Most hadn't played on a postseason team before this one. They had certainly never won a postseason series. And win the pennant? Please.
Maybe the old adage "act like you've been there before" shouldn't apply here. These Royals haven't been here before -- and by here, we mean, on the eve of a decisive winner-take-all Game 7 of the World Series (6 p.m. CT air time on FOX, 7:07 first pitch). Maybe they know how rare a Game 7 is, maybe they don't.
The only thing they do know is that they're having a really, really good time.
"We're always fired up," Mike Moustakas said. "If you hang around us enough, you'll see how fired up we are. We always have fun, we always have a good time and we're playing in a Game 7 in the World Series tomorrow. It's going to be awesome."
So much for the old-school, veteran curmudgeons who grumble that the postseason isn't any fun until you actually win the whole thing.
The Royals aren't quite there yet, but they forced a decisive Game 7 by annihilating the more experienced, been-there-before Giants by a whopping 10 runs. They will play a postseason finale that has only gotten this far six times since 1988, and 37 times ever since the World Series has used the best-of-seven format.
This is a very big deal. Nerves will be jangling throughout the stands at Kauffman Stadium. There's pressure, right?
The front office will probably feel it. The fans surely will, too. The players? Not so much.
"I'm definitely pumped," Lorenzo Cain said. "I'm not nervous. I'm more ready to get it over with than anything. It's going to be a lot of fun. I know the crowd's going to be into it. We're going to be into it from the first pitch to the last. Hopefully, we'll just go out there and win this thing."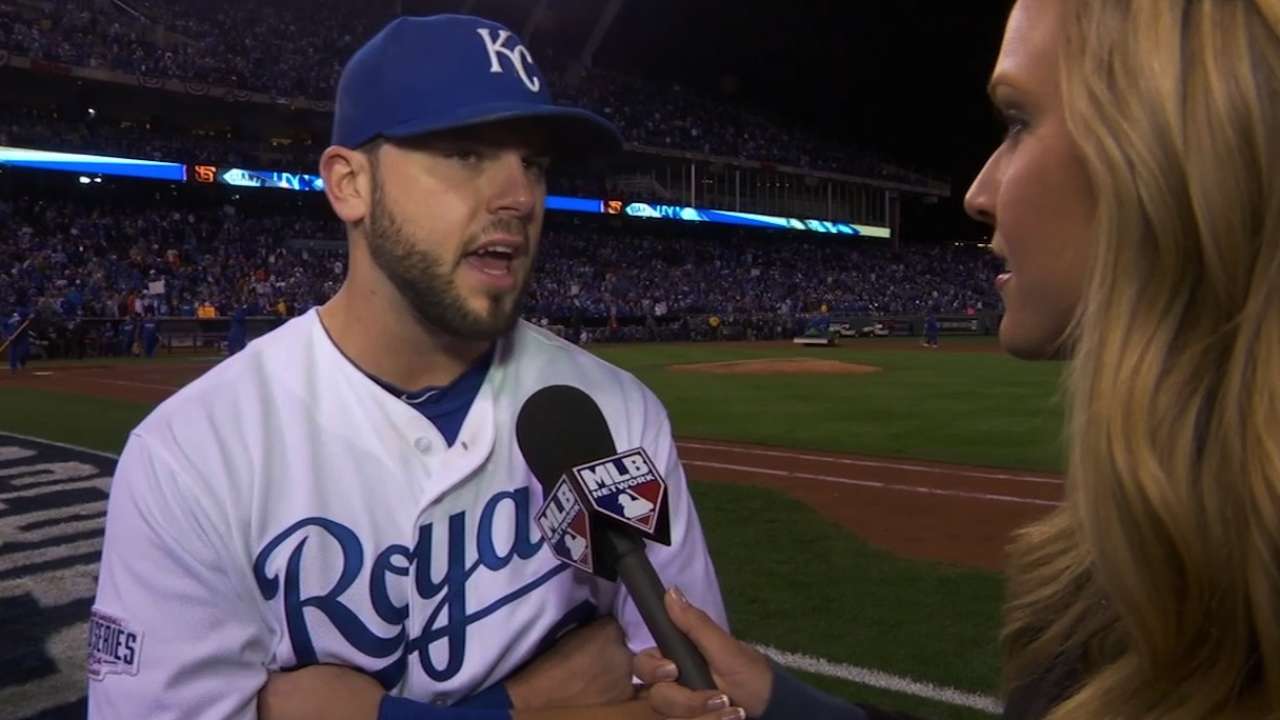 "Fun" was mentioned more than once, by a series of players. There's also no shortage of confidence.
"It's to the rooftop, man," Jarrod Dyson said. "We're just going to come out, play our game and try to get the win tomorrow. It's all we can do. Control and take care of our business."
That was the general sentiment throughout the clubhouse Tuesday night. Sure, everyone was in high spirits after beating the Giants so handily in an elimination game.
Optimism was at a premium. But still, if the players -- many of whom were not alive when the Royals won their last World Series in 1985 -- are wearing any kind of burden, they're doing a good job hiding it.
"I loved the clubhouse today," Alex Gordon said. "I came in and it felt like just a regular-season game. No pressure, and everybody was pretty loose. I think it kind of showed out there. I was really proud of how we handled ourselves."
Historically, the Royals are in a good position. Thirty-five years have passed since a road team won a World Series Game 7. Since the 1979 Pirates accomplished that in Baltimore, there have been only nine Game 7s, with the home team winning all of them.
The Royals weren't armed with this information after beating the Giants in Game 6, and it's likely they wouldn't care, anyway. They're simply focused on winning one more game in their home ballpark, in front of a supportive fan base, and celebrating as they've done quite handily throughout October.
"Now you get to play in a Game 7 and do it in front of your home crowd, a crowd that's been anxiously waiting for a postseason team to be here," Eric Hosmer said. "It's an awesome feeling. We're focused right now. We want to be in this situation tomorrow."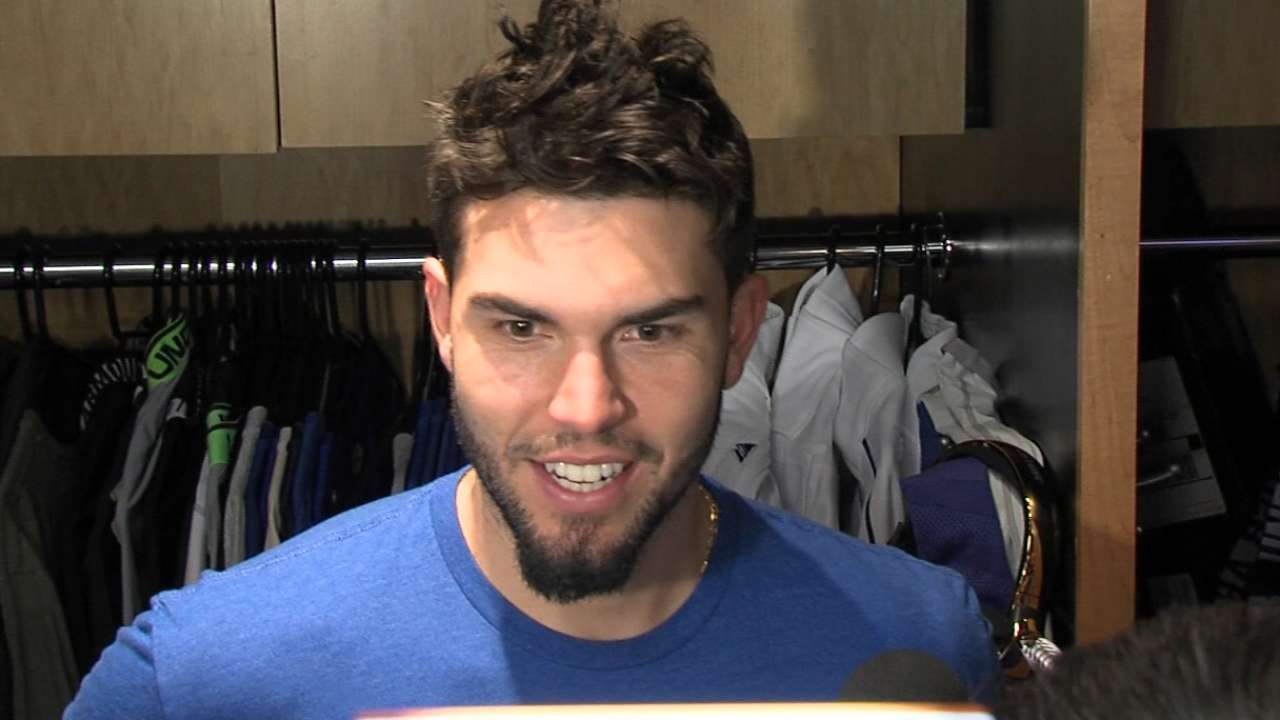 Plus, it's not like they're totally brand new to this. They're 11-3 in the postseason. Clearly, they figured some things out along the way.
"I think we're pretty experienced by this point," Moustakas said. "We've had some tight games, some thrillers. I don't think anybody's worried about the experience factor right now. We're just having fun and enjoying playing baseball.
"I think that's a sign of a good team and a sign of a great group of guys that just goes out and has fun and competes together and is trying to win a ballgame at all costs."
On Wednesday, they may be in for the ultimate payoff.
Alyson Footer is a national correspondent for MLB.com. Follow her on Twitter @alysonfooter. This story was not subject to the approval of Major League Baseball or its clubs.