Oct. 28 Bruce Bochy postgame interview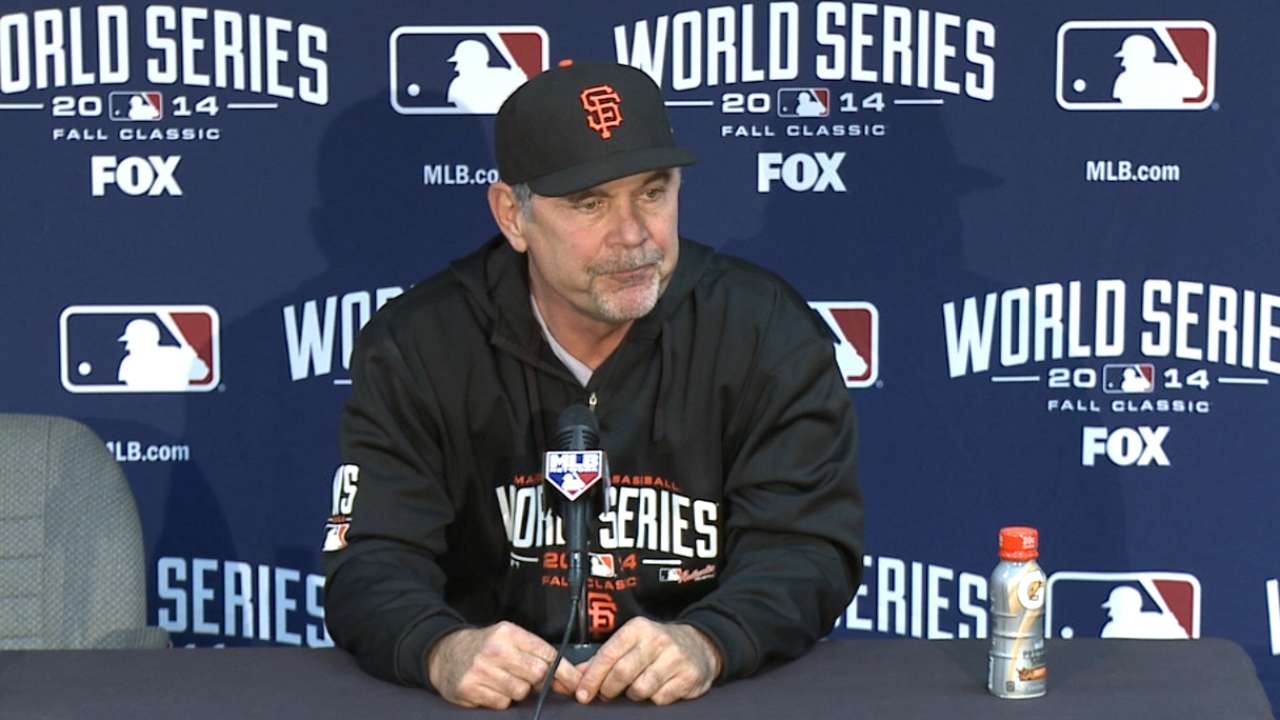 Q. Bruce, this is not a trick question: I know you're starting Hudson and not Bumgarner. I've had a million Tweets tonight asking me, saying, "He should start Bumgarner." And "Why is he not?" All I need is for you to explain why.
BRUCE BOCHY: Well ‑‑
Q. Did I catch you?
BRUCE BOCHY: No, you didn't catch me. There's a lot of managers out there, and I understand that, but this guy just pitched. He's going to be on two days' rest. He just threw a complete game. Our confidence in Huddy.
You know, this guy is human. I mean, you can't push him that much. He'll be available if we need him, but to start him, I think that's asking a lot. I have a good pitcher going tomorrow, who has done a great job for us. That's the reason. So when they Tweet you, just tell them that (laughter).
Q. Did you see things in Peavy that concerned you or in your mind did it all just come apart in the 2nd?
BRUCE BOCHY: No, I thought he had pretty good stuff tonight. I did. I know the numbers don't indicate that. If he had a little luck, he probably gets out of that inning. They just hit the ball where we couldn't get to it. But I thought his stuff was crisper, his velocity. They just made contact. And he's had a tough time against this club. But I thought when he started the game I could see a difference in his stuff.
Hey, it happens. They put the ball in play, and they did a good job of that. The best thing about this game is we get to wash it off. It didn't go our way. The big inning killed us. I don't have to tell you guys. I think some of you are smart, you thought this thing would go seven games and that's where we're at.
It's exciting. It is. I mean, we're going into the 7th game. Good for baseball. You've got two teams going at it, and it wasn't pretty tonight, but the best thing, we do get to wash this off and play tomorrow.
Q. We all know the stats of when a team loses Game 6 and then goes to Game 7, historically you also lose Game 7. What do you tell your players about it? Do you understand that history? Is a game like this almost easier to get over than maybe a game you would have lost in the last inning?
BRUCE BOCHY: Yeah, well, my answer to that is tell these guys if they're going against the odds, because we've done that before. You go back to '12 and look at this postseason. I think a lot of people had us getting beat in the first and second round.
This club's so resilient. They're so tough. They'll put this behind them. It's nice to know that you've done it. You've come back against the odds, and you can do it again.
Q. You said Madison will be available tomorrow night. Can you define that a little bit more? Would it be maybe an inning? Would it be a select number of pitches? What do you expect?
BRUCE BOCHY: Well, I guess the best thing I can tell you is we'll watch him. We'll see where he's at and how he's doing out there. I can't tell you exactly how far he could go or how many pitches he could go. I think you read him and see how he's doing out there.
It's not so much about Madison. Huddy is our starter, and we have all the confidence in him. It's going to be up to us to score some runs. I mean, their guy was good tonight, Ventura. He had great stuff. You got somebody out there throwing as hard as he does with the off‑speed pitches and he pitched great. He played very well tonight.
But as far as the pen, I think we're set. Machi did a great job really giving us three innings, so I didn't have to use some other guys I was trying to stay away from.
Q. It was many runs ago, but the play, the hit, Escobar's hit to Belt at first where Peavy stopped, do you think you guys could have made the play? And if you did, maybe that changes things?
BRUCE BOCHY: Oh, no question. That's twice a ball hit in that area has hurt us. Belt was checking the runner at third, but there wasn't a lot of speed there. At this think he waited just a hair too long. You've got a pretty fast runner going down the line. I thought that changed that inning. Peavy was throwing the ball well. The hitter before him made great pitches on. And if he gets it out there, I think it does change the inning, and he's got a better chance of getting out of it.
Q. When you loaded the bases there in the third and it looked like you had a shot to get back in the ballgame and Buster swung at the first pitch after three walks, which seems a little uncharacteristic. What happened there?
BRUCE BOCHY: Well, he hit the ground ball. But I mean, you're not going to give your best hitter the take there. If he gets a pitch he can handle, gets you back in the game. If he does get a big hit, Petit goes back out there. But at that point, I wanted to keep him available.
But, again, you're facing a guy with great stuff. You have your work cut out going against him. He just happened to hit a ground ball.
Q. Madison's up around 250 innings and he's 25 years old. Is it almost a matter of managerial conscience whether you send a guy out there for seven innings or one or two maybe?
BRUCE BOCHY: Well, I'm sure ‑‑ I mean, this guy's human, again. You want to take care of him. He is available, but, again, as far as if we do use him, how far he could go, Dave Righetti and myself, we'll watch him and make sure that we do take care of him. This is the last game of the year, so it's easier to push a guy the last game versus doing it twice. In fact, he was available tonight, if we needed him. It's two days off, and I think he could give some work, if needed.
But with what you're saying there, sure, we care about this guy and we want to take care of him.
Q. How beneficial was it that this game kind of got out of hand early, and you could start planning on which relievers you could bring in and the guys you could maybe save for tomorrow?
BRUCE BOCHY: Well, you hate to have a game go like this, but no question it does allow you to do some things you probably normally wouldn't. It's not that you ever say "uncle", but at the same time if you get down that far, it does allow you to use some other guys and maybe stretch them out like we did. Machi, Strickland, Vogey, that's a big inning. So now we keep the guys available that hopefully we don't need some of them, but they are ready to go.
So we're loaded tomorrow, I feel, and they are, too. Their guy gave them a great game. So we're just looking forward to the game. This is what you work for starting in Spring Training. If you told me we were going to be playing the 7th game in the World Series, I think we'd all be doing cartwheels.
Q. Which pitchers would you term not available tomorrow night? Maybe Machi or Peavy or Vogelsong?
BRUCE BOCHY: Oh, Machi. I wouldn't use Machi, but the rest of them are available.
Q. Bruce, is your mindset going into a Game 7 any different than it was going into Game 6?
BRUCE BOCHY: No, no. I mean, we were going to do all we could to win this game. Now normally I'd leave Jake out there, for example, but we had Petit ready to go, and it didn't work out.
But, no, your mindset doesn't change Game 6 or 7, I don't feel. We were ready to use everybody. But the game got out of hand, so we had to change course a little bit.
Q. Having said what you just did a minute ago about you guys having all your big guns in the bullpen ready tomorrow and them as well, how important is getting on the board first tomorrow?
BRUCE BOCHY: Well, we feel that way every game. The odds show that you're better off scoring first, but we'll do what we can. We thought like that tonight, we wanted to score first, but it didn't work out. So we'll have that same mentality. It's not going to change.
Q. How about managing in a Game 7 of the World Series? I mean, you've never done that. You're probably going to the Hall of Fame. You've won two championships. Special game, tell me about your thought process going into that.
BRUCE BOCHY: Well, it is a special game. I mean, this is it. It's do or die, and that's how you have to approach it. You want to make sure you're ready for anything. We've been in Game 7 before. You go back to the series against St. Louis, not in the World Series, but that's a pretty big game, too, because it's going to get you to the World Series.
So a lot of these guys have been there before. Really I don't think I'm going to change because it's Game 7. I mean, I felt the same way tonight. We'll throw everything at them, if necessary. There's no tomorrow. We know that. So hopefully our starter, he's on top of his game and the bullpen's ready to go.