Butler's emotional ride with Royals headed for Game 7
Designated hitter proud of franchise's emergence from rough years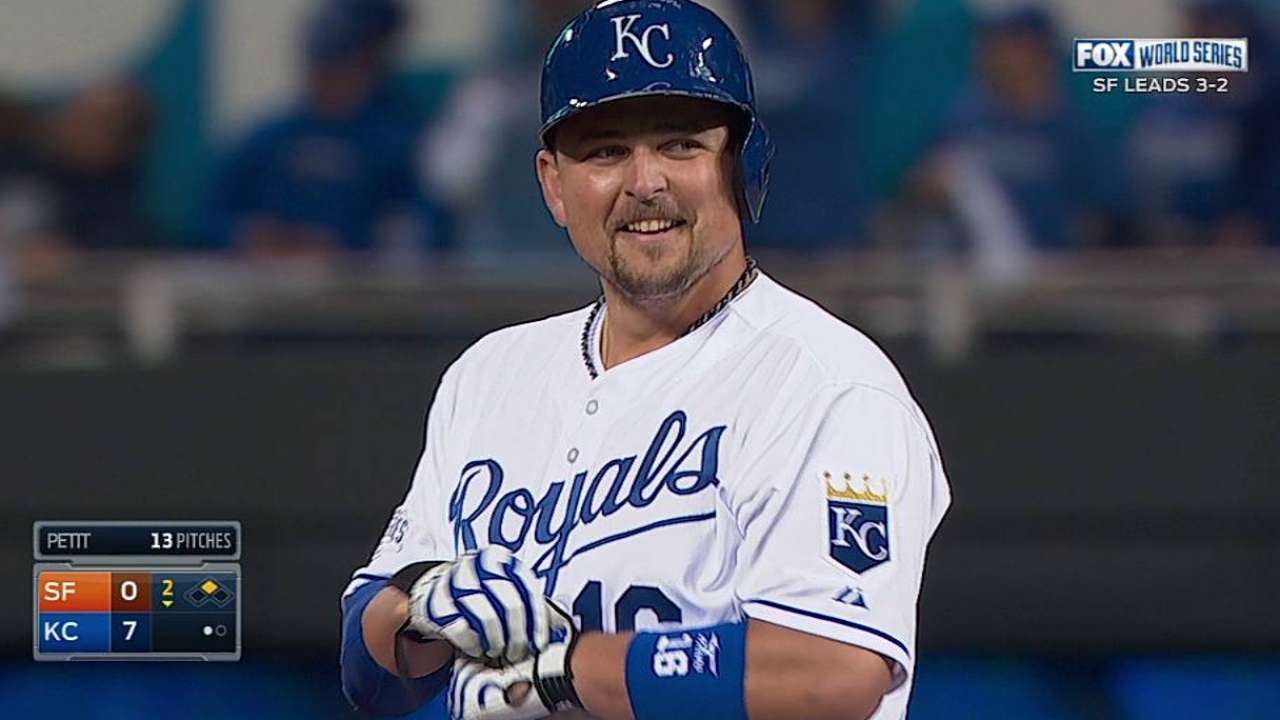 KANSAS CITY -- Billy Butler endured six straight sub-.500 seasons with the Royals. He became the stabilizing force of a franchise often in disarray, providing consistency at the plate for Kansas City teams that were consistent in all the wrong areas. Then, when the Royals finally pieced together a postseason team in 2014, he had the worse offensive season of his eight-year career and spent a brief period on the bench.
Those facts lay out the long, tumultuous road Butler took to get to where he was Tuesday night: in front of his locker, with a swarm of media inquiring about his part in the Royals' magical playoff run, and more specifically, the team's penultimate postseason event, a 10-0 Game 6 win over the Giants in the World Series.
"I just think it shows how far the Kansas City organization's come," Butler said. "We're proud to be a part of it and we're proud to show everyone how far this organization has come, from the first years when I came up where we were struggling and we were trying to get back to where they were in the '80s.
"And I think we've accomplished that."
Butler contributed to the Royals' blowout win at Kauffman Stadium by capping a seven-run second inning with an RBI double that allowed Kansas City to reach the decisive Game 7.
His 1-for-4, one-walk, one-RBI performance came after his designated-hitter's role was eliminated in Games 3, 4 and 5 in San Francisco.
"I had good at-bats, I saw the ball good," Butler said.
This was not always the case in 2014.
Butler hit nine home runs and drove in 66 runs in the regular season -- his lowest totals since an 11-homer, 55-RBI campaign in 2008. He set career lows in average (.271), on-base percentage (.323) and slugging percentage (.379).
But in the Royals' last two postseason series, Butler has seemingly shed whatever caused him to struggle in the regular season. Butler batted .286 and drove in three runs in the American League Championship Series against the Orioles. His World Series average settled at .364 after Tuesday, and Butler collected his third RBI of the Series with the gap-splitting double.
"Billy is a big presence in that lineup offensively for us," said Royals manager Ned Yost before the game. "Right in the middle of the lineup, he's been a proven run producer. It's just a big comfort level having him back in there."
Butler debuted with the Royals in 2007. He began his MLB career alongside fellow ballyhooed Kansas City prospects Luke Hochevar and Alex Gordon. The trio -- drafted in successive years from 2004-06, all in the first round -- signaled the future for a franchise that desperately needed a makeover. Instead, Kansas City lost 134 more games than it won between 2007-12. Gordon struggled so mightily that he was forced to move from third base to left field and rediscover his swing at Triple-A Omaha in 2010. Hochevar converted from the rotation to the bullpen, and missed the entire 2014 season following Tommy John surgery.
But there was always the consistency of their DH to fall back on. He averaged a .300/.362/.468 slash line during those forgettable years.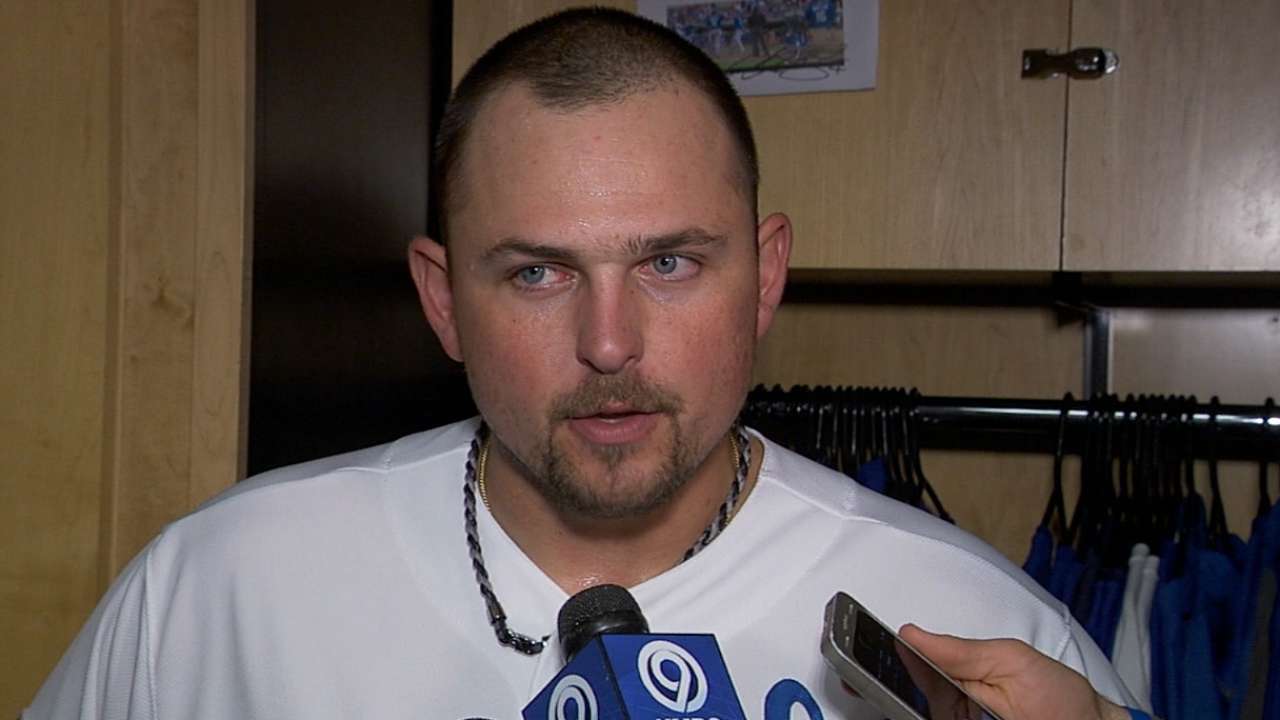 "I'm glad I get to experience it with guys like Alex and Hoch. We've been together the longest. We've stuck it out and we get an opportunity to be world champions," Butler said.
Butler does not know how he will feel when he arrives at the ballpark for Game 7 (air time 6 p.m. CT, first pitch at 7:07 p.m. on FOX).
He does not know if the gravity of what Kansas City accomplished this season, regardless of what happens Wednesday, will finally hit him.
Or if eight years of misery contrasted by the 2014 season -- boundless, heart-stopping and elation-filled -- will finally come into focus.
"It'll be the first time I've had it, so I'll let you know after," Butler said.
"But there will be a lot of emotions going, it will be an exciting time. I'm proud to be here with this team and getting to experience that at the ballpark tomorrow."
Jackson Alexander is an associate reporter for MLB.com. This story was not subject to the approval of Major League Baseball or its clubs.