Ventura pays tribute to Taveras with outing
Tosses seven shutout innings two days after friend dies in Dominican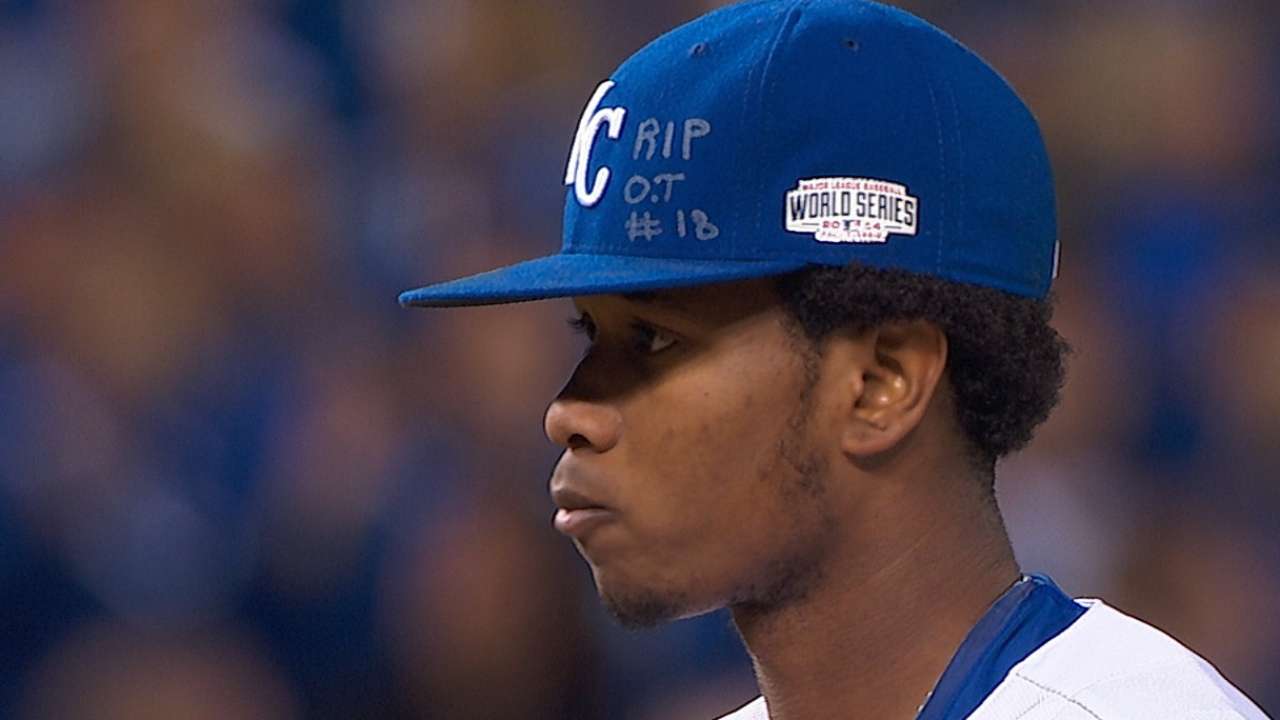 KANSAS CITY -- Yordano Ventura entered the biggest start of his life wearing a tribute to a friend who had his life cut tragically short, and the young Royals right-hander wore his emotions on his cap: RIP OT #18. Ventura's friend, Oscar Taveras, was on his mind, but his focus was obviously on the job at hand.
"From the minute that I found out about Oscar, I said this game was going to be dedicated to him," said Ventura, who threw seven shutout innings for the Royals in Game 6 of the World Series just two days after top Cardinals prospect Taveras, 22, his friend and fellow native of the Dominican Republic, and Taveras' girlfriend, 18-year-old Edilia Arvelo, were killed in an auto accident.
With Ventura's offensive cohorts going berserk on the basepaths in a record-setting night of offense, Ventura was the calm amid a storm of runs, channeling his emotions into a command performance. He started strong, worked through some trouble and, most important of all, went deep into the game in shutout form as the Royals ran away with Game 6 in a 10-0 defeat of the Giants.
What will be remembered most about this evening is the unleashing of hits and runs by the Royals' hitters, but some space in the history books must be saved for Ventura. He became the fourth Major League rookie to make four postseason starts, picking up his first postseason win, and he did it in impressive fashion, allowing just three hits while working through five walks and striking out four in an even 100 pitches.
"You've got a 23-year-old kid pitching the biggest game that this stadium has seen in 29 years with our backs against the wall, and he goes out there in complete command of his emotions with great stuff and throws seven shutout innings," Royals manager Ned Yost said of Ventura. "I mean, we've talked all along about how special he is, but this just shows [it]. You can't be on a bigger stage than he was on tonight. To perform the way that he did was just special."
Best of all for the Royals, Ventura's performance kept the bullpen gate shut into the eighth. His outing and an offensive outburst kept the Royals' 7-8-9 trio of Kelvin Herrera, Wade Davis and Greg Holland fresh for a Game 7 that is now on the slate between the Royals and Giants, scheduled for tonight with a 6 p.m. CT air time on FOX and a 7:07 p.m. first pitch.
When they needed it most, the Royals got the Ventura they'd come to know during the regular season, a rookie season that put him among the elite first-year players in the American League, going 14-10 with a 3.20 ERA in 30 starts. After a rough relief outing in the Wild Card Game in which he surrendered a three-run home run and recorded just one out, he posted three starts -- the first against the Angels much like Tuesday's Game 6 outing -- with a 3.50 ERA and three no-decisions to show for them.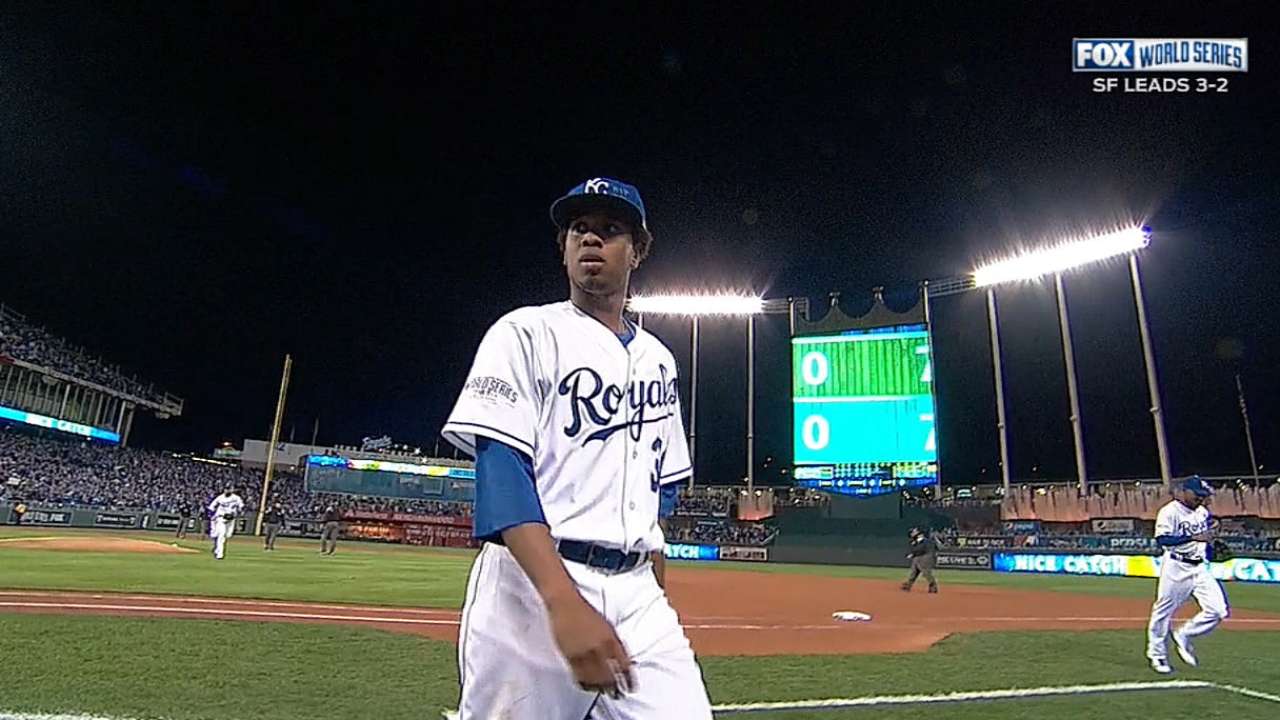 From the very outset of his fourth start, Ventura had it going, striking out Gregor Blanco for the first out of a 1-2-3 first. Then, after a 33-minute wait because his teammates were giving him a huge lead with a seven-run second, he walked the bases loaded -- but got out of it on a double-play grounder by Buster Posey on the first pitch he threw him.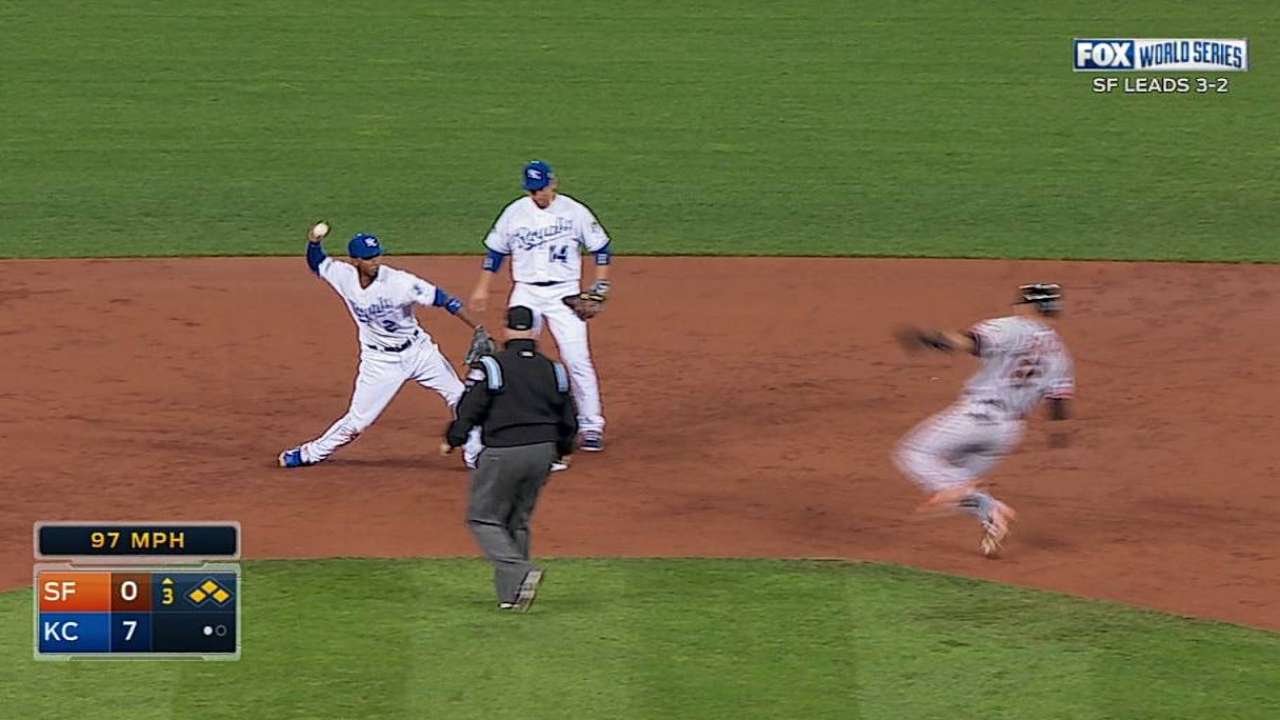 "I felt comfortable with that lead," Ventura said through interpreter Christian Colon, a Royals teammate. "Obviously, it was a big lead, but at the same time I didn't want to change anything. I stayed aggressive, and I wanted to stay aggressive."
The Royals didn't even get anybody stirring in the bullpen until the seventh, after Ventura allowed a walk and a single to put a runner in scoring position for the first time since the second inning. But Ventura escaped his second jam of the night to finish seven strong frames.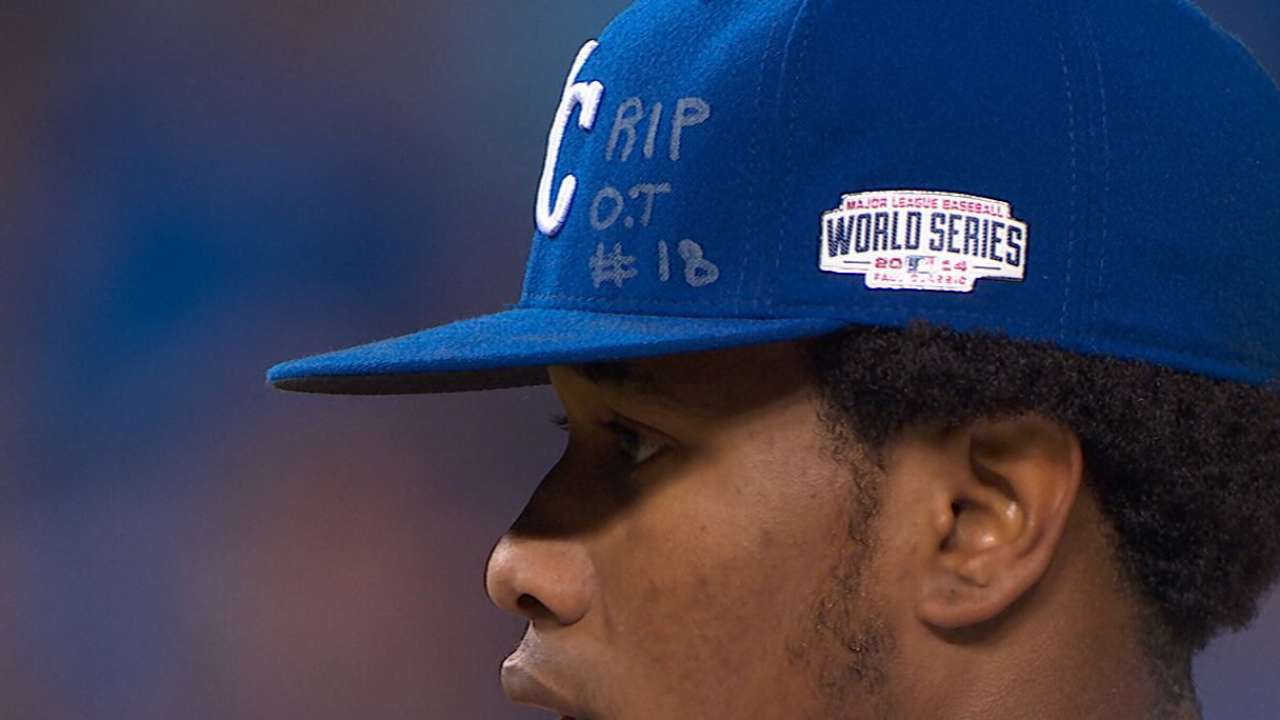 And, in the end, he was able to provide the ultimate tribute to a friend whose life ended so abruptly and tragically barely more than 48 hours earlier: a World Series victory.
"This hit home for a lot of people, but especially for the guys that had a relationship with Oscar," Yost said. "It hurts. It hurts a lot of people, and Yo had a relationship with Oscar. He was definitely in his thoughts and in his mind today the whole time he was competing."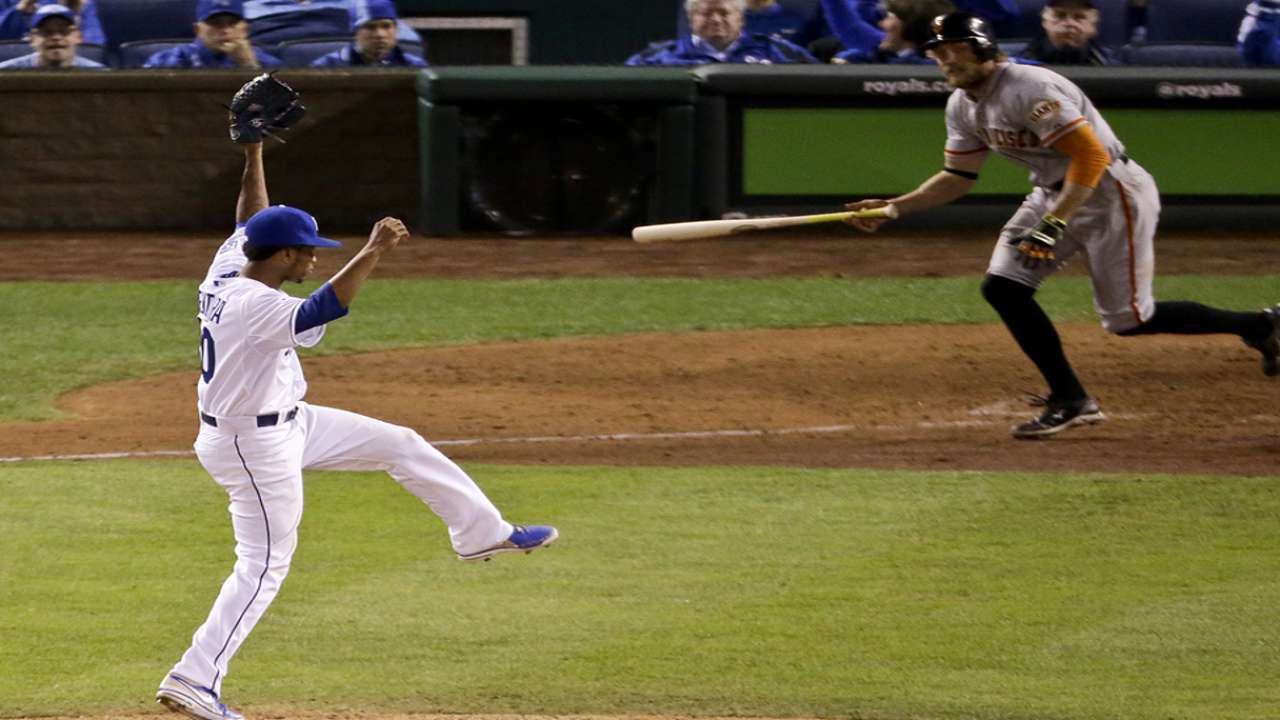 Ventura and Taveras didn't know each other growing up in the Dominican, but they became very close while playing in the Texas League in 2012. Every time the Royals' Double-A affiliate visited the Cardinals' affiliate in Springfield, Mo., Ventura slept in Taveras' apartment.
Said Ventura, who proudly displayed the flag of the Dominican Republic at his postgame press conference: "If he was still here, I would for sure be talking to him, and Oscar would be very happy for me and very proud. Oscar was a very humble guy and very likeable, and I'm going to miss him a lot. I'm grieving, and I want to send my best thoughts to his family. I know that I'm going to miss him a lot, and this is hard for me."
John Schlegel is a national reporter for MLB.com. You can follow him on Twitter @JohnSchlegelMLB. This story was not subject to the approval of Major League Baseball or its clubs.