Oct. 28 Yordano Ventura postgame interview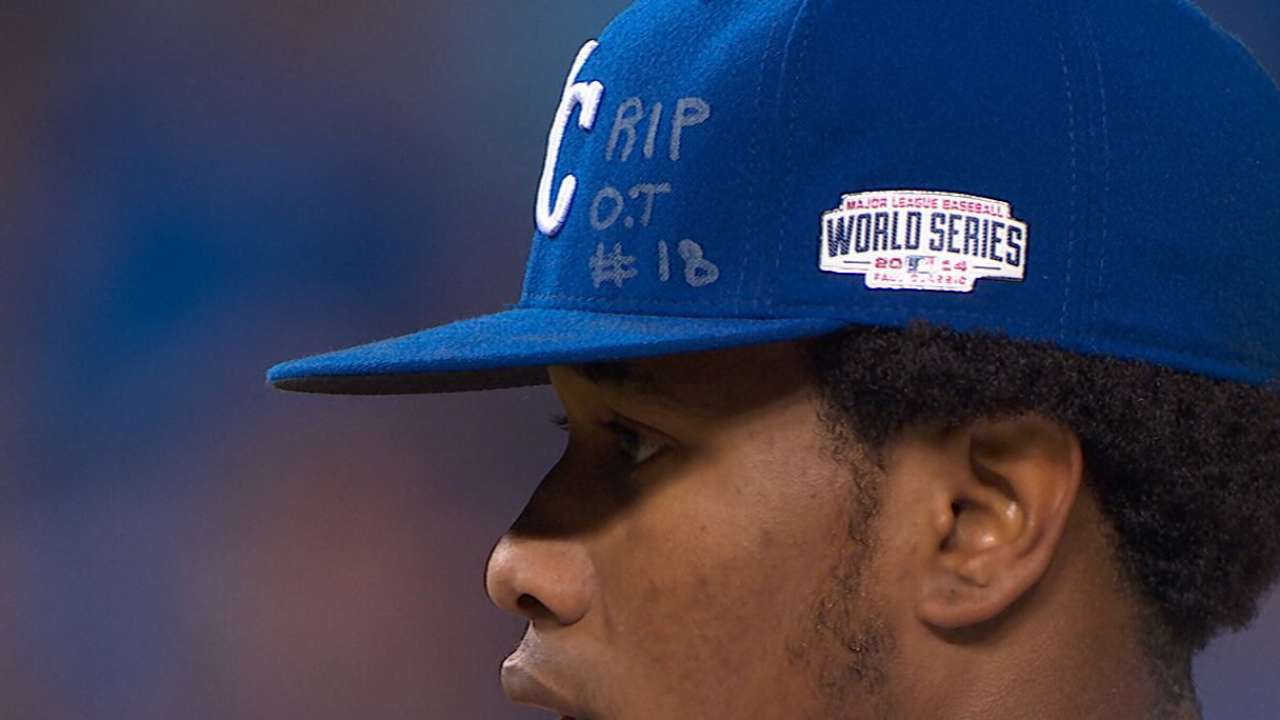 Q. Yordano, after Bumgarner threw a shutout, how big was it for you? Was there a little more motivation for you to come out tonight and you guys complete a shutout as well?
YORDANO VENTURA: First of all, I want to thank the Lord for giving me this opportunity, and this game was dedicated to Oscar Taveras, my good friend. It's a little emotional for us.
I worked hard. I worked hard from the start, and Bumgarner did a great job, but I felt like this was for my teammates and for the boys. I feel like I worked as hard as I could for this start and for my team to put us in a good spot.
Q. Why did you bring the flag of the Dominican Republic? And how special was this game for you because of Oscar?
YORDANO VENTURA: I'm very proud to be Dominican, and that's why I brought my flag out here. If you know out there, I carry my emotions on my sleeve, and I did it for the whole country of the Dominican Republic.
From the minute that I found out about Oscar, I said this game was going to be dedicated to him. I prepared myself mentally and physically for this game, and I'm very proud to be a Dominican, and that's why I brought the flag.
Q. Did your approach change at all after the big second inning? I'm sure a little more confidence, but did you change anything after that big offensive inning?
YORDANO VENTURA: I felt comfortable with that lead. Obviously, it was a big lead, but at the same time I didn't want to change anything. I stayed aggressive, and I wanted to stay aggressive. But clearly that gave me some room to work. I wanted to do a good job today and give the bullpen the rest that they needed.
With that being said, I was just staying with my own approach, staying aggressive no matter what, and kind of treated it like it was a 0‑0 game.
Q. Before the first pitch, in the warmups there were a couple in the dirt, maybe one or two that went back to the screen. Were you feeling overwhelmed or anything like that emotionally before the first pitch?
YORDANO VENTURA: I came from the bullpen with that plan. I throw a lot of fastballs and they're looking for fastballs. So I just came in and started throwing a bunch of balls everywhere. I was trying to kind of trick them a little bit and make them think that I was kind of rattled or throwing an off‑speed everywhere. But after the first hitter, I settled in.
Q. What do you think Oscar would have said about your performance tonight?
YORDANO VENTURA: If he was still here, I would for sure be talking to him, and Oscar would be very happy for me and very proud. Oscar was a very humble guy and very likeable, and I'm going to miss him a lot. I'm grieving, and I want to send my best thoughts to his family. I know that I'm going to miss him a lot, and this is hard for me.