Oct. 28 Ned Yost postgame interview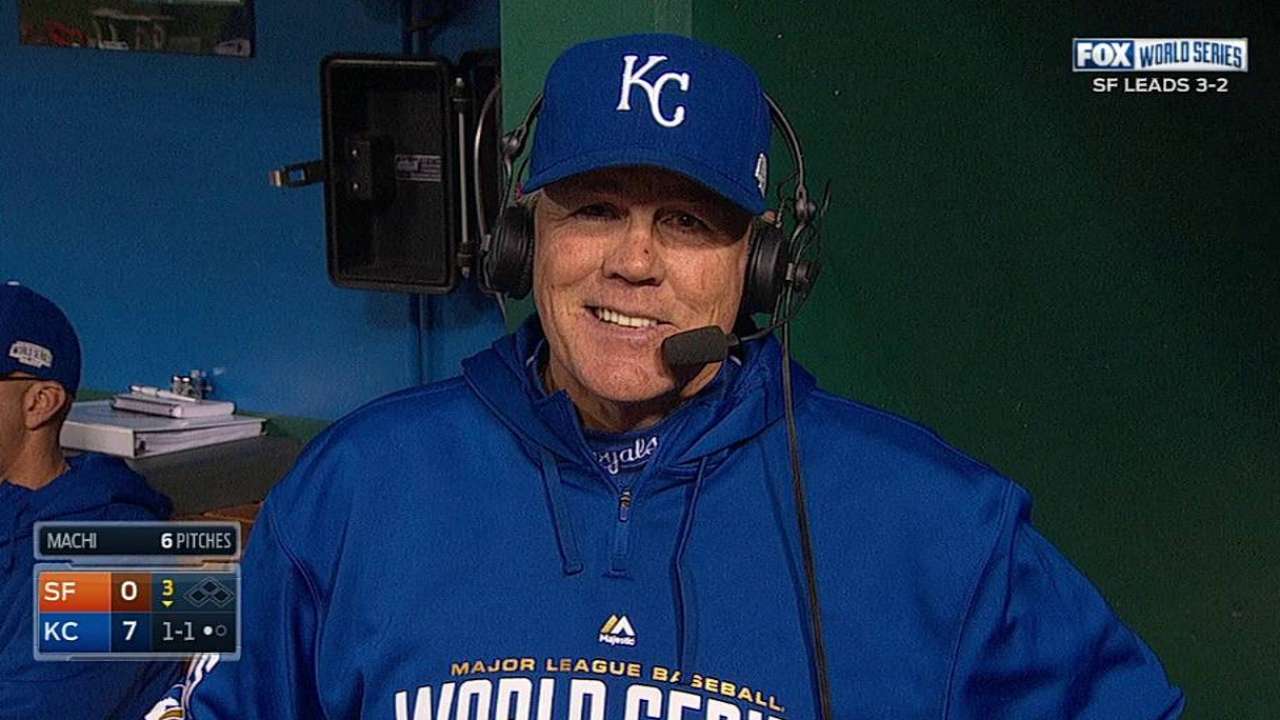 Q. Talk about Yordano and how awesome he was tonight.
NED YOST: Awesome. I mean, I don't really know what more to say. I mean, you've got a 23‑year‑old kid pitching the biggest game that this stadium has seen in 29 years with our backs against the wall, and he goes out there in complete command of his emotions with great stuff, and throws seven shutout innings. I mean, we've talked all along about how special he is, but this just shows, you can't on a bigger stage than he was on tonight. To perform the way that he did was just special.
Q. Obviously getting seven runs is great any time, but did it allow him to settle in a bit? He was kind of splitting balls and strikes in the first couple innings.
NED YOST: No, he was going to be fine no matter what the score was. He was determined. He was focused. He was competing his heart out out there. The seven runs definitely helped. It definitely helped. But the fact that he started mixing in his secondary stuff really, really well in about the 4th inning helped. But that kid had that look in his eye before the game started that it didn't matter what the score was, he was going to go out and throw up a good ballgame for us.
Q. Can you speak a little about how crucial it was that slide by Escobar in the second inning. And also were you aware of Ventura wearing Oscar's number on his cap?
NED YOST: Yes, yes, we did see that. This hit home for a lot of people, but especially for the guys that had a relationship with Oscar. It hurts. It hurts a lot of people. And Yo had a relationship with Oscar. And he was definitely in his thoughts and in his mind today the whole time he was competing.
I don't even remember what slide you're talking about, Escobar's slide.
Q. When he went into first.
NED YOST: Oh, yeah. His presence of mind there not to veer out of the baseline and to realize that Belt thought we may be coming on contact, and he just took that second to look to see if we were coming on contact, realized that we weren't and turned back around. Esky was flying down that line and had the presence of mind to slide underneath the tag.
But Esky's a real instinctual player. And his instincts come into plays in plays like that. Those are plays that you can't really think about. It's just your instincts that allow you to do that.
Q. In addition to getting you the win, to go through seven innings, does Ventura kind of give you a bonus in setting your bullpen up for Game 7?
NED YOST: Well, yeah, absolutely. To get us through seven innings, and then Frasor coming in and Collins getting through that, that keeps all of our big guns fresh and ready to go tomorrow. That was the intent once we scored the seven runs was to try to get through that game without using Finnegan, without using Herrera, without using Holland and Wade Davis.
Q. What does it mean to you to be managing a Game 7? What do you think about when you look back at classic Game 7s in history?
NED YOST: I mean, Game 7s are always special. As kids, what I fall back on is when I was 10 years old, hitting rocks in the backyard, trying to hit it over the fence for a home run. I never one time thought, okay, bases loaded, two out, bottom of the 9th, Game 5 of the World Series, you know? Never. It was always two outs, bottom of the 9th, Game 7 of the World Series, you know?
So it's special, you know? Secretly, yeah, you'd like to come in and win it in 4, win it in 5, but when this thing started, I really hoped we could play seven just for the experience of it and the thrill of it, and we're here now.
So we feel good about our chances. We get to experience that tomorrow.
Q. I can't compete with that. Home teams have had a really, really good record for like 30 years in Game 6s and 7, really good. What are some of the reasons? Is it real? Is it accident?
NED YOST: Our crowd. Did you see our crowd? Our crowd today was absolutely electric. It's been like that for us. Our guys have really felt the energy coming from the stands, and it just gives you a boost, you know? Even though there is a lot of energy in San Francisco, it wasn't for us. This energy is going to be absolutely for us. This crowd is going to be absolutely crazy, and these guys are more than comfortable playing in front of our home fans. They love it.
Q. You showed such confidence yesterday when you were talking about this game, and to have your team reward you like they played tonight, how special is that?
NED YOST: I don't know if it's special, but I've never been so convicted about a game in my life, seriously. I've never felt more strongly about us winning a ballgame in my life than I did yesterday on this game. I don't know why. It's just the confidence I have in these guys, because when you go in that locker room, you see the confidence they have in themselves. I just felt that we were going to win this game and get to Game 7 and see where that takes us.
It's a good feeling. I didn't expect to win the game 10‑0. I thought we'd squeak it out, but we're going to Game 7. That's all that matters.
Q. How convicted are you about Game 7?
NED YOST: You know, when we battled out Game 4 and ended up losing, I knew we'd have a heck of a time in Game 5, with Bumgarner as special as he was. But in my mind, I knew at least I had a very, very strong feeling that whoever won Game 6 was going to win Game 7. And if the Giants would have won tonight, they would have proven me right. But we have to wait until tomorrow to see if my theory's correct.