MLB.com Columnist
Anthony Castrovince
Royals put ball in play, put game away
Happy to see Peavy stay in zone, contact-prone hitters erupt with barrage in seven-run second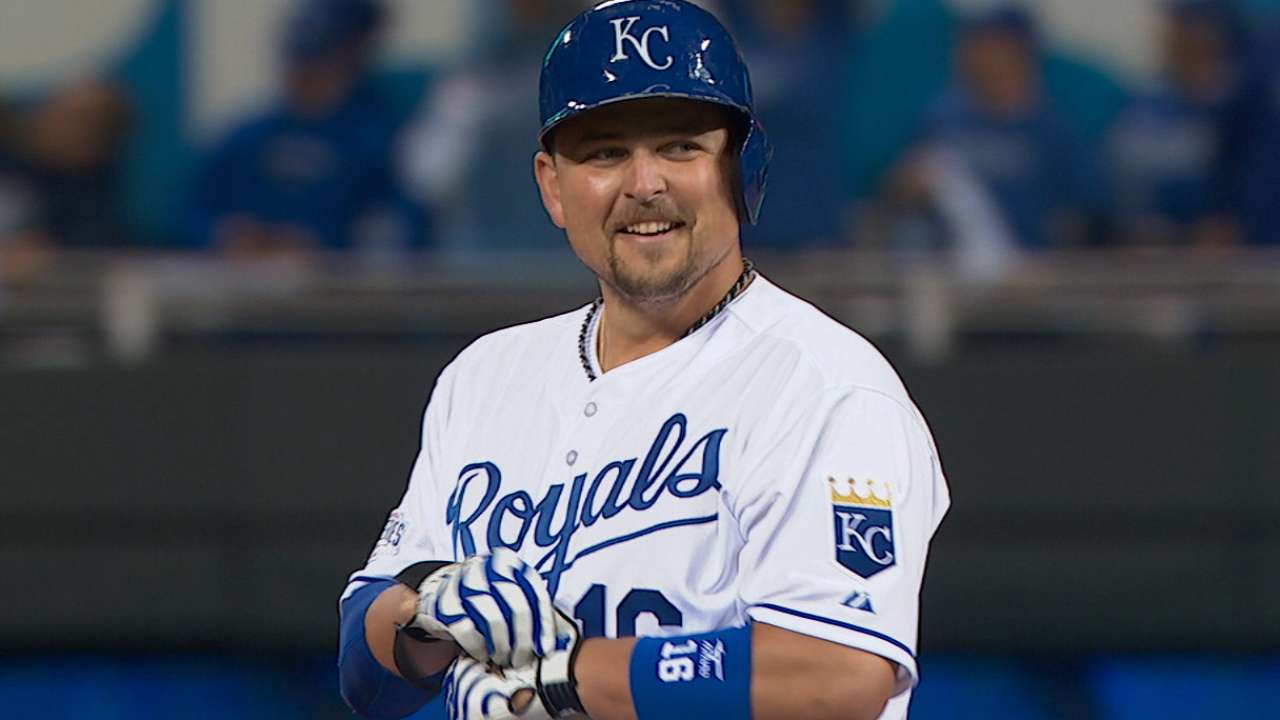 KANSAS CITY -- This was the kind of inning it was for the Royals. Eric Hosmer was down 0-2 in the count against Jake Peavy in the second inning of Game 6 of the World Series. In the heat of the moment, Hosmer yells for time, but he's not sure if home-plate umpire Jeff Kellogg hears him. Peavy delivers the pitch, and Hosmer, not wanting to get rung up, swings away and effortlessly rips a single up the middle. Except Kellogg did hear him and did grant him time. So the hit is nullified.
One pitch later, Hosmer chops the ball off home plate and over the shortstop ... for a two-run double.
Crazy, right?
"I'm glad I had some luck on my side to get another hit," Hosmer would say later, "because it would have been a tough one to swallow not getting the hit after getting the hit during the timeout."
The Royals got all they wanted in this inning and on this night. Game 6 was essentially over not long after it started, as Kansas City's seven-run second paved the way to a 10-0 victory that gave the club its ticket to Game 7 at Kauffman Stadium. The inning unraveled exactly as this contact-prone lineup, blessed in the BABIP (batting average on balls in play) department, hoped it would against a fill-the-zone pitcher like Peavy, whose strikes came back to bite him in the form of one hit to the hole after another.
"We were making Peavy work," Billy Butler said. "We were making him throw it in the zone."
And the Royals, on a night in which every member of the lineup had a hit before the end of the third, were definitely in the zone.
The Royals, in fact, felt great about this matchup from the moment they were done getting bedeviled by Madison Bumgarner in Game 5. Peavy, they knew, was just the sort of pitcher they could pounce on, provided they didn't chase when he offered that slider low in the zone or when he nibbled on the corners.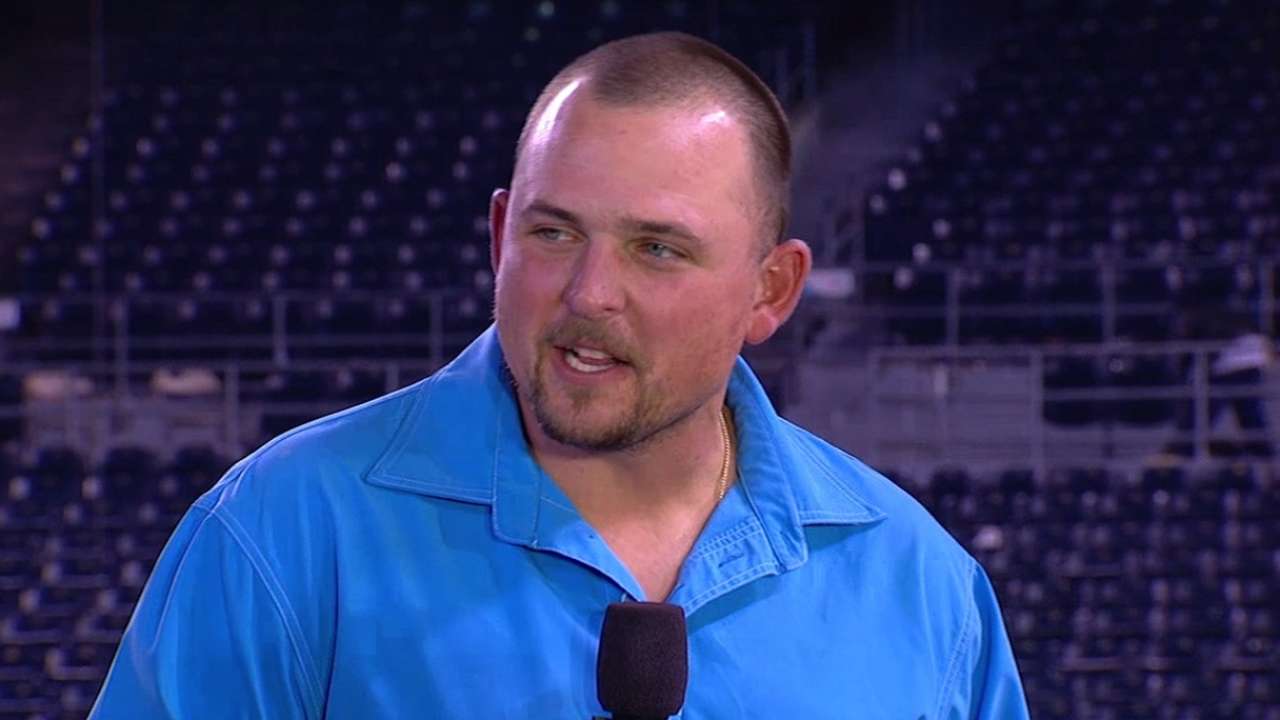 In the first, the Royals stranded runners on the corners when Butler grounded into a fielder's choice. It was a missed opportunity, but hardly a sign of things to come. Because in the second, Peavy simply wasn't missing many bats, and the Royals' aggressive mindset -- both at the plate and on the bases -- would be well rewarded.
The inning began with Alex Gordon's soft fly ball to center for a single. Perez then ripped a line drive to right. Two on, none out. The crowd was into it.
And that's when the Royals' contact clout -- the skill that allowed them to catch so many perceived "breaks" in the eight consecutive postseason wins that preceded this World Series -- shined again. Mike Moustakas sent a scorching ground ball down the first-base line, out of reach of a diving Brandon Belt, and Gordon came home and Perez went to third on the double. The Royals were on the board, 1-0.
Pitching coach Dave Righetti paid a visit to Peavy on the mound, tried to keep him calm, lest the situation get out of hand. And the veteran responded with a strikeout of No. 9-hole hitter Omar Infante, so things were looking up.
But briefly. Because the next play would be the ultimate demonstration of how this inning got away from the Giants. Alcides Escobar sent a grounder to the right side. Belt ranged far from the bag to field it, and confusion set in. Belt looked toward third, as Peavy seemed to yell at him to check the runner, Salvador Perez, there. But Perez held.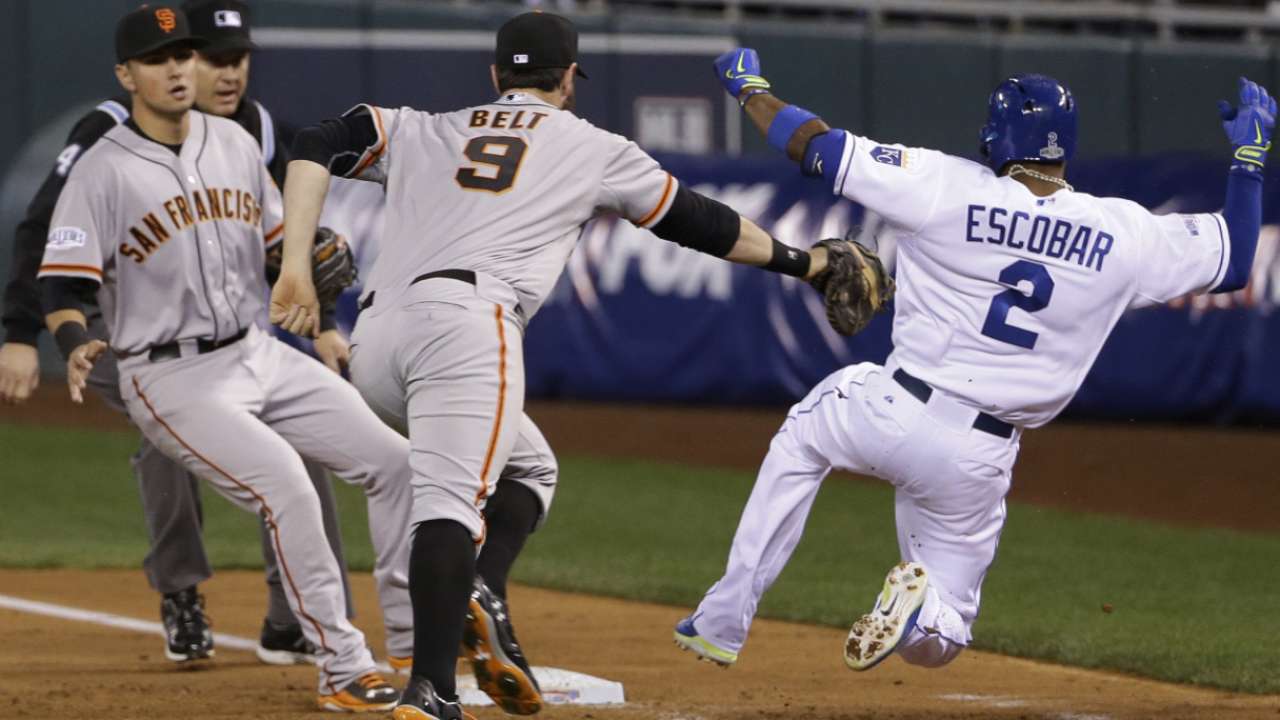 "The ball was behind me, and I couldn't see that runner," Peavy said. "I couldn't cross in front of [Belt] right there if he had to [throw] to home plate. That led to me not being able to cover the base."
By then, Belt was out of time to catch a streaking Escobar, who demonstrated one of the rare instances in which a slide into first base was actually worthwhile in avoiding the tag.
"Esky's a real instinctual player," Ned Yost said. "And his instincts come into play in plays like that. Those are plays that you can't really think about. It's just your instincts that allow you to do that."
With the bases now loaded, the Royals showed a killer instinct. More to the point, they hit it where they weren't. Nori Aoki punched a ground-ball single through the hole on the left-hand side of the infield to score Perez and make it 2-0. With that, Peavy was pulled. He faced 11 batters, recorded four outs and would be charged with five runs on six hits.
Tough night.
"If he had a little luck, he probably gets out of that inning," Bruce Bochy said. "They just hit the ball where we couldn't get to it. But I thought his stuff was crisper, his velocity. They just made contact."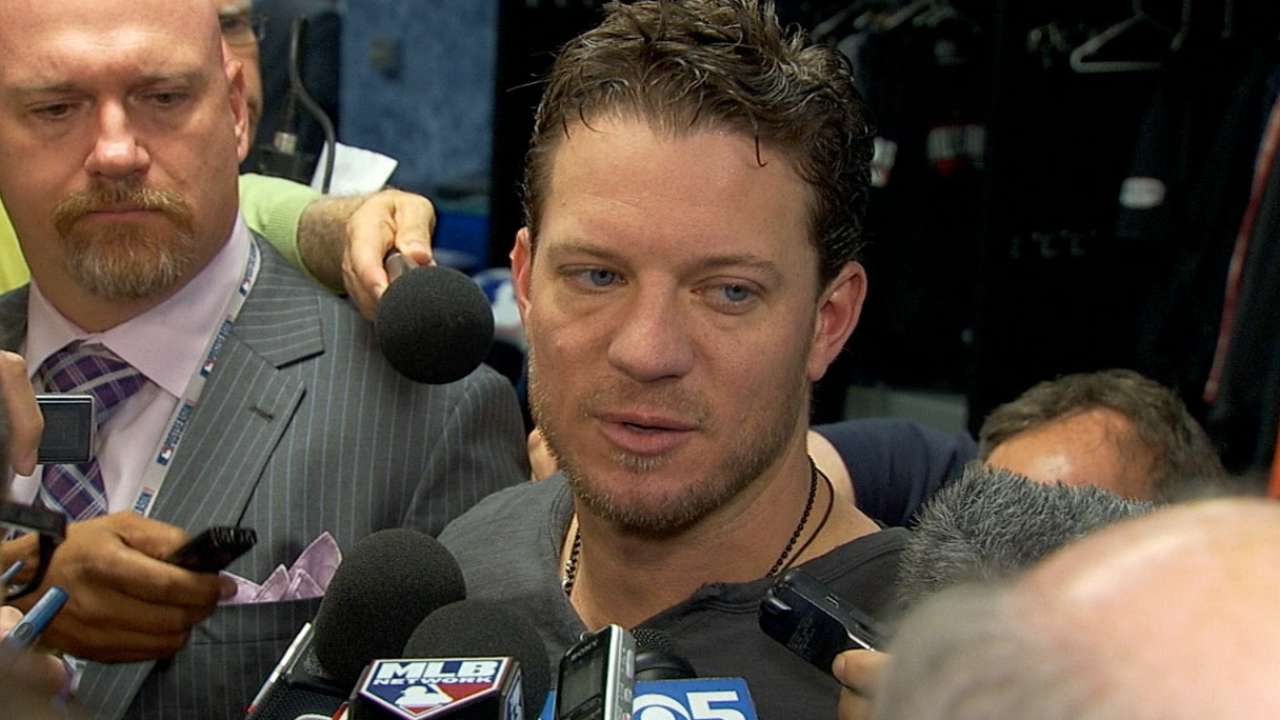 More contact came off Yusmeiro Petit, who made his first appearance all season that began with the bases loaded. Lorenzo Cain lifted a soft fly ball to center for a single on which both Moustakas and Escobar scored to double the Royals' lead.
That's when Hosmer came to the plate. After his phantom timeout, Petit threw him a curveball in the dirt that skirted away, allowing Cain to streak to second. And then Hosmer had the barrel-to-ball ability with two strikes to hit that chopper that went off the plate and into no man's land. On top of that, his ability to turn that chopper into a two-run double -- a double that made it 6-0 -- came down to his intellectual instincts as a baserunner.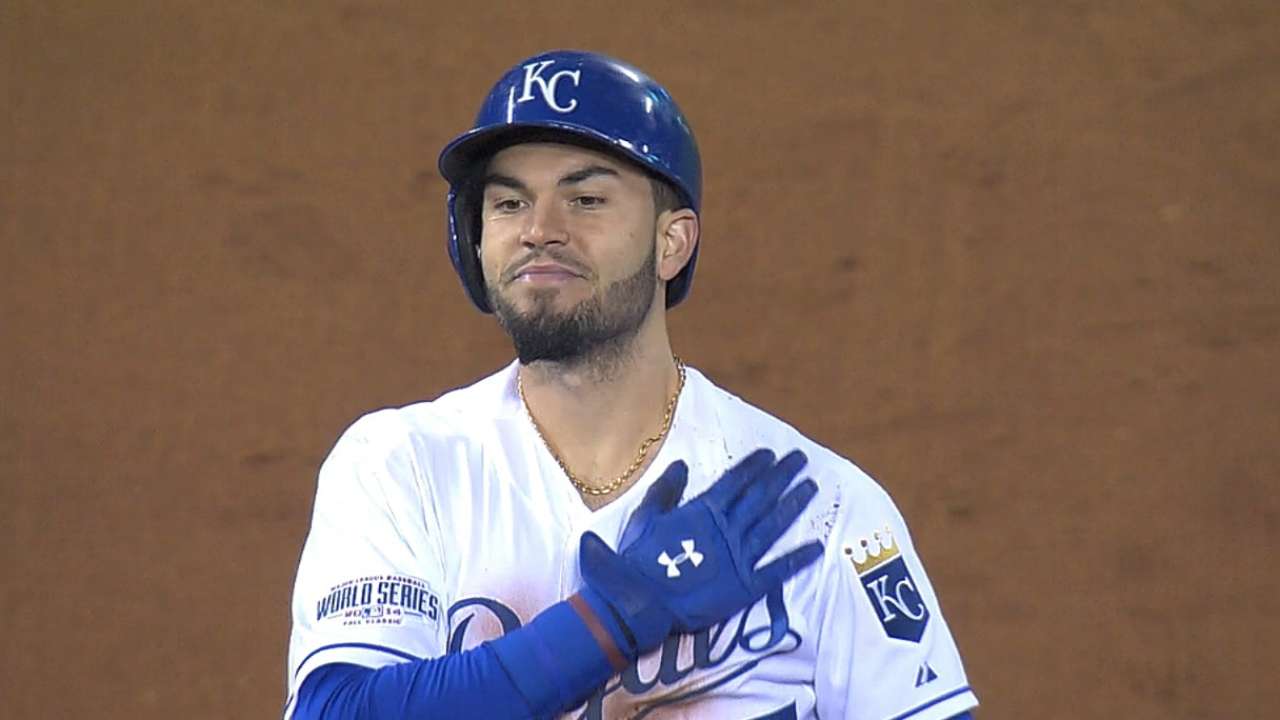 "The infield was in, and their outfielders like to play deep," Hosmer said. "Plus, [center fielder Gregor] Blanco, being a lefty going into left-center, his momentum was going away from second. You realize it's got to be a perfect throw to catch you. That's our motto is to be aggressive and use your legs."
Because Hosmer was on second, not first, he was able to score on Butler's ensuing double to center. That made it 7-0, and the Royals had basically ensured themselves a seventh heaven.
"If you're not playing hard and not playing the right way, you don't have that inning," Royals veteran Raul Ibanez said. "Escobar went hard the whole way, and he got there with a real athletic play, the slide. And Hosmer was able to shorten up with two strikes."
The Royals went into this game with the heightened focus it took to take advantage of the Peavy matchup. That they kept pouring on -- and that Yordano Ventura again delivered on the big stage -- was icing on the cake. Long story short, this was yet another October night in which the Royals illustrated a pertinent point: When you put the ball in play consistently, big innings like this can happen.
This just happened to be their biggest inning yet.
Anthony Castrovince is a reporter for MLB.com. Read his columns and follow him on Twitter at @Castrovince. This story was not subject to the approval of Major League Baseball or its clubs.