Padres' Renfroe breaks out of slump in AFL
San Diego's No. 4 prospect homers, doubles in win after entering game 4-for-32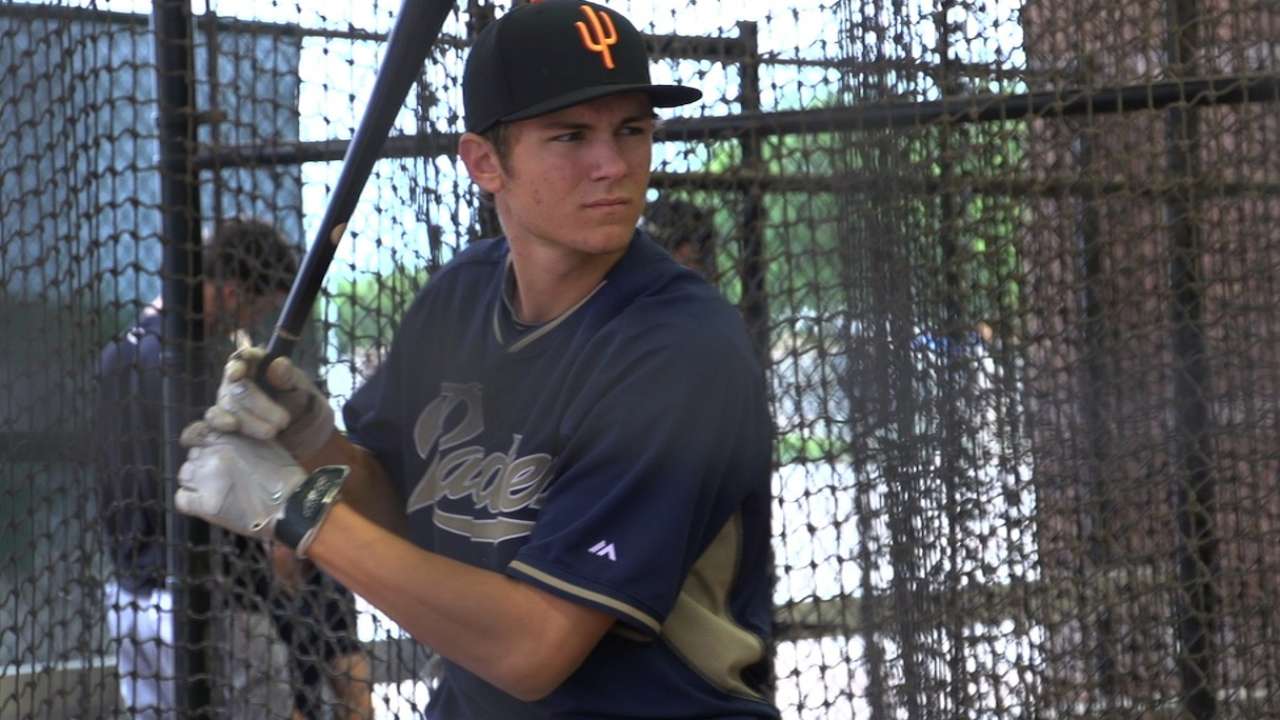 Hunter Renfroe began the fall as one of the hottest hitters in the Arizona Fall League. The Padres' No. 4 prospect placed first among National Leaguers in the Bowman Hitting Challenge and opened the season with a five-game hitting streak.
Eventually, however, Renfroe cooled off. The Surprise right fielder entered Tuesday 4-for-32 with one run and no RBIs in his last nine games.
Renfroe broke out of his skid against Scottsdale. He homered and doubled to lead Surprise to a 4-3 victory.
Renfroe said he was experimenting with a different setup at the plate during his slump. Typically, he never stops moving before he swings, waggling his bat and shifting his weight back and forth. His new approach was meant to eliminate some of that movement, but he reverted to his more comfortable setup Tuesday and got back to crushing the ball.
"I was trying to work on few things and they weren't working out, so I went back to what I'm used to," Renfroe said. "It was like riding a bike."
Renfroe, ranked No. 71 on MLBPipeline.com's Top 100 Prospects list, finished the game 2-for-3 with two RBIs. He is now hitting .232/.328/.446 with seven walks and 17 strikeouts in 15 games this fall.
Despite his poor stretch, Renfroe said he has felt good at the plate.
"I've been seeing the ball well," he said. "That's a big thing I'm trying to work on, to make sure I'm swinging at good pitches. I've got to keep going and working hard."
Renfroe drove in the first run of the game Tuesday with an RBI double in the second. The Saguaros added another run in the inning and one more in both the fifth and sixth.
Left fielder Jesse Winker, the Reds' No. 2 prospect and No. 40 on the Top 100, went 2-for-3 with a double and a run. Designated hitter Sean Coyle, the Red Sox No. 13 prospect , added two RBIs.
The Scorpions got on the scoreboard with a run in the third and scored twice in the seventh to cut the deficit to one run, but could get no closer. First baseman Josh Bell, the Pirates' No. 3 prospect and No. 29 on the Top 100, went 1-for-3 with a double, a walk and a run. Catcher Elias Diez, Bell's teammate in the Pirates' organization, finished the game 2-for-3 with a double, a run and an RBI.
While Renfroe's experiment with the new setup at the plate is likely over, he isn't done making tweaks to his game. During the final three weeks of the AFL season, he said he's working on keeping the barrel of his bat back so he can more effectively use the whole field to hit.
"One thing is to stay behind the ball with my bat," Renfroe said. "That means stay kind of up the middle so I don't pull everything."
Renfroe will be able to show off that approach Saturday in the Fall-Stars Game. It was announced Monday that he would represent the Padres and the West Division in the game.
Renfroe has already played in the California-Carolina League All-Star Game and the SiriusXM All-Star Futures Game this season. He said he is looking forward to playing in another all-star event alongside some of the best players in the Minor Leagues.
"Anytime you can make the All-Star team and be with best players in league it's a real honor," he said. "It's going to be cool. We've played all those guys and have personal relationships with a lot of them so it's going to be fun."
Teddy Cahill is a reporter for MLB.com. Follow him on Twitter at @tedcahill. This story was not subject to the approval of Major League Baseball or its clubs.