MLB.com Columnist
Lindsay Berra
Male breast cancer survivor watches Game 6 from O'Neil seat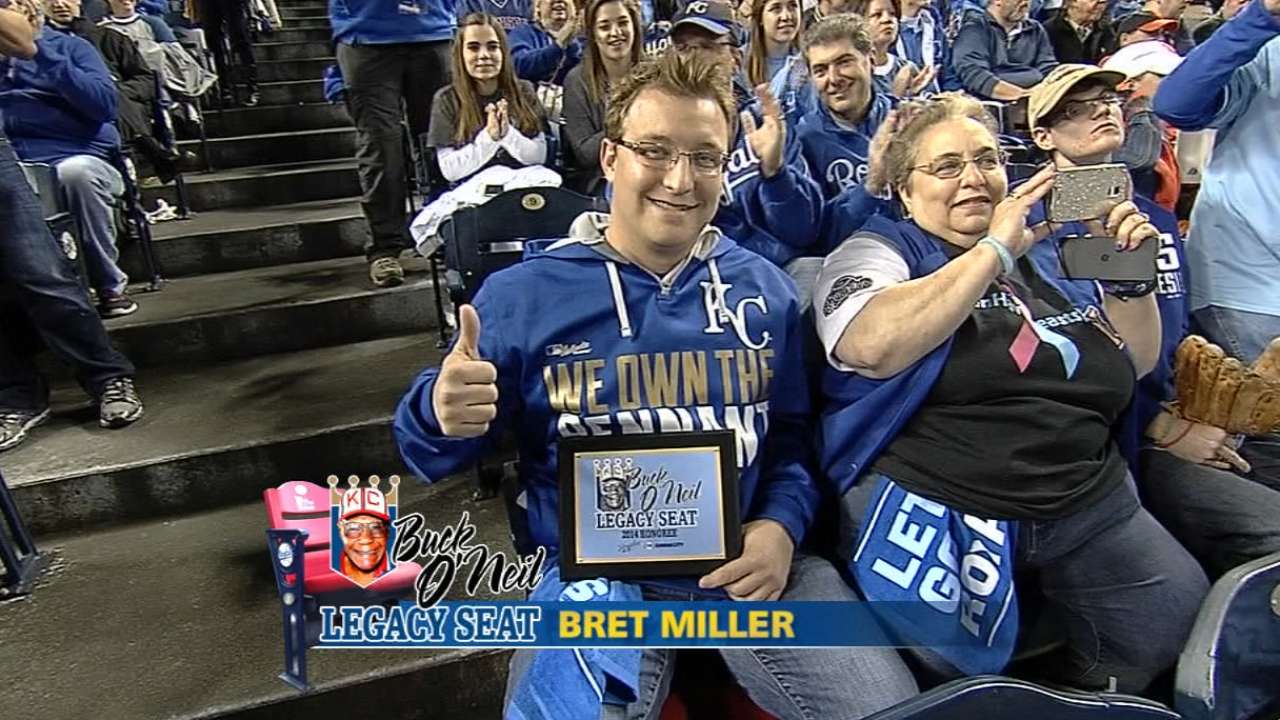 KANSAS CITY -- Men have breasts, too.
That is the message Bret Miller wants to shout from his spot behind home plate at Kauffman Stadium for Game 6 of the World Series on Tuesday night.
Miller, 28, was diagnosed with breast cancer when he was 24 years old, and subsequently underwent a mastectomy to remove his right breast. His website, checkthem.org, promotes male breast cancer awareness. The Royals honored Miller with an evening in the Buck O'Neil Legacy Seat for his efforts.
O'Neil starred for the Negro League's Kansas City Monarchs and became the first African-American coach in Major League Baseball when he was hired by the Cubs in 1962. Later, as a scout for the Royals and as a fan, he spent countless days and nights watching games from his seat behind home plate: Seat 1, in Row C of Section 101.
To honor O'Neil, the Royals began the Buck O'Neil Legacy Seat program in 2007. Every night, they fill "Buck's Seat" with a special person who, on a large or small scale, represents Buck's spirit through work done in the community.
"I could never have imagined being able to be here for a World Series game," Miller says. "It's a true honor to be in Buck's seat, with all he did for the community, and it's an honor to be able to speak out about breast cancer and raise awareness for it."
Miller first felt a lump in his right breast when he was 17 years old, but the doctor at his high school football physical told him it was just a calcium deposit that would go away as he went through puberty. Seven years later, when Miller had finished college, it was still there. When he finally went for a physical, though his doctor didn't seem too concerned, Miller got an ultrasound and a mammogram and got the lump removed.
A day later, he was given the shocking news: He had breast cancer. Miller immediately had his mastectomy, during which doctors removed his breast and nipple and ample margins around the lump. Miller also underwent four rounds of chemotherapy.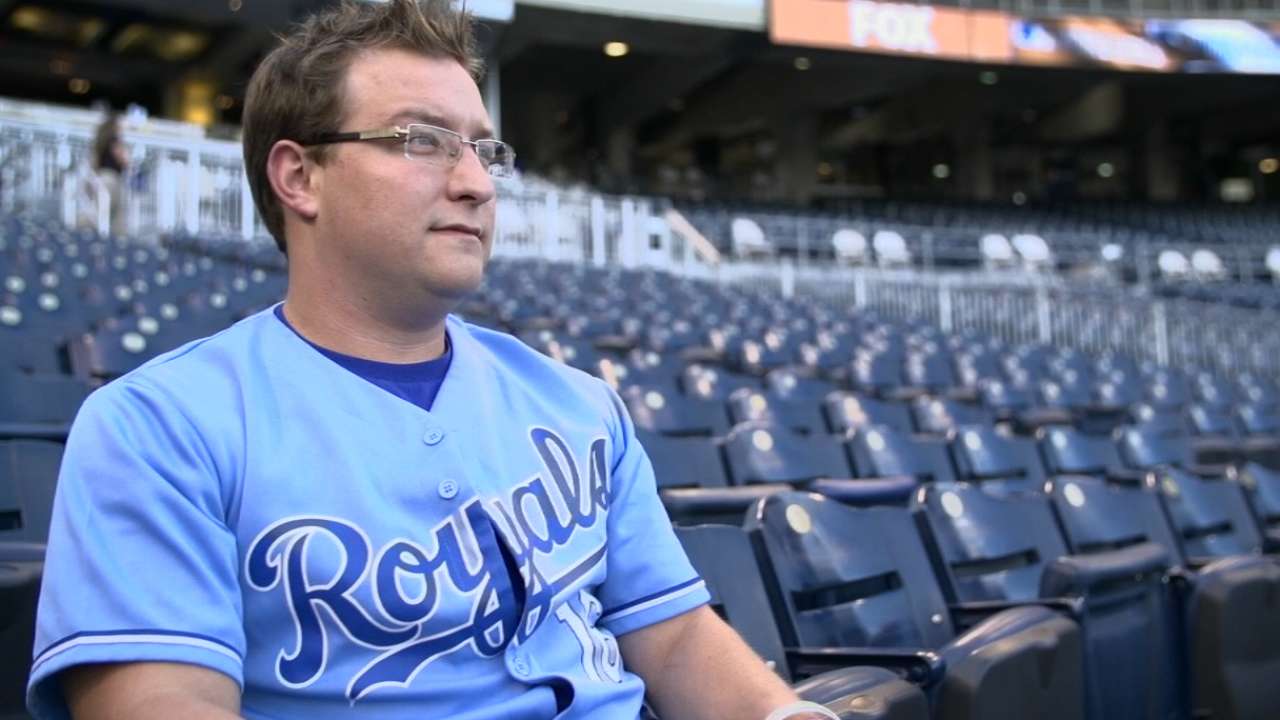 "I knew men could get breast cancer, but never thought that would be me," Miller says. "But I googled the symptoms; a lump, discoloration or dimpling, a discharge around the nipple. I had a discharge for a year and a half, but men are stubborn. We don't want to go to the doctor. But men need to know, we are our own best advocates. If you find a lump, get it checked out, and don't rest until you have a definitive answer."
The chances of a man getting breast cancer are small; about 1 in 1,000, according to the American Cancer Society. That is 100 times less common than breast cancer in women. And the average age of diagnosis is 68; Miller had been considerably less than even half that age.
"October is breast cancer awareness month and it is pink," Miller says. "It's about the women, and we don't want to take anything away from them. But we do want everyone to know that men can get breast cancer, too. We're just trying to bring a splash of blue into a pink world."
Miller, who works as a bartender at Tengo Sed Cantina in the Power & Light District in Kansas City, has literally been a Royals fan since before he was born. His mother, Peggy, was pregnant with him during the 1985 World Series and was at Game 6. Bret was born a week later.
"There were 12 little boys in the nursery that day, and every one of them was named Brett," Peggy says.
George Brett and Bret Saberhagen had been the heroes of that World Series for the Royals, and clearly, Kansas City's new mom's felt the urge to pay tribute. Peggy, though, was the only one there that day who chose to spell her son's name with one T. Her decision was prophetic.
Miller's foundation is called the Bret Miller 1T foundation.
"I chose to attack this with humor," Miller says. "My mom chose Bret with one T. I was diagnosed with breast cancer and lost my right breast. We decided to have a little fun with it: One T, one tit."
Lindsay Berra is a columnist for MLB.com. This story was not subject to the approval of Major League Baseball or its clubs.