Taveras' death spawns memories of Adenhart
Both young, talented prospects killed in tragic automobile accidents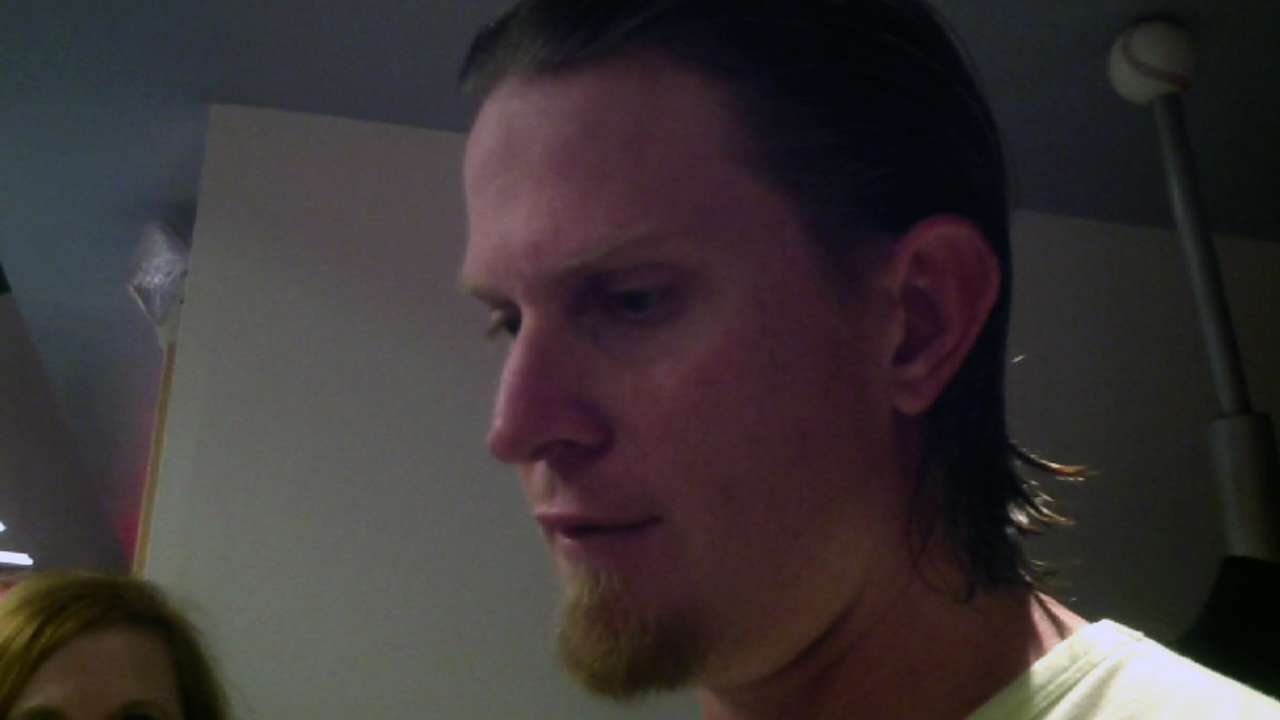 It was the kind of link nobody wants to make, but one few could avoid.
On Sunday afternoon, when word spread of the tragic death of 22-year-old Cardinals prospect Oscar Taveras, many within the Angels' organization undoubtedly thought back to 2009, when their young pitcher, Nick Adenhart, was killed in a car accident of his own.
Adenhart was the same age, and like Taveras, in the early stages of a promising career.
"There's not a book that tells you how to do it -- how to react, how to handle it," Angels vice president of communications Tim Mead said. "The Cardinals organization is a tremendous organization. They will invariably do the right thing for their circumstances."
Mead, at one point an assistant general manager for four years, just finished his 34th season with the Angels. He began in 1980, two years after former Angels outfielder Lyman Bostock was shot to death.
Mead still remembers getting the call from Angels pitching coach Mike Butcher in the wee hours of April 9, 2009, and rushing to Irvine Medical Center to find out Adenhart -- hours removed from throwing six scoreless innings in his season debut -- had died.
"An organization is affected," Mead said, "but the family is first."
The car accident that killed Taveras in the Dominican Republic also took the life of his 18-year-old girlfriend, Edilia Arvelo.
Adenhart's accident -- the result of a drunk driver running a red light -- also killed Courtney Stewart and Henry Pearson, while leaving a fourth passenger, Jon Wilhite, seriously injured.
"For us, it was never about the Angels," Mead said. "It was about the Adenhart and the Stewart and the Pearson and the Wilhite family. He happened to be part of our family. We mourned, we came together, we honored and recognized, but what you want to do is be there."
A Catholic mass was held for Taveras in his Los Castillos neighborhood in the Dominican Republic on Tuesday afternoon, shortly before a moment of silence prior to Game 6 of the World Series from Kansas City. Unlike the Angels, who had to go on with their season two days after Adenhart's passing, the Cardinals organization will have an entire offseason to grieve.
Sadly, that won't make it any easier.
"Whether it's in-season or offseason, a member of your family is taken from you," Mead said. "When I look back on [Adenhart], everybody did something as an individual, not just as a member of the Angels organization, because that was a community tragedy for us."
The Angels postponed the next day's game against the A's and wore a black patch with Adenhart's No. 34 above their chest for the rest of the 2009 season, which saw them win 97 games and advance to the American League Championship Series. His locker at Angel Stadium remained untouched, his jersey hung in their dugout during games and a makeshift shrine dedicated to Adenhart was set up outside the Home Plate Gate of their ballpark.
Jered Weaver still carves Adenhart's initials in the back of the mound before every start and the Angels still present their best pitcher with the Nick Adenhart Award after every season.
Soon enough, the Cardinals will have to find their own way to cope.
"The business aspect of baseball is just such a distant second," Mead said. "It just is. This is about a person. It's about a person, it's about family. The Cardinals organization will do the right thing for the Cardinals, just like we did the right thing for the Angels. Sometimes, your collective hearts guide you through situations like these."
Alden Gonzalez is a reporter for MLB.com. Read his blog, Gonzo and "The Show", and follow him on Twitter @Alden_Gonzalez. This story was not subject to the approval of Major League Baseball or its clubs.