Cards' Tuivailala steps up in relief for first Fall League win
St. Louis' No. 13 prospect strikes out one, navigates out of trouble in scoreless inning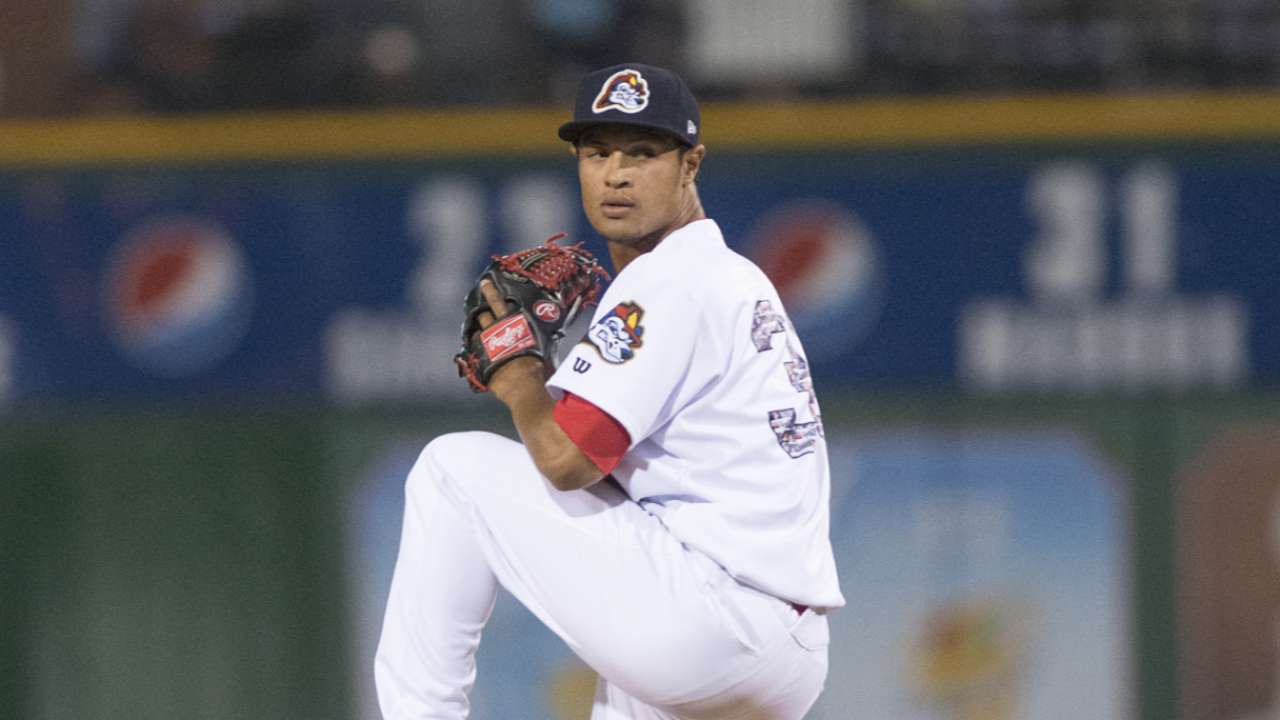 Peoria right-hander Sam Tuivailala entered Tuesday's game at Mesa with the score tied in the seventh inning. He didn't have his best command and walked two batters before inducing a double play to get out of the jam.
In the top half of the next inning Tuivailala watched as Cody Stanley, his catcher and teammate in the Cardinals' organization, hit an RBI single to give the Javelinas the lead. They hung on to defeat the Solar Sox, 2-1, giving Tuivailala his first victory in the Arizona Fall League.
Tuivailala, the Cardinals' No. 13 prospect, struck out one batter and didn't allow a run or a hit in his one inning of work.
"I felt good," he said. "After the second batter I lost sync with myself. So I tried to adjust that during the game and ended up with two walks."
Aside from some minor control problems, Tuivailala and the rest of Peoria's pitching staff kept Mesa's hitters off balance Tuesday. Right-hander Miguel Almonte, the Royals' No. 5 prospect, threw three hitless innings to start the game. He struck out three batters and walked three before the bullpen took over. Ali Williams, Louis Head, Tuivailala and Brandon Cunniff combined to hold the Solar Sox to one run on five hits and three walks in six innings.
Stanley guided each of them through the game. Tuivailala said having Stanley behind the plate makes all the pitchers comfortable.
"He's a workhorse," Tuivailala said. "We trust everything he calls behind the plate. He can hit, block, throw. He's an all-around player."
Stanley showed off his offense as well. He led the Javelinas with two hits and stole a base to go with his game-winning RBI. Indians' top prospect Francisco Lindor drove in Peoria's other run Tuesday when he grounded out in the fifth inning, bringing home C.J. McElroy from third base.
Mesa tied the game in the sixth, as Chad Hinshaw drove in Cal Towey with a single off Head. Towey, the Angels' No. 17 prospect, finished the game 2-for-4. Center fielder Dalton Pompey, the Blue Jays' No. 3 prospect, went 1-for-3 with two walks and two stolen bases.
Tuesday was the seventh game Tuivailala has appeared in this fall. He has struck out eight batters and held opponents to five hits and five walks in nine innings. On Monday, it was announced he would represent the West Division and the Cardinals in Saturday's Fall Stars Game.
It is the latest honor for Tuivailala, who converted to pitching in 2012 and made his Major League debut in September.
"I look back to 2012 when I converted and I'm happy with how things are going," he said. "It's been a lot of hard work and ups and downs and a lot of tough moments, but I'm happy with where I am."
In the Minor Leagues, Tuivailala dominated hitters. He struck out 97 batters and held opponents to a .216 batting average in 60 innings this season between Class A Advanced Palm Beach, Double-A Springfield and Triple-A Memphis.
But Tuivailala knows he still has work to do. He said he learned a lot from his brief Major League experience, especially on the mental side of the game and the importance of having confidence in himself.
Tuivailala's command also remains a work in progress. He walked 27 batters in the Minor Leagues and two more in the Major Leagues. He said he is working this fall on improving his release point, which would allow him to more consistently hit his spots.
"Obviously as a pitcher you're always trying to work on command, trying to find that one delivery that we can consistently repeat," Tuivailala said. "I'm trying to do it on a day-to-day basis."
Teddy Cahill is a reporter for MLB.com. Follow him on Twitter at @tedcahill. This story was not subject to the approval of Major League Baseball or its clubs.