Prospect Zimmer undergoes shoulder surgery
With six-month recovery period, pitcher expected to miss Spring Training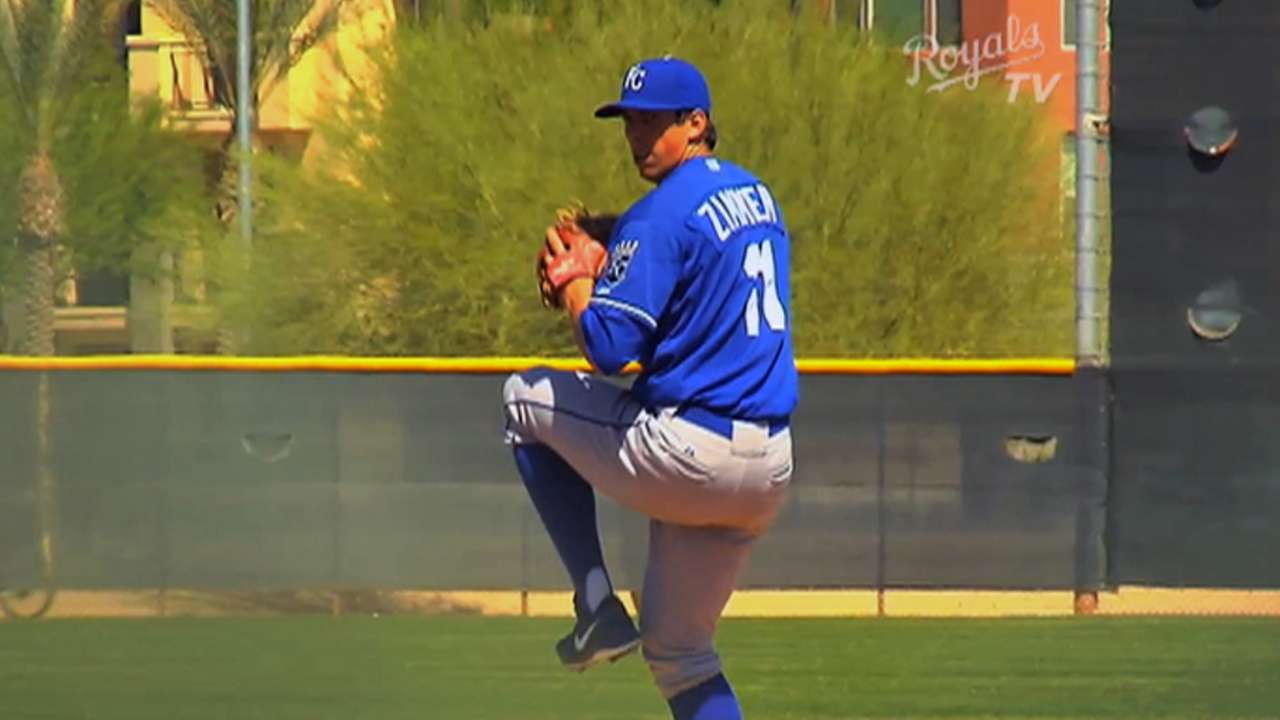 KANSAS CITY -- Kyle Zimmer, the Royals' No. 2 overall prospect and top pitching prospect, underwent exploratory surgery on his right shoulder on Tuesday. A minor debridement of his rotator cuff and labrum were performed during the procedure.
The diagnosis calls for a six-month recovery period, assistant general manager J.J. Picollo told MLB.com. This puts Zimmer at risk to miss the start of the 2015 season.
Picollo categorized the procedure, performed by Dr. David Altchek in New York, as successful and said the diagnosis was encouraging.
"It's very minor, it's a cleanup and it's as good as we could expect," said Picollo before Game 6 of the World Series at Kauffman Stadium. "There wasn't anything major. The way the doctors termed it to us was, 'Sometimes you've got to have a full debridement, this was a very minor debridement.'"
Zimmer injured his shoulder in an Arizona Fall League game on Oct. 18.
He visited Dr. Altchek on Monday, and an MRI came back clean. Altchek scheduled a scope for Tuesday, with the procedure revealing what Kansas City hopes puts an end to the mysterious shoulder issue plaguing Zimmer.
"I know going into today, Kyle was pretty optimistic. He was happy because he had a feeling that this was what it was going to end up being, and he can put it behind him and move on," Picollo said.
The six-month rehab means Zimmer will likely miss Spring Training, derailing the hope that he would join the Royals at the beginning of next season. It's too early to plan out Zimmer's spring plans, but Picollo said that the organization's aim was to get him into extended spring camp before he pitches in a competitive game.
Two positive revelations came as a result of Tuesday. First, it appears Zimmer will avoid major surgery on the shoulder, and all indications pointed to it being strong and in "outstanding shape."
Zimmer's recovery begins with a 12-week no-throwing period.
"Which, at this time of the year, it's perfect anyway," Picollo said. "Sometime after that, he'll start playing catch again."
A late injury delayed the second-year pro's 2014 Minor League debut to Aug. 17. As a result, he threw only 4 2/3 innings in the Minors this season.
On Oct. 13, Zimmer twirled a five-inning, 11-strikeout gem for the Peoria Javelinas. He lasted just one inning in his next start, exiting with shoulder discomfort.
"It's been frustrating [for him], because he feels great one day and he doesn't feel great the next," Picollo said. "This may be the cause of it."
Jackson Alexander is an associate reporter for MLB.com. This story was not subject to the approval of Major League Baseball or its clubs.