Peavy, Giants struggle as Series heads to Game 7
Righty allows five KC runs over 1 1/3 innings in Game 6; bats blanked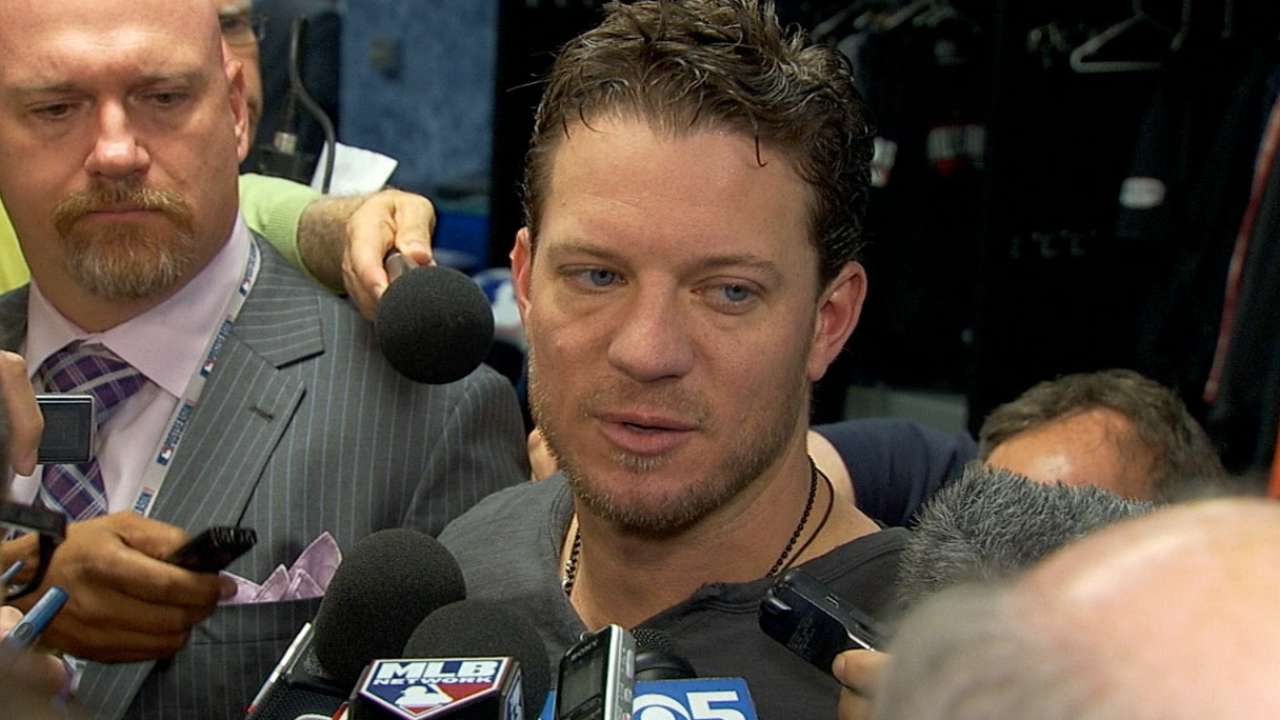 KANSAS CITY -- The Giants began to focus on Game 7 of the World Series before their 10-0 loss to the Kansas City Royals in Game 6 was complete Tuesday night.
Aware that Kansas City was destined to even the Series at three games apiece, San Francisco manager Bruce Bochy removed four starting position players by the eighth inning -- including Buster Posey, who had caught every postseason inning. Each of the Giants' four relievers except for Jean Machi threw 25 pitches or fewer, leaving them available for Wednesday's climactic contest (4 p.m. PT air time on FOX; 5:07 first pitch).
Instead of wallowing in dejection over squandering their first shot to clinch the Series, the Giants immediately began anticipating Wednesday's second chance to secure their third World Series title in five seasons. After all, 14 members of their current roster played on the 2012 Series-winning club that won six consecutive elimination games.
"This team will be fine. There isn't any part of me that's worried about tomorrow and this team having any hangovers," said Giants starter Jake Peavy, who lasted 1 1/3 innings and allowed five of Kansas City's seven second-inning runs. "The guys will be ready to play. I just hope we catch a few breaks and the ball bounces our way."
"I think anybody who's a fan of baseball has to be excited about a Game 7," Posey said.
Said right fielder Hunter Pence, "Game 7 of the World Series is a gift for everyone."
HOW THE GIANTS LOST
Nothing went right for San Francisco during Kansas City's second-inning, seven-run outburst -- which, ironically, matched the largest-scoring World Series inning since the Giants scored seven runs in the eighth inning of Game 2 in 2010 against Texas.
Peavy broke the bats of three Royals hitters: Alex Gordon, who hit a leadoff single; Mike Moustakas, who doubled to drive in the inning's first run; and Alcides Escobar, who grounded an infield single that easily could have been the inning's second out.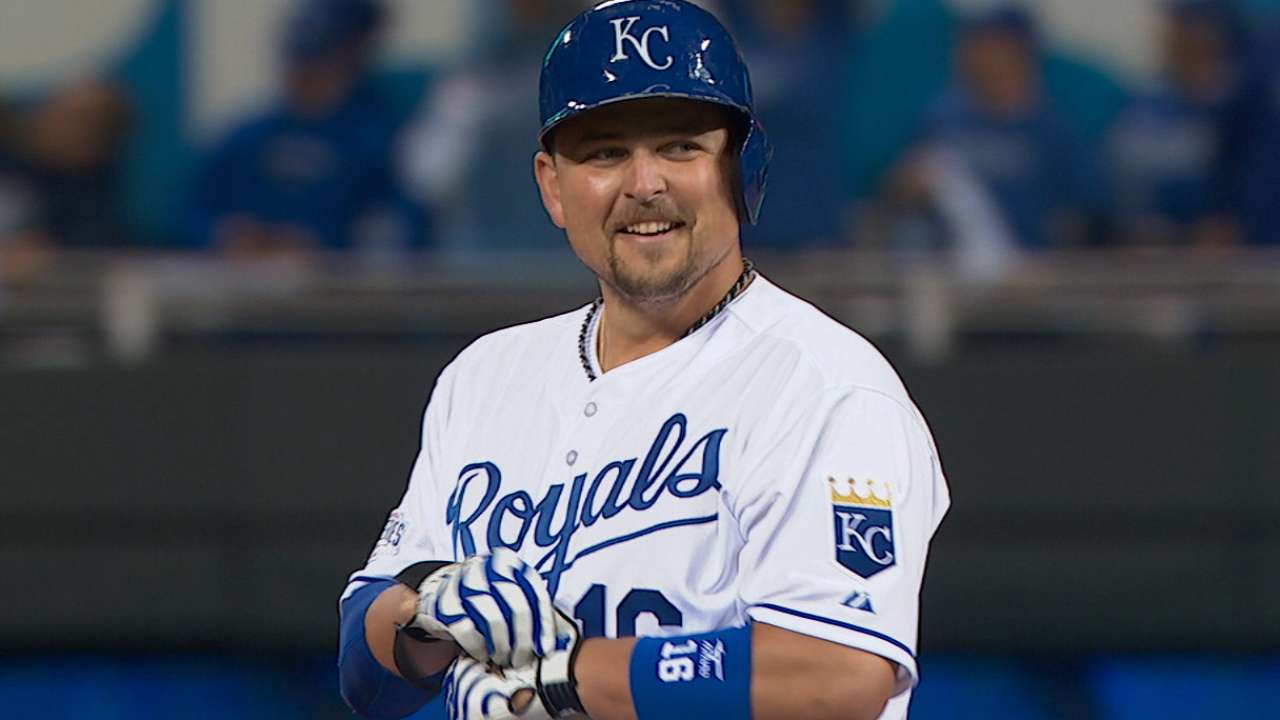 "It's frustrating, because I don't know what I would have done differently," said Peavy, who became the fifth starter in World Series history to yield as many as five runs in 1 1/3 innings or fewer. "I don't know if I've ever been through one of those innings, to be honest with you. It seemed long; it seemed like we couldn't catch a break -- you break three bats and don't get an out on any of them."
Recovering from losing the previous two Series games by a combined score of 16-4, the Royals cruised as every player in their lineup collected at least one hit.
MOMENTS THAT MATTERED
Belt's boo-boo: Kansas City's second-inning scoring outburst might have been a little less extreme had the Giants played their usual quality defense. Kansas City had only one run in with one out and runners on second and third when Escobar hit a chopper to first baseman Brandon Belt. Preoccupied with freezing Salvador Perez, the runner on third base, Belt didn't switch his attention quickly enough to Escobar, who won the race to the bag. That loaded the bases and set up Kansas City's four consecutive run-scoring hits.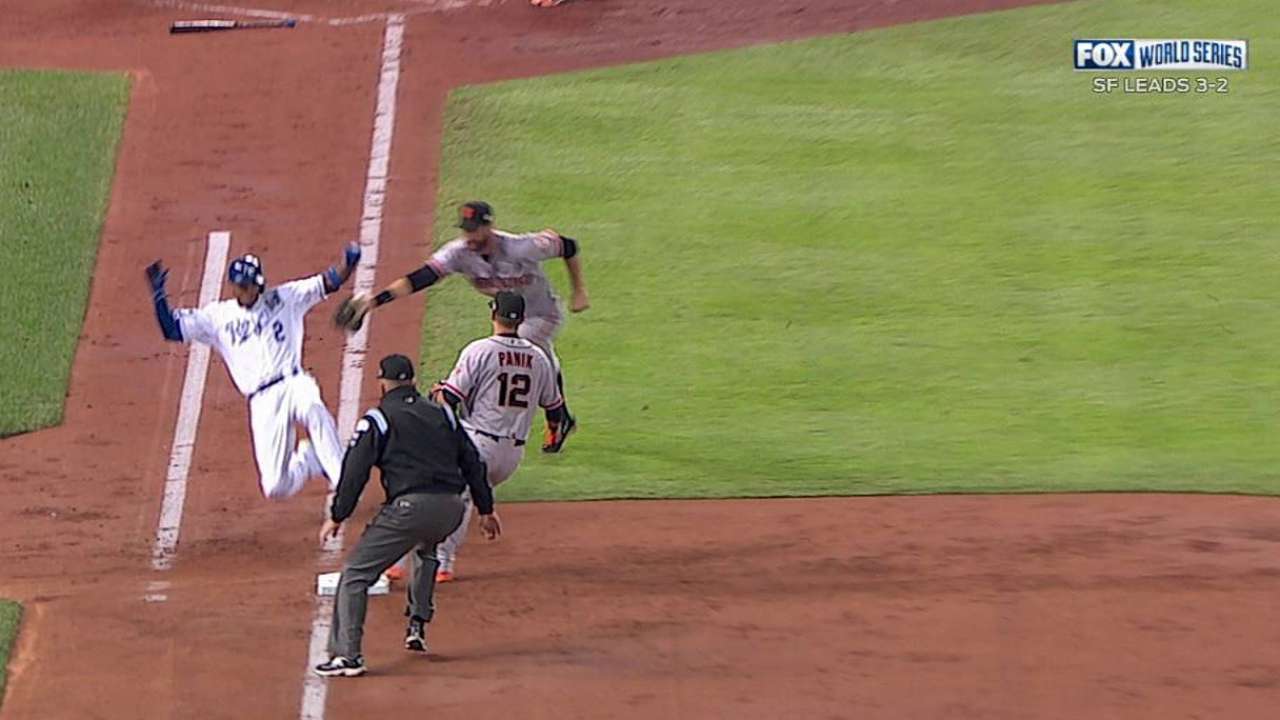 "It's a play you can definitely learn from," Belt said. "Unfortunately, it happened in the World Series. I had to make a split-second decision. I had to go for [Escobar] or look behind me and see if somebody was covering the base. I decided to go for him myself."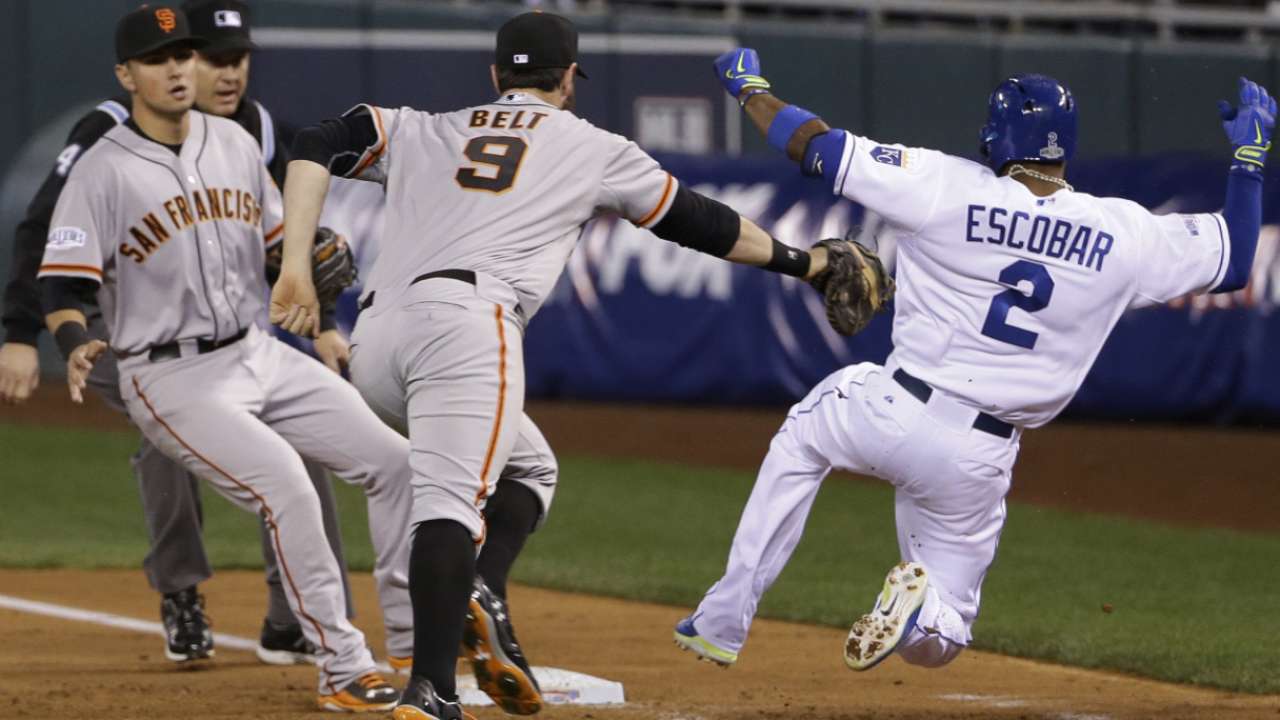 Peavy credited Escobar for inadvertently hitting a ball that was perfectly placed.
"You couldn't have rolled the ball out there any better," Peavy said.
Bottling up Buster: The Giants actually had a chance to get back in the game. Royals starter Yordano Ventura walked the bases loaded with one out in the third inning, bringing Posey to the plate. But Posey, who has zero extra-base hits in 65 postseason at-bats this October, grounded meekly to shortstop to start an inning-ending double play.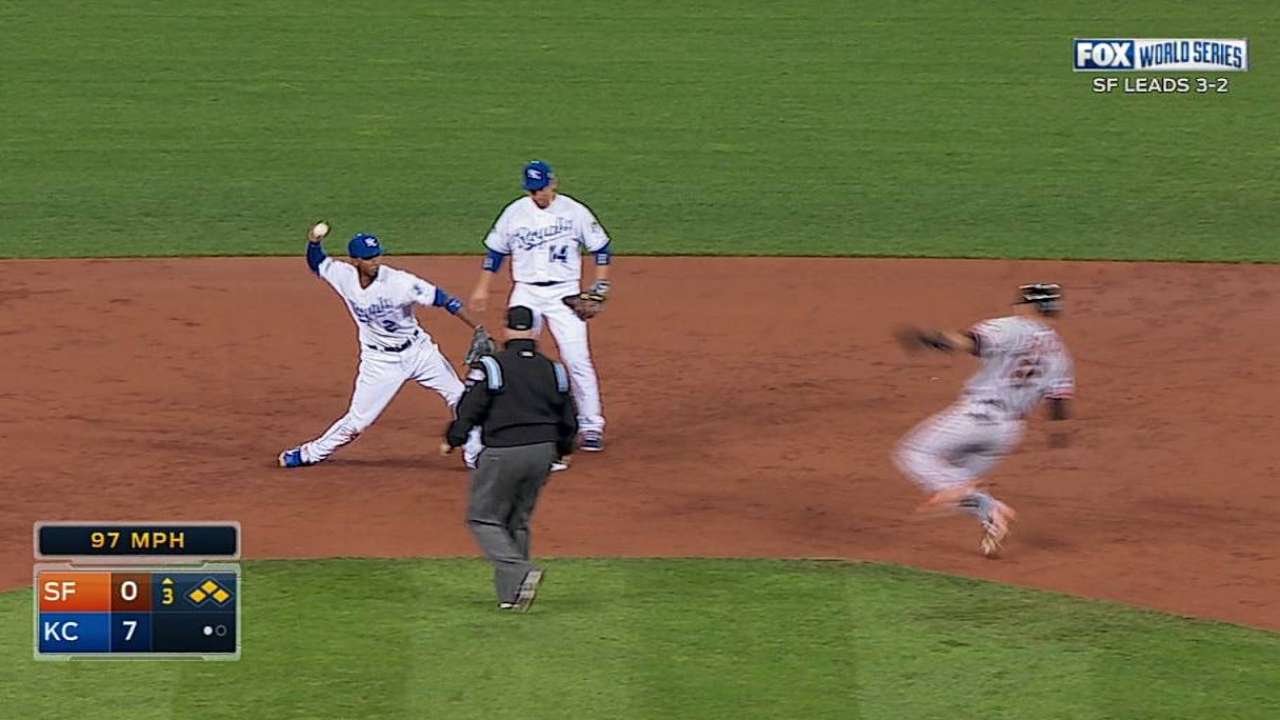 Posey hadn't yet studied video of that confrontation against Ventura, though the 2012 National League Most Valuable Player Award winner and batting champion thought that Ventura threw him a slightly decelerated fastball that possessed effective movement.
"When he pitches around 100, it's a little straighter," Posey said. "But at 95 to 97, it moves a little bit."
Ventura, the rookie right-hander who's impressive and impassive, limited the Giants to three hits in seven innings and permitted four runners to reach scoring position.
• Home teams have won Game 7 nine consecutive times in the World Series, dating back to 1982. A road team hasn't won Game 7 since the 1979 Pirates survived at Baltimore.
• The last visiting team to rebound in Game 7 after losing Game 6 -- and missing a chance to finish the Series -- was the 1975 Reds, renowned as one of history's greatest ballclubs. The Reds may have remained stirred by participating in a Game 6 that remains perhaps the greatest ballgame ever played, contrasting sharply with the Giants' double-digit defeat.
• The Giants have never won a winner-take-all Game 7 in the World Series. They fell to Boston in 1912 in what actually was an eighth game due to a tie earlier in the Series; they were edged by Washington in 1924; they lost to the Yankees in what remains a heartbreaker for older Giants fans in 1962; and they were defeated by the Angels following a colossal Game 6 collapse in 2002.
• Mike Moustakas' home run in the seventh inning was the sixth given up by Hunter Strickland in this year's postseason, a record. The previous mark was five homers, by Milwaukee's Chris Narveson in the 2011 postseason.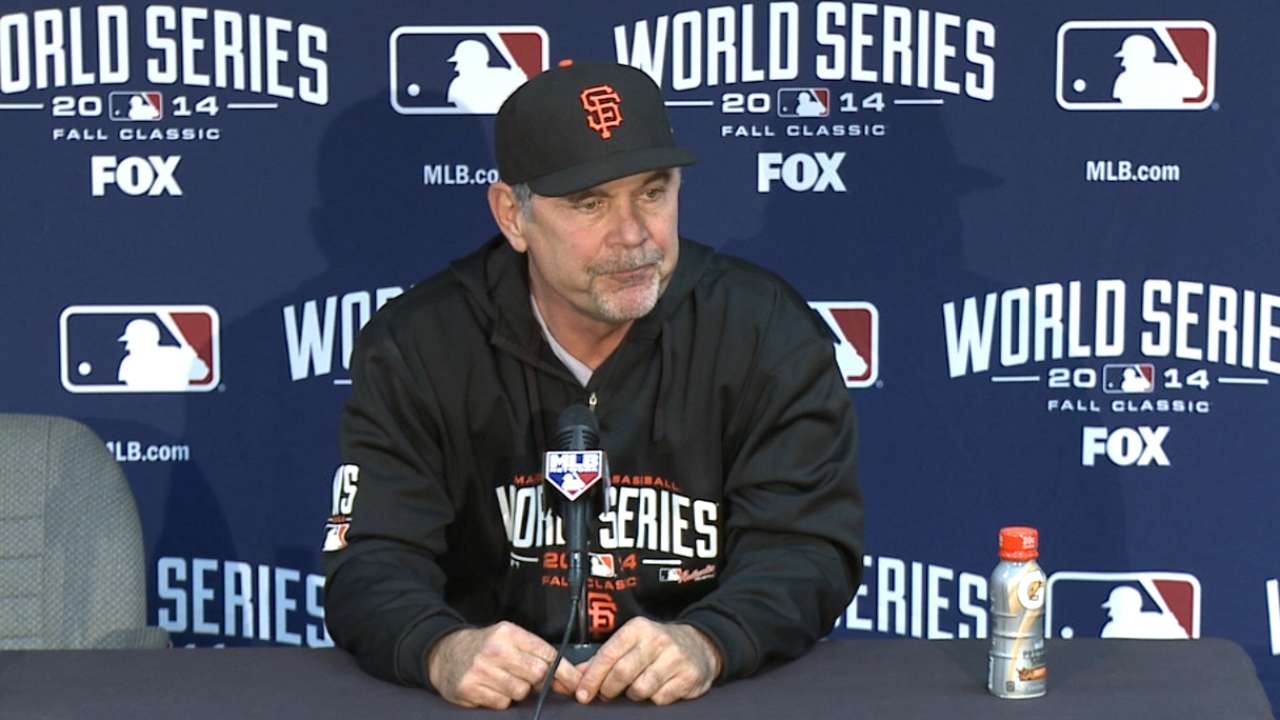 The Giants would have preferred not to play this one, but they had better come at the Royals with their best. Right-handers Tim Hudson of the Giants and Jeremy Guthrie of the Royals will oppose each other for all of the proverbial marbles. FOX's telecast will start at 4 p.m. PT, followed by the 5:07 first pitch.
Chris Haft is a reporter for MLB.com. Read his blog, Haft-Baked Ideas, and follow him on Twitter at @sfgiantsbeat. This story was not subject to the approval of Major League Baseball or its clubs.