Oct. 28 Bruce Bochy pregame interview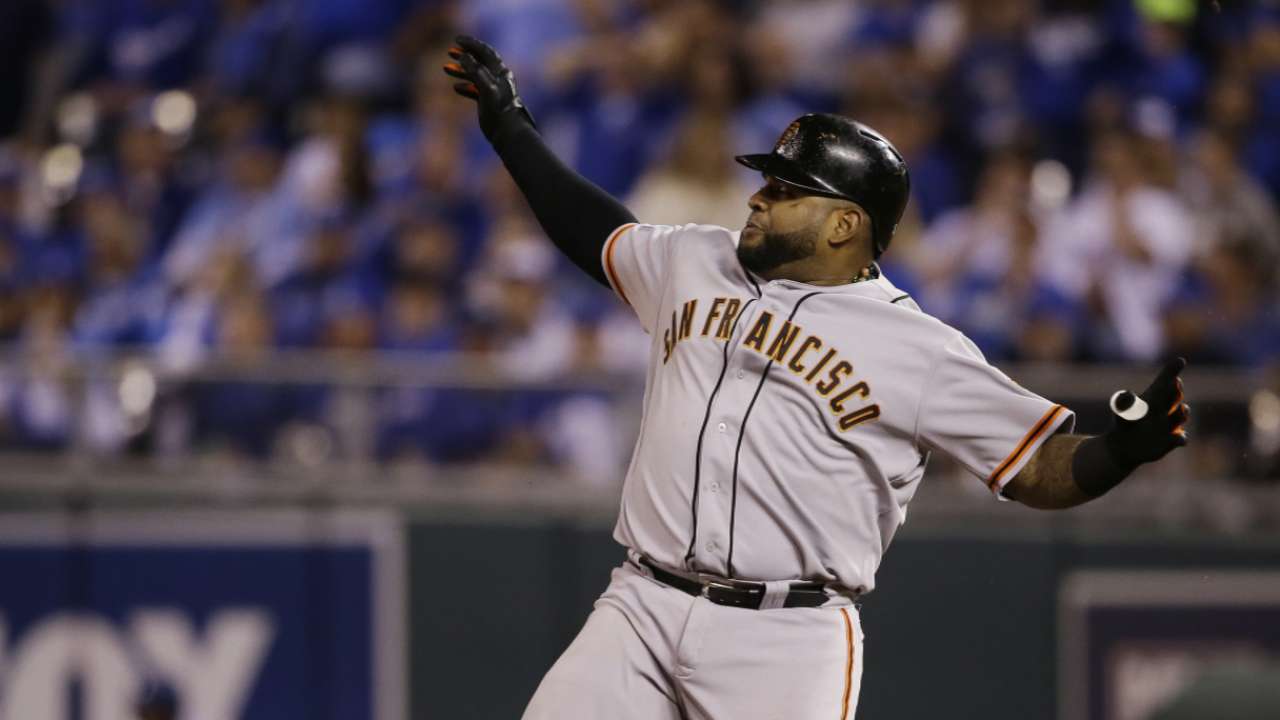 Q. You mentioned yesterday that you know that Bumgarner's going to come to you and say he's ready to go. What are you and Dave going to tell him going into tonight about what you want him to do in terms of possibly getting ready for tonight or tomorrow?
BRUCE BOCHY: Yeah, I've already talked to Madison, and he says, "Listen, if you need me, in fact, I'm good to go. I'm ready to go." So he's already come in and told me that.
Right now he's available, and hopefully he's not needed. He's had one day off. So we'll try to get this done without him tonight.
Q. What did you tell him?
BRUCE BOCHY: What did I tell him?
Q. Yeah.
BRUCE BOCHY: No, I told him I appreciated it. He said, "Is it okay if I go down to the pen?" I said, "Sure, you can go down there." But it's all hands on deck, so that's how we're looking at it. You never know how the game's going to go, extra innings or things like that.
Yeah, I would use him.
Q. When teams make it to the World Series and you have a lot of the same players under control for a while, I think there is a tendency that people think the team will get back there a couple times. How many things have to go right for a team to get to the World Series and to win it the way you guys have done and keep coming back?
BRUCE BOCHY: Yeah, a lot has to go right. First off, it starts with the talent. I mean, you need that, which we have. Then you have to deal with a lot of things maybe during the season. Every manager says, "Hey, we're fine, we have a good chance to get there if we stay healthy." But that doesn't always happen, and we've had some guys go down ‑ Cain, Pagan, Morse for a while. So you have to have guys who can, as I've said, soften the blow of losing guys. So that's happened for us.
But you have to play good baseball for six months, whatever, to get there. Once you get there, you've heard guys say, well, it's a crapshoot, but you have to play your best ball. You have to have the pitching. That's obvious. But you've got to execute. You've got to catch the ball. You've got to do all these things against a couple different clubs, or in this case three different clubs for us. I mean, there is no margin of error like you have during the season. The team that gets here is usually a team that does get on a roll and play their best ball.
So it takes talent, it takes guys playing on top of their game and guys who can handle playing in postseason, because it's really tough to get here. We know that on the tough road that we had getting here this time, and even going back to '12, our backs were to the wall a couple different times.
But it's all about persevering, and we're excited to be here playing this sixth game.
Q. Considering some of the names that could leave, how challenging will it be to keep this group together?
BRUCE BOCHY: Well, Brian Sabean has just done a tremendous job every year for us. He's kept the core guys here. When we have had a need and we had a hole to fill, he finds a way to get that done. So that's one of the reasons why we are here for the third time because of what he does, not just during the season, but during the off‑season. We'll cross that bridge when we get to it with these guys who are free agents.
Q. Does Bumgarner have an unusual arm in terms of durability and all that stuff, that would make it more feasible for him to do this comeback thing? And the second part of the question, would you give him possibly any consideration to starting him tomorrow night if you come to a Game 7?
BRUCE BOCHY: Well, he's not starting. He's a big, strong guy who, knock on wood, hasn't had any arm issues. But it's a credit to his conditioning. He's handled a pretty good workload up to this point. I don't mind pushing him maybe one time. A couple times would be tough at this stage of the season.
But he uses his body well. He's got great mechanics. A big, strong guy that, again, because of how he takes care of himself, he is resilient, and that's why he's able to log these innings, and that's why at this stage of the game his stuff has not changed. He's thrown the ball as well as he has all year.
Q. If Madison is available tonight, what scenario would you envision maybe using him? And how do you weigh sort of whether to fire that bullet tonight or save him for a potential Game 7?
BRUCE BOCHY: Well, the game would dictate that. Where we're at could be extra innings. We've played 18 once already this postseason, so we know that's a possibility. If I needed a big out, I mean, a real big out, we would use him.
Q. Posey is obviously vital to everything you do and he's been vital this postseason. He also hasn't had an extra base hit the entire postseason. He's going to catch, I know this, but is there any idea, any thought that maybe he's a little tired right now and that's where his power has gone?
BRUCE BOCHY: You're talking about Buster?
Q. Yeah.
BRUCE BOCHY: No, he feels great. I've checked in with Buster and I really think he's been swinging the bat fairly well. I think you have to look at the pitching we're facing. You know, you're probably not going to hit a lot of home runs off these guys because of their talent and their stuff we're facing. But I think he's made some hard outs. He's gotten some big hits for us, but, no, he's fine.
Q. You used Jake 76, 66 pitches the last two times out. In the event that that's the area you go tonight again, is Petit ready? He just pitched two days ago. Where's Lincecum in this whole mix after coming through the back? What is your strategy tonight, if you wind up taking Jake out in the middle innings?
BRUCE BOCHY: Well, they're all ready. Timmy, Petit, they're all set to go. Before the game we talk about our strategy, guys we would use early, maybe a guy to get out of an inning. Of course, Petit, he's available. He's our long guy. But also I would be comfortable with bringing him in at any point. So I think with our two left‑handers, Timmy, and Petit, you could see them any time.
But hopefully Jake's on top of his game and gets us somewhat deep in the game. But we have him covered because of everybody being available, including Vogey.
Q. Blanco's your third center fielder and leadoff hitter in each of these last three postseason runs. You had Torres the first time, Pagan, and Blanco. What does that say about your team?
BRUCE BOCHY: Well, it says that we have depth on this club. When Torres was playing centerfield, we had he and Aaron Rowand, and I used them both in the World Series. When you lose your everyday center fielder, your leadoff guy, hopefully you have somebody that can step in and do that. And Blanco has stayed with us, and we're fortunate that he has because he's given us that depth that you need.
During the season you're going to have your ups and downs, you're going to have injuries, and that's why you need that, either the Minor Leagues or some veterans on the bench. I've said this so many times, that bench plays such a critical role in your season. Because they're going to come into play, not just pinch‑hitting, but when a guy needs a break or maybe he has a nagging injury and needs four or five days off. Joaquin Arias, for example, the last couple years he's saved us at times when Pablo has gone down. So it's all about depth, I think. So I think that's what it says about our club.
Q. When does Madison usually throw his bullpens?
BRUCE BOCHY: Last time he didn't throw a bullpen, but sometimes he'll go the second day, sometimes the third day.
Q. Jake Peavy with the thumb, what have you seen in the last day or so that gives you confidence he's good to go?
BRUCE BOCHY: Well, he's not shown any effects from it from throwing like he normally does. Dave Righetti, our trainer, they've looked at him. I've watched him throw, and you have to trust Jake. I've talked to him about this. He's not hesitant on throwing like he normally does, so he's set to go.
Q. A non‑issue for you then?
BRUCE BOCHY: Non‑issue for me. If it was an issue at all, if we thought that, he wouldn't be starting.
Q. You didn't need those runs necessarily the other night that you got off of the back end of their bullpen. But does it do something for your lineup that you've broken through some of those guys that people spent so much time talking about this postseason?
BRUCE BOCHY: Well, hopefully. Anytime you have success against a pitcher, hopefully that does something for the confidence. And we know how good the back end of their bullpen is. In fact, we did score, it should give the guys a sense of confidence.
Q. Some of your players have addressed this, but what's it like for you to wake up on a day where you could win the World Series? Is it a different kind of feeling?
BRUCE BOCHY: Oh, it's a great feeling. I mean, you know how hard you've worked here. You also know that you have another game. But to be in this situation is what you dream about going back to when you were a kid, but also Spring Training is what you talk about to get to this point, and we have a lot work ahead of us. We're playing a great club in their ballpark, and the fact that you know you're at this point, it's exciting. These guys are excited about going out there.
Q. Your left‑field choice tonight, did you think much about it at all or was it just pretty obvious what you needed to do and why you wanted him out there?
BRUCE BOCHY: Ishi?
Q. Yeah.
BRUCE BOCHY: Call me superstitious, it's worked. This whole postseason we decided to go with Ishi and he's done a great job. I mean, the guy wins the pennant for you with a home run. He's had a couple balls out there that he hasn't quite gotten to, but at the same time, I don't want to break this up. You keep doing what you're doing and hopefully keep getting what you're getting.
Hopefully we'll get two or three at‑bats from him, and you'll see Perez out there.