Yost: Infield surface played role in Game 5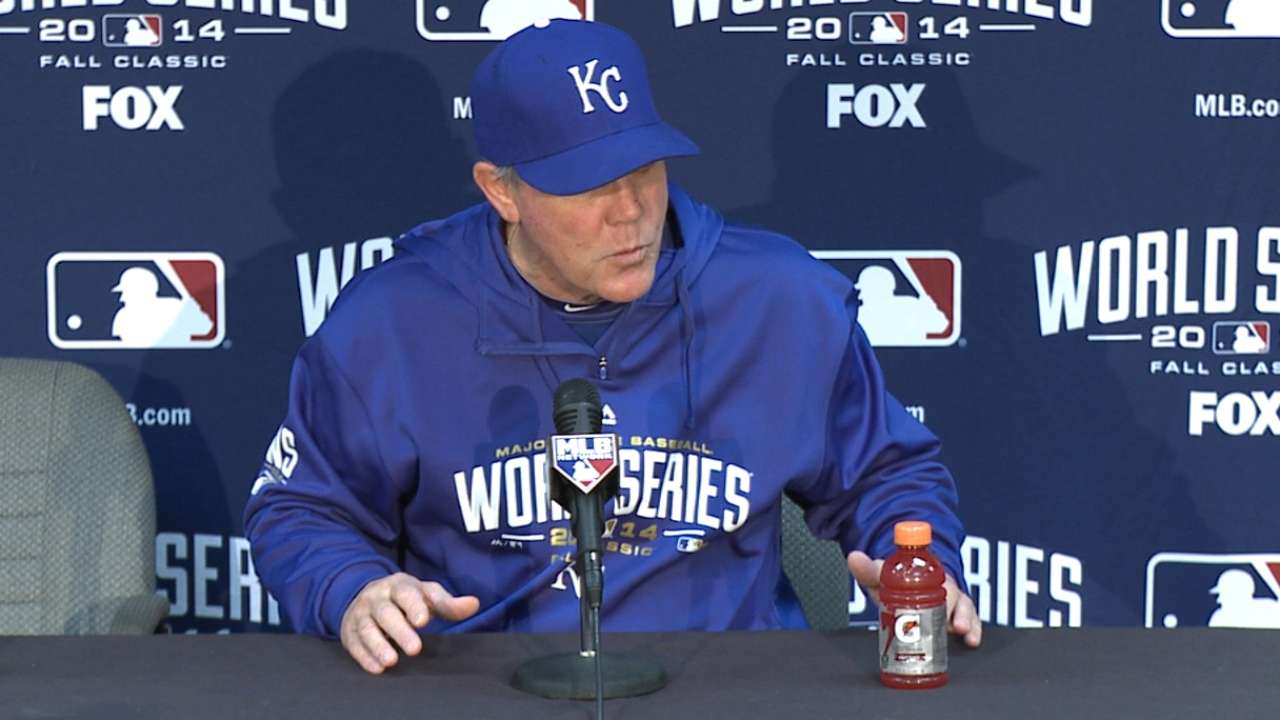 KANSAS CITY -- It's all supposition, of course, but Royals manager Ned Yost believes that his shortstop would have successfully made two troublesome plays on Sunday if Game 5 had been at Kauffman Stadium instead of AT&T Park in San Francisco.
Alcides Escobar missed ground balls hit by Hunter Pence in the second inning and by Travis Ishikawa in the fourth. Both went for hits, helping the Giants score single runs in each inning and take a 2-0 lead in an eventual 5-0 win behind Madison Bumgarner.
Earlier in the series, Yost indicated he thought the AT&T Park infield was extra wet. He said before Tuesday night's Game 6 that he thought a drier infield at Kauffman Stadium would have a positive "impact" for the Royals.
"The reason I say that is because I think somebody said that the reason the infield was so wet is because the Giants' infielders like it like that. They like it soft," Yost said.
Yost reviewed the two plays on videotape on Monday's off-day.
"Esky's used to playing on a little bit firmer infield, and when I walked around on that infield, it was soft," Yost said. "It's the way their infielders like it. Not a lot of bounce in it. Ours is a little bit firmer."
"I think on both of those balls Esky expected for it to hit and bounce up, like it normally does. But both balls, I watched them really close, [the infield] slowed them down, both balls hit and stayed down."
In short, Yost felt Escobar would have fielded both balls rather easily on Kauffman's drier turf, possibly changing the course of the game.
"So it's going to help us in that respect, defensively," Yost said. "And it's going to help us because we've got a firmer infield, firmer basepaths with our baserunning."
Although the Royals led the Majors in stolen bases with 153 and had 13 in the earlier postseason rounds, they have just one steal in two attempts through the first five World Series games. Escobar was caught stealing in Game 2 in Kansas City, and Alex Gordon swiped a base during Game 4 in San Francisco.
Giants first baseman Brandon Belt agreed with Yost's assessment.
"The fields are pretty close to opposites as you can get right now," Belt said. "Our field is usually pretty soft ... especially early in the game. It dries up pretty quickly, and by the end gets a lot harder. [In K.C.], the field is a little bit harder, and you have to be aware of that."
Dick Kaegel is a reporter for MLB.com. This story was not subject to the approval of Major League Baseball or its clubs.