Inbox: How do Rays look after offseason shakeup?
Beat reporter Bill Chastain answers questions from Tampa Bay fans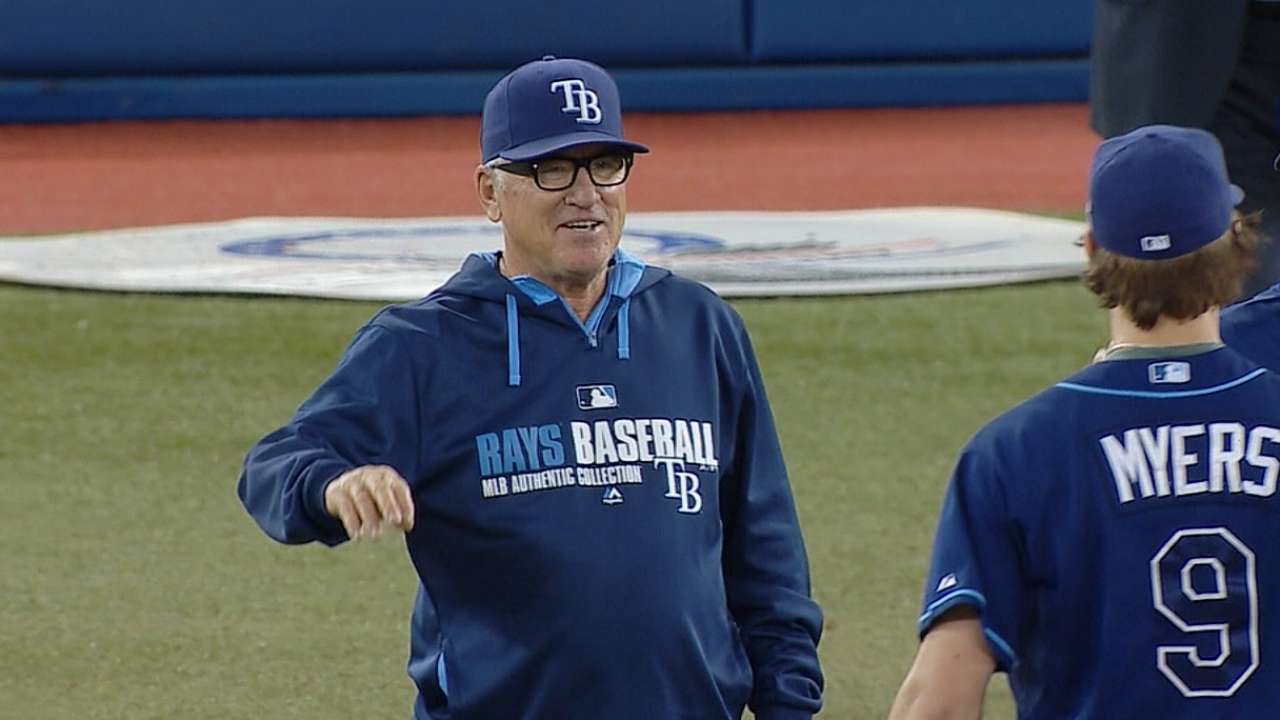 Submit a question to the Inbox.
Talk about a shocking start to the offseason. First Friedman goes to the Dodgers then Maddon opts out of his contract. Wow! How do you think the Rays' former GM will do with the Dodgers? Do you think the move will affect the Rays negatively in future? And, what do you think of the guys who will be stepping up to fill roles created by Friedman's departure? Finally, how much do you think Maddon will be missed? Where do you think he'll go? And who do you think will be the Rays' next manager?
-- George B., St. Petersburg
OK, Friedman questions first. I think he will do a great job with the Dodgers. Just think how much growth he showed in the job from 2006-14. According to Maddon, Friedman is, perhaps, the best evaluator of talent he's seen. That's pretty high praise. Will losing Friedman affect the Rays negatively in the future? Obviously the Rays must get accustomed to conducting business without Friedman, but Friedman left two well-trained apprentices in Chaim Bloom and Erik Neander. In addition, Matt Silverman, the new president of baseball operations, has been with the organization as long as Friedman. He is a smart guy. Make that a really smart guy. He will do fine.
Next, Maddon. Everybody hates to see him go, including players, media, and front office personnel. However, change isn't necessarily bad. Maddon has been around a long time. You wonder if a fresh approach might rejuvenate the team. Everything and everybody has a shelf life. As for the team's next manager, I'll just list some of the initial candidates: Davey Martinez, Tim Bogar and Gabe Kapler. But don't be surprised if they find somebody off the radar as they did prior to the 2006 season when they hired Maddon.
Why don't the Rays just get rid of Grant Balfour and Jose Molina before next year and start over with other guys? Balfour did not deliver in his return to the team and Molina just looks old and slow. I don't understand why the team would possibly consider keeping either around for next season.
-- Frank K., Port Charlotte, Fla.
First, Balfour. Yes, he had a season below his recent standards. Most of his problems stemmed from control issues, a battle he fought for most of the season. On the bright side, he did finish the season strong, posting a 2.89 ERA and one save in his final 11 appearances. Balfour is on the books to make $7.5 million next season, which makes it unlikely the Rays would be able to move him even if they wanted to.
As for Molina, he's the poster child for the state of Major League catching. He will turn 40 in June, but the Rays still value a lot of what he does behind the plate. In addition, the Rays are on the hook to pay Molina $2.75 million next season. Between Balfour and Molina, that's over $10 million in 2015. The Rays are not the kind of team that can eat $10 million in contracts.
Is Wil Myers a flop or did he simply fall prey to the "sophomore jinx" like a lot of second-year players seem to do? I'm hoping he can revert to the form he showed during 2013. The Rays need power badly, and Myers appears to be the guy who can deliver that power. But that's the 2013 Myers I'm talking about and not the player we saw in 2014. What do you think?
-- Jeff A., Tampa
Myers battled injuries most of the season and never seemed to regain his mojo. The jury is out on where he goes from here with one positive and one negative season on his resume. Having watched him when he's been in the groove, and having been around him for two seasons, I believe he will find himself and be the guy the Rays can count on to help with some much-needed power in the lineup.
Other than replacing Maddon and Friedman, what do you think will be management's toughest problem to tackle heading into the 2015 season?
-- John R., Bradenton, Fla.
To me, the toughest task will be evaluating what happened in 2014 in relation to moving forward. Heading out of Spring Training this year, a lot of people (me included) thought this year's roster had the stuff to make the Fall Classic. Alas, they did not come close. How much of that was due to everything that could go wrong going wrong, and how much of that can be attributed to the guys wearing Rays uniforms? Which players can be counted on to return to form and which players which players will continue to struggle? What the Rays management determines will decide how it will proceed during the offseason, particularly when deciding whether to make trades or not. Thus, these will be important and difficult evaluations to make.
Bill Chastain is a reporter for MLB.com. This story was not subject to the approval of Major League Baseball or its clubs.