Luhnow shares fond memories of Taveras
Astros GM shocked, saddened by news of young outfielder's death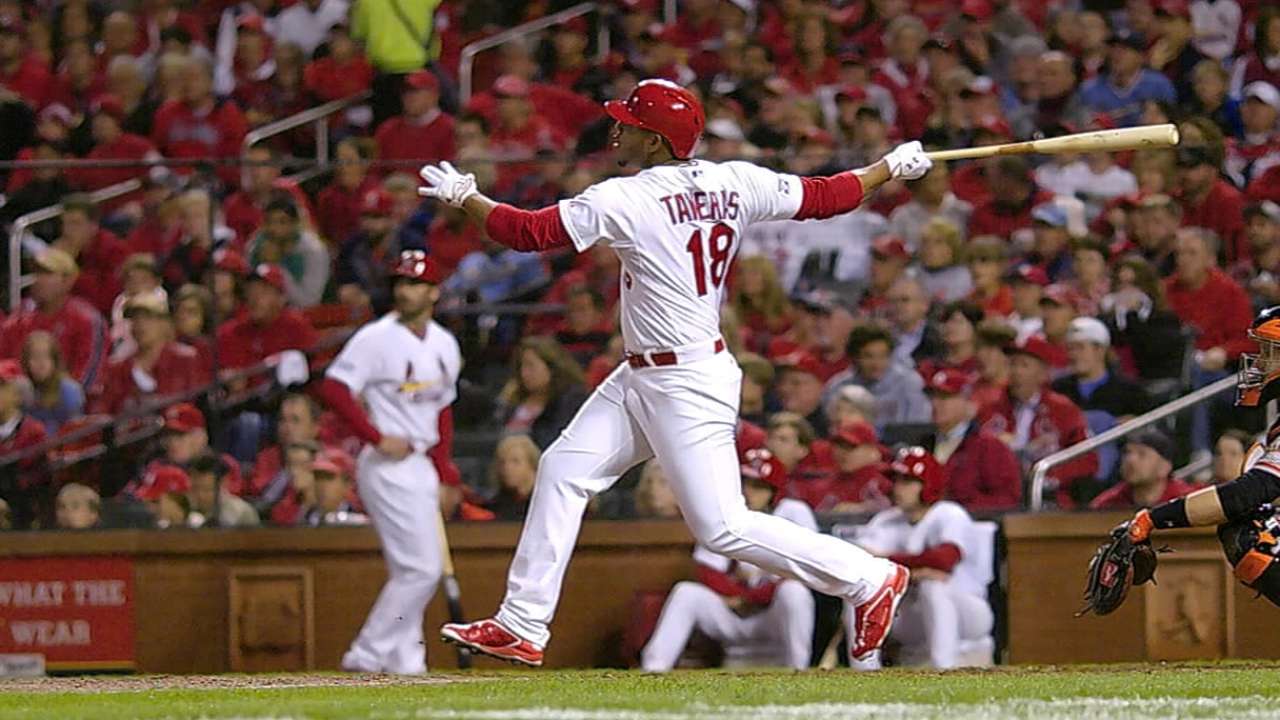 HOUSTON -- Like the rest of the baseball world, the news of the death of Cardinals prospect Oscar Taveras hit Astros general manager Jeff Luhnow like a ton of bricks. Luhnow was watching Game 5 of the World Series on Sunday night when the saw the report Taveras and his girlfriend had been killed in a car accident in the Dominican Republic.
Luhnow was immediately met with disbelief. After all, he knew Taveras better than most people outside of the Cardinals organization, considering he scouted him and recommended in 2008 the Cardinals sign him as a 16-year-old.
"I was stunned," Luhnow said. "I was watching the game and when the report came on, I couldn't believe it. I was absolutely stunned."
Taveras and his 18-year-old girlfriend, Edilia Arvelo, were killed when Taveras' 2014 Chevrolet Camaro ran off a road near his home and struck a tree. Taveras, who was 22 year old, was laid to rest on Tuesday in his hometown of Puerto Plata.
Even though he's approaching three years as GM of the Astros, Luhnow always keeps track of former St. Louis players he scouted and signed and takes pride in their individual accomplishments. Taveras homered in his Major League debut this year and homered in the playoffs for the Cardinals just weeks ago.
"I always ran into him in the spring and always had a very friendly conversation," Luhnow said. "He has an infectious smile and would always seek me out when the team would come over to play the Astros or when we would go down to Jupiter [Fla.] to play down there. I always appreciated that because he made an extra effort to say 'Hi' and ask me how thing are going."
Luhnow was the Cardinals' vice president of scouting and development in 2008 when he traveled to the Dominican to see a showcase of Latin teenagers. Some had been eligible to sign back on July 2 of that year, but for varying reasons, they hadn't. Others were trying to impress in advance of the next signing period.
The staged tryout at the Cards' complex marked just the fifth time anyone from the organization had watched Taveras on a baseball field.
"The bat was the most special thing that stood out with Oscar, a bat speed and swing path that worked even at the age of 15 and 16," Luhnow said. "You had a feeling he was going to be a special talent. The rest of the package was pretty well put together, but it was really always the bat that got people very excited."
Luhnow said the Taveras family was asking for more money than the Cardinals were initially willing to offer, but he ultimately told Moises Rodriguez, the Cardinals' director of international operations, to try to sign him.
"We decided ultimately to meet the price [$145,000] because we didn't want to lose the bat," Luhnow said. "He was in the Gulf Coast League and early in the year [2008] was hitting only [.167] at the time, but we needed to promote a player to the Appalachian League and we called the staff down there and it was unanimous: they said, 'This is a special player. You need to move him up.'
"He went to Johnson City and won a championship there, the next year won a championship in the Midwest League [at Quad Cities] and next year won the championship in the Texas League [at Springfield]. He was a winning player. As simple as that."
Brian McTaggart is a reporter for MLB.com and writes an MLBlog, Tag's Lines. Follow @brianmctaggart on Twitter. This story was not subject to the approval of Major League Baseball or its clubs.