Reds haul in slew of GIBBY nominations
Cueto, Aroldis, Hamilton among finalists for Greatness in Baseball Yearly nods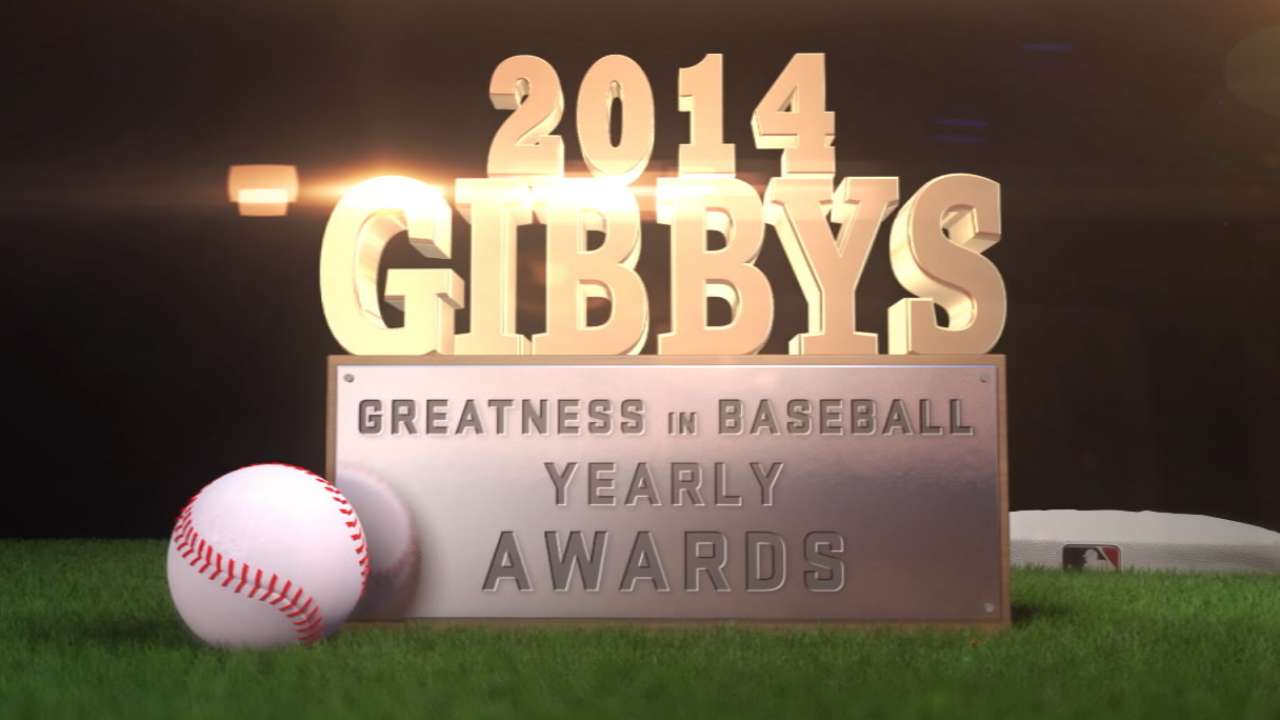 The 2014 season concluded without a return trip to the postseason, but the Reds' year still featured plenty of memorable moments, including a career season for Johnny Cueto, a solid rookie campaign for Billy Hamilton, a record-setting year for Aroldis Chapman and an offensive breakout for Devin Mesoraco.
And with voting now underway for MLB.com's Greatness in Baseball Yearly Awards, those individual performances -- along with several others -- are up for recognition.
Major League Baseball's A-listers will take home 2014 GIBBY trophies -- the ultimate honors of the industry's awards season -- based on votes by media, front-office personnel, MLB alumni, fans at MLB.com and the Society for American Baseball Research.
This year's GIBBY Awards feature nominees in 25 categories. Individual honors will go to the MLB MVP, in addition to the year's best starting pitcher, hitter, closer, setup man, rookie, breakout hitter, breakout pitcher, bounceback player, defensive player, manager, executive and postseason performer.
Among Cincinnati's nominations is Cueto, one of eight pitchers up for the Starting Pitcher of the Year nod. The Reds' ace posted career bests in wins (20), ERA (2.25), starts (34), complete games (4), innings (243 2/3), strikeouts (242), WHIP (0.960) and strikeout-to-walk ratio (3.72).
Cueto led the National League in four major categories -- starts (tied), innings, strikeouts (tied) and opponents' batting average (.194). He allowed two runs or fewer in 27 of his 34 starts, including each of his first nine outings.
Also up for a pitching award as Cincinnati's closer, Chapman overcame an injury scare in Spring Sraining when he was struck in the face by a line drive to post his third consecutive All-Star campaign. He set the Major League record with 17.67 strikeouts per nine innings, and despite starting the year with more than five weeks on the disabled list, he finished seventh in the NL with 36 saves.
Outfielder Hamilton enjoyed an impressive rookie season, earning him a pair of nominations for baseball's top rookie and defensive player. The Reds speedster ranked second in the NL with 56 steals and was tops among all NL center fielders in assists (10) and fielding percentage (.994).
Hamilton's 56 steals were the most by a Reds player since Deion Sanders also stole 56 bags in 1997. Hamilton is also the fifth MLB rookie since 1900 with at least 141 hits, 25 doubles, eight triples, 72 runs and 56 stolen bases in a season.
Behind the plate, Mesoraco received Breakout Hitter of the Year consideration by leading all primary catchers in home runs (25) and ranking second in RBIs (80). A first-time All-Star selection, Mesoraco hit .273 on the year and became just the third catcher in MLB history with at least 24 homers and 76 RBIs in 450 plate appearances or fewer.
GIBBY trophies also will be awarded for the year's top regular-season play, outfield throw, storyline, hitting performance, pitching performance, oddity, walk-off, Cut4 topic, regular-season moment, postseason storyline, postseason walk-off and postseason play. Fans can watch these and more by accessing MLB.com's Must C highlight reels.
Among those highlight-reel plays is Hamilton's double play against the Cardinals in August. The rookie flashed his speed for a diving catch and then showed off his arm strength by doubling up the runner with a toss to first.
In the oddity category, the Reds share a nomination with the Indians for the bizarre play from August in which a stray baseball from the Reds' bullpen -- courtesy of an errant warmup toss by Jumbo Diaz -- found its way into the outfield, resulting in confusion on the basepaths and an out for Cleveland.
In the past several seasons, fans have cast millions of votes across the GIBBY categories, none of which is restricted to individual league affiliation. That's how you know the GIBBYs consider the best of the best.
All 30 clubs are represented among the award candidates, a fact many consider to be a testament to the competitive balance around the game.
Fans can vote as many times as they want through Nov. 21 at 11:59 p.m. ET by visiting mlb.com/gibbys, and winners will be announced live on the MLB Network and MLB.com on Dec. 6.
Several categories -- Play, Oddity, Walk-Off and Cut4 Topic -- opened balloting with at least one nominee per club. After a week of voting, the four lists were trimmed to 10 finalists per group by a panel.
Chad Thornburg is a reporter for MLB.com. This story was not subject to the approval of Major League Baseball or its clubs.