No guts, no glory: Guthrie draws Game 7 start
Righty fully appreciates significance as Royals seek crown in winner-take-all finale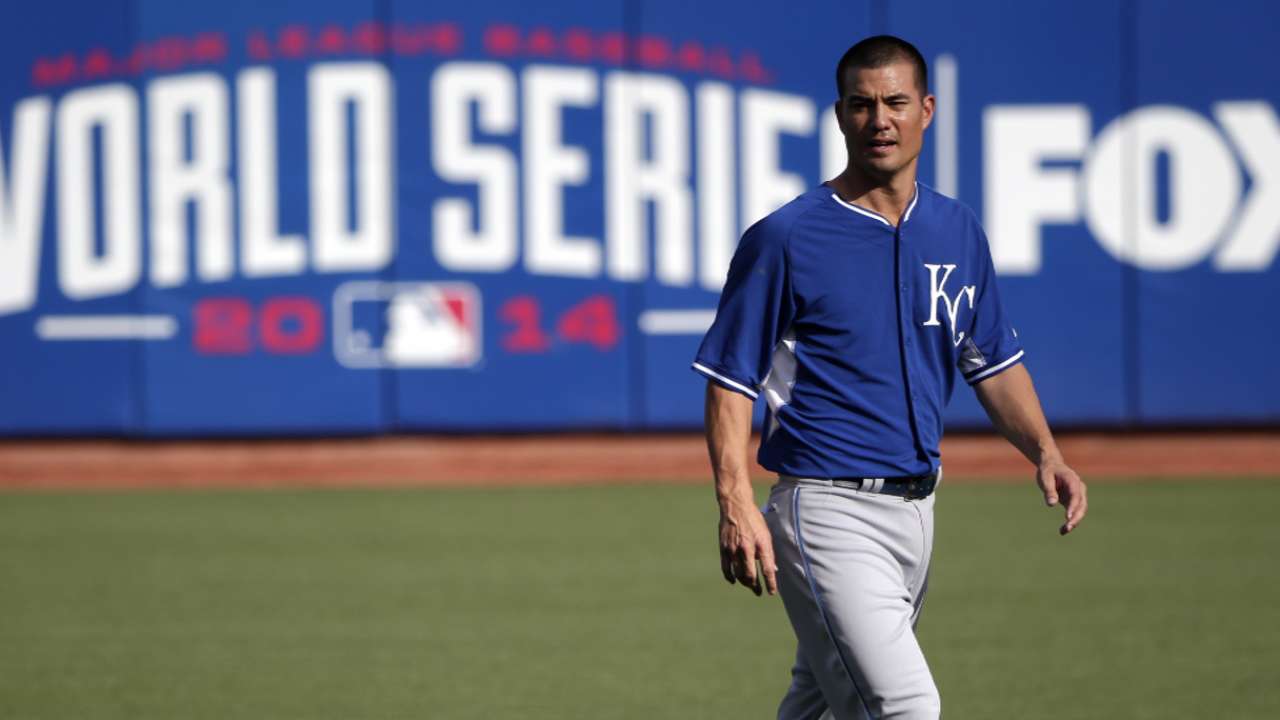 KANSAS CITY -- Jeremy Guthrie was just a kid from Oregon when he watched his first World Series Game 7 back in 1991. Jack Morris was on the mound that night, twirling 10 -- yes, 10! -- scoreless innings to beat John Smoltz and the Braves and clinch a title for the Twins.
Guthrie recalled that moment early Tuesday afternoon, before the Royals pulled off a 10-0 rout of the Giants in Game 6 and gave him a chance to write his own Game 7 chapter.
"I was 12 years old," Guthrie said of watching Morris' gem, "so I certainly could appreciate the effort that he gave and the magnitude of the game, to be able to pitch like he did and win the World Series."
The Royals don't expect, or necessarily need, 10 innings from Guthrie tonight (air time from Kauffman Stadium is 6 p.m. CT, with first pitch at 7:07 on FOX). They'd be thrilled with six, will be happy with five and will gladly take a repeat of Guthrie's Game 3 performance -- five innings, two runs, four hits, no walks and a victory.
The home team has been victorious each of the last nine times a World Series has reached Game 7, and you have to go all the way back to the 1979 Pirates to find a team that won a World Series-clinching Game 7 on the road.
Asked why home teams are so successful in these situations, Royals manager Ned Yost blurted out two words: "Our crowd."
"Did you see our crowd?" he asked. "Our crowd today was absolutely electric. It's been like that for us. Our guys have really felt the energy coming from the stands, and it just gives you a boost, you know? Even though there is a lot of energy in San Francisco, it wasn't for us. This energy is going to be absolutely for us. This crowd is going to be absolutely crazy, and these guys are more than comfortable playing in front of our home fans. They love it."
Few can appreciate the significance of a moment like this more than Guthrie. He basically quit baseball after his freshman year at Brigham Young University to serve a two-year mission in Spain for the Church of Jesus Christ of Latter-day Saints. When he got back into the game and became good enough to establish himself in a Major League rotation, he spent five seasons on Orioles teams that couldn't even win 70 games.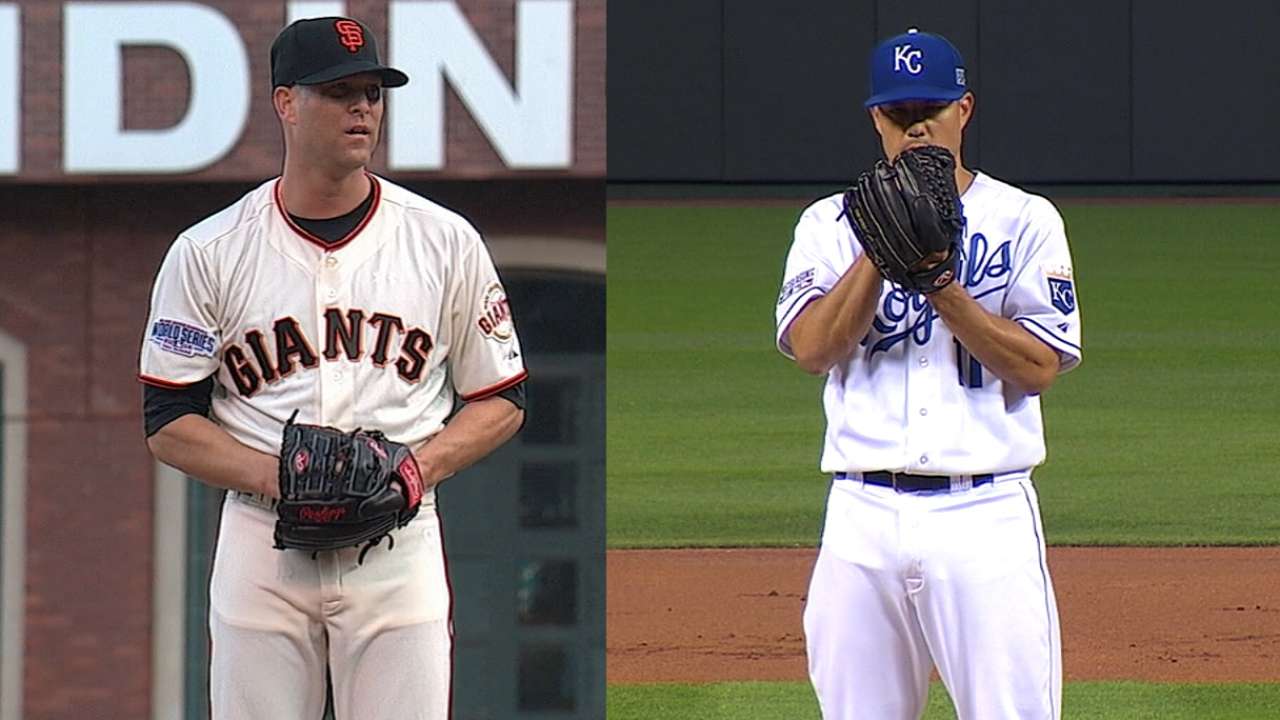 Midway through the 2012 season, Guthrie went from the Rockies to the Royals, and by the end of 2013 -- the first of a three-year, $25 million extension -- he could finally see some momentum building in Kansas City.
"We had a very strong second half, and I think that was the team that each one of us expected to have throughout the year -- a consistent team that could win ballgames," Guthrie said of a club that won 43 of 70 second-half games. "We left 2013 with a lot of momentum and a lot of confidence, and we were able to carry that over into this year and play more consistently."
The Royals finished strong again in 2014, going 34-21 over the last two months to finish with 89 wins -- their highest total since 1989 -- and earn the first American League Wild Card berth and the right to host the Wild Card Game. They perpetually came from behind against the A's, catapulting them to eight consecutive postseason victories, and split the first six games of this World Series against the Giants.
Their magical season, a return to the playoffs 29 years in the making, will end largely on how Guthrie fares in his matchup against Giants right-hander Tim Hudson.
Guthrie went 13-11 with a 4.13 ERA in 202 2/3 innings during the regular season, then gave up three runs on seven hits and two walks in 10 innings of his two postseason starts. Heading into the biggest start of his life, Guthrie said he's "in as good of shape and in as good of a position to pitch well as I've been all season long."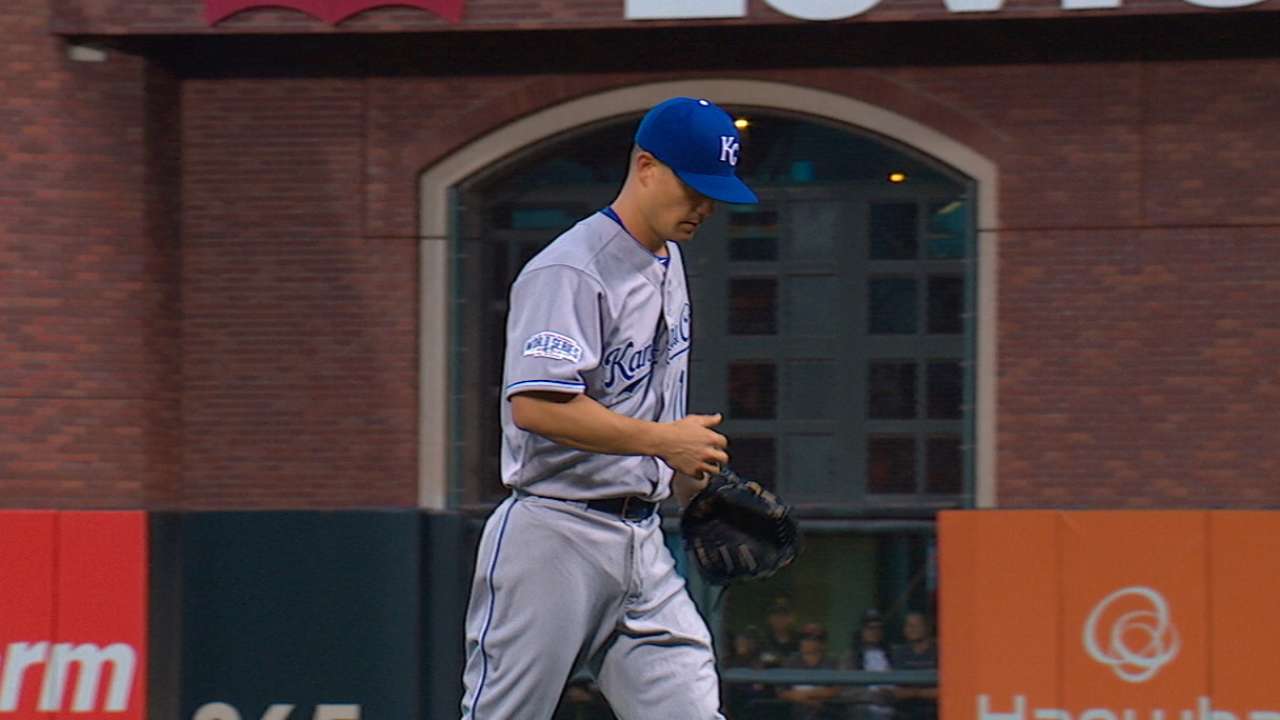 "Whatever I bring to Game 7 will be my best," he added. "Hopefully it's good enough, but if not, all the preparation, all the work has paid off thus far, and that's what I trust, and that's what each one of these guys in there trusts. What can we do? What can we control? Put yourself in a position to be successful and accept the results, and be grateful for the opportunity."
Alden Gonzalez is a reporter for MLB.com. Read his blog, Gonzo and "The Show", and follow him on Twitter @Alden_Gonzalez. This story was not subject to the approval of Major League Baseball or its clubs.