Mending Peacock may miss start of 2015 season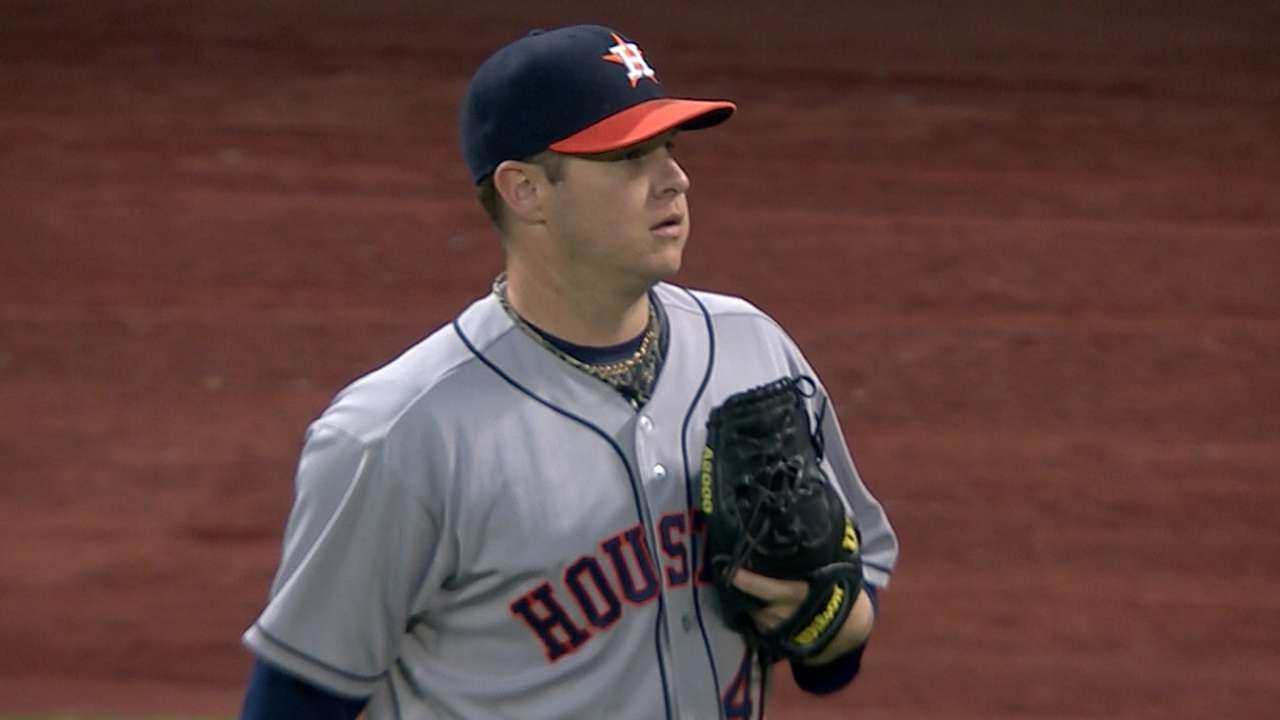 HOUSTON -- Astros right-hander Brad Peacock could miss the start of the 2015 regular season while he recovers from arthroscopic surgery performed earlier this month on his right hip to repair a torn labrum and remove bone spurs.
Peacock, whose surgery was performed by Dr. Thomas Byrd in Nashville, Tenn., on Oct. 6, said he will be on crutches for five more weeks before undergoing two months of rehab, but said Tuesday he's already feeling better.
"I can already stretch my leg farther than I did before surgery," he said.
Astros general manager Jeff Luhnow said Peacock's rehab will put him behind at the start of spring camp next year, which could impact his readiness for the beginning of the season.
"It looks like he's going to be rehabbing and will not be ready for the start of Spring Training, and at this point is questionable for the start of the season," he said. "But we're hoping it won't be too far into the season he'll be ready to go 100 percent."
Peacock started the season in the bullpen before making 24 starts in the rotation, setting career highs in appearances (28), starts (24), innings pitched (131 2/3) and strikeouts (119). He went 4-9 with a 4.72 ERA.
Peacock, who tenuously held down the No. 5 spot in the pitching rotation late in the year, dealt with back problems in September, which could have been a result of his hip injury.
"My hip has locked up the last couple of years, but it didn't really hurt when I pitched," he said. "When [assistant athletic trainer] Rex [Jones] was stretching me this year, it kind of worsened and I couldn't stretch my leg out. He wanted to get it checked out, and we did and I had surgery."
Peacock said an MRI at the end of the season showed some arthritis in the hip, and doctors weren't sure what they would find until they performed surgery.
"He went in and I woke up and they told me what happened: torn labrum and a little piece of bone lodged in my hip," he said. "They did some clean up."
Luhnow said doctors believed surgery would be the best option.
"He felt it during the season, but it was kind of off and on," he said. "We had the doctors look at it and they decided they wanted to take care of it. I think it will be beneficial for him in the long term, but it does mean he's going to get off to a late start in the spring."
Because the procedure was microfracture surgery, Peacock said it doubled the amount of time he'll have to be on crutches and rehab.
"They said it could be causing my back problems and I was like, 'Heck yeah, let's do it,'" he said. "I've been having some back problems the past couple of years also. I wanted to go it as soon as possible."
Brian McTaggart is a reporter for MLB.com and writes an MLBlog, Tag's Lines. Follow @brianmctaggart on Twitter. This story was not subject to the approval of Major League Baseball or its clubs.