MLB.com Columnist
Bill Ladson
Nats expect majority of roster back for 2015 season
Some key pieces likely to leave, while a few players have something to prove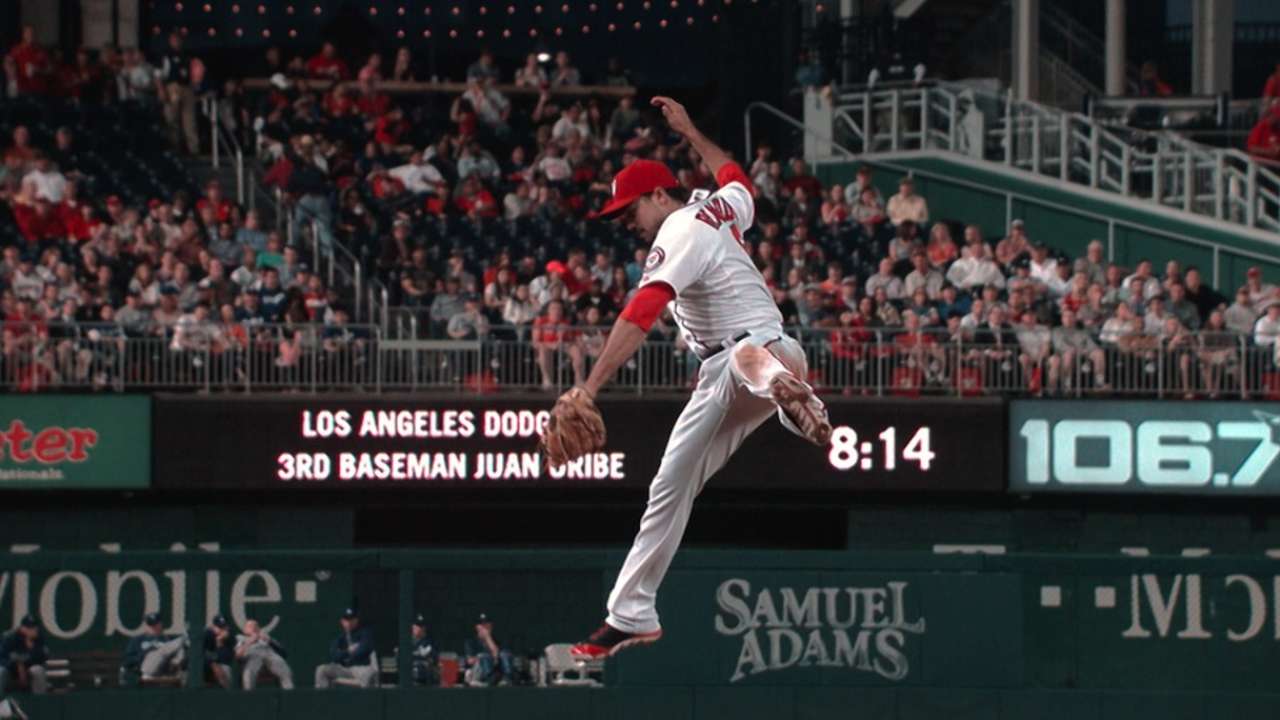 This past season, the Nationals had the best record in the National League, but they were eliminated by the Giants in the NL Division Series. Here's a look at the Nats' 2014 Major League roster: who stays, who goes and who has something to prove?
They'll be back
RHP Aaron Barrett: He was an integral part of the Nationals' bullpen this past season, able to pitch anywhere from the sixth to the eighth inning. He allowed the game-winning run in the in Game 4 of the NLDS, but manager Matt Williams expects him to be a big part of the team next year.
LHP Jerry Blevins: When he first came to the Nationals, Blevins was supposed to get all hitters out, but right-handed hitters torched him. It looked like he wasn't going to make the postseason roster, but in his final five games, Blevins didn't allow a run in 5 1/3 innings with 11 strikeouts.
RHP Tyler Clippard: This will be his last year of arbitration before becoming a free agent. As usual, Clippard was consistent out of the bullpen. He is arguably the best reliever on the team. Keep this in mind: Clippard said he would like to close again in the future. It may not happen as a member of the Nationals.
SS Ian Desmond: This past July, Desmond believed that he would sign a long-term deal before he became a free agent. As of Tuesday, he is not close to a deal and could become a free agent after the 2015 season. Desmond is coming off a year in which he had a career high in RBIs.
RHP Doug Fister: Some people would argue that he is the ace of the staff. His season didn't start until May because of a right lat strain, but he led the team with 16 wins. He works fast and always had the defense on its toes. Like Desmond, Fister could become a free agent after the upcoming season.
INF/OF Kevin Frandsen: He was the most productive bench player on the team this past season. Frandsen was the first player Williams would go to whenever he needed a pinch hitter or someone who could play the infield or outfield.
LHP Gio Gonzalez: He got off to a slow start because of a shoulder injury in May, but he turned it on in the final month of the season, going 4-1 with a 2.48 ERA.
OF Bryce Harper: He missed a lot of time because of a thumb injury, but he was arguably Washington's best player during the NLDS. Williams expects Harper to have a breakout season in 2015.
C Jose Lobaton: From June 21 to the end of the season, the Nationals were 21-7 when Lobaton played in a game. He is excellent at framing pitches and he seems to have a good rapport with Fister and Stephen Strasburg.
C Wilson Ramos: Ramos did not play in the 2012 postseason because of a devastating right knee injury,a and he has had a tough time staying healthy since then. In '14, he broke a left hamate bone and had right hamstring problems for the second year in a row. When he is right, Ramos can provide power near the bottom of the lineup.
3B Anthony Rendon: He performed like the club's Most Valuable Player this past season. Not only did he do the job offensively, but he played Gold Glove Award-caliber defense at third and second base. One would never know that Rendon is one of Washington's best players based on his personality. After great games, Rendon is a man of few words. Next year, Rendon is expected to be the full-time third baseman.
RHP Tanner Roark: Roark battled Taylor Jordan and Chris Young in Spring Training and won the fifth spot in the rotation. He went on to win 15 games before being sent to the bullpen during the postseason.
LHP Matt Thornton: Acquired off waivers from the Yankees, Thornton is a lefty specialist with a power arm. He is one of four pitchers -- with Drew Storen, Barrett, Clippard -- who can close for the Nationals when needed.
CF Denard Span: Besides being one of the best defensive center fielders in baseball, he is one of the best leadoff hitters in the game. He is among the NL leaders in multihit games, hits, doubles and stolen bases. Span is a finalist to win his first Gold Glove Award this year.
RHP Craig Stammen: Once a starter, Stammen is one of the leaders among NL relievers in innings pitched since 2012. During his career, Stammen has pitched better in relief (3.07 ERA) than in a starting role (8-11, 5.08 in 38 starts). Stammen can be a long man or a late-inning guy. He has two more years of arbitration before becoming a free agent.
RHP Stephen Strasburg: For the first time in Strasburg's career, nobody was talking about innings limit or shutdowns. He finally reached 200-inning plateau and finished tied for fifth in the Major Leagues with 242 strikeouts this past season.
RF Jayson Werth: The unofficial captain of the Nationals, Werth brought order into the clubhouse after signing a seven-year, $126 million contract after the 2010 season. He is not afraid to say what is on his mind with the media and the coaching staff.
3B Ryan Zimmerman: His days as a third baseman appear to be over. Zimmerman admitted injuries are the reason he is no longer an above-average third baseman, so look for him to be the starting first baseman for the Nationals next year.
RHP Jordan Zimmermann: How long will he be a member of the Nationals? He is in the last year of his contract. If Homer Bailey is worth $105 million, how much is Zimmermann worth? Talk to some experts and they will tell you that Zimmermann is the ace of the staff because of his durability. When he first came into the league in 2009, Zimmermann thought too much about strikeouts, which affected his pitch count. But after having Tommy John surgery that year, he developed a new pitching philosophy: a groundout is just as valuable as a strikeout.
He's ready, but ...
Steven Souza Jr.: He will run through a wall in order to get the job done. Look at the great catch Souza made to save Zimmermann's no-hitter on the last day of the regular season. He even showed impressive power during his brief stint in the Major Leagues. However, the question is, can he be productive as a bench player next year? It's hard to say. He has to have a productive Spring Training in order to be on the 25-man roster next year.
Blake Treinen: He was often used an emergency starter and did well, posting a respectable 3.00 ERA in seven starts. However, there are some in the organization who feel that Treinen could be a closer. It will be interesting to see what his role will be in 2015.
Something to prove
LHP Xavier Cedeno: He was often on the Triple-A Syracuse shuttle. When he was in the big leagues, he wasn't used often. In fact, he wasn't productive in six games in September.
OF/2B Jeff Kobernus: Missed a lot of time because of a hand injury, but he played good enough to get a callup in September. If Kobernus makes the team next year, it could be as a backup outfielder or infielder.
C Sandy Leon: Whenever Ramos was injured, Leon was usually the guy the Nationals called up. He will be in a similar role next year.
RHP Ryan Mattheus: He was an integral part of the bullpen in 2012, but injuries and inconsistency have made him a question mark for '15. He didn't have an answer as to why he had a tough time getting hitters out in Syracuse.
OF Michael Taylor: After going 2-for-4 with a home run in his Major League debut against the Mets, Taylor went 6-for-35 (.171) with 17 strikeouts the rest of the season. Most of those at-bats came while coming off the bench. He could be the starting center fielder for the Nationals in 2016.
All but gone
2B Asdrubal Cabrera: With Ryan Zimmerman out with a hamstring injury, general manager Mike Rizzo decided to acquire Cabrera from the Indians before the July 31 non-waiver Trade Deadline. Cabrera provided steady defense at second, as Rendon shifted over to third base. After coming from Cleveland, he expressed his desire to play shortstop, but after the Nationals were eliminated, he said he was willing to stay at second base. Going to the World Series is more important to him than playing shortstop.
Adam LaRoche: Reached the 90-RBI plateau for the fourth time in his career. He is a quiet leader and the best defensive first baseman in Nationals history. However, it's doubtful he will return because the Nationals need to make room for Zimmerman.
OF Scott Hairston: Got off to a great start, but he tailed off dramatically starting in June and was taken off the roster during the NLDS. Look for the bench to be overhauled this offseason.
RHP Rafael Soriano: He had a 6.48 ERA after the All-Star break. Soriano simply couldn't keep his slider down in the strike zone. He is expected to be a free agent and sign elsewhere.
OF Nate Schierholtz: As a pinch-hitter, Schierholtz ranks sixth among active players with at least 150 pinch-hit appearances. He started the season with the Cubs, but after getting released on Aug. 13, he signed a Minor League deal with the Nationals five days later. He made $5 million in 2014. It's doubtful the Nationals will pay Schierholtz that kind of money in '15, though he could be back on a Minor League deal.
Possible trade chips
RHP Drew Storen: He is living proof that perseverance pays off. Storen lost the closer's job in 2013 after the Nationals signed Soriano to a two-year deal, but Storen won the job back Sept. 7 because Soriano had a tough time getting hitters out. Storen pitched well until the postseason. It will be interesting to see what his role will be next year. Remember, after having after a rough postseason in '12, the Nationals added Soriano.
LHP Ross Detwiler: Once a member of the Nationals' rotation, Detwiler was a long man, to his dismay. He still dreams of being a starter again, but he may have to be traded to be in a rotation again.
2B Danny Espinosa: He is one of the best defensive infielders in baseball, but he has yet to be consistent with the bat. One wonders if he should give up being a switch hitter. He is far more reliable from the right side of the plate than he is from the left. A change of scenery might do him some good.
OF/1B Tyler Moore: When he plays often, Moore can provide power. He is almost useless when he comes off the bench. Maybe a change of scenery could also do him some good.
The injured
RHP Taylor Jordan: He started the season on the 25-man roster, but was hit hard and sent back to Syracuse in early May. Jordan never returned to the big leagues and had bone chips removed from his elbow. He will start a throwing program sometime in December.
OF Nate McLouth: Arguably had the worst season of his big league career. McLouth got off to a slow start and then stopped playing after Aug. 1 because of a shoulder injury. He has another year left in his contract and is expected to come off the bench.
Bill Ladson is a reporter for MLB.com and writes an MLBlog, All Nats All the time. He also could be found on Twitter @WashinNats. This story was not subject to the approval of Major League Baseball or its clubs.