Lineup breakdown: Giants vs. Royals, Game 6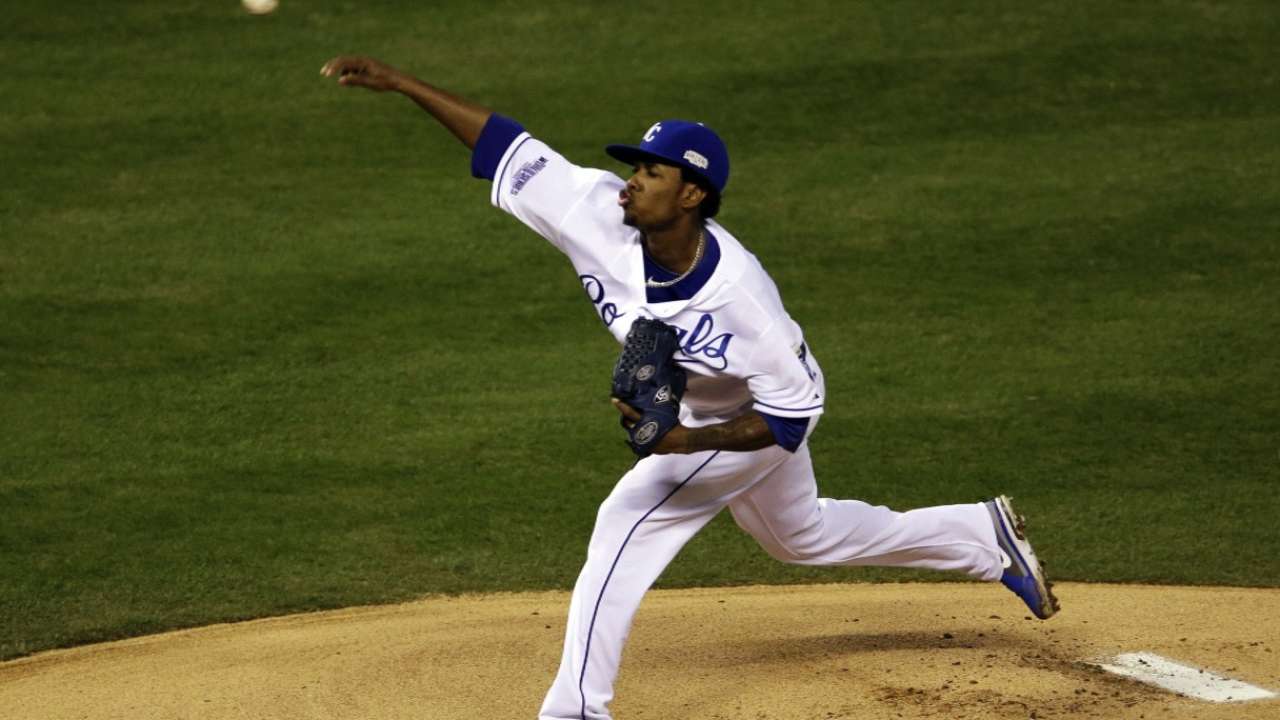 For the Royals, a Game 6 victory tonight would mean a winner-take-all Game 7 at Kauffman Stadium on Wednesday. For the Giants, it would mean a third World Series title in five seasons. Here is a breakdown of the starting lineups for the critical showdown (7:30 p.m. ET on FOX; 8:07 first pitch):
GIANTS
With his team one win away from the title, manager Bruce Bochy is sticking with the same lineup he had in Games 1 and 2 of the World Series. Michael Morse, who started at designated hitter in both games, is in the No. 7 spot now that the series has shifted back to Kansas City. With Morse in the lineup, Travis Ishikawa and Brandon Crawford move down into the eight- and nine-holes.
Despite a limited role during the Giants' playoff run, Morse has found plenty of success. He is hitting .385 with a home run and three RBIs. During the World Series, Morse is 3-for-9 with two RBIs, including 1-for-3 in Game 2.
The Giants took the loss in Game 2, although they did manage plenty of solid hits against fireballer Yordano Ventura. San Francisco totaled two runs on eight hits, chasing Ventura after 5 1/3 innings.
While Giants hitters got their first taste of Ventura in Game 2, this time will be different. Gregor Blanco went 1-for-3 with a leadoff home run, while Pablo Sandoval and Brandon Belt each had doubles off the right-hander in Round 1.
1. Gregor Blanco, CF
2. Joe Panik, 2B
3. Buster Posey, C
4. Pablo Sandoval, 3B
5. Hunter Pence, RF
6. Brandon Belt, 1B
7. Michael Morse, DH
8. Travis Ishikawa, LF
9. Brandon Crawford, SS
ROYALS
With his team's season on the brink, manager Ned Yost has gone back to a similar version of the lineup he used throughout the playoffs before Kansas City played in a National League ballpark. That means Billy Butler -- a .429 hitter in the World Series -- is back batting fifth as the designated hitter, and Nori Aoki -- still searching for his first hit of the Series -- returns to right field and the No. 2 spot (Jarrod Dyson returns to the bench).
Mike Moustakas, who hit ninth for the Royals' run through the American League Wild Card Game, AL Division Series and AL Championship Series, is now hitting eighth ahead of Omar Infante, with Alex Gordon and Salvador Perez hitting behind Butler.
The Royals beat Jake Peavy and the Giants in Game 2 in Kansas City, as the veteran surrendered four runs on six hits and two walks in five innings while striking out just one.
Royals starters with significant success against Peavy include Alcides Escobar (11-for-25 with a double, a triple, two homers and nine RBIs), Gordon (10-for-30 with two doubles, a homer and five RBIs) and Infante (3-for-9 with two doubles).
Aoki is 0-for-3 lifetime against Peavy, Eric Hosmer is 4-for-22 and Perez is 2-for-11.
1. Alcides Escobar, SS
2. Nori Aoki, RF
3. Lorenzo Cain, CF
4. Eric Hosmer, 1B
5. Billy Butler, DH
6. Alex Gordon, LF
7. Salvador Perez, C
8. Mike Moustakas, 3B
9. Omar Infante, 2B
Joey Nowak is a reporter for MLB.com. Follow him on Twitter at @joeynowak. Quinn Roberts is a reporter for MLB.com. This story was not subject to the approval of Major League Baseball or its clubs.