MLB.com Columnist
Terence Moore
Matheny's words about Taveras are universal
Cardinals manager's statement could apply to other athletes who have died early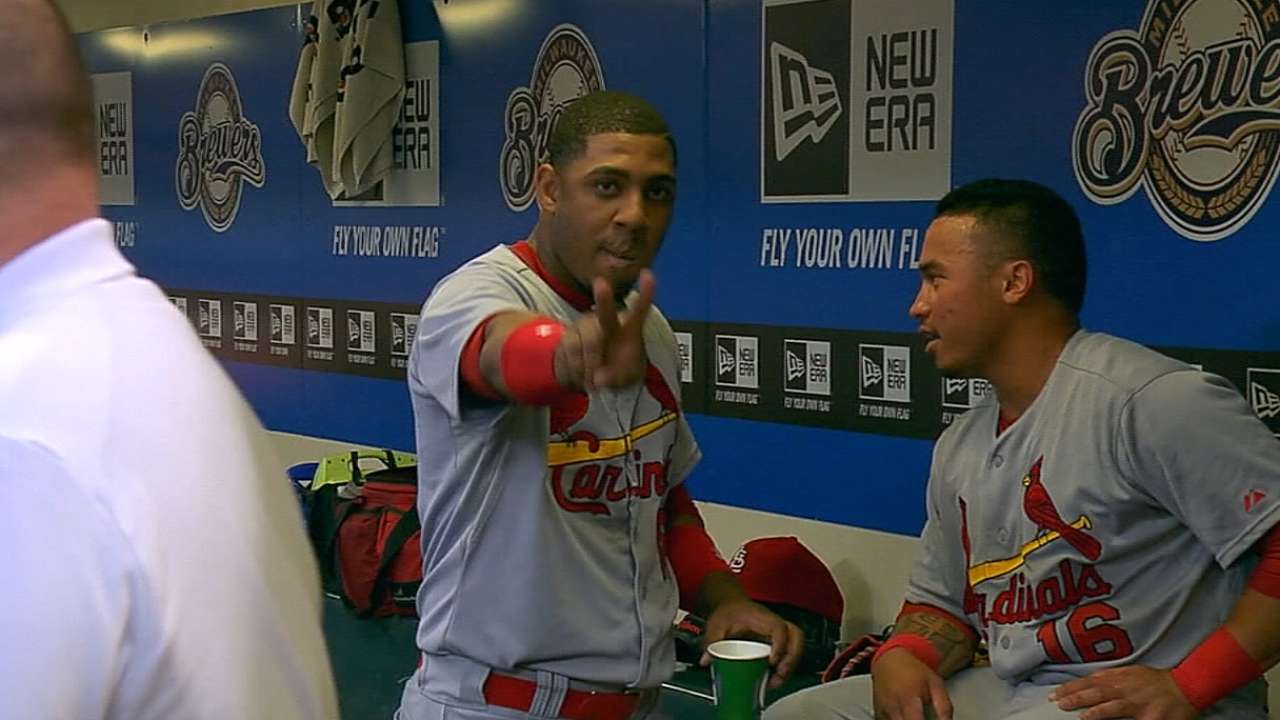 The words were so perfect, so poignant, so timeless. When Cardinals manager Mike Matheny finally composed himself enough to express his grief through a statement regarding the death of gifted St. Louis prospect Oscar Taveras, he spoke of more than just the moment.
"It is not popular for men to use this word, and even less popular for athletes," said Matheny. "But there is not a more accurate word for how a group of men share a deep and genuine concern for each other. We loved Oscar, and he loved us. That is what a team does, that is what a family does."
Think of Len Bias. Think of Ernie Davis. Think of Roberto Clemente.
Nearly everything Matheny said in his statement about the tragic passing of the 22-year-old Taveras applied to all of those in the sports world who have died early. Taveras perished along with his girlfriend, Edilia Arvelo, 18, on Sunday when his 2014 Chevrolet Camaro crashed into a tree in his native Dominican Republic.
Speechless with grief, Matheny decided to write instead of speak. Boy, did he write. He sounded like more than just a baseball official who watched Taveras sign with the Cardinals as an international free agent in 2008 and rise to become the game's No. 3 overall prospect according to MLB.com. He sounded like a father who had lost his son.
"Not to say it is even close to the depth of pain his true family is going through, but the pain itself is just as real," Matheny said in his statement, referring, not only to his personal feelings, but to those of others across the baseball world and beyond. "The ache is deep because the relationships were deep, and forged through time and trials."
Actually, when it comes to Matheny's statement, you could substitute Taveras with Brian Piccolo, Hank Gathers, Thurman Munson, Drazen Petrovic, Sean Taylor, Lyman Bostock and others. It wouldn't matter. There is just something about the death of an athlete that touches as much of your soul as anything, regardless of whether you knew that person or not.
The same goes for other notable people.
The nation deeply mourns the passing of a former U.S. President. If you hadn't heard of Princess Diana or Robin Williams before their untimely deaths, you did after the coverage that followed. The death of an athlete who is either prominent or promising often is shocking to the system, and it begins with this: According to the mindset of society, they are supposed to live forever.
I mean, Lou Gehrig had that consecutive playing streak of 2,130 games before he died of amyotrophic lateral sclerosis (ALS) at age 37. He was supposed to star with the Yankees forever.
Gehrig died, along with part of the nation.
Kansas City Chiefs defender Derrick Thomas died in a car crash at 33, ending a career that was good enough for the Hall of Fame. Petrovic also perished in an auto accident, and at 28, he was an NBA and European shooting icon. Munson was 32 and a seven-time All-Star when he crashed while flying his personal plane during the middle of a season for the Yankees. Davis won the Heisman Trophy one year as a premier running back at Syracuse, and he died two years later at 23 from leukemia.
In addition, Bias never dribbled for the Boston Celtics after becoming the No. 2 overall pick in the NBA Draft, because he died of a drug overdose at 22. Gathers was a sensational basketball player for Loyola Marymount until he collapsed during a game at 23 due to an unknown heart condition. Piccolo was 26 when he succumbed to cancer with the Chicago Bears.
Then there was Clemente, owner of 12 All-Star Game trips, 12 Gold Gloves, four batting titles and two World Series championships. He boarded a plane in his homeland of Puerto Rico on New Year's Eve 1972 on a humanitarian mission, but he never made it. His fight crashed into the Pacific Ocean. He was 38, and he was near the end of his career. Still, his death caused such universal pain that teammate Manny Sanguillen skipped Clemente's funeral to spend days diving into shark-infested waters in a futile attempt to find the outfielder's body.
Sanguillen couldn't fathom that somebody of Clemente's stature could vanish in a flash, and neither could most folks.
Which brings us back to Taveras and Matheny.
"To the many fans who have already reached out with condolences, and to the many more who are in mourning, thank you for taking these players in, like they are one of your own," Matheny said in his statement. "The level of care is what sets our fans apart."
When Matheny said "our fans," he specifically meant Cardinals fans, but he also meant fans in general.
Mostly, Matheny meant anybody with a heart.
Terence Moore is a columnist for MLB.com. This story was not subject to the approval of Major League Baseball or its clubs.