Braves honored with handful of GIBBY Award nominations
Kimbrel, Simmons up for top prizes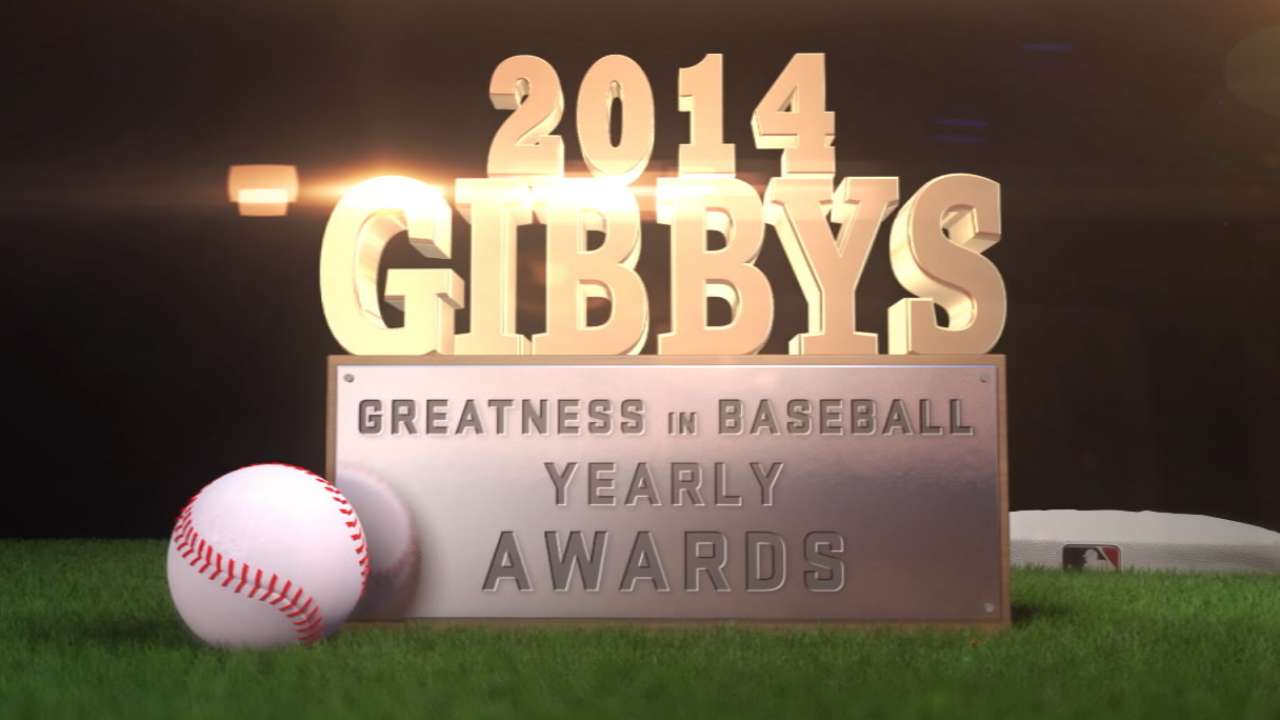 ATLANTA -- Craig Kimbrel and Andrelton Simmons are among the Braves who have been selected as finalists for this year's MLB.com Greatness in Baseball Yearly Awards, which are determined by votes cast by fans and various individuals from the baseball world.
While Kimbrel is up for the Closer of the Year Award, Simmons and Jason Heyward -- who was traded to the Cardinals on Nov. 17 -- are both finalists for the Defensive Player of the Year Award. One of Simmons' defensive gems has also put him in the running for Play of the Year.
Other Braves on this year's GIBBY ballot include Evan Gattis (Best Walk-off) and B.J. Upton, whose quick over-the-shoulder reaction to a caromed pitch has been selected for Oddity of the Year. An Atlanta fan's catch of a home run ball with his popcorn bucket -- combined with a similar play by a Pirates fan -- has been nominated as Cut4 Topic of the Year.
Major League Baseball's A-listers will take home 2014 GIBBY trophies -- the ultimate honors of the industry's awards season -- based on votes by media, front-office personnel, MLB alumni, fans at MLB.com and the Society for American Baseball Research.
This year's GIBBY Awards feature nominees in 25 categories. Individual honors will go to the MLB MVP, in addition to the year's best starting pitcher, hitter, closer, setup man, rookie, breakout hitter, breakout pitcher, bounceback player, defensive player, manager, executive and postseason performer.
GIBBY trophies also will be awarded for the year's top regular-season play, outfield throw, storyline, hitting performance, pitching performance, oddity, walk-off, Cut4 topic, regular-season moment, postseason storyline, postseason walk-off and postseason play. Fans can watch these and more by accessing MLB.com's Must C highlight reels.
In the past several seasons, fans have cast millions of votes across the GIBBY categories, none of which is restricted to individual league affiliation. That's how you know the GIBBYs consider the best of the best.
All 30 clubs are represented among the award candidates, a fact many consider to be a testament to the competitive balance around the game.
Kimbrel led the National League in saves (47) for a fourth straight season and recorded a 1.61 ERA over 61 2/3 innings. The hard-throwing right-hander limited opponents to a .142 batting average and struck out 95 of the 244 batters (38.9 percent) that he faced.
Along with recording the best Ultimate Zone Rating at their respective positions, Heyward and Simmons also tallied MLB's two highest Defensive Runs Saved totals this past season. Heyward's 32 DRS were nine shy of the record total Simmons notched in 2013.
On his way to being awarded 28 DRS this year, Simmons made a number of dazzling defensive gems that displayed his athleticism and rocket arm. But his finest, the one that is nominated for Play of the Year, was completed on July 21, when he reached back to his right to snare Adeiny Hechavarria's sharp grounder and then lunged back to his left to touch second base for a forceout.
Simmons, who was moving toward second base because Marlins outfielder Christian Yelich was running on the pitch, was actually upset that he was not able to gather himself quick enough to attempt to turn a double play.
"It doesn't surprise you anymore," Braves manager Fredi Gonzalez said after the play was made. "He gets upset because he thinks he can turn two on that play. A couple of guys in the dugout said, 'If he would have turned two on that play, they would have taken the uniform off and gone home because he's in a different league.' But that's how special he is."
Yelich admitted he was in disbelief as he neared second base and saw that he would be called out.
"It happened so quickly, I didn't have a chance to slide," Yelich said. "I was running on the pitch, and saw him catch it. I was too close to the bag to slide. I was kind of in no-man's land. I was like, 'What just happened?'"
Fans can vote as many times as they want through Nov. 21 at 11:59 p.m. ET by visiting mlb.com/gibbys, and winners will be announced live on the MLB Network and MLB.com on Dec. 6.
Gattis' place on this year's GIBBY ballot comes courtesy of his only career walk-off home run, which he hit to beat the Marlins on April 21.
Upton certainly played an unsuspecting role in the play that has been nominated for Oddity of the Year. On May 19, he fouled a pitch popped out of Brewers catcher Martin Maldonado's glove and then momentarily sat on Upton's left shoulder before falling into his right hand.
The Braves-related Cut4 nominee occurred on Sept. 19 when Lucas Duda's home run landed in the popcorn bucket held by a fan sitting in the right field seats.
Several categories -- Play, Oddity, Walk-Off and Cut4 Topic -- opened balloting with at least one nominee per club. After a week of voting, the four lists were trimmed to 10 finalists per group by a panel.
Mark Bowman is a reporter for MLB.com. This story was not subject to the approval of Major League Baseball or its clubs.