Complete control: Giants stingy with walks
San Francisco pitchers have rarely beaten themselves during postseason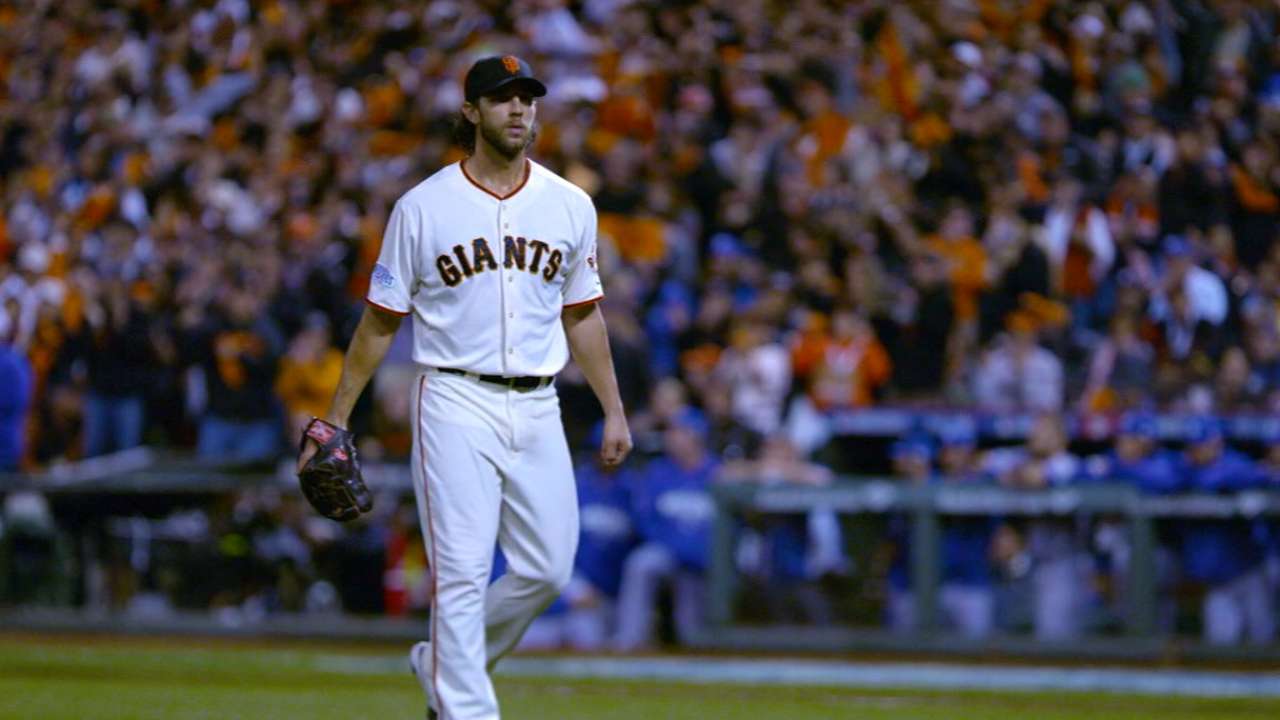 KANSAS CITY -- A trend that's so obvious somehow has gone mostly overlooked: Giants pitchers have made themselves more difficult to beat because they rarely beat themselves with walks.
San Francisco's staff has demonstrated this during a postseason which could end as early as today, with the Giants leading the Kansas City Royals in the World Series, 3-2, entering Game 6 at Kauffman Stadium (4:30 p.m. PT air time on FOX, 5:07 p.m. first pitch).
In their first 15 postseason games, Giants pitchers walked 32 batters in 143 innings for an enviable average of 2.01 per nine innings.
The Giants have been even more averse to issuing free passes during the World Series. They're averaging 1.23 walks per nine innings against the Royals, having thrown ball four just six times in 44 innings. San Francisco's relievers have been especially impressive in this regard, walking one in 14 2/3 innings during the Fall Classic.
This has helped the Giants limit the Royals' formidable basestealing potential, plainly enough, by denying them access to the basepaths. Kansas City has attempted just two steals in five World Series games, with Alex Gordon recording the club's lone theft. The Royals' top three basestealers during the regular season -- Jarrod Dyson, Alcides Escobar and Lorenzo Cain -- have combined for one stolen-base attempt against the Giants. Catcher Buster Posey threw out Escobar at second base in the first inning of Game 2.
By contrast, the Royals were 13-for-16 in steals during the postseason before the World Series.
San Francisco's leading practitioner of control is, of course, left-hander Madison Bumgarner, the Most Valuable Player of the National League Championship Series, who appears poised to win the same award in the World Series. In six postseason starts, Bumgarner has averaged 1.13 walks per nine innings -- a figure which coincidentally matches his ERA.
Watching Bumgarner pump strike after strike past the Royals during his 5-0 shutout in Game 5 on Sunday, left-hander Jeremy Affeldt said that he and his fellow Giants relievers asked themselves, "Is he human?"
Humans have a behavioral choice, and what Giants pitchers have chosen to do is stick to their yearlong plan of making hitters get themselves out. San Francisco ranked only 13th in strikeouts this season among NL clubs but issued the second-fewest walks, 389. Last year the Giants walked 521 batters, the fourth-highest total in the NL. The pitching staff entered this season with a mandate to cut down on creating free baserunners.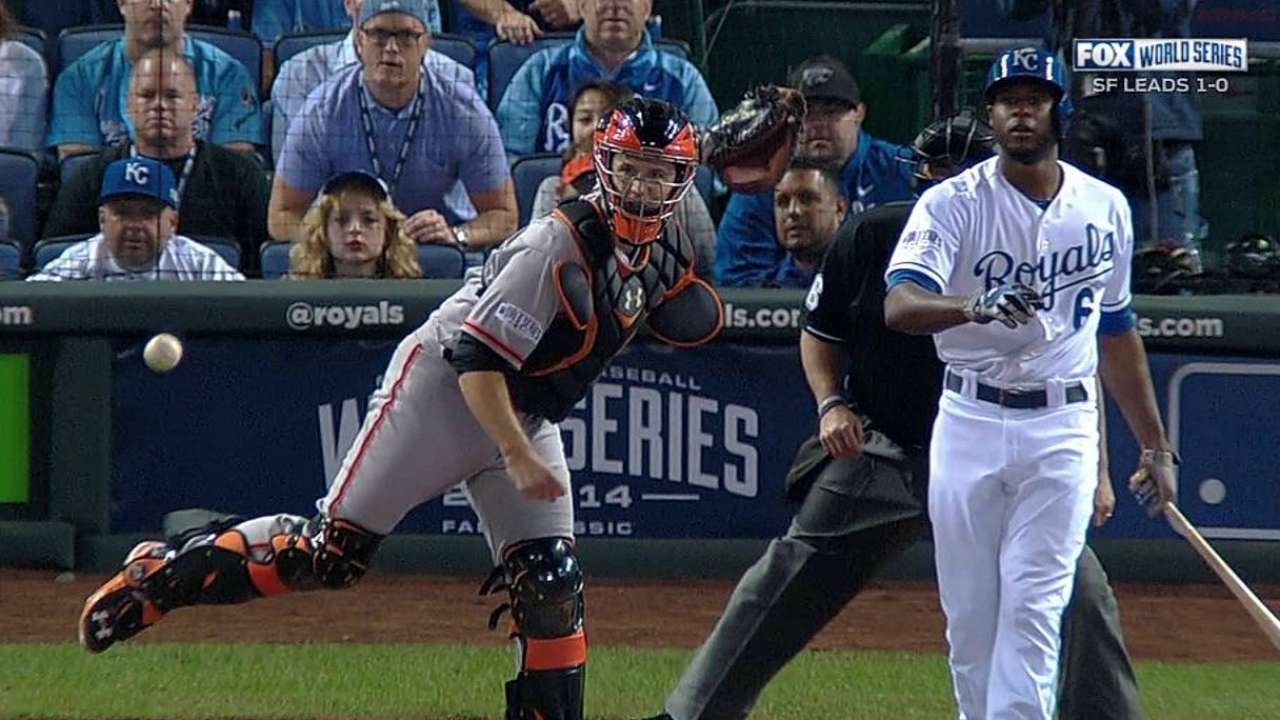 "They've done a good job with that all year," Giants manager Bruce Bochy said. "You want to stay away from the walks. They're like base hits. Try to pitch to contact. Our guys do a nice job of it."
The Giants have thrived by following basic pitching fundamentals, such as throwing strike one.
"That's something we talk about a lot," right-hander Jake Peavy said. "You cannot have success pitching behind in the count."
The tendencies of the Royals' offense may have helped the Giants in this regard. Kansas City's hitters drew the fewest walks in the AL during the regular season.
Giants left-hander Javier Lopez hinted that the Royals' aggressiveness at the plate may have inadvertently helped San Francisco.
"They're obviously a confident group of hitters and they want to be the guy who gets the big hit," Lopez said. "I think we're all conscious of that. But we're not going to shy away from contact in that regard."
The value of pitching to contact was articulated best by the legendary Sandy Koufax, who said, "I became a good pitcher when I stopped trying to make them miss the ball and started trying to make them hit it."
This option has become more attractive in this World Series due to the dimensions of the participants' ballparks. Lopez called this factor "a big deal."
As Lopez pointed out, "They're both pretty big yards. You don't have to be super-fine with your pitches. You just need to locate them down in the zone and you're going to get a decent result, whatever it might be -- fly ball, ground ball, strikeout, what have you."
He didn't mention walks.
Chris Haft is a reporter for MLB.com. Read his blog, Haft-Baked Ideas, and follow him on Twitter at @sfgiantsbeat. This story was not subject to the approval of Major League Baseball or its clubs.