MLB.com Columnist
Bernie Pleskoff
Unfazed by stage, Finnegan weathering first October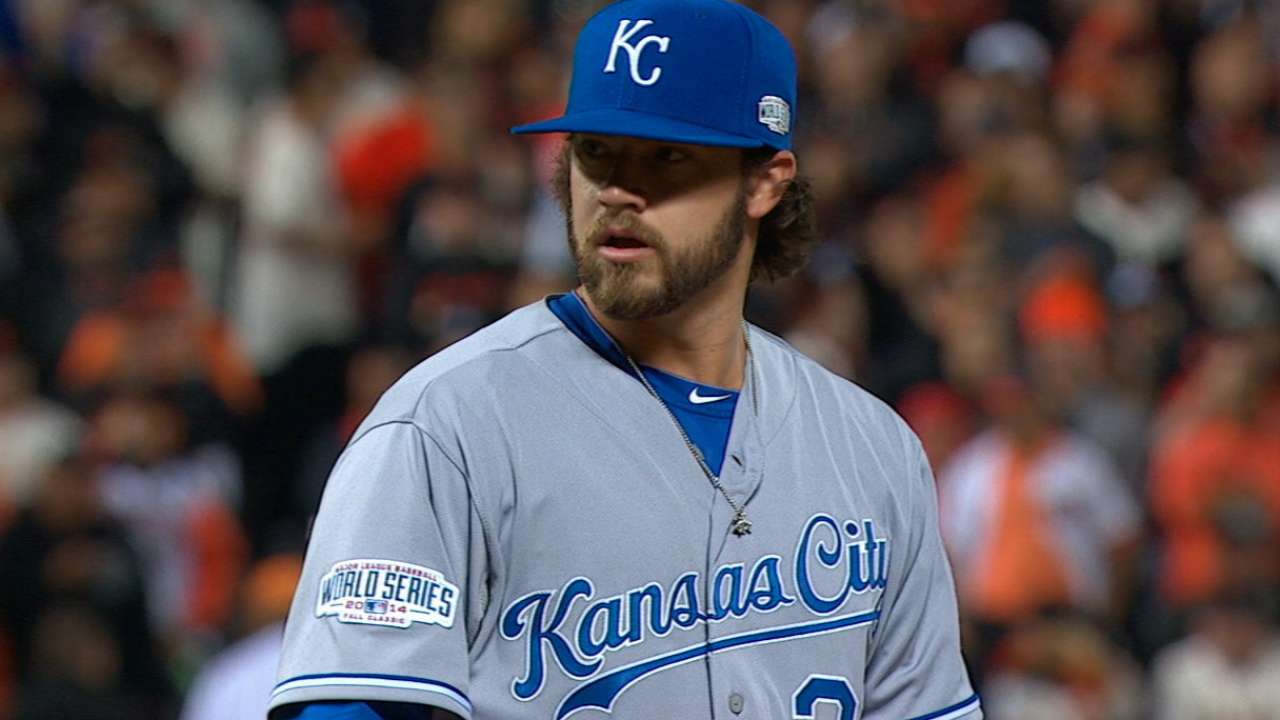 KANSAS CITY -- Self-confidence. Not cockiness, but self-confidence. That's what the good pitchers bring to the mound. They believe they can get hitters out. They believe the guy with the bat in his hand is trying to take food off their table.
Self-confidence is what I've observed so far in Kansas City Royals rookie pitcher Brandon Finnegan. He believes in himself. Finnegan's team believes in him. That's a critical combination for a pitcher's success.
I sat and watched as Finnegan came to the mound in Game 4 of the World Series on Saturday night in San Francisco. He was being called upon to help get the game to the trio of Royals bullpen artists that have painted the opposition into a corner this season. Kelvin Herrera, Wade Davis and Greg Holland may be the three-course dinner at the end of the night. But Finnegan has become a very good hors d'oeuvre. Except for this night.
Finnegan entered the game in the sixth inning. What happened could have been a nightmare for most young 21-year-olds. But not Finnegan. He yielded five hits, two walks and five earned runs in one-plus inning. Finnegan started and finished the sixth. He returned for the seventh before exiting following a single and a walk to lead off the frame.
Finnegan knows not every outing will be flawless. He knows that he did his best against an outstanding team. Finnegan will be ready whenever manager Ned Yost hands him the ball again. That's the mound demeanor I have seen from the 5-foot-11, 185-pound lefty.
No, Finnegan isn't very big. He isn't overpowering on the mound. But Finnegan's sinking fastball that generally sits between 92-94 mph gets the job done. He spots a fine slider that keeps hitters off balance. It generally sits at 83 mph. I have noticed that Finnegan likes to pitch inside to left-handed hitters (his glove side) and outside to right-handed hitters. Generally, pitchers with good command and control can consistently repeat their delivery and hit their spots. Finnegan also throws a changeup, but he doesn't depend as much upon that pitch. His secondary pitches will improve.
Much has been written about Finnegan pitching in the College World Series for Texas Christian University this past summer. Now he is pitching for Kansas City on the biggest stage in professional baseball, the 2014 World Series. That's amazing. What's more amazing to me is the fact Finnegan threw only 27 Minor League innings after being selected in the first round of the 2014 First-Year Player Draft.
Finnegan was a three-year letter winner at Southwest High School in Fort Worth, Texas. After high school, the Texas Rangers selected him in the 45th round of the 2011 Draft. Finnegan made the decision to pitch instead for the Horned Frogs.
This past July, Finnegan began pitching for Class A Advanced Wilmington. He was there for less than a month and started five games. Finnegan left Wilmington having pitched 15 innings and registering an ERA of 0.60. He struck out 13, walked only two and had a WHIP of 0.47.
In early August, Finnegan joined Double-A Northwest Arkansas, where he threw his final 12 Minor League innings of the season. He worked exclusively out of the bullpen and had a 2.25 ERA. Collectively, Finnegan struck out an average of 8.7 hitters per nine innings, walking only 1.3 per nine.
On Sept. 6, Finnegan made his Major League debut against the New York Yankees in Yankee Stadium. He pitched two perfect innings, striking out two.
Before being drafted, Finnegan had a bit of shoulder fatigue that caused some concern. He appears to be totally healthy, and that situation was most likely an isolated incident. Finnegan believes the stiffness came from sleeping in an awkward position.
Finnegan is not only self-confident, he's talented. I believe Finnegan will have an opportunity to pitch in the Royals' rotation at some point. It may come as soon as next season. He is often compared to his teammate, Holland. I think Finnegan is a bit more like Los Angeles Angels starter C.J. Wilson. Wilson is bigger, but their stuff is comparable.
Bernie Pleskoff has served as a professional scout for the Houston Astros and Seattle Mariners. Follow @BerniePleskoff on Twitter. This story was not subject to the approval of Major League Baseball or its clubs.