Inbox: Will Cishek be back to close in 2015?
Beat reporter Joe Frisaro answers Marlins fans' questions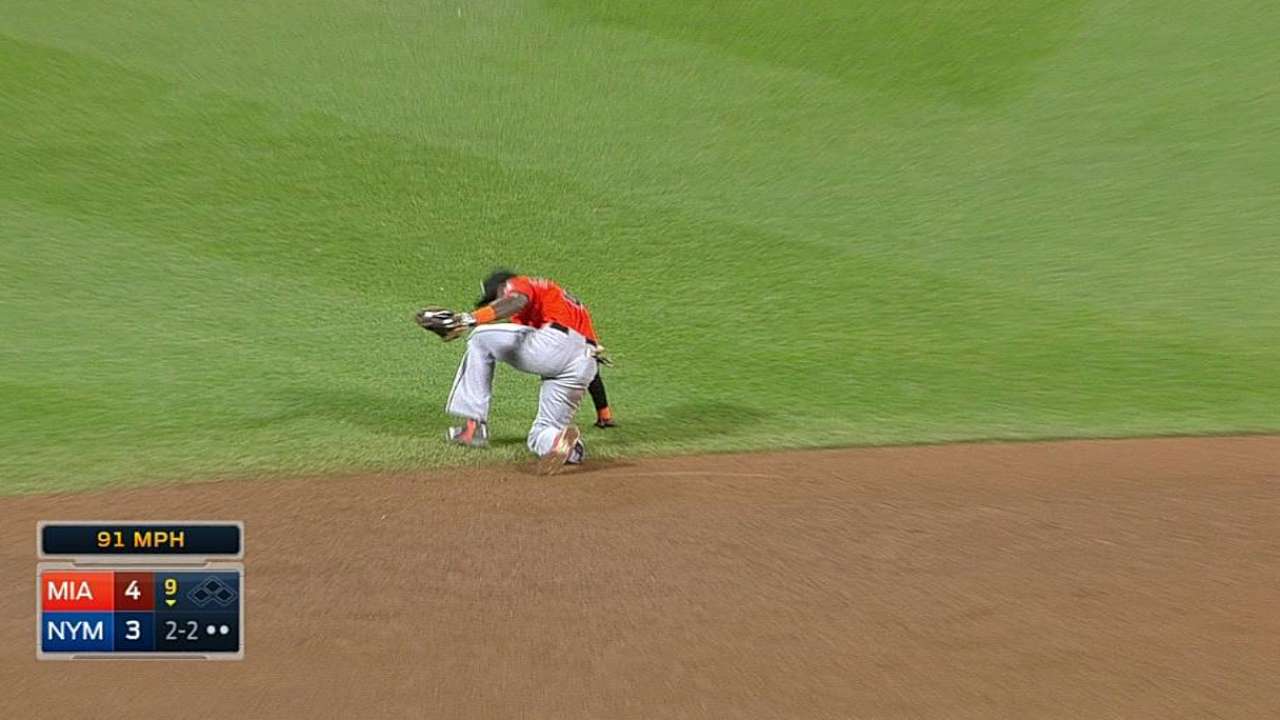 Cishek is reaching the point in his career where cost could become a factor. The sidearm-slinging right-hander made $3.8 million in 2014. After saving 39 games, his salary likely will top $5 million in '15. It might be time for Miami to think of going multiyear with Cishek, locking up his final two arbitration years.
There is always a risk of extending too many years for relief pitchers, but Cishek has been very durable and dependable. He had his struggles with a few bad outings before the All-Star break, which raised his ERA to 3.76 in the first half. But after the break, his ERA was 2.33.
The bottom line is he was tied for fifth in saves in the National League, and replacing Cishek would be challenging. A.J. Ramos, Bryan Morris and Carter Capps are hard-throwing right-handers, but they may not be the answer to close if Miami opts to trade Cishek.
I expect Cishek to return.
There has been a lot of talk about the Marlins going after a first baseman. Why not give Justin Bour a shot?
-- Carlos G., Miami Gardens, Fla.
The Marlins are looking to make a serious postseason push next year, and the team will at least explore all options in hopes of getting more production. If it is possible to get someone with a big league track record, and the move makes sense, then the club would likely move in that direction.
Bour already is under club control, and definitely could put himself in the conversation with a strong Spring Training. The 26-year-old is a left-handed hitter who showed promise in his 39 big league appearances and 74 at-bats. He hit .284 with a home run and 11 RBIs.
Bour has a lot of power potential, but he lacks the experience. He does provide some quality depth, and he may indeed play himself into winning a starting job, if not next year, then in the future.
Teams need depth, and Bour is a nice fallback option.
It's good to see Christian Yelich and Giancarlo Stanton up for Gold Glove Awards, but why not Marcell Ozuna?
-- Stephanie B., Fort Lauderdale, Fla.
For those who missed the announcement last week, Yelich and Stanton were named Gold Glove finalists for left field and right field, respectively. Ozuna, who played mostly center field, did not make the final cut. The three National League finalists in center field are Juan Lagares (Mets), Billy Hamilton (Reds) and Denard Span (Nationals).
Along with being productive at the plate, Ozuna was terrific defensively, especially when you consider he is not a natural center fielder. He is more of a corner outfielder who is the best fit in center with Miami's current three outfielders.
Ozuna's fielding percentage was .985, fifth among NL center fielders.
In the Gold Glove Award voting, 75 percent of the selection process is decided by the votes of managers and coaches. Managers and coaches can't vote for their own players. The other 25 percent comes from sabermetrics.
Ozuna has an uphill climb with the advanced numbers. According to Fangraphs.com, Ozuna's UZR (Ultimate Zone Rating) is 1.1, compared to 20.1 for Hamilton and 18.6 for Lagares. In defensive runs saved, Lagares is credited with 28, while Hamilton is at 14 and Ozuna had 10.
Span's UZR is -4.7, and he is at -3 in defensive runs saved.
The Kansas City Royals have shown the importance of speed. Don't the Marlins need to give a serious look at running more?
-- Robbie S., Palm Beach Gardens, Fla.
Very good point. Like the Marlins, the Royals play in a spacious ballpark. So if homers aren't going to be a big weapon, it makes sense to have a club that can run and manufacture runs. Kansas City paced the Majors with 153 stolen bases, while the Marlins ranked 27th with 58. Only Yelich (21) and Stanton (13) reached double figures.
Don't look for the Marlins to make a major leap in the stolen base standings next year. Their everyday roster is pretty much set, barring perhaps second base and first base. The club may go after a speedy second baseman if there is one available.
Otherwise, you're looking at perhaps adding more speed to the bench to give the Marlins pinch-run options.
Joe Frisaro is a reporter for MLB.com. He writes a blog, called The Fish Pond. Follow him on Twitter @JoeFrisaro. This story was not subject to the approval of Major League Baseball or its clubs.