MLB.com Columnist
Billy Bean
World Series an event like no other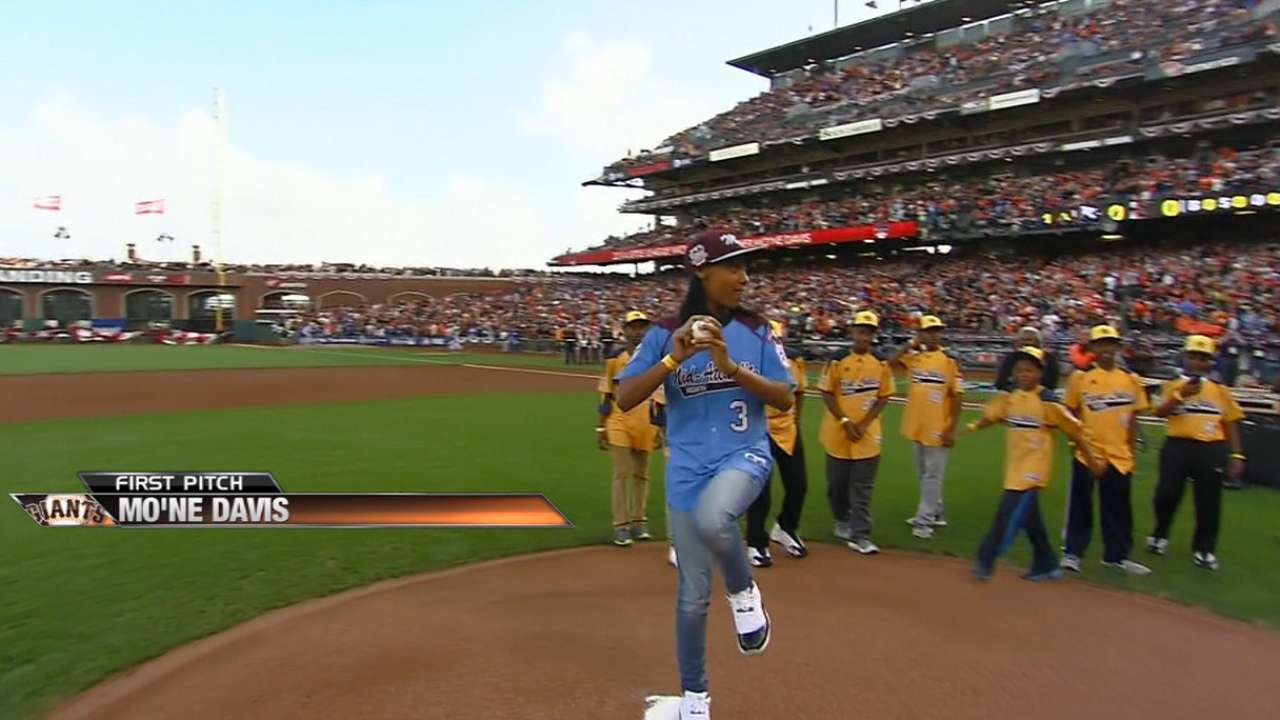 Last week I was in Palm Beach Gardens, Fla., representing Major League Baseball at PGA headquarters for the third annual Sports Diversity and Inclusion Symposium, when I was advised that I would be going to Games 3 through 5 of the World Series in San Francisco. It was a last-minute schedule change, but one that I was very excited about. I remember attending my first World Series -- Game 4 of the 1977 Fall Classic -- as a young kid in Los Angeles, a series the Dodgers lost to Reggie Jackson and the Yankees in six games.
The World Series is an event like no other. There is so much work to do in such a short period of time as the playoffs keep everyone guessing until the very last moment which teams will be competing. My colleagues at MLB prepare for every scenario, and the logistics are incredibly complex. It takes hundreds of people to make it all happen, and getting them all in the right place at the right time is quite a task. For fans lining up to attend the game, or groups gathering in front of their flat-screen TVs to watch from home, it's easy to take for granted, but everyone at MLB pulled it off beautifully. Upon my arrival in San Francisco, the city was buzzing -- everywhere you looked, people were wearing orange and black and talking about the Giants. I was getting excited.
I had my own list of things to do, and one of them was to meet with Tony Clark, the executive director of the MLB Players Association. Tony had a great career as a player that spanned 15 seasons. He is the first former player to take the helm at the MLBPA, and only the sixth executive director of the strongest union in professional sports (one that I was a member of for many years). Before Game 3, we met on the field during batting practice. I had wanted to meet with him since my becoming MLB's first ambassador for inclusion. I know how important it is for the players to believe in what we are trying to accomplish, and Tony is vital in that process. He was incredibly gracious, and interested to know what my goals were for my job.
We found common ground as former players and our desire to make baseball the best it can be. He talked about his daily regimen, which is impressive, and he also shared some wonderful comments about his mentor and former union chief, Michael Weiner, who tragically passed away last November of brain cancer.
As we talked, many people stopped to shake hands and say hello, among them Giants manager Bruce Bochy, who was my manager when I played for San Diego. Before Tony and I knew it, almost two hours had passed and batting practice for both teams had come to an end. I enjoyed our conversation, and I feel confident that Tony knows my only goal is to help all players feel comfortable about being themselves.
For Game 4, I was able to sit with Wendy Lewis, who has been working in MLB for 26 years. She is a pioneer and an incredible role model in professional sports. She runs our Diversity and Strategic Alliance Division, and has helped me in every way in my short time back at MLB. As she and I watched the pregame festivities unfold, it was amazing to see her eyes light up when 13-year old Mo'ne Davis, the young woman who electrified the sports world with her 70-mph fastball at this summer's Little League World Series, threw out the first pitch.
Mo'ne has captivated everyone with her confidence and spot-on timing during interviews. The crowd gave her a standing ovation when she backed up from the grass, and planted her foot firmly on the rubber of the pitcher's mound and threw an effortless strike in front of 45,000 fans and a global TV audience. The crowd erupted and their excitement never stopped, which helped rally the home team as the Giants rolled to an 11-4 win to even the series with the Royals at 2-2.
I arrived very early for Game 5 and I was lucky to spend a moment with Larry Baer, president and chief executive officer of the Giants. I could not believe how graceful he was under such circumstances -- it was Game 5 of the World Series! He was adamant about me meeting Peter Magowan, the Giants' former managing general partner who was instrumental in organizing the first HIV awareness night in 1994, the first of its kind held by any major American pro sports team. The Giants have shown great leadership in understanding the importance of reaching out to their community, and I look forward to working with them very much. I congratulated Larry on his team's season, and also the incredible energy his club has created inside of AT&T Park.
I was thrilled that my good friend, Rick Welts, was able to join me at the game. He is the president of the NBA's Golden State Warriors and the first prominent executive at the top of the sports world to come out publicly. I was honored that my boss, Commissioner-elect Rob Manfred, came over to say hello to Rick and his partner, and I thanked him for making it possible for me to invite them as our guests.
As Game 5 was about to begin, the crowd went silent as a video of Robin Williams began to play. The Oscar-winning actor was a prominent member of the San Francisco community and his passing was a huge emotional blow to many, but especially hard for San Franciscans. It was a somber moment, but somehow Larry Baer and his crew found a way to turn it around and bring chills to every fan in the house. The son of the legendary comedian and actor, Robin Williams Jr., who was wearing a Giants jersey, walked out to the mound. Then Billy Crystal trotted out to home plate to catch the toss. It made the crowd go crazy. It reminded me of the amazing ability that baseball has to bridge differences, bring people together to make new friends and heal wounds.
I sat in my seat taking it all in -- Game 5 of the World Series. To my left I saw NFL great Joe Montana. In front of us were Rob Manfred and Hall of Famer Joe Torre with Billy Crystal. Giants ace Madison Bumgarner was making postseason history with every pitch and Steve Perry of Journey was lip-synching to his own song.
I tapped Rick Welts on the shoulder and said, "Just another day at the ballpark."
Billy Bean is Major League Baseball's ambassador for inclusion. This story was not subject to the approval of Major League Baseball or its clubs.