D-backs Arizona Fall League overview
Bradley using opportunity to refine pitches, rediscover comfort after injury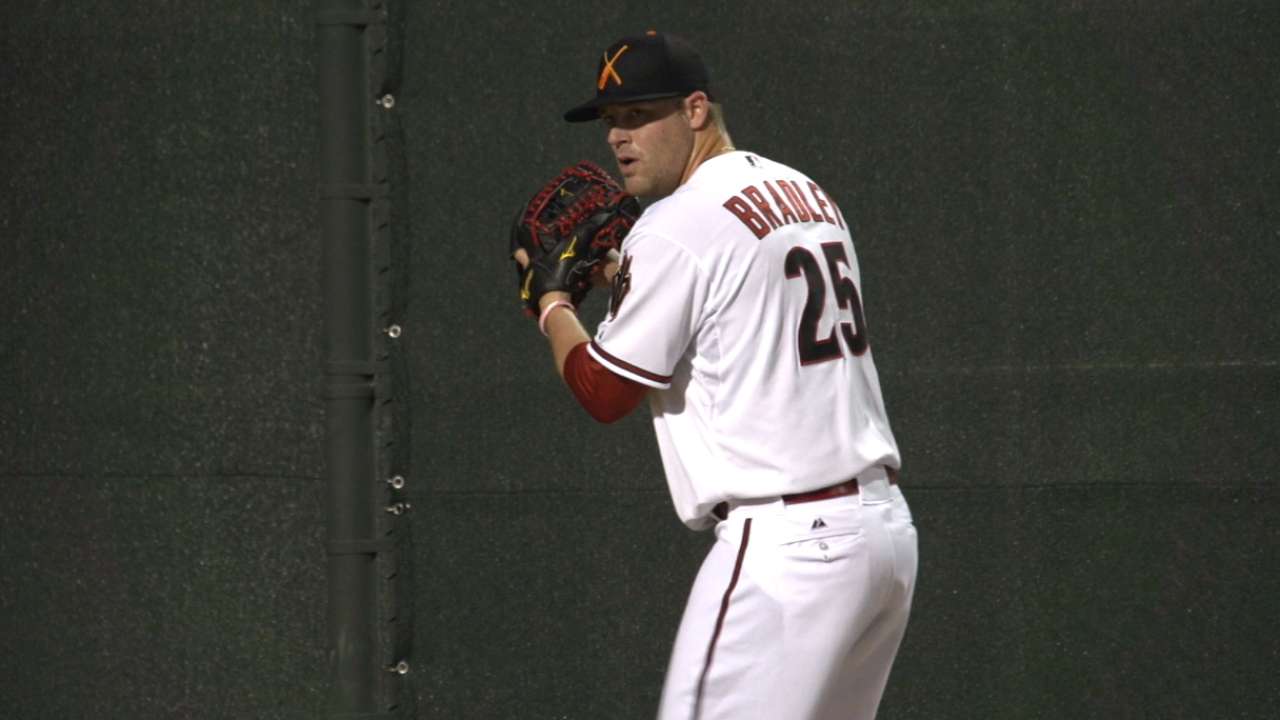 Archie Bradley wasn't supposed to be pitching in the Arizona Fall League this year. The plan, coming into the season, called for the D-backs' No. 1 prospect to go to Spring Training with the D-backs to compete for a spot in their big league rotation. If the right-hander didn't make the club in April, he'd go to the Minor Leagues for more seasoning and be ready for his Major League debut later in the year.
At first, all went according to plan. Though he didn't break camp with the D-backs, Bradley pitched well in Spring Training and then held opponents to two runs on seven hits in 12 innings in his first two starts for Triple-A Reno as calls for his promotion intensified.
But the call up to Arizona never materialized. Bradley didn't make it through five innings in his next three starts for Reno and was then shut down for two months due to a flexor strain in his right elbow. He spent the rest of the season working his way back in Double-A Mobile's rotation.
"Obviously, you kind of have your own personal plan, but that usually never works out the way you'd want it to," Bradley said. "You know, baseball intervenes and sometimes it's for the best.
"I learned a lot about myself this year. A lot of stuff that I couldn't have learned any other way other than going through what I went through."
Now, Bradley, ranked No. 9 on MLBPipeline.com's Top 100 Prospects list, is making up for some of that lost time in the AFL, where he is one of seven D-backs playing for Salt River.
Once Bradley was ready to begin pitching again in late June, the D-backs sent him to Mobile. He made 12 starts for the BayBears, going 2-3 with a 4.12 ERA. He struck out 46 batters and walked 36 in 54 2/3 innings.
After a trying season, Bradley said he is close to getting back to where he was before his injury. He sees the AFL as a chance to make up for the time he lost and to refine his fastball command and changeup.
Beyond working on his stuff, Bradley also hopes to improve the mental side of his game this fall.
"Kind of get back to the state of mind I was in before the injury," he said. "And get back to feeling comfortable and ready to go again."
Bradley is hopeful that he can finish the season well and then go into Spring Training next year with another chance to make the club. But he knows he has a lot of work to do.
"There's a lot I want to prove to my organization," Bradley said. "Why they chose me and kind of live up to that, and show them that I'm ready to help that team win."
D-backs hitters in the AFL
• Drafted by the Braves in the 13th round in 2010, third baseman Brandon Drury was part of the package sent to the D-backs in exchange for Justin Upton in January 2013. Drury has become more disciplined at the plate and has tapped into more of his natural raw power as a result. Though he was initially looked at as a minor part of the trade, he broke out in his new organization. In 136 games between Class A Advanced Visalia and Mobile, he hit 23 home runs.
• Evan Marzilli helped South Carolina to three straight College World Series before the D-backs selected him in the eighth round of the 2012 First-Year Player Draft. He is an above-average defender in center field thanks to his speed and instincts. Marzilli's bat isn't as advanced as his glove, however. In his first two years in full-season ball, he hit .248/.341/.363 between Visalia and Mobile.
• The D-backs acquired Peter O'Brien from the Yankees in exchange for Martin Prado at the Trade Deadline. O'Brien was sidelined for most of August after fouling a ball off his leg, but he still mashed 34 home runs in 106 games this season, the sixth most in the Minor Leagues. While O'Brien's power has never been in doubt, his defensive position has. He is hoping to prove this fall that he can be a catcher, though he also played first base and right field this season.
D-backs pitchers in the AFL
• Hard-throwing right-hander Enrique Burgos led the California League with 29 saves for Visalia this season. He regularly runs his fastball up into the upper-90s and has overpowered hitters in the low levels of the Minor Leagues. His sweeping slider gives him an effective second pitch, but he'll need to refine his command as he advances toward the Major Leagues. The D-backs added him to their 40-man roster already this fall.
• Right-hander Kaleb Fleck signed with the D-backs as an undrafted free agent in 2011 after pitching for three years at Division II Pitt-Johnstown. He advanced to Mobile this season and saved 17 games for the BayBears. He attacks hitters with a mid-90s fastball and a short, biting slider. He has a chance to fit as a setup man in the Major Leagues.
• Right-hander Jimmie Sherfy has been a reliever since his college days at the University of Oregon, where he saved 40 games in two years as the Ducks closer. He's continued to pitch late in games since the D-backs drafted him in 2013 and could soon do so in the Major Leagues. He comes right after hitters, attacking them with a mid-90s fastball and a short, biting slider.
Teddy Cahill is a reporter for MLB.com. Follow him on Twitter at @tedcahill. This story was not subject to the approval of Major League Baseball or its clubs.