MLB.com Columnist
Jonathan Mayo
Reds Arizona Fall League overview
Outfielder Winker headlines Cincinnati's group of talented prospects honing craft with Surprise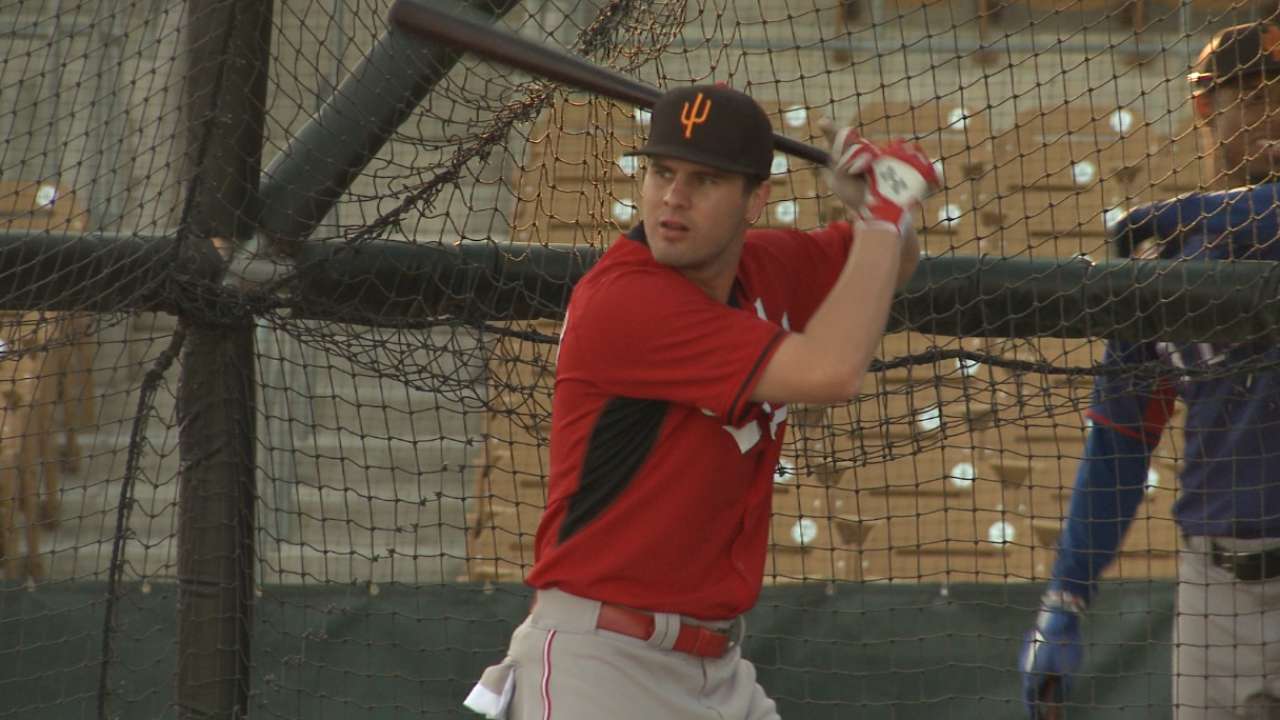 There were some bumps and bruises along the way, but Jesse Winker can't complain about where 2014 has taken him.
The Reds' No. 2 prospect (No. 40 overall) began the year as a 20-year old in the Class A Advanced California League. He went to the Futures Game and earned a promotion to Double-A Pensacola, all before his 21st birthday. And now he's playing in the Arizona Fall League.
"Once I heard my name called and the guys who are here from the Reds, it's a true honor," Winker said. "You look and see the guys who have played in the Fall League. I just want to see where we rank amongst the other teams, meet some new guys and have a lot of fun playing."
Winker just loves being around the game, and there's no question being forced to the sidelines on two different occasions this season cemented that passion even further. He missed two weeks with Bakersfield when a collision with an outfield wall resulted in a concussion. Winker was just 21 games into his Double-A debut when his season ended because of a right wrist injury sustained in a car accident.
Winker actually tried to play through the aches and pains after the accident, playing in the SiriusXM All-Star Futures Game banged up before getting diagnosed with a partial tendon tear in his hand and being shut down just one game after returning from Minneapolis. He was just getting accustomed to the new level and he's excited for the challenge of returning there next year as well as getting a similar experience playing for the Surprise Saguaros this fall.
"The defense got a whole lot better," Winker said. "The defenders got to everything, it seemed like. The pitchers had a better idea of what they wanted to do on the mound.
"That just makes it better. I feel every level you go up, there's going to be a competition, guys are going to get better. That's something I look forward to, I guess say rise to the occasion and learn the adjustments and continue to play hard."
If he didn't have time to make adjustments with Pensacola, Winker appears to be making them in the AFL. The outfielder hit .348/.446/.630 over his first 12 games, was tied for second in RBIs and stood fourth in OPS. But it's more than just his hitting Winker wants to work on during his time in Arizona.
"All aspects of my game," Winker said. "I want to keep making strides in the box, keep making strides in the outfield, especially on the basepaths, too. I want to get a little more aggressive on the bases and continue to polish my game."
Winker's offensive game has a good amount of polish already. The 2012 supplemental first-round pick has a .297/.401/.489 career line in his pro career, always playing young for his level. The one part of his game that is still developing is his power, and some wonder just how much will be there when all is said and done. To his credit, it's not something Winker worries too much about. Even when he was surrounded by the plus-plus power of Joey Gallo and Kris Bryant at the Futures Game, he didn't get lost in trying to muscle up and get out of his own game.
"I knew just going out and shagging, watching them hit; it was going to be an absolutely power show," Winker said. "I played with Joe on Team USA and I saw it then. It was unbelievable, he was hitting them into the third deck, by the Jumbotron, it was really cool.
"But I know my game. Even though I may not be able to hit it into the third deck, I get it into the first or the second and that counts, too. It's really cool, but I enjoy spraying the ball to left field and hitting the gaps as well."
Reds hitters in the AFL
• Third baseman Seth Mejias-Brean also made it to Double-A this year for the first time. He's shown an ability to hit for average and get on base (.376 career OBP). How much power he can develop may determine whether he can stick as an everyday corner infielder at the highest level.
• On the taxi squad and thus only eligible to play on Wednesdays and Saturdays, Juan Perez began focusing on second base after primarily being a shortstop in the early stages of his career. Perez has played second in the AFL and best profiles as a utilityman with some base stealing instincts.
• Outfielder Kyle Waldrop repeated the California League to start the 2014 season, but he made adjustments and hit his way to Double-A, where he continued to swing a hot bat. Waldrop is seeing more time at first base, along with his usual corner outfield spots, this fall, with the power potential to profile in any of those spots well.
Reds pitchers in the AFL
• Taken in the Triple-A phase of the 2012 Rule 5 Draft, lefty reliever Ryan Dennick made his big league debut this past September. The 27-year-old moved to the pen this season and took to it well, with a 2.34 ERA compiled almost entirely in Triple-A. Lefties hit just .209 against Dennick at that level in '14, and a future as a specialist looms.
• The Reds took Nick Howard out of the University of Virginia with their first-round pick in the 2014 Draft. Ranked No. 5 on their Top 20 list, Howard served as Virginia's closer this season, but he is being developed as a starter. He has the stuff and potential command to stick in a rotation long term.
• Reliever Carlos Gonzalez took a step forward in 2014, moving up to Double-A with moderate success, albeit with some command issues. He has a big arm with a fastball that hits the mid-90s. He's continuing to work on tightening his breaking ball while auditioning this fall for a 40-man roster spot or Rule 5 selection.
• Ben Klimesh is one more reliever in the Surprise bullpen this fall. He reached Double-A for the first time in 2014. The 15th-rounder in '12 does miss bats (11.2 K/9 in '14), and the Fall League is another good test to see how Klimesh's fastball-slider combination will play at the upper levels.
Jonathan Mayo is a reporter for MLBPipeline.com and writes a blog, B3. Follow @JonathanMayoB3 on Twitter. This story was not subject to the approval of Major League Baseball or its clubs.