MLB.com Columnist
Jim Callis
Tigers Arizona Fall League overview
Outfielder Moya headlines Detroit's talented prospects honing craft with Glendale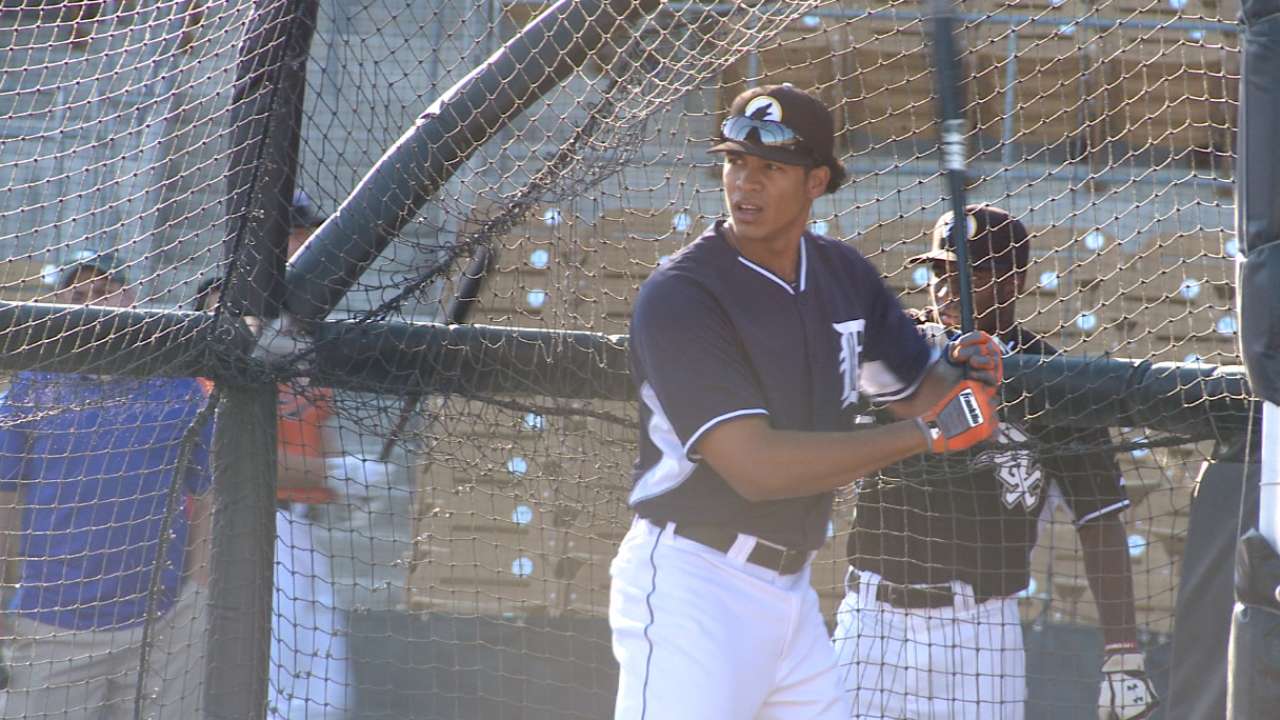 After getting his first taste of the Major Leagues in September, Steven Moya is eager to return to Detroit in a more expanded role as soon as possible. That's why the Tigers' No. 7 prospect according to MLB.com was thrilled to get the opportunity to play in the Arizona Fall League.
"This is a great opportunity to be here," Moya said. "I've heard it's a great thing. It's fun to be here. I will take advantage of it and keep playing and trying to get my skills better, to see if I can help the Tigers win the World Series next year."
Moya came off the bench for Detroit in September, going 3-for-8. His first big league callup capped his most impressive season in pro ball, as he won Eastern League MVP honors after batting .276/.306/.555. Moya led the Double-A circuit in home runs (35), RBIs (105), extra-base hits (71), total bases (286) and slugging, and he also played in the SiriusXM All-Star Futures Game.
Despite his breakout season, the 23-year-old Moya knows he still has plenty of work to do. Scouts worry about his pitch recognition and selectivity, because he'll swing at almost anything. Moya topped the Eastern League with 161 strikeouts while walking just 23 times, and posted similar K/BB ratios during his first five years in pro ball, when he hit a combined .241/.290/.400.
With a 6-foot-6, 230-pound frame and a quick left-handed bat, Moya has more power upside than most prospects. In order to maximize it against big league pitching, he'll have to do a much better job of controlling the strike zone. That's his priority in the AFL.
"Just focusing on the strike zone and swinging at strikes, that's it," Moya said. "That's what I'm going to try to focus at. Swing at strikes and let the pitches in the dirt alone, just think 'up, up' every time."
Moya has struck out 16 times in 53 at-bats with the AFL's Glendale Desert Dogs, though he has drawn four walks and is hitting .321/.362/.585 with three homers and four steals. His performance earned him a spot in Saturday's Fall Stars Game. The prospect showcase will start at 8 p.m. ET, and it will be broadcast on MLB Network and streamed live on MLB.com.
Besides his power, Moya has additional tools that help him profile as a classic right fielder. The Dominican native moves very well for his size and grades as a solid runner who can steal an occasional base. He has a strong arm, though he still can refine his jumps and routes in the outfield.
Tigers hitters in the AFL
• Outfielder Daniel Fields was just starting to get his bat going at Triple-A when an errant pitch broke his right hand in May, and he wound up hitting .219/.273/.343 in 75 games at that level. The son of former big leaguer Bruce Fields, Daniel signed for $1.625 million as a sixth-rounder out of a Michigan high school in 2009. He has good instincts but hasn't produced consistently as a pro, limiting his realistic ceiling to fourth outfielder.
• Signed for $400,000 from the Dominican Republic, middle infielder Domingo Leyba led the Rookie-level Dominican Summer League in hitting (.348), slugging (.577) and OPS (1.023) in his 2013 pro debut and encored by batting .323/.360/.423 in his U.S. debut this year. A switch-hitter with an advanced feel for hitting and the potential for double-figure home run power, Leyba fits better at second base than shortstop.
Tigers pitchers in the AFL
• A 27th-round senior sign out of Virginia Tech a year ago, left-hander Joe Mantiply posted a 2.52 ERA and an 86/22 K/BB ratio in 82 innings in his first full pro season while reaching Double-A. Mantiply lacks a plus pitch, relying mostly on a lively 88-91 mph fastball and a changeup, but hitters have trouble with his extreme crossfire delivery.
• The key to the Doug Fister trade, left-hander Robbie Ray made his big league debut in 2014 and went 1-4 with an 8.16 ERA in nine games (six starts). He commanded a $799,000 bonus as a Nationals 12th-round pick in 2010 out of a Tennessee high school. Ray can run his fastball up to 95 mph and flash an above-average changeup, though he'll have to refine his slider and command to reach his ceiling as a No. 3 starter.
• Right-hander Zac Reininger was a two-way player at Hill Junior College (Texas) who blossomed on the mound and went in the eighth round of the 2013 Draft as a pitcher. Reininger posted a 2.54 ERA and 58 strikeouts in 56 2/3 low Class A innings during his first full pro season. He has an 88-93 mph fastball with sink and a promising changeup, though his slider needs a lot of work.
• A 17th-rounder out of Southern California in 2011, right-hander Chad Smith finished 2013 in low Class A yet reached Detroit this June, recording a 5.40 ERA in 10 relief appearances. Smith pitches mainly off his 90-94 mph fastball and backs it up with a cutter/slider and changeup.
Jim Callis is a reporter for MLB.com and writes a blog, Callis' Corner. Follow @jimcallisMLB on Twitter. This story was not subject to the approval of Major League Baseball or its clubs.